It's been a few months since I posted about my everyday natural skincare routine. The last time I discussed my natural skincare routine it was right after I had come back from summer vacation at my off the grid island in Canada…basically a month in the sun!
Even though I'm so careful with my skin and always protect it with a visor and use ingredients like Vitamin C, I had acquired additional pigmentation from being on the water and driving a jet ski. You can see pics here.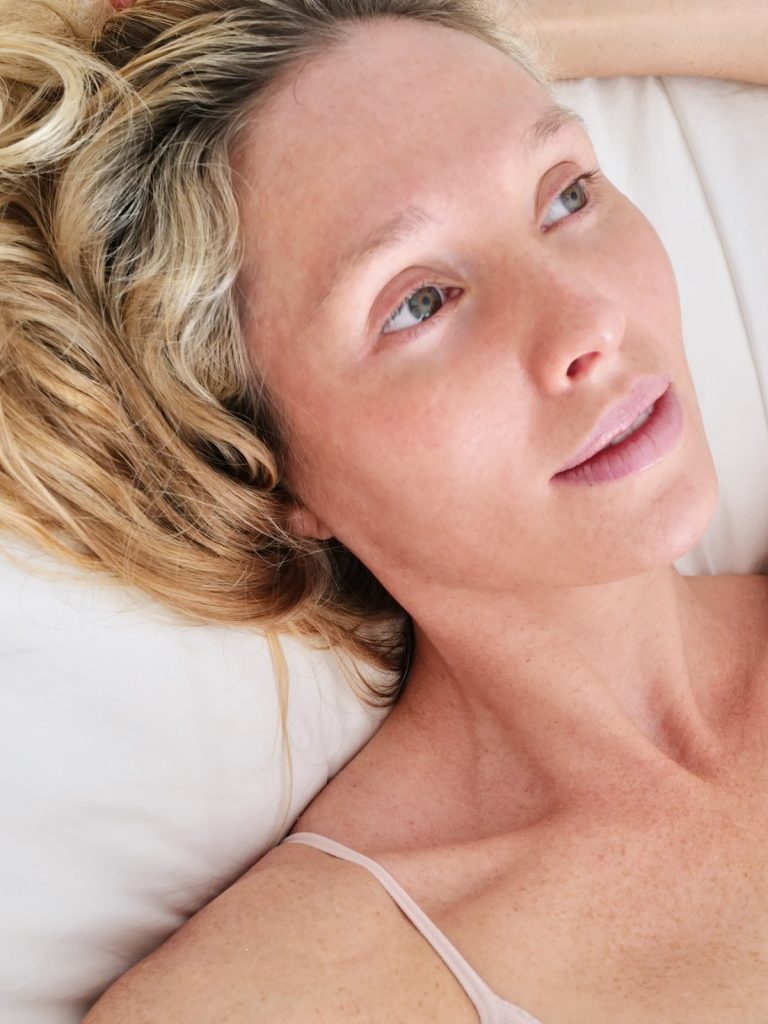 At the time, I wasn't worried about the pigmentation that had suddenly appeared on my skin because I was confident that my OZNaturals skincare products would help to remove the brown marks.
Well, as it turns out, I was right not to worry! YAY! By nature, I'm a freckly gal. I have always had freckles. Now, it's a matter of keeping them at bay as I get older.
My natural and everyday skincare products have done wonders to reduce hyperpigmentation on my face. I attest this to the combination of OZNaturals's cold processing system and natural, high quality ingredients that they formulate their products with.
So I wanted to share my everyday natural skincare routine from OZNaturals. This exact skincare regimen has improved the quality of my skin health like crazy!
I'm truly amazed by how soft my skin is, how much glow it has, and how small my pores are. Yes, even my hyperpigmentation has improved.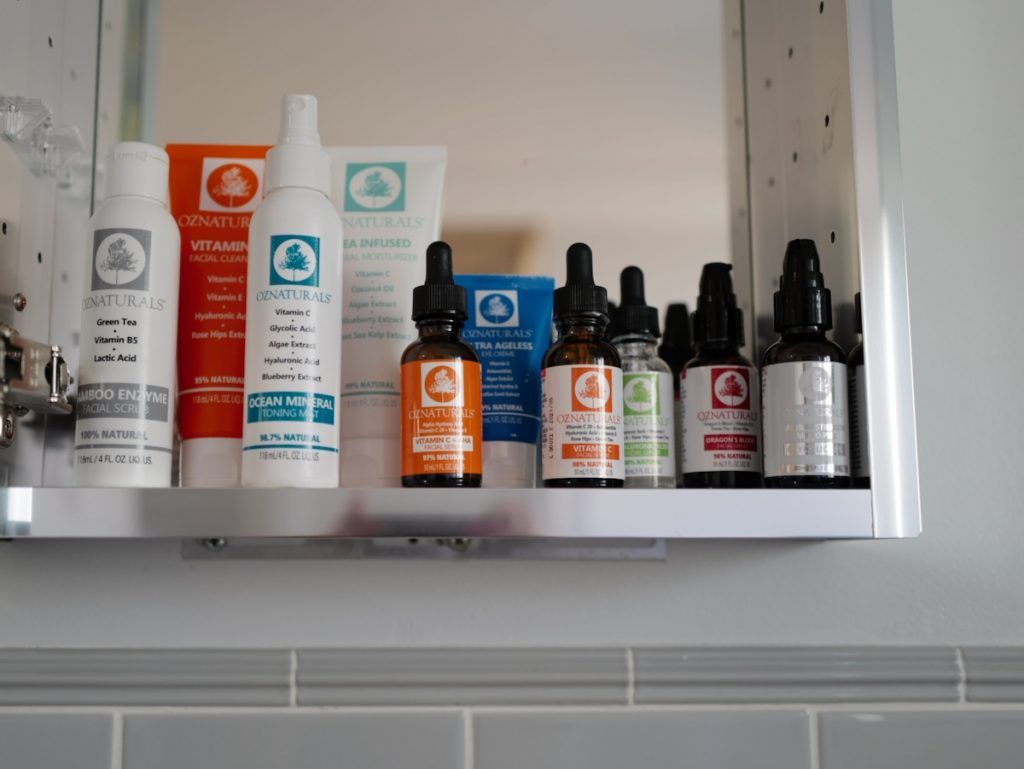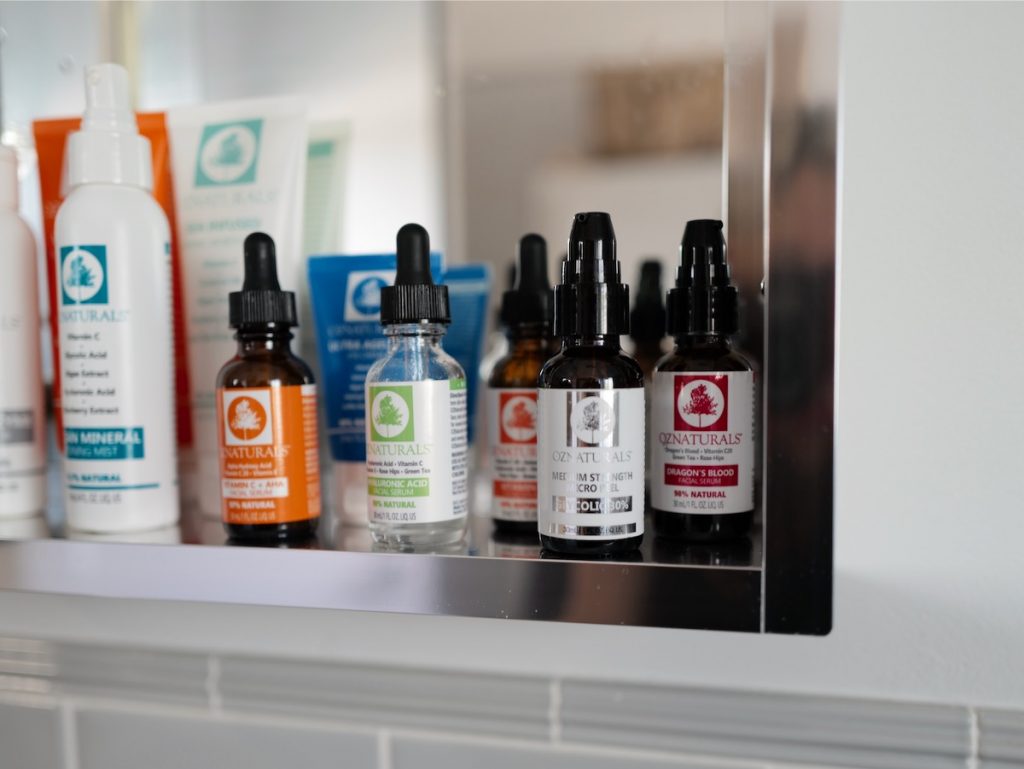 Is this really my skin? I ask this because I'm not somebody that was blessed with beautiful skin. Since I can remember, I battled acne breakouts, uneven skin tone, extreme dullness, absolutely no vibrance or healthy coloring, and lots of pigmentation from a lifetime of unprotected sun exposure.
To be honest, I used to think that skincare was a joke. I didn't think it could actually work. Can you believe that? I mean, I had used skincare products, but they had never caused any actual positive change in my skin. Then again, I had no idea what I was doing back then either.
All I can remember for a long time is bad skin. Skin I was unhappy with. Skin that HAD to be covered with makeup.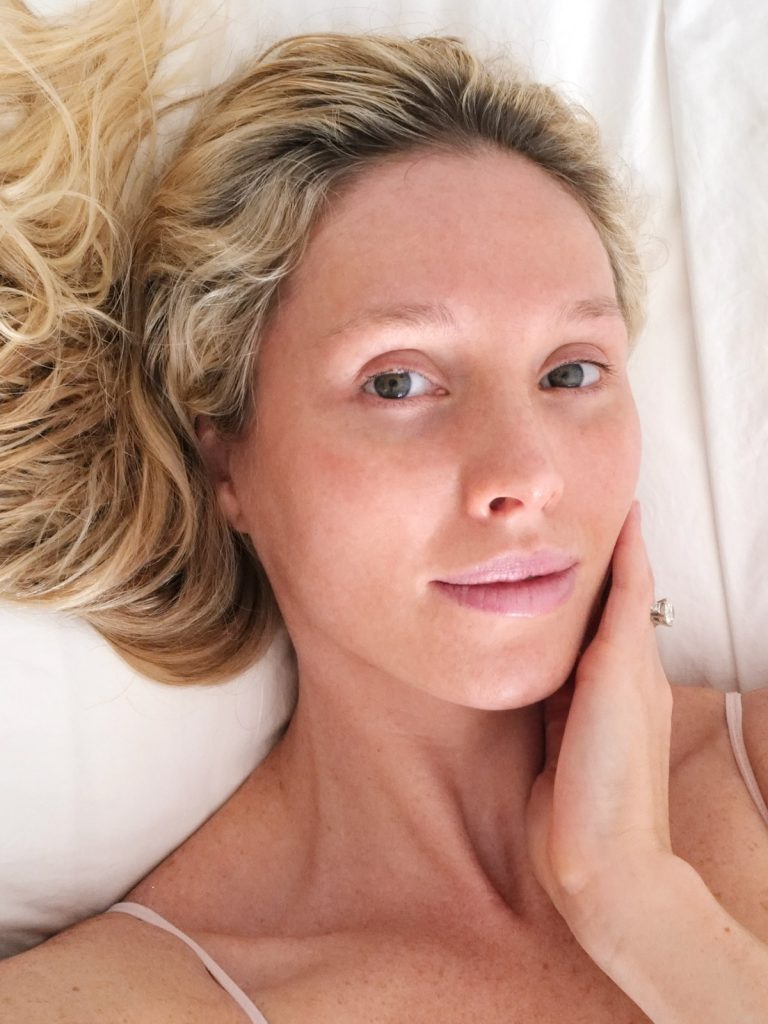 So you can see how I was going down the rabbit hole. Bad skin covered up with intense makeup causes for even worse skin.
I want to tell you that it IS possible to have beautiful, healthy skin. Even if you don't think there's hope for you.
Girl, there is!
My best recommendation is that you START. And that you COMMIT. Get on an everyday natural skincare routine with the clean OZNaturals skincare products and I PROMISE you, you WILL see results if you commit to a regimen.
MY OZNaturals Everyday Natural Skincare Routine
USE CODE: Gretchy for 25% off OZNaturals products on their website. One time Use. Free Shipping.
Let's get started with my everyday natural skincare routine right now, shall we?
Cleansing and Toning Skin
Vitamin C Facial Cleanser – I love this Cleanser for morning and/or night because it reduces pigmentation. My skin feels really clean after using it, without feeling stripped.
Ocean Mineral Toning Mist – Immediately following the cleanse, I'll spray 3 or 4 spritz's of this toner into my hands and then press it into my face, neck, and décolleté.
Sometimes, I'll spray the toning mist onto a cotton pad as this helps remove excess oil or leftover makeup buildup from my skin.
The Ocean Mineral Toning Mist is really fabulous because it's loaded with antioxidants including blueberry extract and vitamin C. In addition, it has hyaluronic acid, which you know I love for anti-aging, and glycolic, which helps with exfoliation and glow.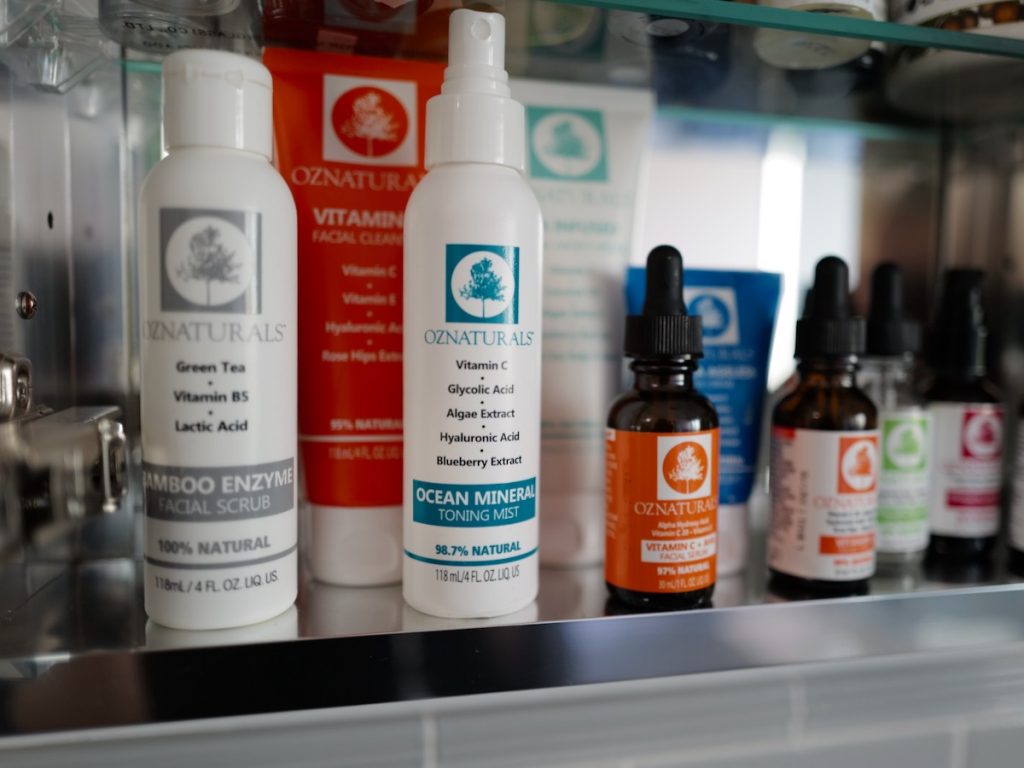 It also has ocean minerals including algae extract. Among many benefits, algae extract soothes and calms skin and acts as an anti-inflammatory. This is key for me since I've always dealt with redness.
Facial Serums
Once my skin is cleansed and toned, it's prepped for serums. In the morning, I'll use either my Vitamin C serum or my Vitamin C + AHA serum. Right now, I'm actually switching between these Vitamin C facial serums as my skin is sensitive and I don't want to over exfoliate my face.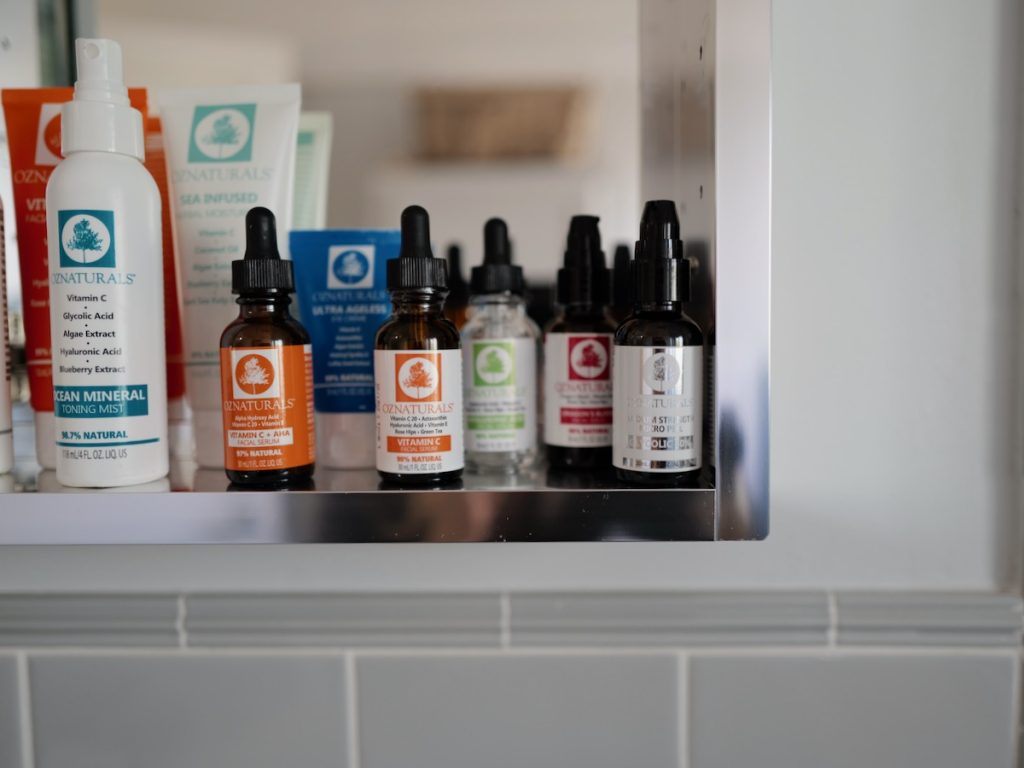 Alpha Hydroxy Acids (AHA) increase cell turnover, which is amazing, but with all of the products I'm using right now for cell turnover, I feel like I don't need to use this one daily.
I do, however, like to use a Vitamin C serum everyday as it is a potent antioxidant and helps to repair your skin. Vitamin C has so many benefits! For me, I think of it to reduce hyperpigmentation (brown marks from the sun), reduce acne scars and increase overall brightness.
You MUST have Vitamin C in your daily skincare regimen!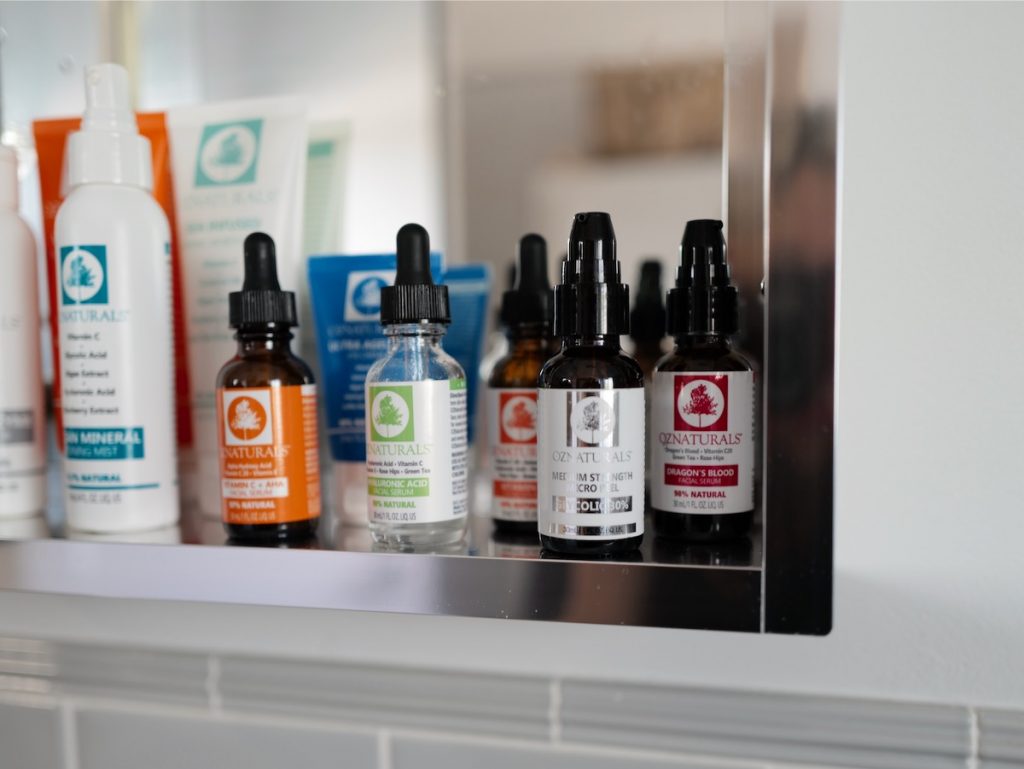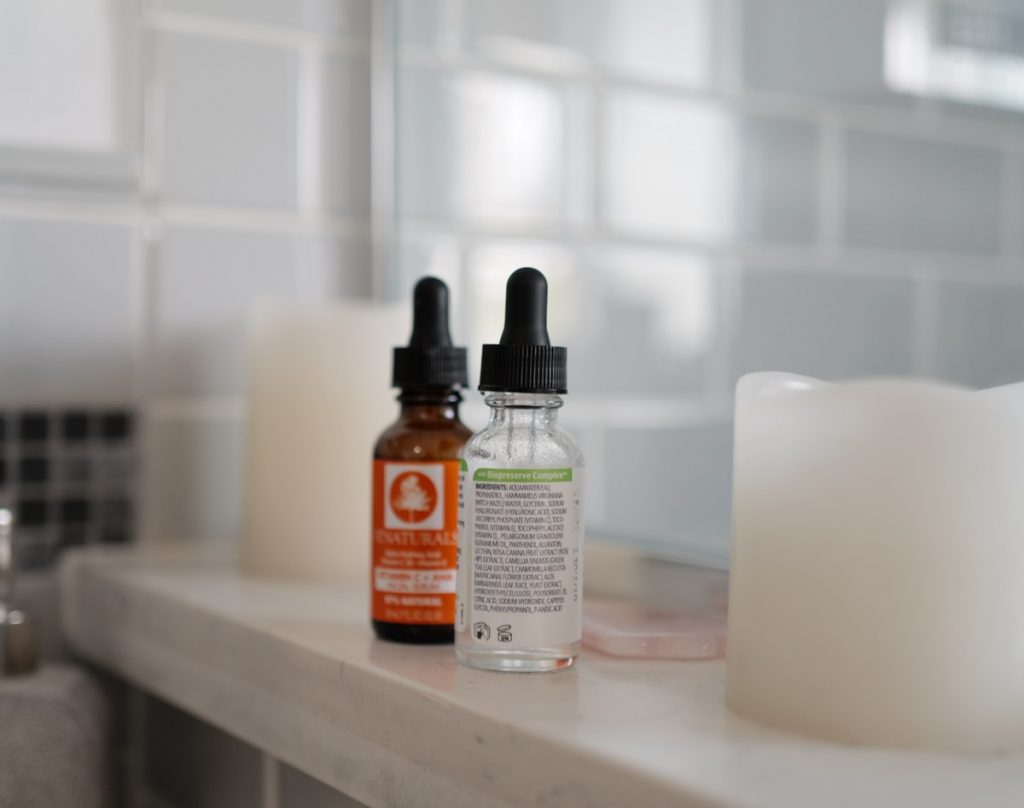 After my Vitamin C serum, I'll do a drop of Hyaluronic Acid Serum all over my face and eye areas. This is one of the serums I recently added to my skincare routine to make sure my skin is fully hydrated and that it holds onto the moisture my skin so dearly needs during the winter months.
I noticed instant results after I started using this serum and don't plan to stop using it, even after the winter. Think: hydration, plumpness, and reduced fine lines. I wrote about all of the hyaluronic acid benefits here.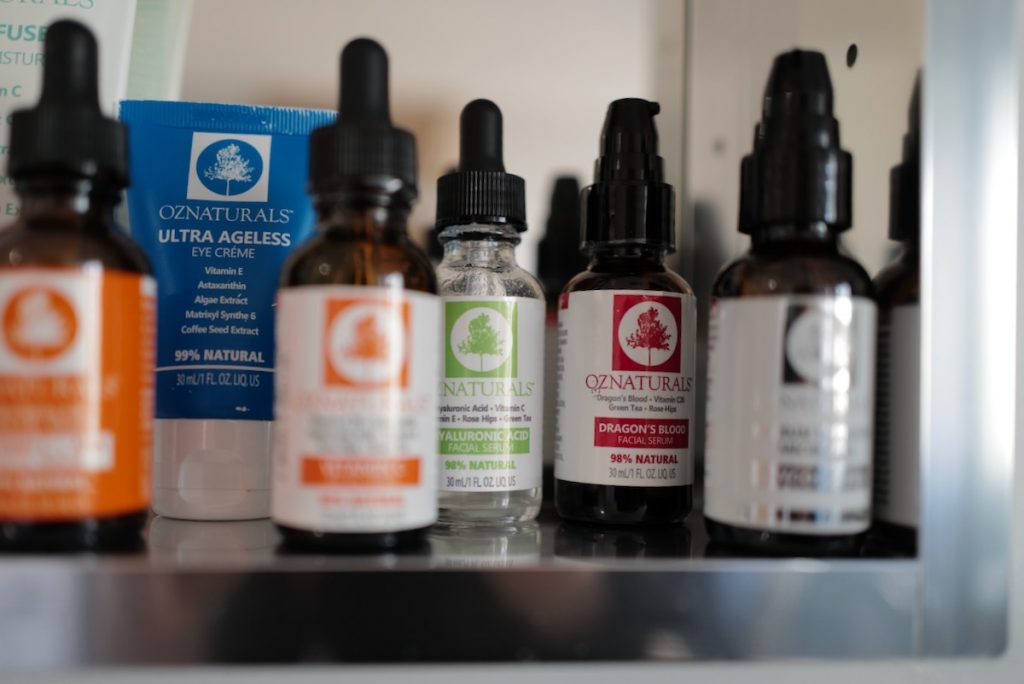 At night, I don't use the Vitamin C serums, instead I'll use my Dragon's Blood Facial Serum.
Dragon's Blood is amazing for anti-aging and many consider it a natural Botox alternative as it works wonders at decreasing wrinkles, reducing inflammation, and stimulating collagen production. I wrote all about Dragon's Blood skin benefits here.
Note: Dragon's Blood is the most potent antioxidant in the world, so this is a no-brainer for me.
Facial Moisturizers
Don't do your serums and then forget or choose to skip moisturizer. Moisturizer is imperative, especially if you're using a hyaluronic acid serum, as it helps to lock the moisture in your skin.
Sea Infused Moisturizer – I use this moisturizer on my face morning and night. The other option from OZNaturals is the Super Youth Retinol Moisturizer, but I prefer to steer clear of retinol products during breastfeeding and pregnancy. I'm currently breastfeeding.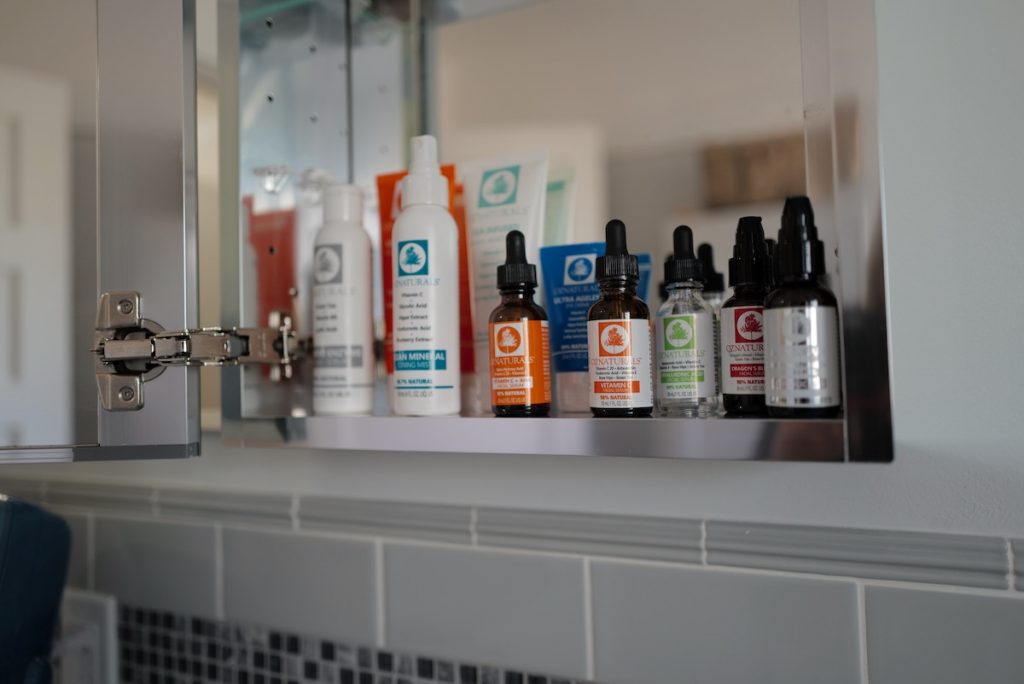 This moisturizer is a dream. It's unlike any moisturizer I've ever used. No oily or thick residue after applying, yet skin feels so hydrated.
I love how it makes my skin feel right after applying. Not to mention, the scent it has is invigorating. No fragrances! Just the natural ingredients.
The sea minerals and antioxidants help protect and renew the skin's cells, while also purging the skin of toxins. Pretty amazing. This moisturizer is not intended for dry skin…if you have super dry skin, opt for the Retinol Moisturizer instead.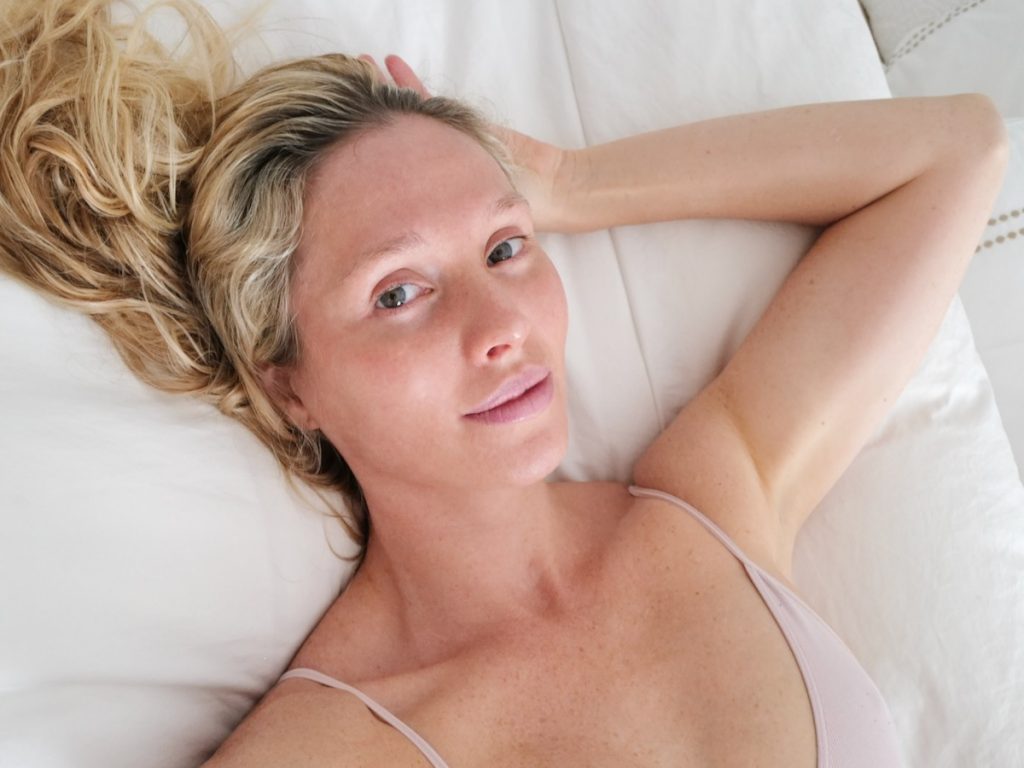 Ultra Ageless Under Eye Cream – I use this morning and night. This is a thicker formulation than the OZNaturals Super Youth Eye Gel, yet it's not overly thick. I use it morning and night and love how it makes my eyes feel instantly awake and hydrated.
Key ingredient: Astaxanthin (a powerful antioxidant). It addresses wrinkles and inflammation.
Tip: If you want EXTRA anti-aging benefits, layer the Super Youth Eye Gel with the Ultra Ageless Under Eye Cream at night.
Use code: Gretchy for 25% off OZNaturals products on their website. One time Use. Free Shipping.
Additional Natural Skincare Products I'm Using
Glycolic Micro Peel – this is one of those products I sadly held off on using for months because I was afraid there would be downtime. I regret not using it sooner!
Hello, there is no downtime! This micro peel is quick and easy to apply and I use it once per week now. It has a potent 30% glycolic formulation, so you only need to leave the product on for up to 4 minutes before removing.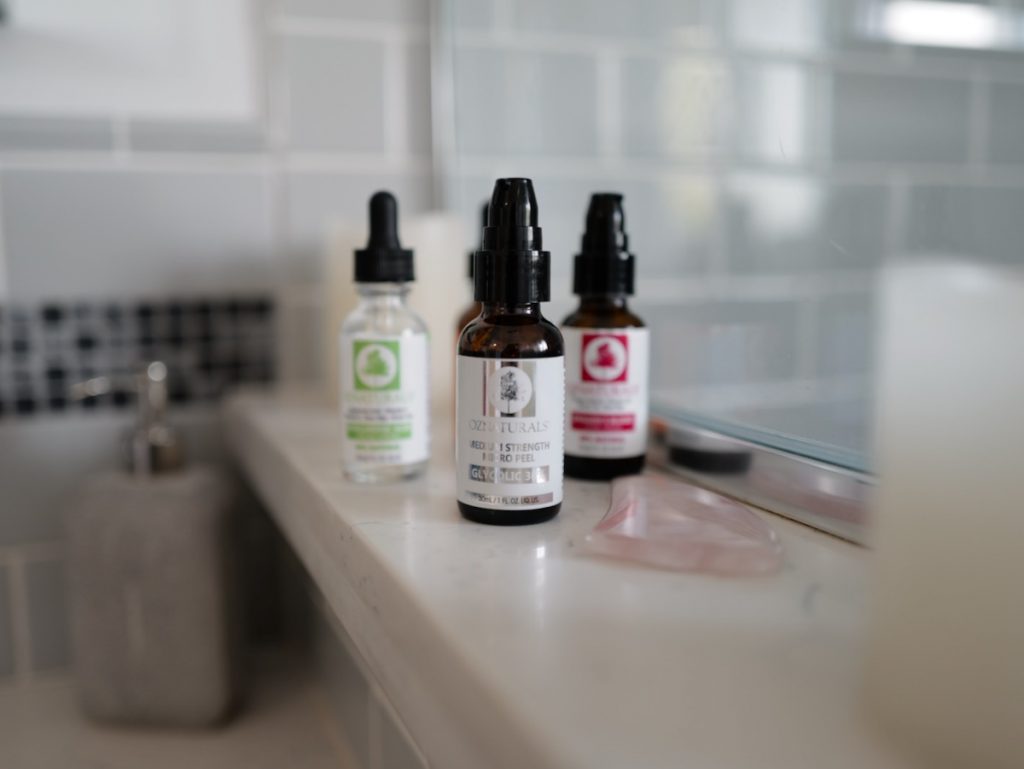 Over the course of the week, your skin will lightly peel (you may not even notice it) and will help to purge impurities and remove dead skin cells. The result is GLOWY skin!
Using it weekly has really helped me see the results I've been wanting. I highly recommend this product.
Bamboo Enzyme Facial Scrub – this is an exfoliating product that I love having in my regular skincare routine. After using, my skin seriously feels like a baby's bottom. LOL. Soft!
The Bamboo Enzyme Facial Scrub is a mild exfoliant and does amazing with my sensitive skin. It basically polishes it up all nice and smooth. Be sure to leave it on for a few minutes when using so that it can fully dry before washing off!
Let it do it's magic! I prefer not to use in the shower for this reason.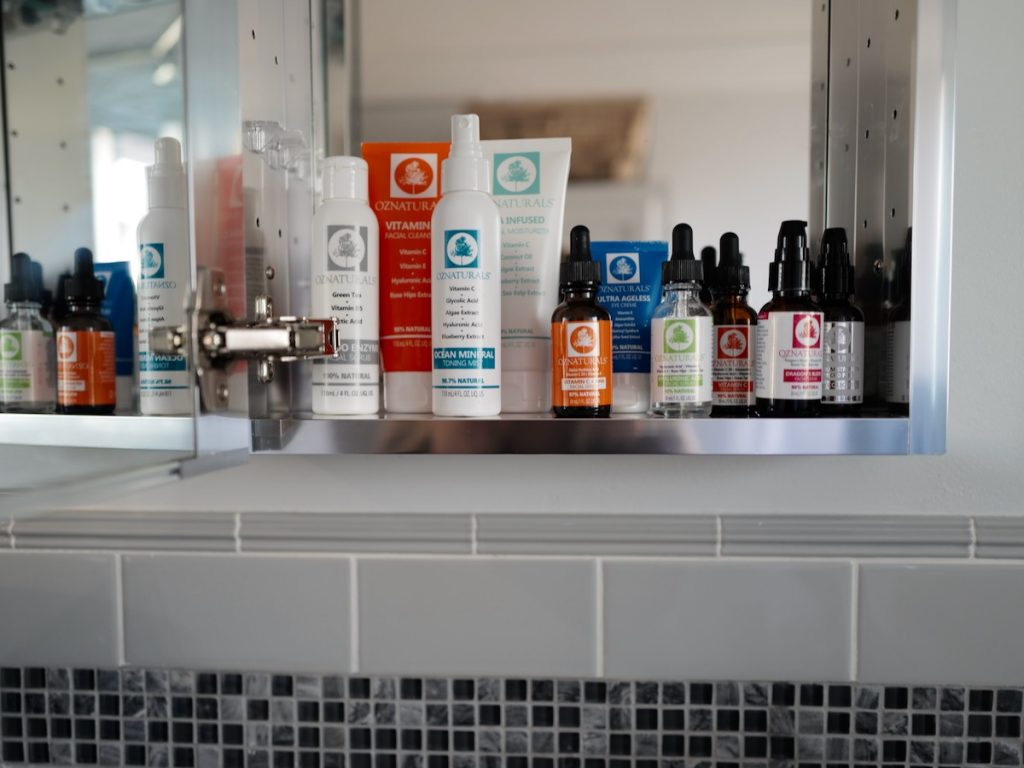 I won't use this scrub everyday in order to avoid over-exfoliating. I'll use it when I feel like my skin is getting congested or if the texture feels a bit bumpy. Also, I'll make sure to wait a few days after using the glycolic peel to use this one.
The glycolic micro peel is a powerful exfoliator, so no need to use another exfoliator or exfoliating products right after doing the peel.
Use code: Gretchy for 25% off OZNaturals products on their website. One time Use. Free Shipping.
Feel Free to ask questions, I'm always happy to help get you answers if I can! All OZNaturals skincare products are very reasonably priced, around $20 per product, take or give.
Incredible and super affordable! Hallelujah!