Trying to drop a few pesky pounds can be one of the most frustrating and challenging processes that leaves you full of questions.  You find yourself asking, "Do I start watching what I eat or do I increase my workouts?", "Do I do both?" or "If I go on a diet, do I count calories or watch my carbs?"  All these questions can intimidate any gal looking to find a balanced diet and lose a little weight!  With so many crazy diets and wacky weight loss tips out there, it can be overwhelming to decide which is best for you and most importantly, which one actually works.  Below, we have listed 5 of the best balanced diets and weight loss tips that will actually allow you to drop those pounds!
Balanced Diet Plans That Work!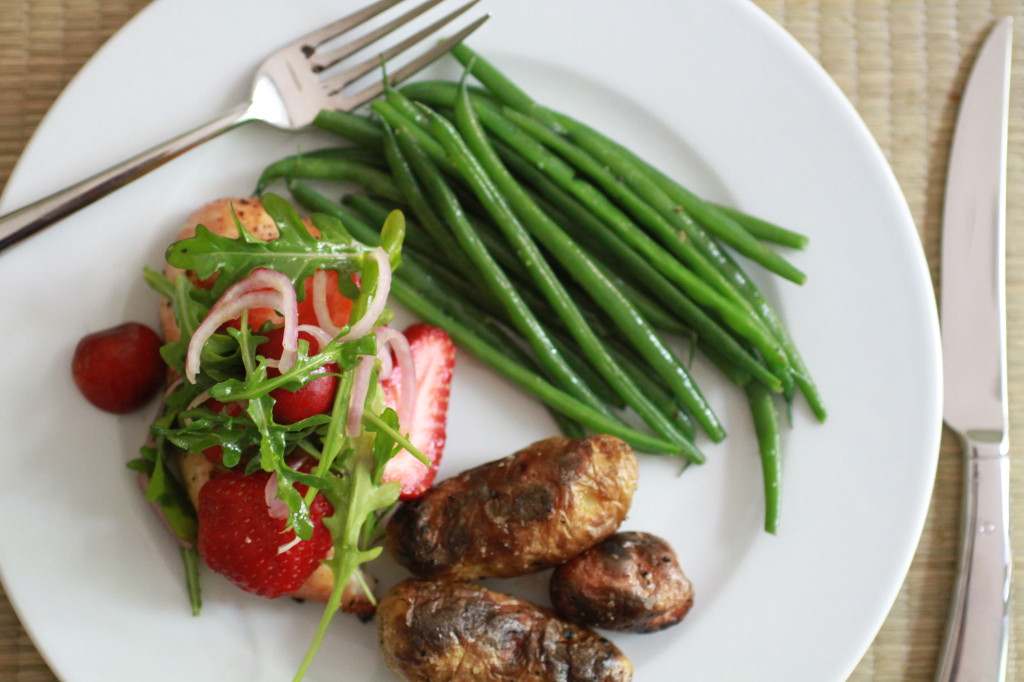 1. Volumetrics
Based on the principle of feeling fuller longer, The Volumetrics Weight Control Plan created by Barbara Rolls, PhD creates an average weight loss of 1-2 pounds per week!  Um, yes please!  Volumetrics works by focusing on the density in meals.  For example, 1 pound of carrots has the same density as 1 ounce of peanuts.  The carrots will keep you full longer causing you to eat less throughout the day.
2. Raw Food Diet
Yes, the same Raw Food Diet that we saw on Sex and The City back in the day!  The Raw Diet is as simple as this: no food that has been cooked, microwaved, processed, irradiated, genetically engineered, or exposed to pesticides.  Think loads of fruit, veggies, berries, seeds, and nuts in their raw form.  Because raw foods are low in calories, you end up consuming less calories per day resulting in weight loss.  There are also claims that this diet can aid in certain medical conditions thanks to the vitamins and nutrients in plant based foods.
3. Jenny Craig
We have all watched those Jenny Craig commercials with a certain amount of skepticism, but according to studies, this balanced diet meal plan actually does aid in weight loss!  Jenny Craig delivers pre-packaged, balance meals for each of your meals, daily.  With restricted calories, fat, and portion control, JC dieters see results while on the plan.  The meals that participants receive are designed around current weight, activity level, fitness regime, and habits of stress eating which means no two dieters have the exact same meals!
4. Weight Watchers
Yes, another commercial diet!  Weight Watchers claims you'll lose 2 pounds a week and their claims are right on!  The point system is designed to help you make smart choices no matter where you are.  Selecting healthy, filling foods within a balanced diet result in lower points while indulging in a snack with little nutritional value equals higher points (a healthy green smoothie at 2 points vs. a soda at 2 points).  WW urges dieters to fill up on low point foods to aid in weight loss.
5. The Biggest Loser Diet
Yes, it's exactly what you are thinking!  The Biggest Loser Diet is a 6 week balanced diet plan that is designed to jump start weight loss by emphasizing balanced eating (fruits, veggies, lean protein, and whole grains) and calorie restrictions.  The key to this diet is the exercise!  Sure you'll be watching your calories and making healthy choices, but you'll also be sweating much more than on any other diet!  The results?  Weight loss and a toned bod!