Aspen is one of the best ski resorts in the world and although a beautiful year-round town to visit, we're partial to winter in Aspen!
If you're planning a trip to Aspen this winter season and need some help with what to pack for Aspen, then look no further!
We've compiled a complete packing list from what to wear on the slopes, what to wear for après-ski, snow bunny beauty essentials, and more must-know bring along items for your trip to Aspen.
This quaint town is known for its quality skiing, après-ski life, celebrity sightings — Paris Hilton vacations in Aspen every year during the holidays — but there are plenty of other things you can do off the slopes too.
Some of the best stores in the world! Shopping, anyone? Packing can be a hassle, so to help you out, we've put together a list of 20 Aspen ski season essentials. These essentials will help you stay warm, but also maintain snow bunny status while on your trip to Aspen this winter!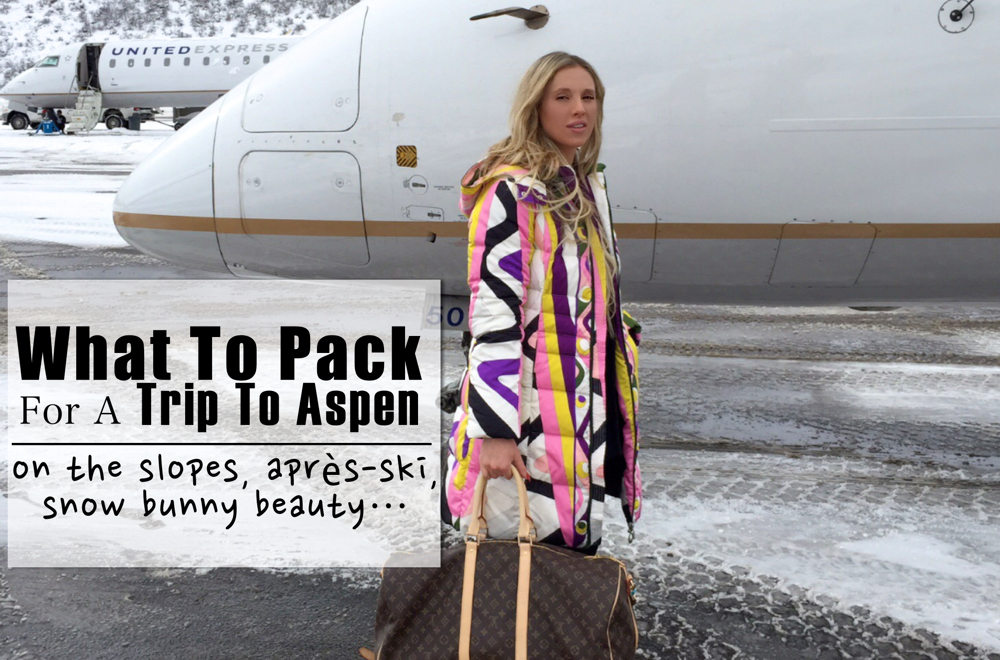 Packing List for your Ski Trip to Aspen
1. What To Wear On The Slopes
Base Layers – First layers move perspiration away from your skin, which will help keep you dry, warm, and happy on the mountain. Second layers are more of a light weight jacket that is worn overtop your long johns and just below your ski jacket. We love X-bionic first layers, these bright printed Hot Chillys tights, and this Bogner base layer.
Ski Jacket & Pants – bring a warm ski jacket that coordinates with your stylish ski pants. You don't have to have a complete, matchy match ski suit, per se, but plan on packing at least 2 different ski outfits, because they are after all your style sense for the bulk of the trip. If you get too warm, you can always remove your coat or zip it down, but if it's not warm enough, you're going be very unhappy!
Ski/Snowboard Equipment – If you want to travel light, it's best to rent all your gear once you arrive. Many will pack their custom boots, but renting skis is so much easier! There are plenty of fabulous ski rental shops in town that are very accessible and have great customer service. Some let you store your skis complimentary every night so you don't have to lug them around town. We love the team over at Performance Ski and their prices are very reasonable.
Goggles & Helmet – don't forget these very important safety items.  It's not cool to ski without a helmet anymore, as cute as it may be to wear just sunglasses and a fur headband. Bogner helmets are super stylish! If you don't have your own helmet, you can purchase over at Performance Ski across from Gorsuch.
Ski Gloves – invest in a pair of warm, comfortable gloves for the slopes.  If you skimp on quality, your fingers will freeze and you'll be forced off the mountain prematurely.  Yes, the little hand warmers can be placed in the ski gloves, but they don't always work that great.
Socks – Don't forget this very important item!  Make sure you bring ski socks, not just ordinary thick socks, as they won't keep you dry.  But, if you do forget, they're easily purchasable at any of the ski stores in town.  When choosing your socks, don't be afraid to choose bright colors and prints like these hot pink ski socks!
Fur Accessories – A cute fur bracelet or rabbit fur neck warmer (worn over a neck gaiter) will help you keep warm and look fashionable on the mountains. And they carry over perfectly for a snow bunny at apres-ski as well!
2. What To Wear For Après-Ski and Night's Out
Fur Boots – in most cases, you'll go directly to après-ski from the slopes, so there's really no changing outfits.  Slip into a really cute pair of fur boots that you store at the ski rental shop, so when you drop your skis off, you can slip out of your ski boots and into your comfortable fur boots. These Jimmy Choo shearling boots are everything!
Hat – have a cute hat on hand, weather it be an embellished beanie, fox fur headband, or trucker hat, to slip on after taking off your helmet. Helmet hair sucks!
Sunglasses – Sitting on the terrace at Ajax Tavern enjoying hot toddies and truffle fries could be blinding, so be sure to have a pair of polarized aviator sunglasses on you!  Side note, if you end up spending an entire night partying over at Bootsy Bellows, Eric's Bar, Escobar, or the Rec Room a stylish pair of sporty sunglasses will help you hide any signs of fatigue/hangover.
Dresses – You'll undoubtedly head out for the evening after you've had time to freshen up following a day of skiing and aprèsing at The Little Nell.  This is the time to slip into a long-sleeved, comfortable, but form-fitting dress, tights, and boots. Don't let the snow get in the way of your snow bunny style sense!
Long Coat – In addition to your ski jacket(s), you may want to bring a long coat that covers the majority of your body at night.  Since you'll be wearing a dress and tights, you'll be subject to wind and cold, but a long coat will make this a breeze as you walk to dinner at Cache Cache (French), Campo De Fiori (Italian), Kenichi (sushi) or Caribou Club (members only)!  Moncler puffer coats and this pre-order Pucci down coat look amazing and will be very warm.
3. Snow Bunny Beauty Necessities For Trip To Aspen
Intense Face Moisturizer – Cold weather equals dry skin. And when skin is overly dry, it can break out. Nothing can ruin drinks in the Living Room at Hotel Jerome faster than blemishes on a dried out face, so we recommend packing a face cream with rich formula for your trip to Aspen.  Try Kiehl's Ultra Facial Deep Moisture Balm.
Lip Balm – It's important to keep your lips moisturized, so make sure to slip a rich lip balm into your ski coat for easy access. We love Chantecaille Lip Screen because not only is it nourishing and soothing, it's also got SPF 15 — perfect for the slopes!
Lipstick – Get the snow bunny look by slipping a bright pink lipstick into your ski jacket and apply when necessary.  A pop of color looks amazing in photos taken at the top of the gondola and does wonders after a day on the slopes if you're headed directly to après.
Waterproof Mascara – the cool winds blowing against your face as you make your way down the mountain will play havoc on your mascara.  Think raccoon face! Opt instead for waterproof mascara so it doesn't drip when your eyes begin to tear.

Hand Cream – Our hands require special treatment as they will constantly be exposed to cold and dry out very quickly. Just taking your gloves off for a minute to check your phone while on the lift plays a toll on your skin, so be prepared.
[show_shopthepost_widget id="1365343″]
3. Other Essentials For Your Trip To Aspen
Mophie – Your phone's battery may drain pretty quickly during your trip to Aspen if you're on Snapchat and snapping photos and video at every chance.

Use the mophie juice pack case, a rechargeable battery charger for your iPhone on-the-go, and you won't risk missing important après meetup calls from your pals.

Bikini  – hot tubbing in the snow is a thing, no matter how cold it is!  Imagine a glass of wine, whilst you wind down in the jacuzzi, nestled in the snow…amazing!
Be sure you're following us on Instagram for more fabulous travel tips!
Save
SaveSave