You'd be surprised by how many times I've been asked, "How did you know you were pregnant?".  It may seem obvious, you take the over the counter pregnancy test and it comes back with a positive, and there you have it, you're pregnant!
Not so fast, let's take a step back for a moment, shall we?
If you're freaking out and want to know how to know if you're pregnant, freak no more! I'm going to share with you what really goes down and how you'll know for sure when you are pregnant.
Because that's why you're here. To find our how to know if you're pregnant!
If you are pregnant, read this maternity bra guide ASAP. It would have really helped me when I was pregnant.
Whether you're at the stage in your life where you're ready to get pregnant or you're trying to get pregnant and want to know if maybe you are pregnant…my story will definitely help you. Because, I am, after all, a lady who got pregnant. A true testimonial!
Read on…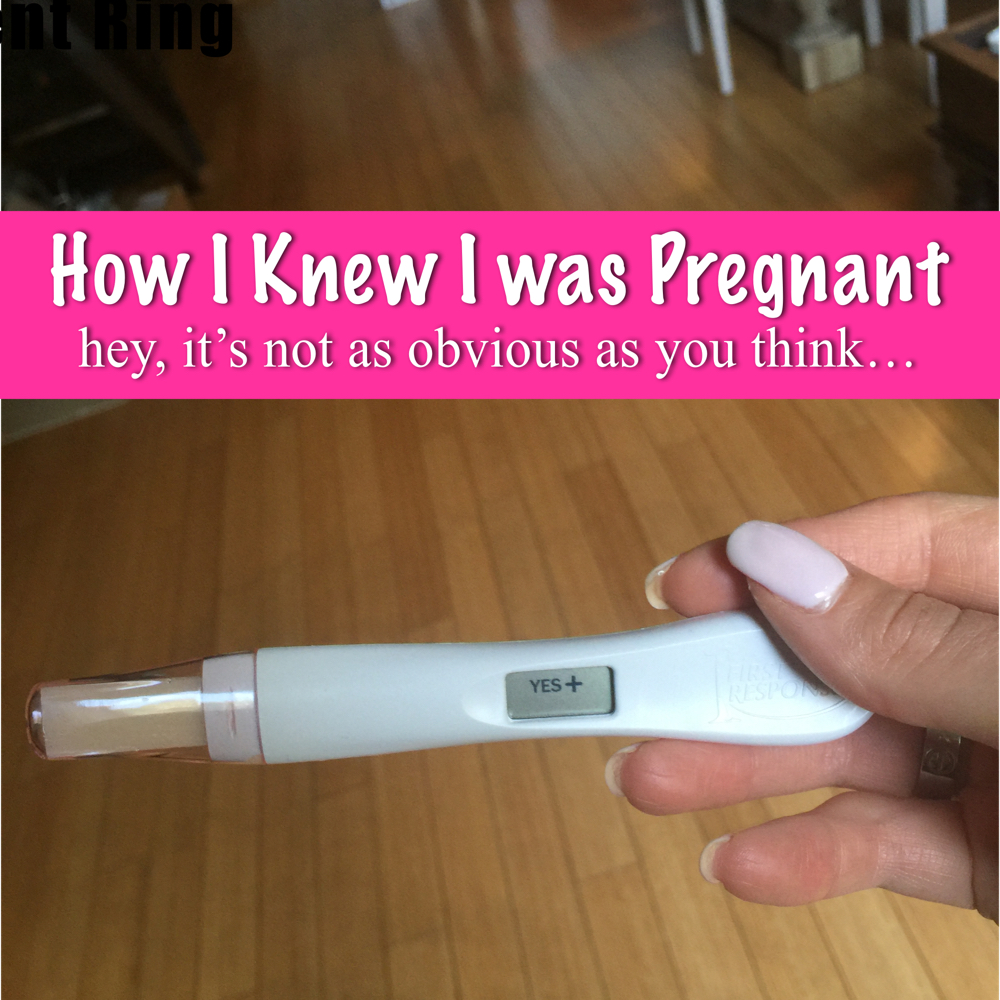 What you may not know, and I sure didn't at the time, is that an over the counter pregnancy test is 99% accurate only AFTER you miss your expected period.
Let that sink in…
Ridic, I know. So, what this means is that if you conceived on September 22nd and your expected period isn't until October 6th, you have to wait at least 15 days to find out if it's a YES!
Crazy, ain't it?
How To Know If You're Pregnant
In my case, I had a feeling that i was pregnant. Like immediately. I mean, they teach us in middle school that if a man and a woman get together and have S-E-X the woman gets pregnant. Not only that, within a few days of having … you know (you know what I'm talking about) … I noticed that my lady parts (boobs, how else do I say it?) were extra extra plump and super sensitive.
BTW, I'm sorry if this is TMI, but you are here for the details. ALL THE DETAILS.
In addition, I found myself running to the restroom quite often. After a few days of having this "feeling", I decided to take a go at my first pregnancy test ever. Exciting!
Actually, it was really nerve-wrecking and stressful. I read the directions like 10 times. By the way, it's really easy, you literally urinate (I know, gross word) onto the end of the test stick and wait for the results. Here's a how to use a pregnancy test guide if you're still worried.
What Happens When You Take A Pregnancy Test
So, what happened?! After a few minutes of waiting and anticipating the obvious positive outcome, I received a shocking answer from my digital test!
It didn't show me 2 pink lines indicating pregnant, it showed me just 1 pink line. ONE PINK LINE.
I waited longer to see if perhaps the line was just faint, but who was I kidding. The test clearly showed 1 pink line indicating "not pregnant".
I was so baffled and really disheartened too. How is it possible that I am not pregnant!? My husband and I had had … well, you know…!
After freaking out for a bit, I decided to start googling and figuring out what's really involved with this getting pregnant thing… 
What Happens After You Take A Pregnancy Test
This is when I discovered a thing called the "fertile window" and ovulation. Seriously, had no idea about this stuff. I had NO IDEA about ovulation or fertile window.
Who knew that there is only a small window of time that a woman can actually get pregnant, like only 5 or 6 days during a woman's cycle??!
Insane!!! Once I dug deeper and realized that I had done … well, you know … on the most fertile day of my cycle, I started questioning both my pregnancy test, but also my ability to get pregnant.

In the First Response Pregnancy Test box that I used, they provided me with 2 tests. After countless nights of reading on my iPad that the First Response Test is 99% accurate only after your missed period, I decided I would give my 2nd test another go if I actually did miss my period.
First Response advertises on the front of the box that you can tell 6 days before your missed period. Clearly not in my case! Just to make sure, I decided to wait a week after missing my monthly to take the test again.
When You Take The Test After Your Missed Period
When it came down to it, on day 6 of my missed period — that's 20 days of waiting by the way — my heart was racing while I sat there waiting for the 2nd test to show the results…
The test was so fast this time. It came back with a "yes+". 
I was so dumbfounded. For like 5 minutes.
Pregnant!
But, I knew it all along! My body had felt different almost immediately upon conception and 1 little positive "yes+" test was all I needed to confirm it. No running to the drugstore for 5 more prego test boxes in every brand! I was pregnant.
Conclusion
Moral of this how to know if you're pregnant story?
If you think you're preggers, be sure to wait to take a pregnancy test until you actually miss your period!  My positive "yes+" came 6 days after my missed period.
Yours may come sooner, but I can't guarantee you that you will get a "yes+" if you take the test before your missed period…although First Response will probably disagree.

Save
Save
Save
SaveSave