I have a very quick and efficient self-care ritual that I do AFTER I put both kiddies to bed. Done just before my bedtime, these 3 natural self-care rituals make a big difference in the way I look and feel.
It's really hard to find time for myself anymore. I can't remember the last time I just plopped down on the couch in front of the TV to chill. Actually, I really wanted to do just that this past Saturday, but never got around to it! Go figure.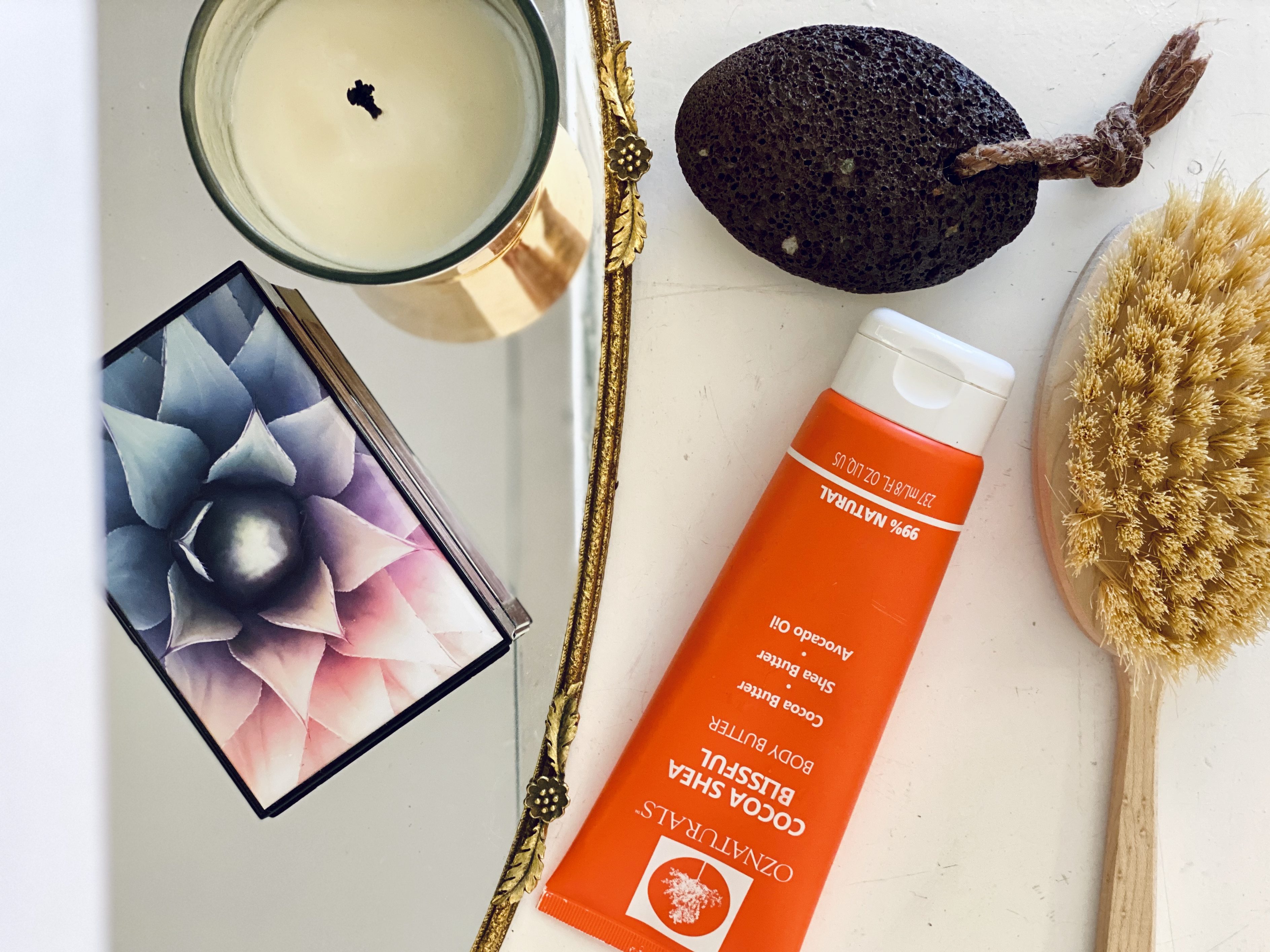 Finding time for yourself is very important, not only for your own sanity but for those who love you too. If you're not sane, you won't be your best for those who need you. You know that.
So, where I do make a little bit of time for myself and my natural self-care rituals is just before bedtime.
3 Natural Self-Care Rituals To Add To Your Bedtime Routine
The self-care ideas I'm going to share with you go hand in hand. They're easy, don't take long to do, are extremely inexpensive, and when done regularly can have fabulous results that will make you very happy and healthy.
I highly recommend adding these natural self-care rituals to your bedtime routine especially during fall/winter as they will greatly improve dry, rough or flaky skin.
Okay, let's get into it.
1. Dry Brushing Improves Dry, Flaky Skin and Increases Blood Circulation
First, let's start with dry brushing. You may have heard of it before, but never tried it. Or maybe you have tried it but didn't really understand the purpose, so you stopped using your dry brush.
Well, I'm here to tell you that your dry brush is a really effective tool (that's inexpensive) for naturally exfoliating your skin and removing flakiness…especially as we head into the cold winter months.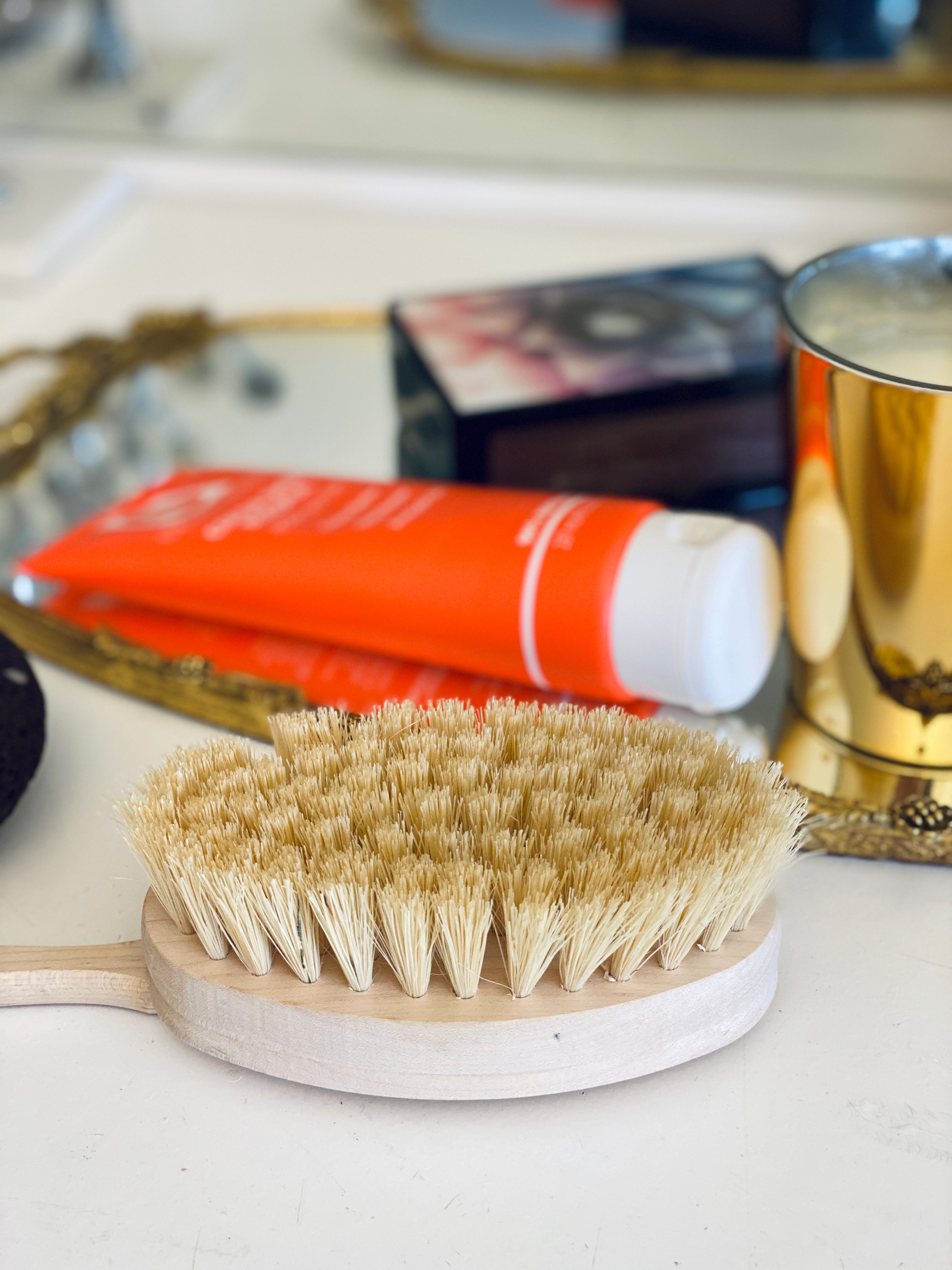 Yes, dry brushing will make skin softer and smoother, especially if done on the regular.
How does dry brushing work? You use a natural bristled brush and essentially brush your skin when it's dry. Using long, upward strokes, you brush your body starting at the feet and moving up.
Each motion should be directed towards your heart. Skin is more sensitive in the abdominal and breast area, so use softer strokes in those areas (or avoid breasts completely). You can also use circular motions on the abdominal area.
How long should you dry brush? This self-care ritual takes no more than 5 minutes. It's very fast! You should take a shower immediately following a dry brushing session to remove the dead skin and other impurities that you've exfoliated.
How often do you dry brush? I like to rinse off in the shower at night before bed. It makes me feel clean and refreshed and helps me get into a wind-down state.
I leave my dry brush on the bench in my bathroom so that it's in plain sight and basically calling my name. If I remember, I'll ideally dry brush every night before my bedtime shower.
What are the benefits of dry brushing in addition to exfoliation? Dry brushing detoxifies your body by increasing blood circulation and promoting lymphatic drainage. The reason we want the lymph to flow nicely is so that toxic waste doesn't get stagnant in our body.
Think about a clogged drain…nothing can flow past a clog and then we have real issues. Same idea with your body. We want to keep the pathways clear and flowing.
You're likely to feel invigorated after dry brushing. It should feel good! Your skin will also be glowy with increased blood flow.
Which Dry Brush should you Buy? There are a variety of different dry brushes from soft to hard. I like to use a natural bristled dry brush that has medium to firm bristles like this one.
2. Moisturize Skin With Rich Body Cream After Dry Brushing Ritual
Dry brushing exfoliates very effectively, but if you don't replenish skin with antioxidant-rich oils, your skin may actually dry out.
Don't worry, this won't happen to you, because you're going to follow your dry brushing and shower with a fabulous body butter that has powerful ingredients! Mainly Cocoa butter and Shea butter.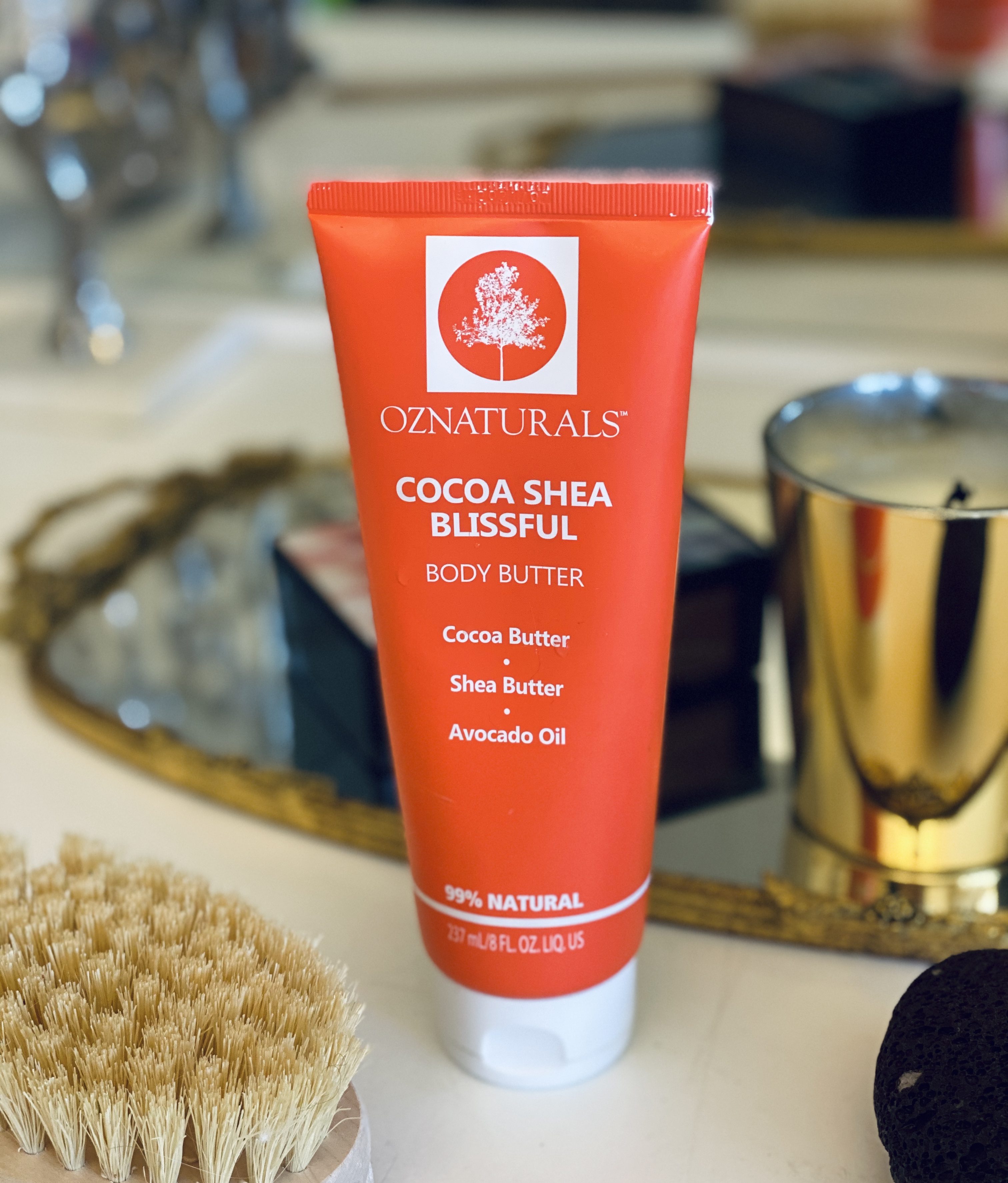 The Cocoa Shea Blissful Body Butter from OZNaturals is ideal for fall/winter because it has Cocoa Butter and Shea Butter. These ingredients are especially nourishing for your skin as they deliver many Omega Fatty acids, phytosterols, and Vitamins A, E and K. These nutrients are known to help dry and chapped skin.
The reason I use the Cocoa Shea Blissful at night is because it's part of my bedtime self-care ritual. First, I dry brush, then I shower and use my pumice stone (keep reading for this self-care ritual), and finally, I lather my body in my Cocoa Shea Body Butter starting at the feet.
Why should you use Body Butter following a shower? The most effective time to use this rich cream is right after a shower while your body is still slightly damp. This allows the humectants and emollients in the moisturizer to trap and seal in moisture for long-lasting protection and comfort.
If you don't already know, I'm a huge OZNaturals fan and customer because they use superior natural ingredients that are EFFECTIVE. No fillers and no junk. Check out my natural skincare routine using OZNaturals facial products.
Use Code: Nubry for 25% off OZNaturals products (one time use code). Shop the Cocoa Shea Body Butter here.
3. Get Baby Soft Feet with a Pumice Stone During Bedtime Ritual
Bedtime self-care ritual #3 is using the pumice stone in the shower. Use a natural pumice stone daily for intense exfoliation that increases softness. The more you use your pumice stone, the less time it will take when you use it.
Sort of like a maintenance thing. Keep things nice and soft for you.
This is a gamechanger, my friend. The Pumice stone. Have you heard of it? Do you use one? OMG.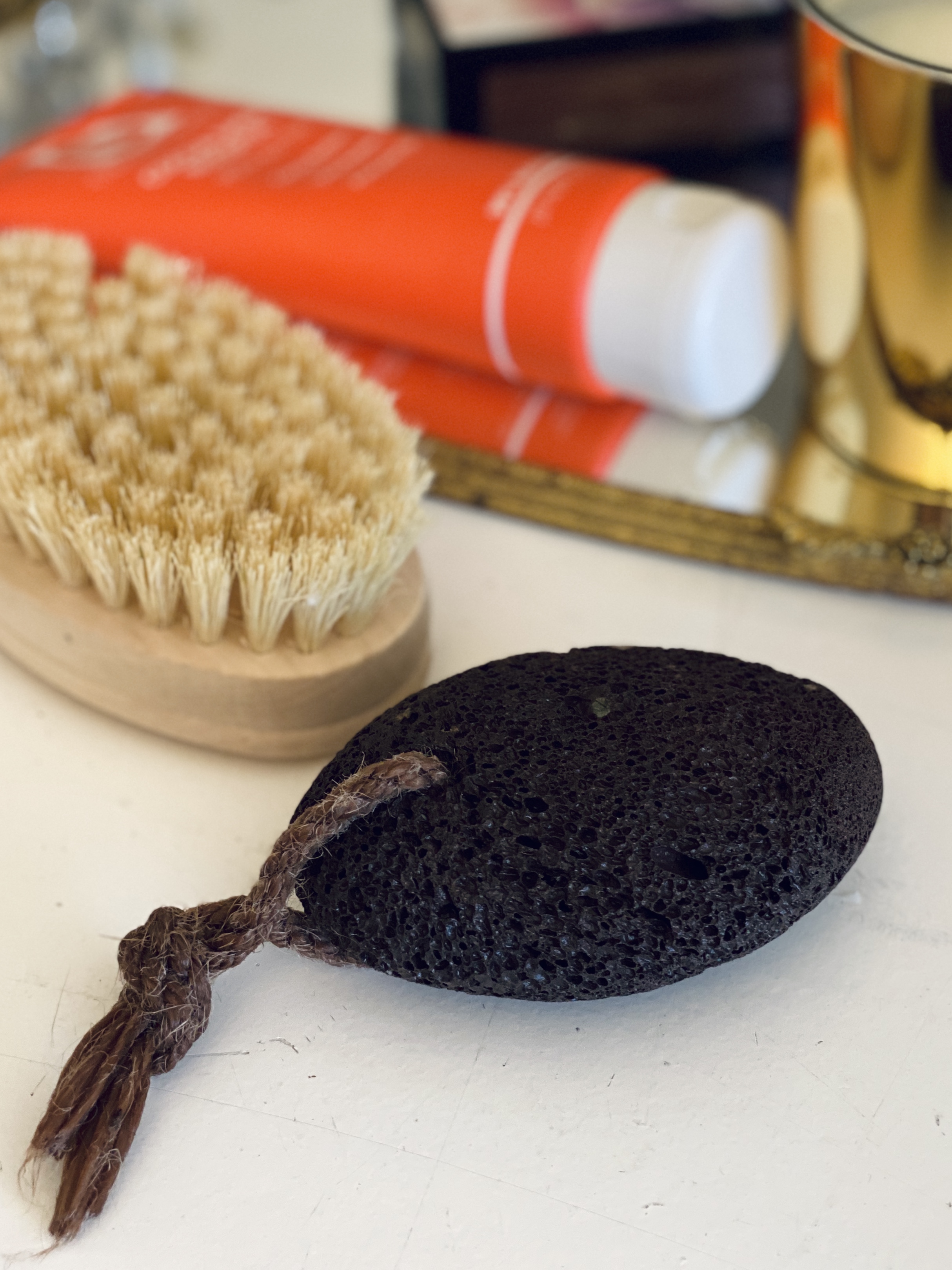 You know, I don't get mani/pedis anymore. Mainly because i don't have time for it. But, also because, have you thought about how TOXIC nail polish is for you? Another day for that subject…
The other reason I don't care for pedis is because they NEVER ACTUALLY made my feet pretty. Seriously! Maybe initially as I walked out the nail salon door…but TBH, my feet were always dry, cracked, rough and plain ugly IRL.
UNTIL…
I STOPPED GOING TO THE NAIL SALON.
The last time I got my nails did was sometime before Olympia was born…so it's been at least 10 months. And yet, my feet look better than ever.
How do you use a pumice stone? Use the stone with intense pressure on the bottom of your feet, especially where there are calluses and dry, cracked areas (like the heel of foot and tips of the toes). That's it.
After a shower, moisturize feet with a rich cream like the Cocoa Shea Blissful Body Butter I discussed in self-care ritual #2. A rich soufflé like the one from OZNaturals puts intense moisture and hydration back into your feet, which they deeply need, especially during the winter.
I think the feet are the most neglected part of the body…and they don't deserve that neglect. My feet look beautiful (soft like a baby) now that they're hydrated and callus/crack-free. Yes, even without polish. I actually prefer the natural look better. Shocker!
That's right, I don't need polish and a superficial pedi to make my feet beautiful 🙂
What pumice stone should you buy? I like a natural pumice stone made of volcanic rock like this one.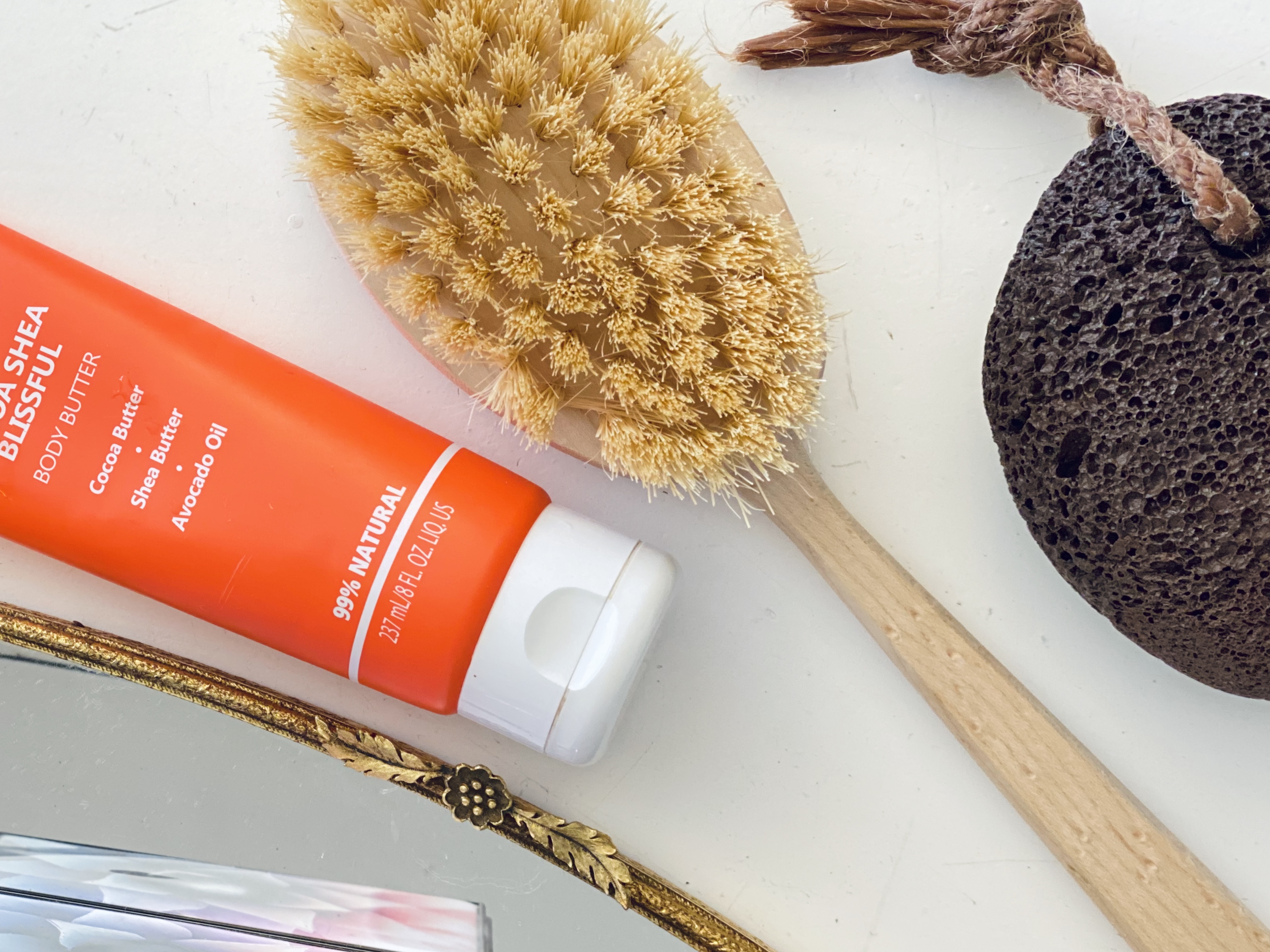 Bottom Line
Self-care rituals don't need to be expensive and intense! The best self-care rituals are those that you can do yourself on a regular basis. You don't want your ritual to be a pain in the a**, you know what I mean? If that's the case, you'll burn out, and it will be short-lived.
I like to do my self-care rituals in the evening as part of my bedtime routine. They're quick, efficient, and don't cost anything…just the initial cost to purchase the materials.
Keep your skin beautiful, hydrated, and soft this fall/winter by adding these 3 natural self-care rituals to your evening routine: dry brushing, followed by a shower where you use the pumice stone on your feet. A
fter a shower, slather your body in a rich body cream with natural ingredients like the Cocoa Shea Blissful Body from OZNaturals.
Use Code: Nubry for 25% off at OZNaturals.com
Enjoy.