Valentine's Day is right around the corner and per usual you have that funny feeling of fluttering butterflies in your tummy.  The stress that surrounds Valentine's Day can be enormous, not knowing if your special (heck, or unspecial) guy will ask you to dinner on this very romantic day. Who needs that?!  For a list of things to do on Valentine's Day for singles in San Diego, read on.
This Valentine's Day, forget about him!  If he hasn't planned a date with you yet, you don't need him. Seriously!  If he has, read our Valentine's Day gift ideas for him. At least for V-day, you don't need him.  This year, you have plans and you're busy. But not only that, you're excited about the holiday and anticipating the day because it's going to be spent with some of your best gal pals.  Make this February 14th a day to remember by scrolling and choosing from our list of the 10 best things to do on Valentine's Day for singles in San Diego.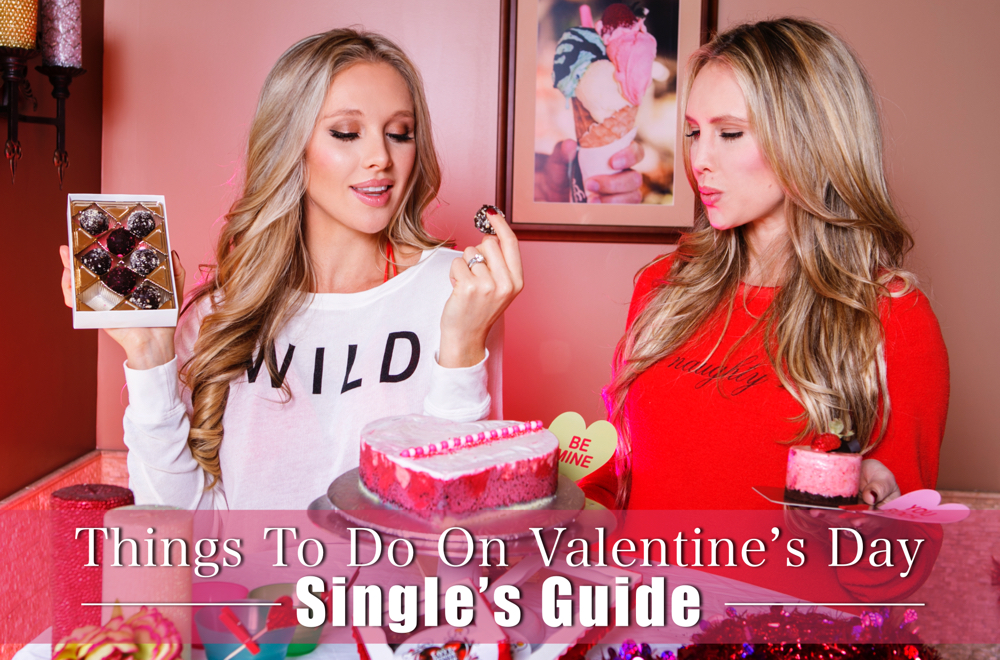 Things To Do On Valentine's Day For Singles
Valentine's Day is a holiday for more than just honeys, it's a holiday for singles too! Take this opportunity to make this year's most romantic day of the year your most memorable with our things to do on Valentine's Day Guide below.
1. Rent Electric Beach Cruisers
The bike trail in Del Mar starts only a half mile down the road from L'Auberge Del Mar, where you'll be able to take a ride down Pacific Coast Highway or explore the beautiful neighborhoods of Rancho Santa Fe and Fairbanks Ranch via beach cruiser. Bikini top and jean short cut-offs not required, but definitely ideal for Snapchat!
Tip: See the Valet team at L'Auberge Del Mar to rent your very own electric beach cruisers.
2. Enjoy Italian-Made Gelato At Gelato Paradiso
Demand that your gelato be made fresh daily and with ingredients imported from Italy. Don't settle for less! Head over to Gelato Paradiso nestled within The Headquarters at Seaport for a taste of Italy and be sure to try their pistachio — it's known to be the very best pistachio around! Or, dig into a heart-shaped gelato cake or take home a 12-pack of gelato cake bites, designed just for V-day.
Perk: take $2.14 off their heart-shaped gelato cake or gelato cake bites when you show this post or mention Nubry.

3. Sweat It out With A Friend
Not really into spending your day with best frenemy, Calorie? Grab your gal pal and sweat it out on the 4 mile trail at Torrey Pines in Del Mar. This beautiful hike overlooks the water, simply breathtaking! Or if you're more into taking a cycle with beats, sign up for the "Singles Awareness Day Ride" at 9:45am or "The 50 Shades of Spark Naughty Love Ride" at 11am on Sunday at Spark Cycle in La Jolla Village.
Tip: go early to beat the crowds and sun. Don't forget to wear sunblock and a hat or you'll leave with quite a burn.

4. Go Out For A Fancy Dinner For 2
Part of the Valentine's Day draw is the opportunity to dress up and enjoy a super fancy, over-priced dinner in a stuffy, lovebird environment. Hey, I'm not hating! Want to take part? Reserve your table for 2 at one of San Diego's most romantic V-day restaurants: Mister A's, Eddie V's at The Headquarters at Seaport, Juniper and Ivy, Catania, Stake, or Hotel Del Coronado.
5. Treat Yourself To…
Who doesn't need an excuse to update her lingerie wardrobe? This girl (think blonde girl emoticon with arm raised high)! Whether you invest in a few new lacy numbers, a fabulous blowout, or eyelash extensions, treating yourself to something nice on V-day is money well spent.
6. Have A Loft Or Apartment Party
Call your friends up and invite them over to your place for a party! Have everyone bring a bottle of wine and serve a fabulous platter of cheese (which you can pre-order from Venissimo Cheese), beautiful and decadent chocolates from Dallmann Fine Chocolates, and a heart-shaped gelato cake or gelato cake bites from Gelato Paradiso. For decor things to do on Valentine's Day, be sure to decorate your loft with adorable, festive hearts and have V-day cards for each of your friends, which are available at Seaside Papery.
Tip #1: no need for running all over town to pick party necessities, Venissimo Cheese, Dallmann Confections, and Gelato Paradiso are all conveniently located within The Headquarters at Seaport.
Tip #2: Mention Nubry when you spend $35 at Dallmann's, and you'll get a free Sea Salt Chocolate Sleeve. Value: $10.
7. Make V-Day Cookies & Take To Work
Wind down and de-stress by getting busy in the kitchen.  Out your heart and soul into adorable heart-shaped Valentine's Day cookies and then bring the leftovers to work on Monday.  Go the extra mile and make them gluten-free to be sure that all of your co-workers will be able to enjoy. Recipe for Heart-Shaped Linzer Cookies or Gluten Free Heart Shaped Linzer Cookies.
8. Make Your Guy A Libido Boosting Smoothie
Did your guy friend spend the night?  Perfect! Use this opportunity to blend him up a libido-boosting smoothie and then jet off to work. See Beaming's "Passion" recipe to right. He'll be regretting his decision not to make V-Day plans with you all week long.
9. Make It A Pajama Party Movie Night
Don't feel like seeing all the couples smoochy smooching over a candlelit dinner? Hey, I don't blame you. This is where Netflix and chill really takes on a new meaning. invite your gal pals or just relax by yourself in pj's and slippers. Set up your movie night with a big bowl of popcorn, assorted truffles, and a bottle of wine. Take a pic and Snapchat that shiz.  Ummm, amazing!
10. Sign Up For A Chocolate & Wine Tasting At Dallmann Fine Chocolates
Round up your girlfriend(s) and sign up for the next chocolate and wine tasting at Dallmann's. See upcoming classes:
Chocolate Fondue + Champagne Class: February 18th at 6:30pm. Reserve now! Price: $12
Chocolate + Scotch Class: March 3rd at 6:30pm. Reserve now! Price: $21
Tip: Mention Nubry when you spend $35 at Dallmann's, and you'll get a free Sea Salt Chocolate Sleeve. Value: $10.
SaveSave