It doesn't matter where you are celebrating Memorial Day weekend, we want to give you some festive and stylish Memorial Day table decoration ideas plus a perfect gluten free, vegan MDW menu to keep you skinny all weekend! You'll want to celebrate in style this patriotic weekend in style and of course flashing your red, white, and blues! These Memorial Day table decoration ideas are also applicable for July 4th!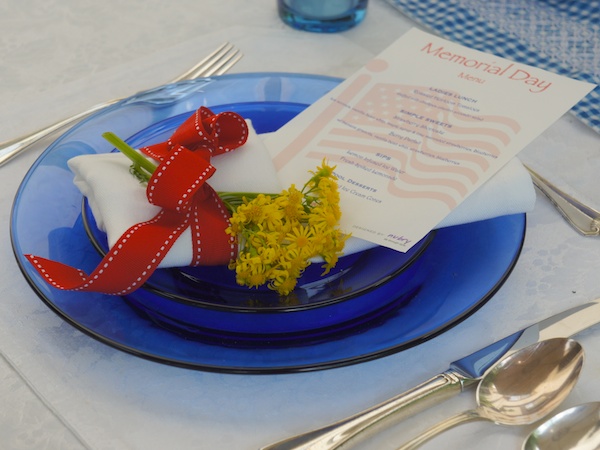 For the Memorial Day menu, we chose gluten free, low-fat, low calorie, vegan recipes that are easy to prepare and quick to serve! With patriotic games and poolside activities going on, everyone will be eating and drinking at their leisure all weekend long. See how to play bocce for a fun group outdoor game.
Below are the menu items we put together for our Memorial Day menu. Our DIY tips for a Memorial Day BBQ were featured in Exquisite Weddings – The Bride Suite.  Below are 8 Memorial Day table decoration ideas to keep your table stylish all weekend long.
_______________________________
8 Memorial Day Table Decoration Ideas
1. Add yellow touches to a red white and blue tablescape from food like lemons to flowers. Yellow and blue are a great color combo to remember all summer long.
2. Add red to the table with foods.  There are few blue foods. Using blue dishes and a white tablecloth, we added red through many of the menu items for the day.
3. Fold napkins in a new way:  We folded white napkins to create a pocket to insert each person's menu.  A red ribbon tied in a bow around the napkin makes this a pretty presentation for your Memorial Day table setting.
4. Add a fresh flower to each table setting. A fresh flower added to the napkin is a nice touch.  Go into your garden and cut some flowers!
5. Print the menu: Make every occasion special by planning the menu and then printing it out so that everyone knows what ingredients are in the food and what they will be getting. Most of all, this is festive for the table.
6. Mason Jars: use your mason jars for everyone to sip lemon infused ice water from a straw for a nostalgic feeling. This 1858 container was invented to store jam.  See 9 ways to use a mason jar at your Memorial Day BBQ.
7. Do not go overboard on patriotic American flag paraphernalia. It will cheapen your stylish look! We designed our menu with an American flag.
8. Memorial Day and July 4th: Buy high quality items to decorate and create a red white and blue environment, so that you can use it for future patriotic holidays or even all summer.  For example, blue glasses and dishes are always gorgeous outdoors or by the pool during the summer.
________________________
 Vegan Memorial Day Menu
All menu items are gluten free, vegan and low-cal.