Women with long and beautiful hair have wowed onlookers forever, with little answers given as to how they do it; but the mystery of how to grow long hair and increase the length of your precious strands may finally be over.
Yes, with our secret hair tips we're about to share with you, you'll be able to enjoy long, luscious, and healthy hair, if they so choose. Click here to watch our video showing how to get healthy hair.  First and foremost, the key components to having a beautiful long mane are to be physically healthy, to truly take care of your hair, and to avoid damaging your hair.  Read on for more details…
Below, we've listed 4 rules to live by that will show you how to grow long hair fast.  If you have any questions about how to grow your mane or want to share your own beautiful mane experiences, please leave your comments below. Good luck and be patient, growing beautiful long hair takes time!
_____________________
4 Hair Rules: How To Grow Long Hair
Rule # 1: Maintain Your Physical Health
Starting with the obvious, it is very important to maintain good physical health.  Make sure to consume a healthy diet filled with fruits and vegetables for their high antioxidant levels, which will in turn boost your immune system and help keep your body strong.
Rule # 2: Brush Your Hair Gently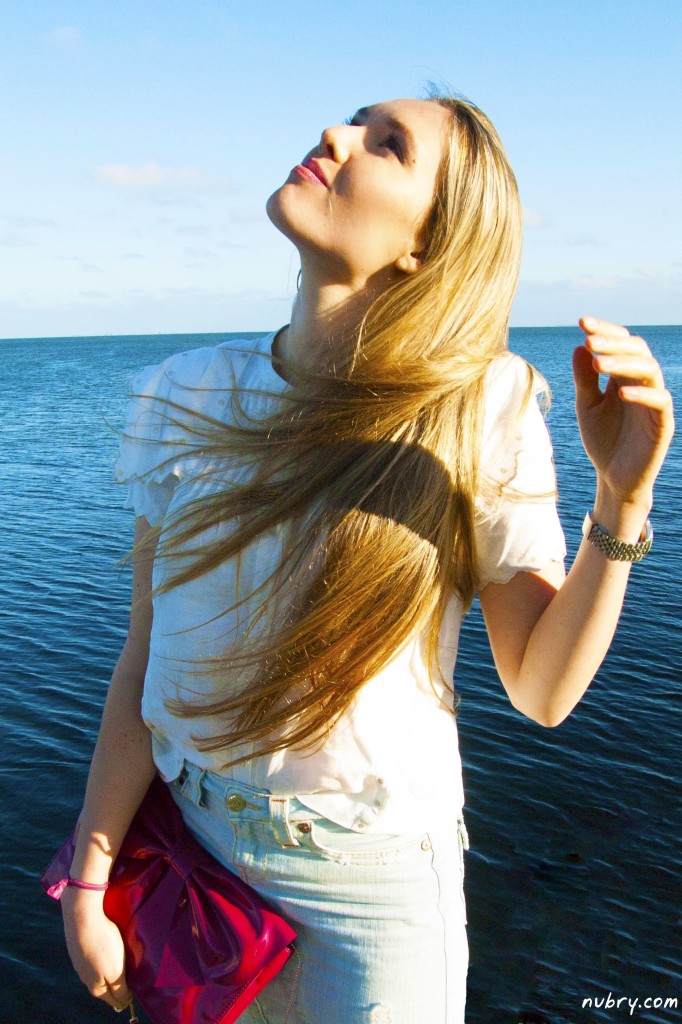 Focus on taking care and being gentle with your beautiful locks. When brushing, you should never rip through or break off your hair with a comb or brush. Yes, this does mean having patience!  Avoid heavy wind drafts or convertible cars with your hair down, as this can be a nightmare to detangle – sometimes, taking at least an hour to comb through! If you do have to ride in that convertible, make a tight bun beforehand. If you are at a salon or dry bar, and your new stylist has no regard for detangling your hair gently, don't be afraid to stop them! It's perfectly fine to say "Excuse me, do you mind if I brush it out myself?" There is no excuse for needing to sit through a scalp ripping session that destroys your hair.
Hair Tip: To most easily detangle your hair after a shower, use a Wet Brush after working a product through your hair that contains argan oil. Try Moroccan Oil, as it is great for detangling and nourishing hair. When your hair is dry, brushing with a boar's bristle brush is very important as it stimulates the scalp for growth and is gentle and giving on the lengths of your hair.
Rule # 3: Avoid Hair Damage
Nothing can ruin your dreams of beautiful long hair like straightening, curling, or using excessive heat on your hair! This concept is very important, as you must learn to love your what God has given you! Find out new ways of styling that do not include using high heat. It is fine to blow dry your hair on weekends or if its really cold outside to blow dry your scalp, but do try to keep the heat to a minimum. Highlighting or dying also causes damage, in which case it's even more important to avoid heat and to use a repairing shampoo and reconstructive conditioner.  Click here to for our hair-care tips.
Hair Tip: Another possible way of damaging your hair is by keeping it in tight ponytails. Having a very tight elastic around your hair weakens it and may even cause hair to break off. To avoid this mishap, try to use a tight elastic sparingly or try using a softer option, like a scrunchie.  Keeping your hair in a ponytail while exercising is semi-okay, but it is better to tie hair back in a braid.
Rule # 4: Trim Your Mane Less Often

If you're interested in finding out how to grow long hair, why would you cut off all that you have gained? Hair stylists frequently cut off more length than is needed, so make sure to see a stylist you trust and make sure to tell them to just dust your ends (aka cut 1/2 inch or less). It is a myth that it's necessary to cut your hair frequently in order for it to grow. If you are growing out your locks, cutting it twice a year is perfectly fine!