You've probably tried it at least once.
Ordered a CSA box. Community Supported Agriculture, if you're wondering. But, it was short-lived. Am I right?
A CSA box is by no means the sort of San Diego grocery delivery service that you'd want it to be. Receiving a box of potatoes, head of wimpy lettuce, some beets and a turnip just doesn't do it for me. Does it do it for you? LOL, I didn't think so. For one, random veggies don't inspire me…especially when I'm not sure if a turnip is supposed to be cooked or mandolined and eaten raw. Either way, doesn't sound good.
A while back, I signed up for a local CSA box. I desperately tried to use my veggies that were delivered each week. I mean, I am an active member of my community and love to support my local farmers. Unfortunately, my CSA endeavor failed. Miserably. My beets got soft, parsnip shriveled up. And my potato molded in the back of the drawer.
After 3 weeks, I canceled my weekly delivery.
So. Sad.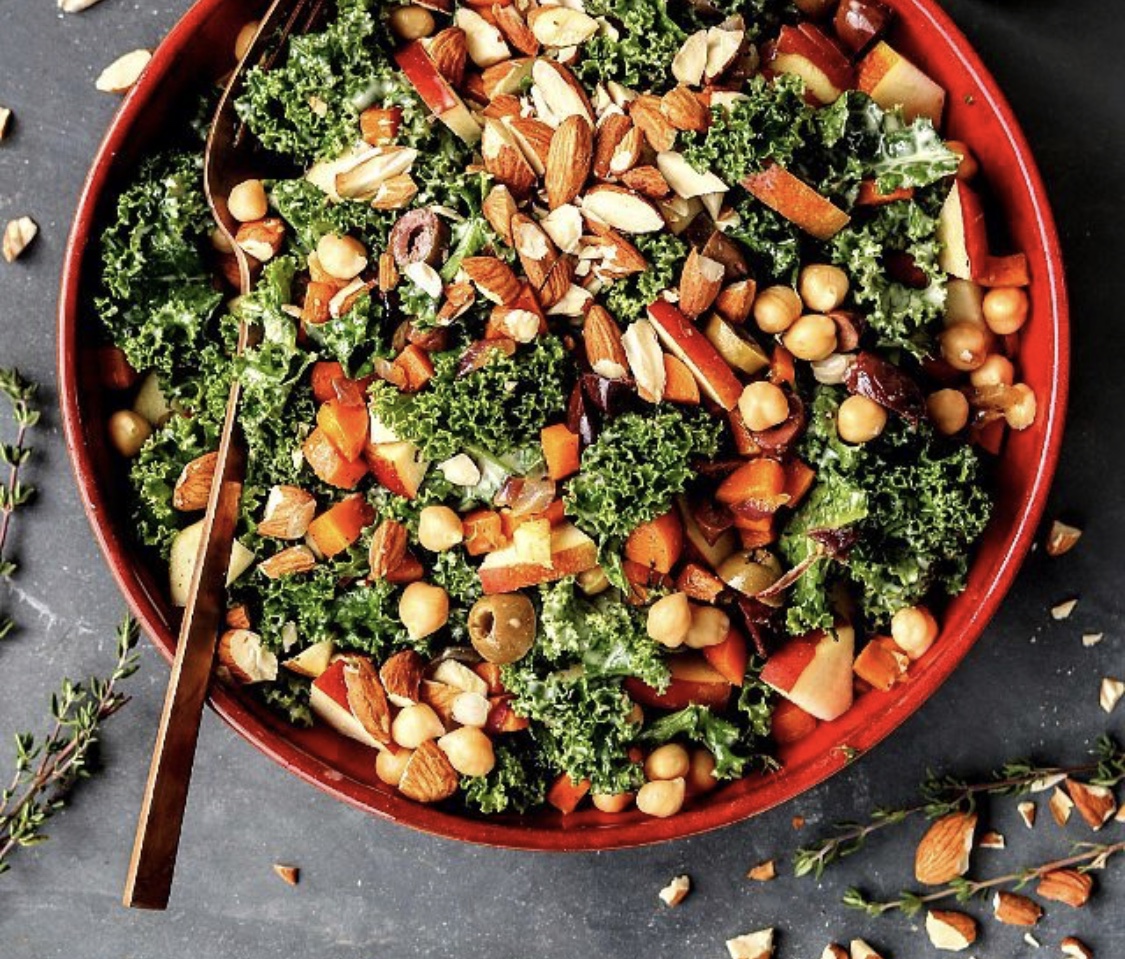 When I was invited to try Out of The Box Collective, an organic San Diego grocery delivery service, I was a LITTLE hesitant. To say the least. Not to be confused with this local delivery company.
I just didn't want my veggies to shrivel up and die again. You know what I mean?
By the way, not only do they deliver in San Diego, Out of The Box Collective also services Los Angeles, Santa Barbara and 1000 more zip codes in California.
Here's what happened when my 1st organic produce box arrived
I opened my door early Monday morning and sitting at my doorstep were two large boxes. I carried them into my kitchen and opened both up to find an abundance of fun! Serious fun!!!
I'm talking beautiful, organic veggies, kale, fresh herbs, fruits, freshly squeezed orange juice, and pistachios. Lots of anti-inflammatory foods amongst other things. In the second box: wild caught salmon, grass fed flank steak, nut cheese and free range eggs.
Literally felt like Christmas.
Fortunately, I uncovered some hidden recipes before I could even begin to get overwhelmed. The recipes, printed on what feels like recycled paper, had been stashed in the box. There was a lot of food in my box, it took some time to find.
No joke!
The recipes from this San Diego Grocery Delivery Service tend to make you feel (and look) like a Chef
I love how Out of The Box Collective makes me feel like a Chef. The recipes from this San Diego grocery delivery service make me get out of my comfort zone. Initially. But, then I get going, and my creative Chef juices start flowing.
Let me get something straight. I am not a Chef. I've never taken a cooking class in my life.
Actually, not true. I remember learning how to make a white pasta sauce in Home Ec class in high school. Key word: white pasta sauce. All I remember is the unfathomable amounts of heavy whipping cream and white flour that was used to thicken this sauce! 
Heart attack waiting to happen.
Okay, back to the the fact that I'm not a professional cook. My point here is that YOU can cook. Can you read? Okay, then you can cook too. Because, it's all about following the instructions.
That's it. Read. Follow instructions.
Out of the Box's recipes are interesting! My favorites to date include their butternut squash apple soup (btw, so easy!), pickled persimmon salad and watermelon gazpacho. Also loved the sweet potato with soba noodles, Liza Shaw's beans and greens, and chicken with 40 cloves of garlic.
Did I have you at 40 cloves?!
Baked garlics, so they don't have that disturbingly garlicky taste and smell that lingers on your breath for days. Gross!
Each of the recipes utilizes the ingredients that are included in your box. Pretty cool.
Sometimes I like to alter the recipes…
Depending on the week, I'll either have one or two boxes of food from this convenient San Diego grocery delivery service. In the box is meat, chicken, eggs, produce and other miscellaneous items. Everything is organic. And, I make a lot of substitutions.
Miscellaneous items. So KEY!
Because they help you complete your recipe. You can't make a really cool recipe with just veggies, fruit, and meat.
I mean, yah, you can throw the beets and potatoes in the oven. You can grill the piece of steak. Chop up the lettuce and call it day. Yes, this is so true. And I do. I do this all the time!
But…
You want to switch things up. Bring that Chef flare to the table. You want to get out of your comfort zone, slightly, and whip up some meals that will shock you. Shock your husband (or boyfriend). Or shock whoever is eating at your table.
Yes girl, you got skills in the kitchen! And you didn't even know it.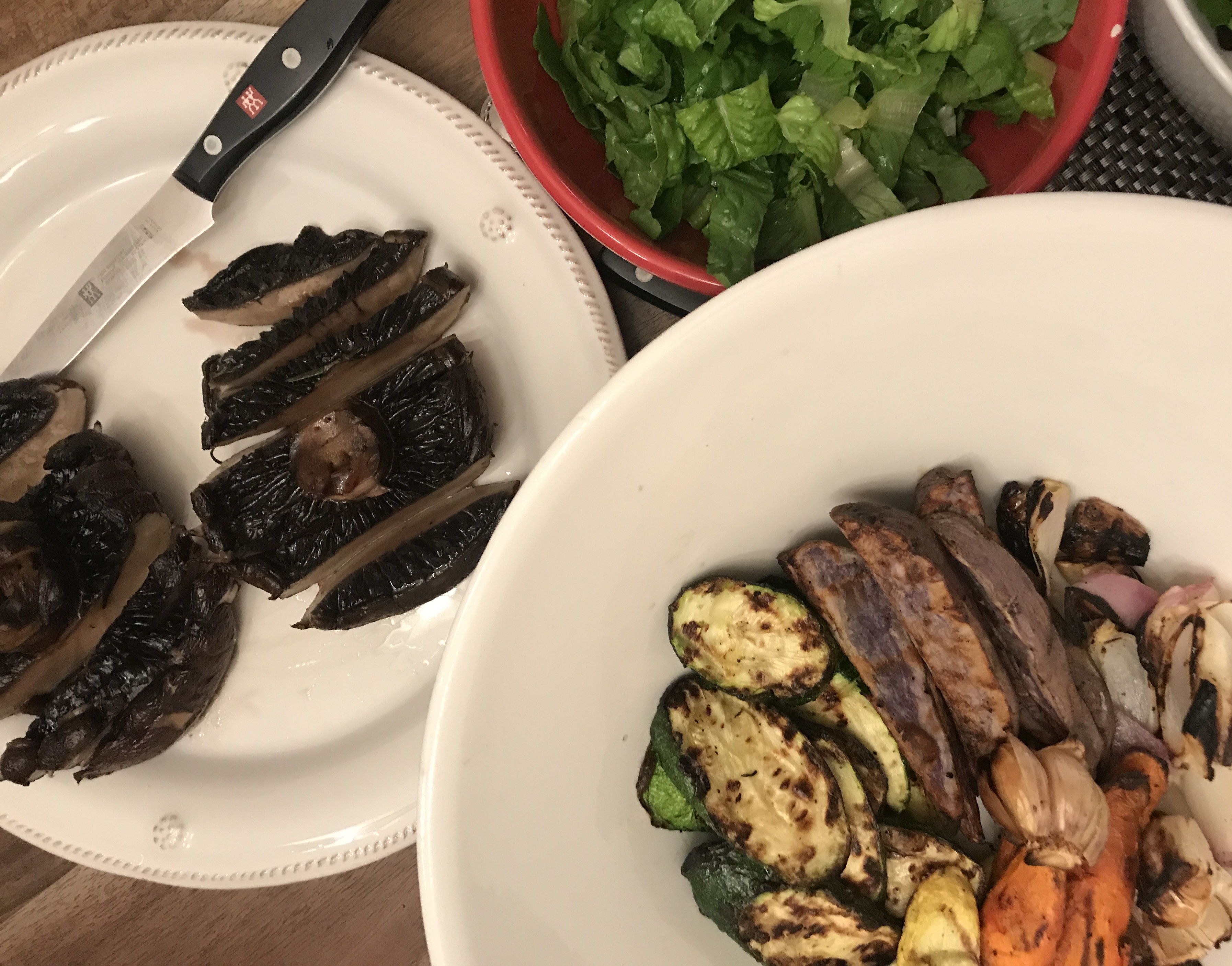 Okay, so back to how I like to alter the recipes
Let's get back to that Chicken with 40 Cloves of Garlic recipe. Sounds scary. In my box were two chicken thighs. I don't know about you, but I have no clue what to do with a chicken thigh. With skin.
As I read through the ingredients, I realized that I didn't have celery, which is optional if you have it hanging around. Nor did I have butter (because I don't do dairy). The recipe called for wine, which I also didn't have.
Nevertheless, I went ahead. I just skipped the celery all together, skipped the 2 tablespoons of butter, and used water instead of wine. The final result? Ah-MAY-zing.
Point is, when making a recipe, just make it. Who cares if you don't have the right spice or vegetable. Either substitute or skip it. No one will notice.
Not to mention, it makes cooking so much more relaxing. Because, who actually has EVERYTHING that a recipe calls for in their kitchen?
No one. Ever.
You can (and should) order more than what comes in your weekly food box
So we've discussed how you don't have to always have everything in your pantry to complete a recipe. Even if it calls for it. But sometimes, you need quinoa. Or, you crave trail mix. You're out of coconut oil. This happens!
San Diego grocery delivery service, Out of The Box Collective, makes it easy to add miscellaneous items from their market to your weekly food box. Use code NUBRY for 20% off orders of $100+.
Personally, I love medjool dates. Like LOVE. Random fact: got addicted to medjools while I was pregnant. We also go through farmer's market eggs, chia seed and unsweetened almond milk quite fast in my household. I make a lot of chia pudding from scratch. Baby loves it and it's my guilty pleasure. I add items like this to my order so I don't have to go to Whole Foods or Vons as often.
As often. That's an understatement.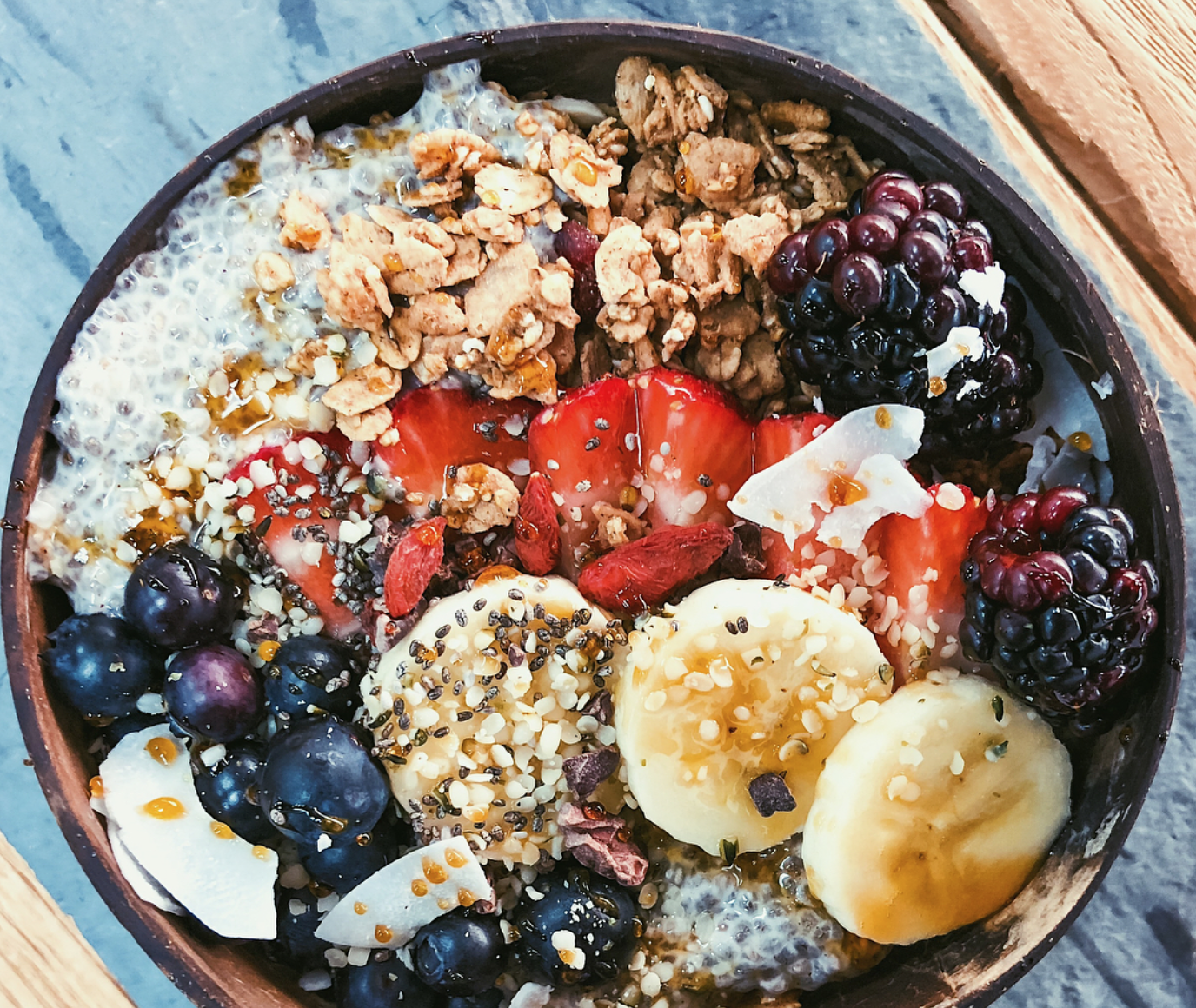 I used to go grocery shopping all the time! I even enjoyed it! I'd be like, "I'm going to Whole Foods!!! Be back in a few hours!" Not so much anymore. What a royal waste of time! Right?
No one should spend their precious time grocery shopping if they don't have to. And believe me, you don't have to.
But there's much more in the Out Of The Box Market. It's like your own personal online grocery store. Need freshly baked bread? Croissants? blueberry muffins? Perhaps some hummus or wine?
No Problemo.
Finishing Thoughts
Switching routines is TOUGH. I know it is. If you had told me I wouldn't be shopping at Whole Foods anymore, I would have laughed at you. Maybe even cried.
Do yourself a favor and try Out of The Box Collective. You can see their different boxes here. Use code NUBRY for 20% off orders of $100+.
You should know that they have 3 types of boxes. Once you choose one of these boxes, you can customize it to your needs. Like REALLY customize it. I always do.
"The Culinary Box" (everything you need for meals plus everyday staples)
"The Produce Box" (just locally sourced veggies and/or fruits)
"The Specialty Box" (for dietary restrictions and specific mealtimes).
Try it! One week. See what you think. You will thank me. I swear!
Extra time in the evenings is so nice. Having food in your refrigerator when you open it up is very relaxing.
It's like everything is already done. This San Diego grocery delivery service does the shopping for you. And it's smart. Talk about convenience!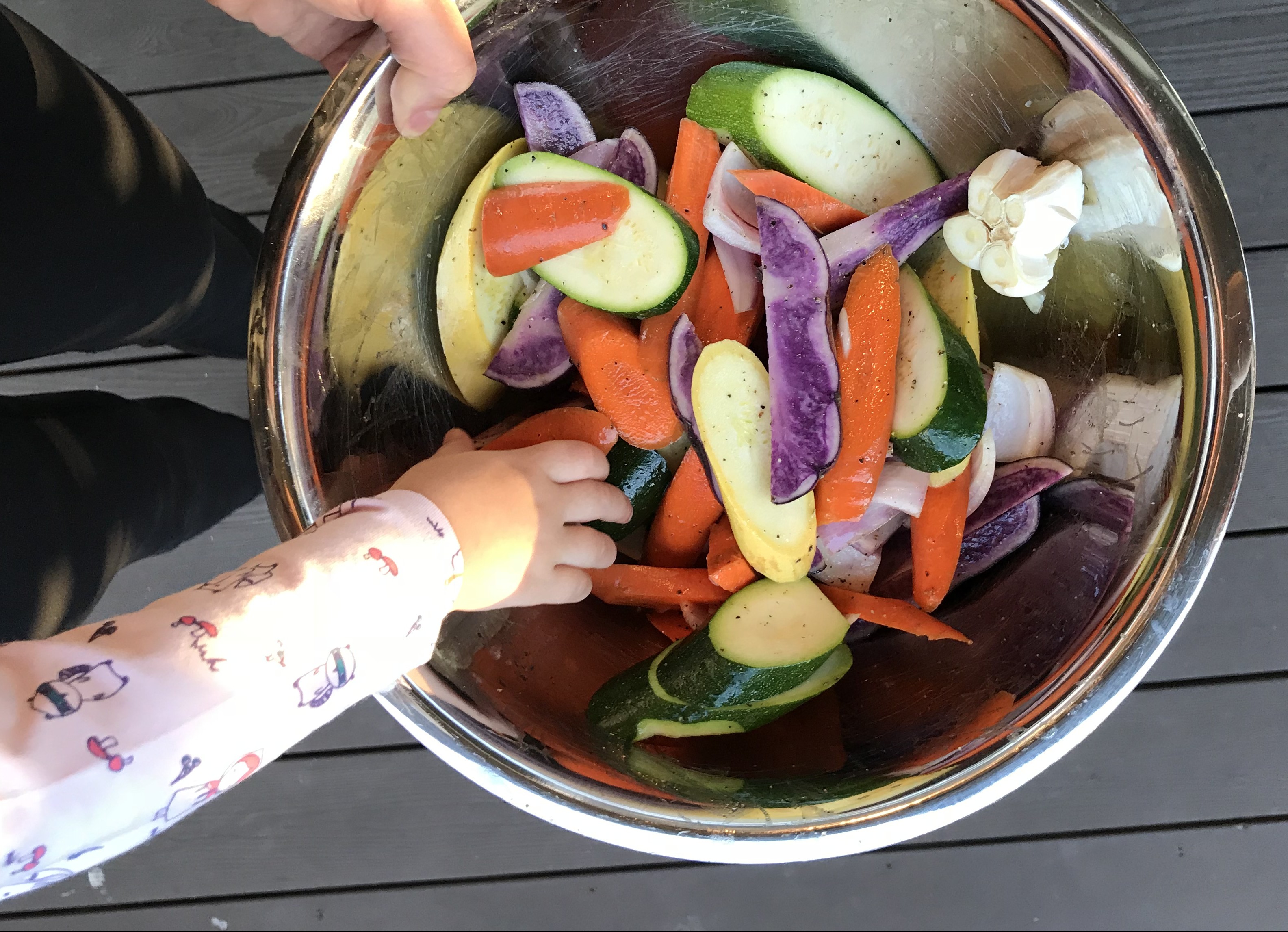 More Finishing Thoughts…
And they have your health in mind too! There's no extra junk thrown into the cart. No impulse buys. Just the foods that you need to nourish your body. All organic foods! No getting confused in the produce aisle if something is organic or conventional. So annoying when this happens…
Do you know how much you spend at the grocery store? I don't personally know, but this I can tell you…
Every bag at Whole Foods is $100. So when you leave with 3+ bags, you're in the hole my friend.
(W)hole Paycheck. Didn't come from nowhere.
And yes, now that Amazon owns Whole Foods, prices are lower. I've noticed. But not that much lower.
Key takeaway? For me, I value my time! I wake up at 5am everyday, even on the weekends so that I have a few extra hours in the morning to get things done. If I don't HAVE to do my grocery shopping and my meal planning, I AIN'T gonna do it.
…but Out Of The Box Collective will 🙂
Got questions for me? I'm happy to answer.
Kisses!
– G
Click here to sign up for Out of The Box Collective, my favorite San Diego grocery delivery service. 
Use code NUBRY for 20% off orders of $100+.
SaveSaveSaveSave
SaveSave
SaveSave
SaveSave
SaveSave
SaveSave
SaveSave
SaveSave
SaveSave