Valentine's Day is for chocolates, red, white, and pink candies, conversation hearts, heart Peeps, and love notes! We all know that these yummy treats are decadent and cute, but it's also nice to be able to enjoy Valentine's Day with healthy Valentine treats that are equally festive and tasty.
A heart cookie cutter can be used for cookies, but did you know that the little bugger can also be used for making romantic shaped veggies, like baked sweet potato hearts?  Baked sweet potato hearts are healthy Valentine treats or snacks that anyone from friends to family to children can enjoy! And they taste especially sinful when you bake them to the perfect crisp, hence the dark around the edges.
Below, see our recipe for baked sweet potato hearts and print the recipe below for your kitchen!
Editor's Note: Having an Anti-Valentine's day party with your girlfriends?  What better way to celebrate than with some healthy Valentine treats while your lovebird friends are out indulging in chocolate-covered strawberries with their men!? 
________________________
Healthy Valentine Treats: Baked Sweet Potato Hearts Recipe
Ingredients:
1 sweet potato
1/2 tablespoon coconut oil
1 heart shaped cookie cutter
 Instructions:
1. Preheat oven to 425 degrees
2. Microwave a sweet potato for 3 minutes to soften it.
3. slice the sweet potato with the knife perpendicular to the potato.  Cut slices about 1/2 inch thick.
4. Take each slice and use the heart cookie cutter to make heart shapes. The larger slices will allow you to get 2 hearts per potato slice.
5. Place the sweet potatoes on a foil covered cookie sheet and bake in the oven or toaster oven for 20-30 minutes or until they start to turn brown.
6. Remove each of the heart carefully from the cookie sheet and place on a serving platter.  Use coconut oil to dress each heart. It makes your Healthy Valentines day treats shiny and decadent looking.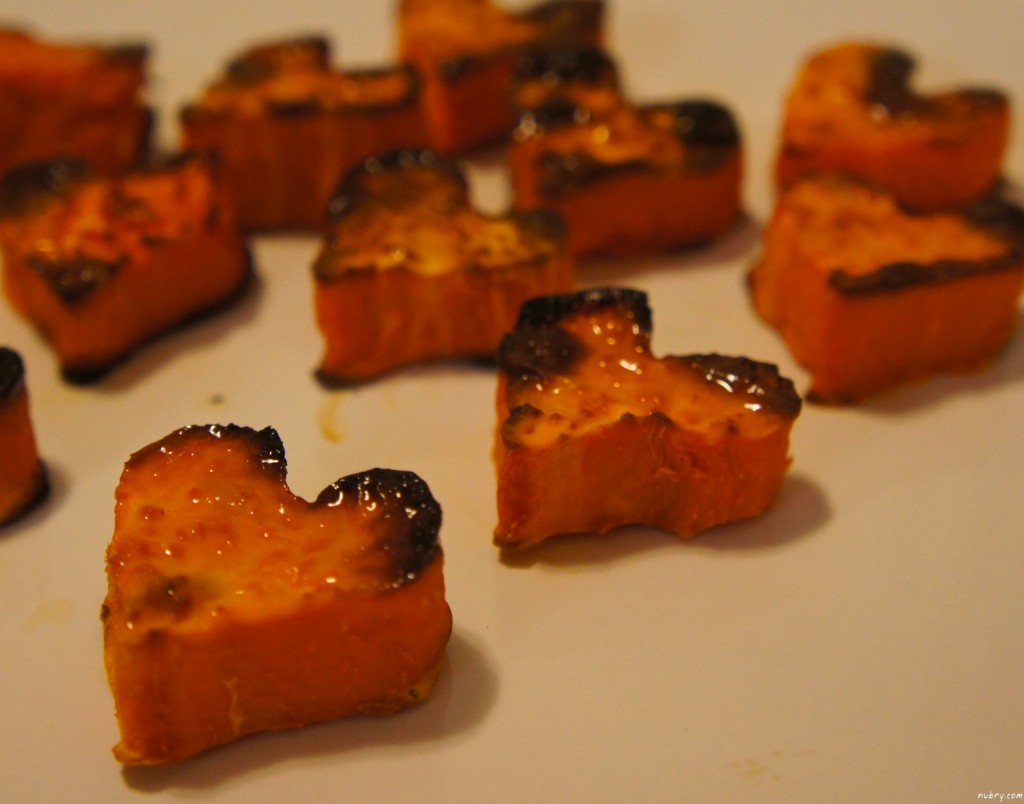 [amd-zlrecipe-recipe:4]
For more healthy Valentine treats, be sure to subscribe to our newsletter in the right hand column above.