Whether you're planning a baby shower for a friend or gathering ideas for yourself, the winter months provide plenty of inspiration for welcoming a little bundle of joy! There are so many amazing ideas that you can use for a winter baby shower, and just as many themes for a gender-neutral party if you wont be revealing boy or girl!
When hosting a party, it's best to break your planning into three parts.  Right after making the guest list, plan your decor, food and favors. For a gender-neutral, winter baby shower theme, let's start by brainstorming decor ideas, then create a menu that complements that decor, and finally assemble thoughtful gifts that fit the theme. Planning a pinterest-worthy, gender-neutral baby shower from start to finish is as easy as 1, 2, 3.  See below for our adorable winter baby shower ideas. Which idea is your favorite?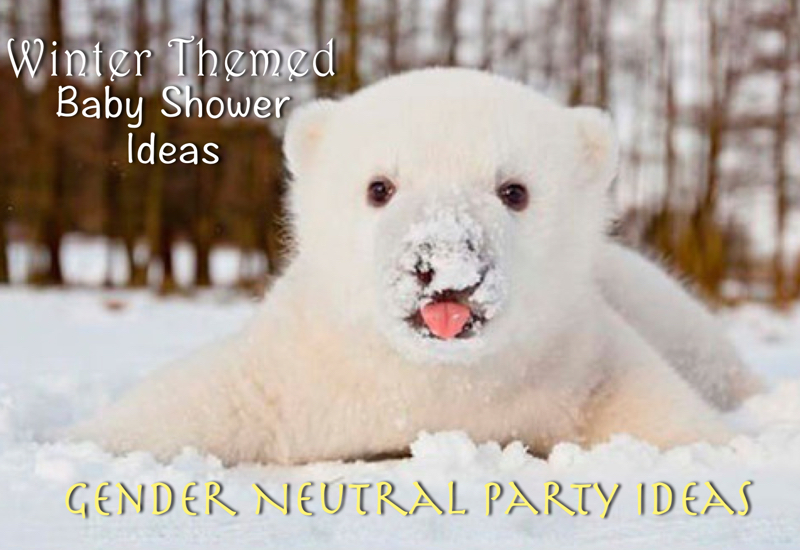 Winter Baby Shower Tips & Ideas
1. Décor: Mix Winter Colors with Baby Accessories

Baby accessories come in all shapes and colors that match the winter season! Winter white accented with either icy pastels or warm hues work well together for a winter palette, and decorations in these colors set the right tone for the event. See some adorable examples below.
Baby Booties Tree Centerpiece — Branches and some baby booties make the perfect centerpiece for a winter baby shower. It's easy to make and sets the ambiance for a day of cuteness and fun! For this display, grab some branches from your own backyard (or go to your local nursery), paint them white, and then stick them inside a pot or vase. Afterward, use wooden clothespins to hang tiny baby booties to complete the display. You can also add some baby's breath to soften the look. See the complete DIY here.
Diaper Cake — Roll diapers and arrange them into three circular stacks. Add a few snowflake ornaments at the top and sides to get that wintry look. To complete the display, wrap the bundles in ribbons or garlands. Place your diaper and towel cake on the gift table, and watch your guests coo in delight!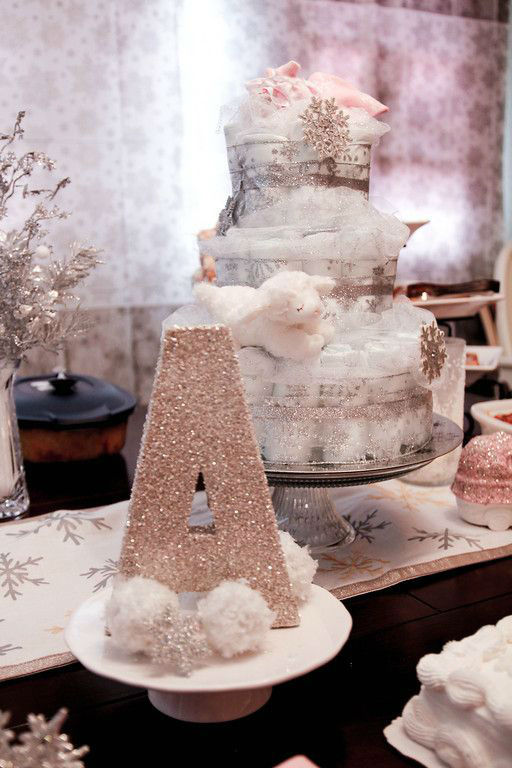 Baby Onesies Garland — Use onesies as bunting to make the space adorable! Hang it from your ceiling or on the wall above the party favors table to give your event the complete baby treatment. You'll need a piece of twine or thin rope, some clothespins and several white onesies to create your own baby bunting. Give your display some variety by using wintry colors, such as blue or cream.
White and Gold Gift Table — White balloons with gold detailing maintain the wintry feel of the baby shower and stay faithful to the gender-neutral theme! To match the rest of your décor, add in some gold ribbons, gold vases and gold cake accents.
Winter-Themed Children's Books as Accessories — You can also incorporate gift ideas into your decor, like suggesting that guests bring a winter-themed book for the occasion. Ask them for books that inspire and entertain kids, like The Mitten by Jan Brett, or The Snowy Day by Ezra Jack Keats. You can also put in an all-time favorite like Curious George in the Snow. These books can be displayed on the gift table, adding to the decor and fun!
2. Food: Coordinate with the Décor
Make your food work for you and match your buffet table with the rest of your decorations by serving winter-themed fare. Decide whether you're serving a full meal, or just appetizers and desserts. For example, if I'm serving a meal, I might pick a menu that feels wintry—a hearty soup served in white or cream dinnerware, or a salad with winter greens topped with chicken. For a dessert and candy table, colorful cupcakes, jars filled with candies, and cake stands topped with desserts that match the décor are the way to go!
Winter White Dessert Table — Blend neutral colors for a soft color palette that suits your event. A white cake with white-and-cream alphabet building blocks on top establishes the wintry tone you're going for. Baby's Breath creates a snowy feeling. You can also add a darker tone such as brown or beige (cupcakes, pretzels, books) to really make the white pop!
Solid Neutral Colored Dessert Table — If you want your buffet table to have a bit more color, go with darker shades of neutrals. Caramel apple cake shooters and caramel popcorn would make your buffet table something to behold!
3. Party Favors: Give Thoughtful, Winter-Themed Gifts

Choose fun and thoughtful party favors that everyone can enjoy—something that says "thank you" and also fits the theme of the baby shower.
Hot Chocolate Mix — Make your own hot chocolate mix and put them in baby food jars, baby bottles, or mason jars as party favors. Not only do they match the winter theme, but the addition of a mini Baileys gives your guests something to look forward to when they get home!
DIY Sugar Scrub — A DIY hand and body scrub is affordable, thoughtful, and only takes a few minutes to make! Plus, the sugar scrub is packaged in baby food containers!  With its combination of peppermint and sugar, your guests will love the scent, especially in winter. Here's a complete tutorial this sugar scrub and jars.