Ever think about what you would do when you have two young kids…only one stroller? I mean, you can't exactly expect to push two strollers around town. Heck, you can't even fit two strollers in your SUV, if you tried!
Enter the Evenflo Pivot Xpand stroller. I've talked about the Evenflo Pivot stroller before…but that's just for one kiddie. So the Pivot Xpand is REALLY cool because it has major versatility. Like, it can either be a stroller for just one child or for two. Just takes a few seconds to rearrange. See all about the Xpand on Evenflo's website here.
If you're looking for a stroller for your first baby, this stroller works great. Comes with an infant car seat that clips right onto the stroller. Even better is that it works for you when your second baby arrives too. Move bigger child to the toddler chair and new baby takes over the infant car seat.
When your Evenflo Pivot Xpand arrives in the mail, it comes in a big box. See below for all pieces included. I was 30 something weeks pregnant when my Pivot Xpand arrived and was able to pull everything out of the box on my own. And assemble it too. No tools needed. Don't believe me? Just watch this video on Instagram to see!
At any rate, if you do run into an issue, just look at the pics in this post and you'll be dandy!
View this post on Instagram
Okay, let's talk Evenflo Pivot Xpand benefits:
Cup holder is included (Score!)
Underneath storage basket is roomy
Folds up easily for transportation
High quality look and color (I chose "Percheron")
Adjustable handle bar for women of different heights
Chair reclines and adjusts (so you can let your toddler sleep)
Chair can be put into infant mode or seat
Smooth ride
Stroller can be for one child OR two children…not just for two!
No tools needed to install and doesn't take more than one person either
The only qualm I have is that the toddler chair doesn't have any major functionality for a child with long legs. Granted, I haven't yet seen a stroller that adjusts the amount of leg room a child gets…but I do wish I could increase the leg room space because my little girl is really tall for her age. This means that she has to bend her legs to sit. Either way, chair fits child up to 55 pounds.
What's the price tag of the Evenflo Pivot Xpand Stroller?
Price tag on Evenflo's website is $400. Super reasonable for a stroller of this caliber. Especially when you consider that it works for not only one, but two kids! Get it here.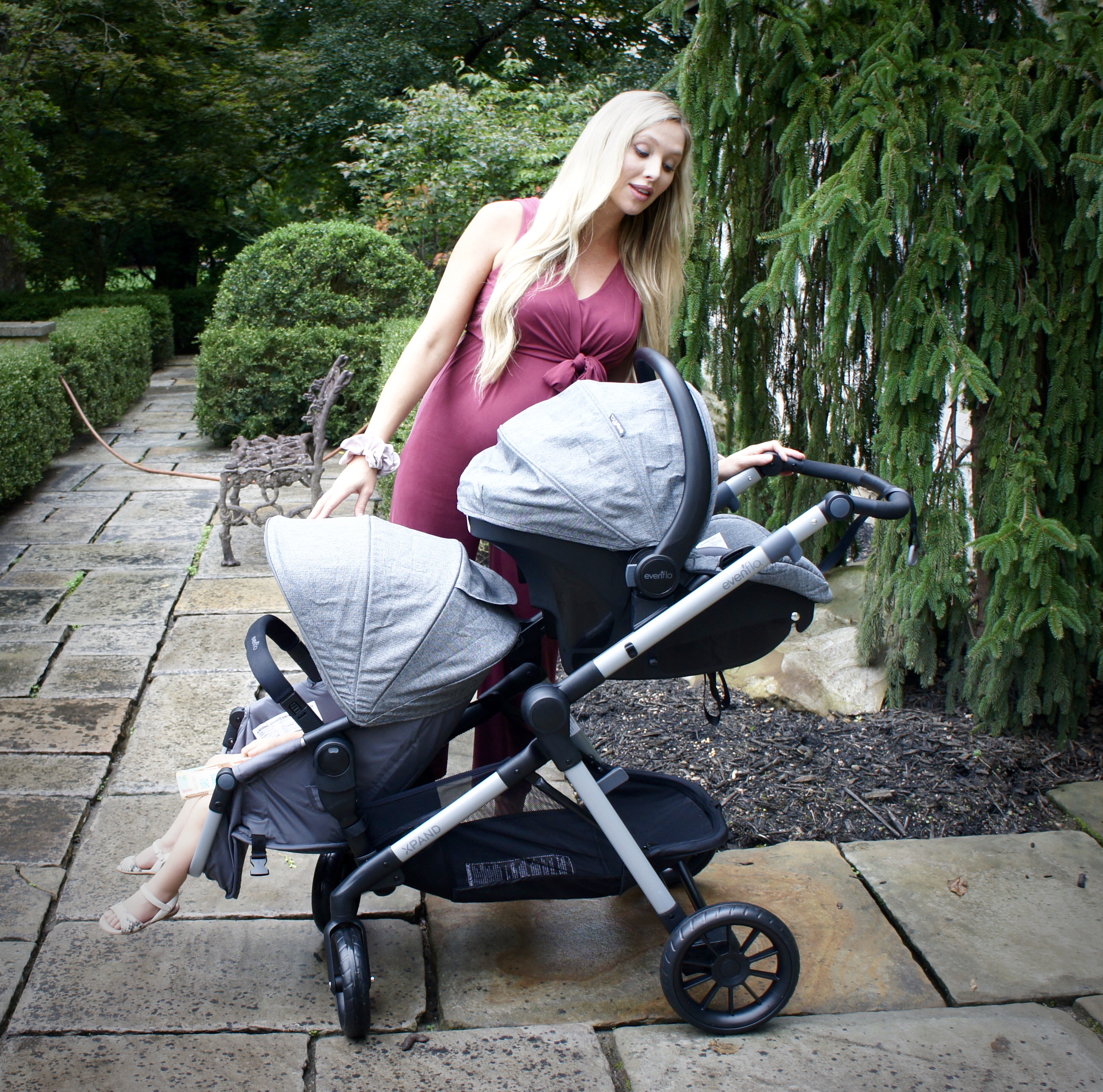 In Conclusion:
Strollers can be a pretty penny! Like over $1,000. I've accumulated quite a collection of strollers with Miss Arabella and can tell you the ones that stand out are the strollers that are convenient and high quality. If your stroller looks really glitzy, but doesn't do the job or makes it really hard for you to get around…that's not good. It gets old after a while. For example, I have one stroller that is really cool looking, but it's hard to get in and out of my house. ABSOLUTELY IMPOSSIBLE to get in the car. Serious. Clearly just for show.
With both of my Evenflo strollers – the Pivot and the Pivot Xpand – I was really impressed by the quality, durability, and style for the price. In addition, these strollers are pretty lightweight compared to my other large strollers and transport easily in the car.
Let me know if you have any questions! If you're ready for really specific details and specs, see the Evenflo Pivot Xpand shopping page here.
This post was created in partnership with Evenflo Company.