Looking for a travel stroller but don't want to drop like a bajillion dollars?
I know, I get it. Designer strollers are really pricey! It's kinda crazy. I have one myself and figured that it's probably really expensive because it's more amazing than most other strollers.
Don't get me wrong, it's great, but…
You CAN have an amazing stroller at a fraction of the price! And by fraction, I'm talking around $240 (the one I'm obsessed with is on sale right now). And that's what I'm going to tell you all about…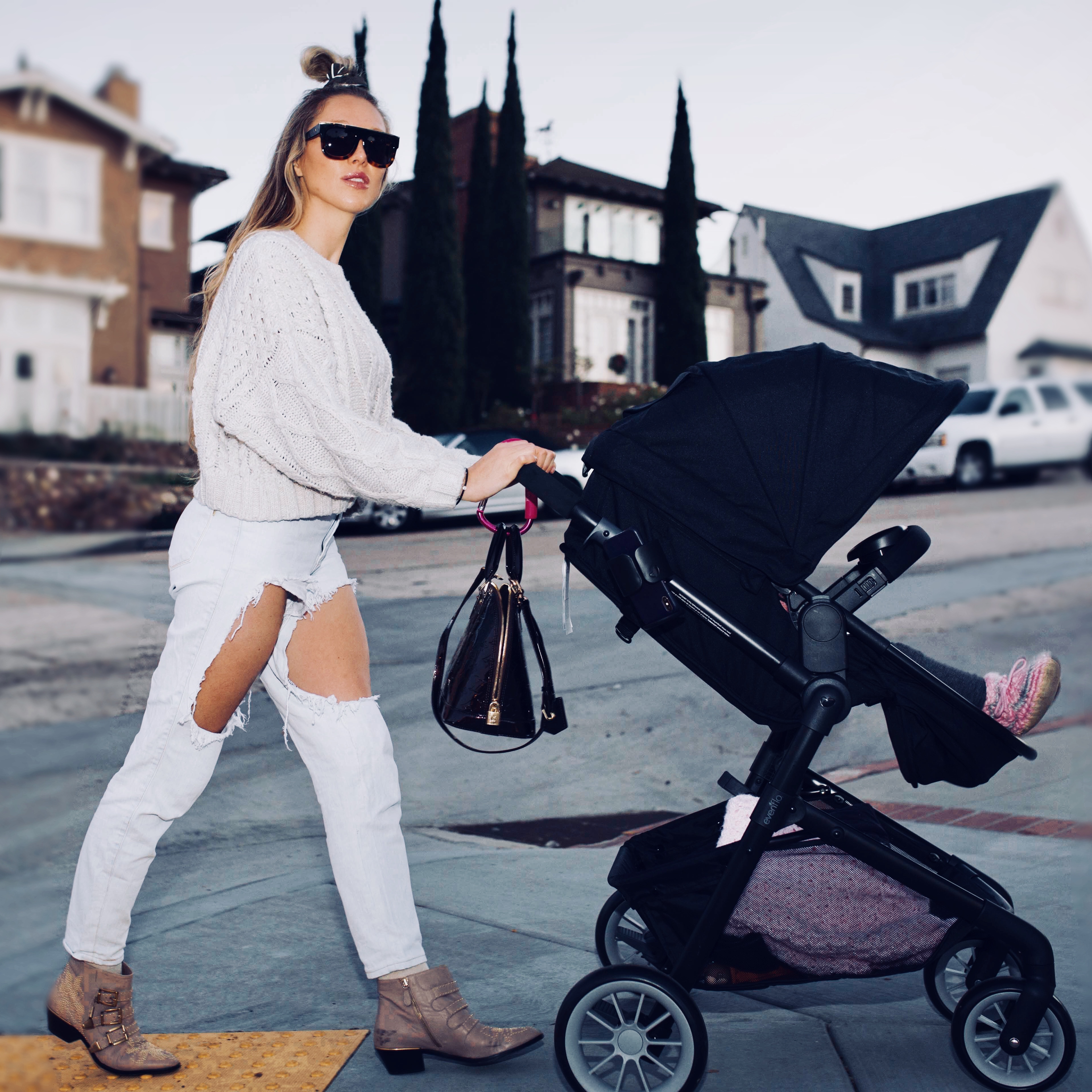 The "Pivot" stroller from Evenflo is VERY comparable to a designer stroller. It's extremely sturdy and durable and it looks exactly the same. lol. Shop it here.
But, want to know why the Evenflo Pivot Stroller is EVEN BETTER than its designer counterparts? Took me 2 minutes to assemble.
TWO MINUTES.
When I assembled my other stroller while 8 months pregnant, it took many hours one night. (Pregnant and your bras hurt? See our maternity bra guide.) Hours of looking at the manual and then building from scratch.
The Evenflo Pivot Stroller comes in a big box ready to go! All I had to do was attach the wheels. So, a total of 2 minutes.
OK, what's the catch? There is not catch!
Read on for 10 more reasons why I'm obsessed with my Evenflo Pivot Stroller and why you will be too!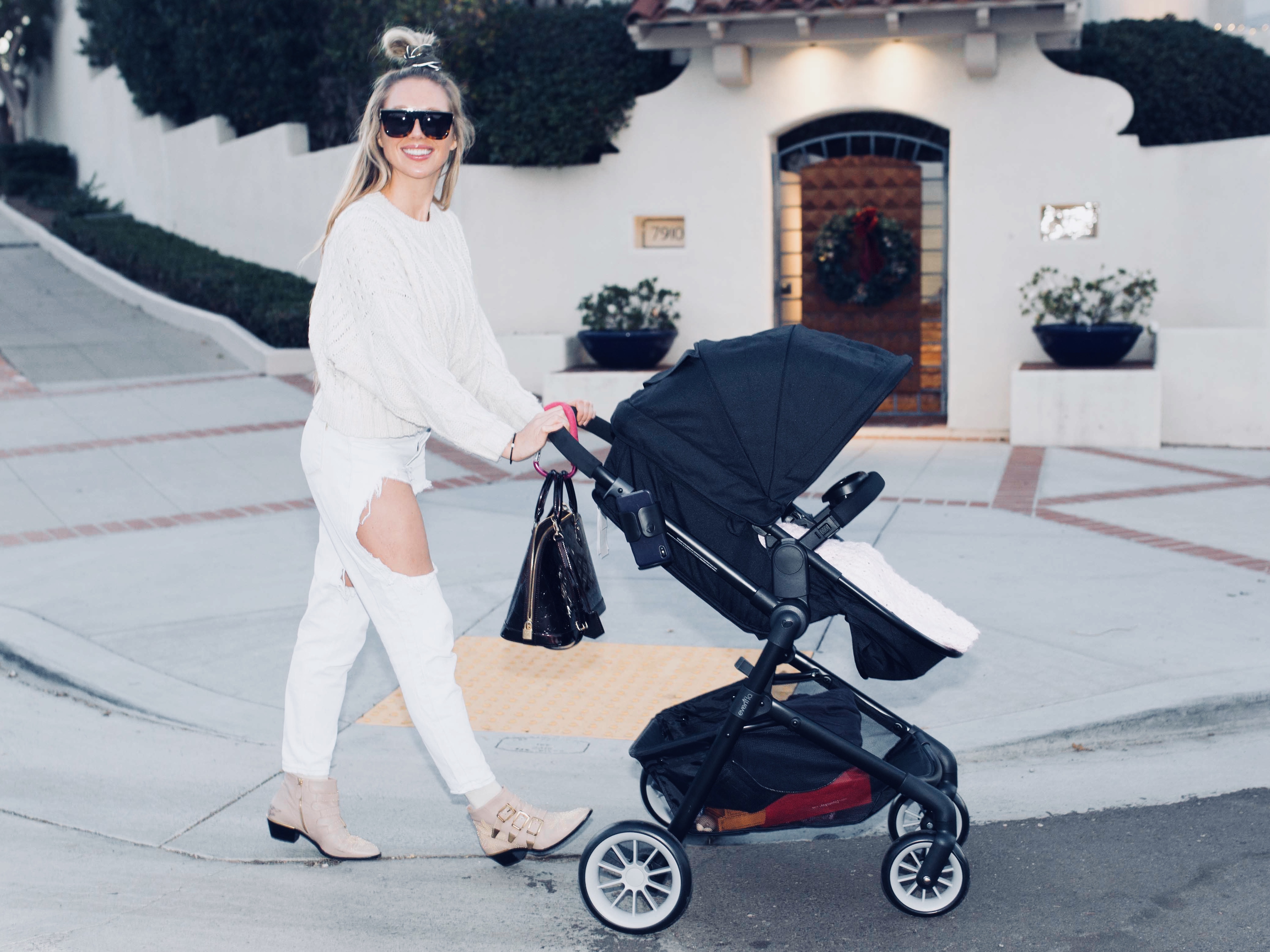 Here's Why I'm Obsessed with my Evenflo Pivot Travel Stroller
Want to have your own? Buy your Pivot here.
1. It's really durable
The Evenflo Pivot stroller is nothing like other travel or cheapy strollers. This stroller is meant for handling a lot of weight. I went shopping and was able to attach 7 shopping bags (including bags with boxes of new shoes) plus my tote to the Mommy Hook on my handle bar.
I promise you, my other travel stroller can't handle this type of weight.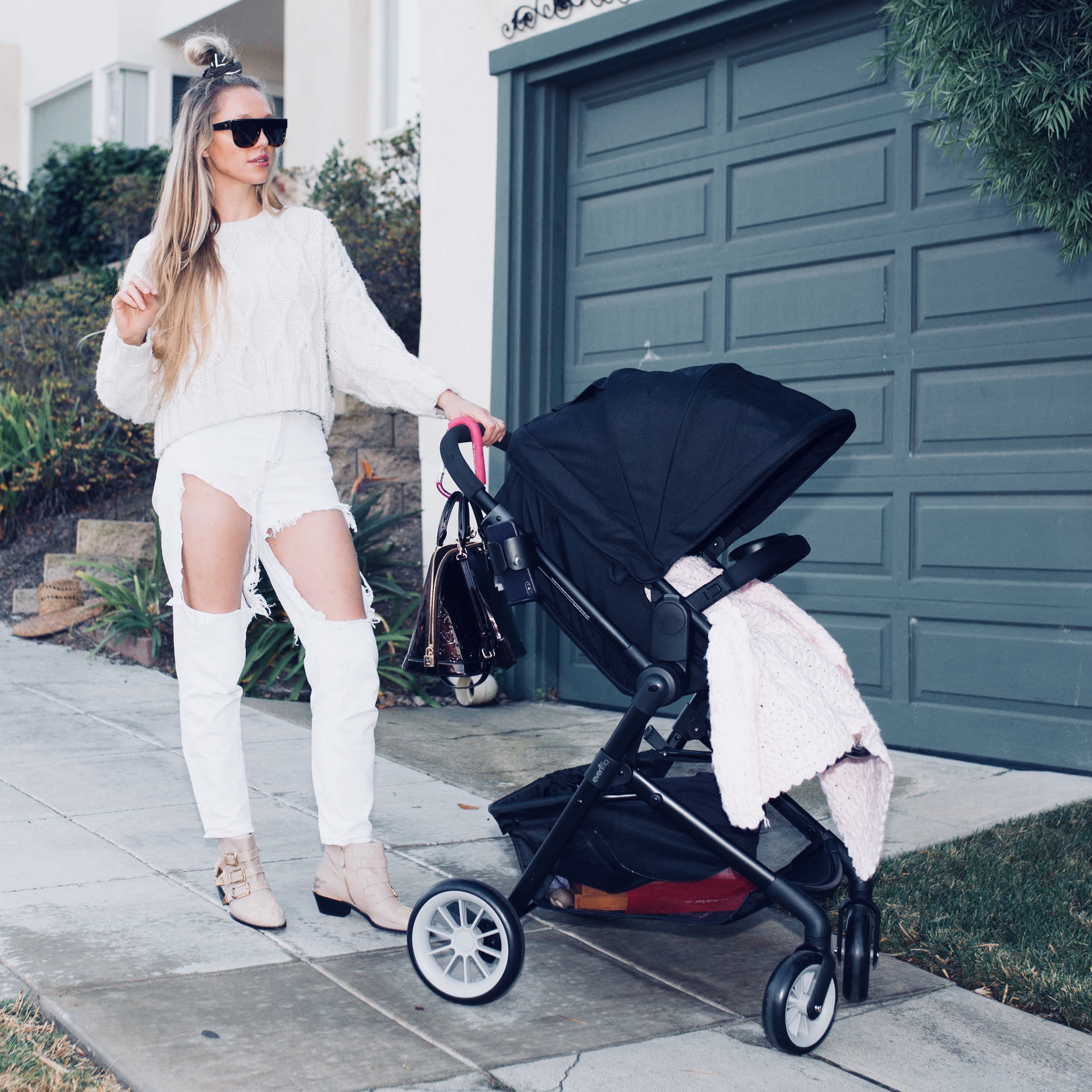 2. Very reasonably priced
On sale for $240. This includes the stroller base, bassinet and seat, car seat, and cup holder. I know, crazy deal! Shop it here.
3. Huge underneath compartment
The underneath compartment holds A TON of stuff. To give you an idea, my husband INSISTED that I take my winter puffer because it was going to be 60 degrees at Disneyland. LOL. A chilly winter day in CA to say the least!
Thank goodness for the compartment underneath, I would have died of heat. It not only transported my winter puffer, but also my husband's, and sisters. Additionally, it was able to hold two of Arabella's winter blankets, nursing blanket, my sister's wallet and Minnie Mouse toys!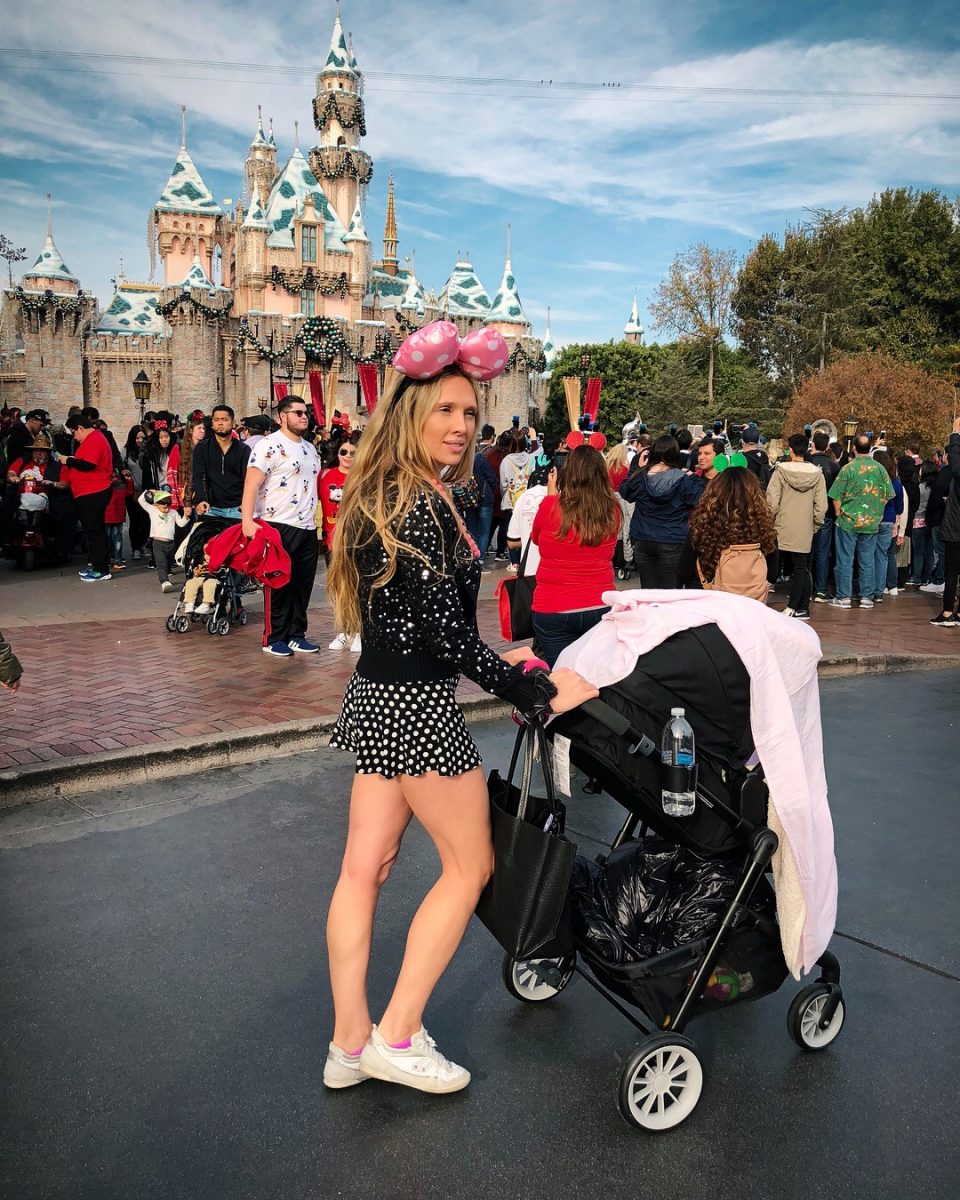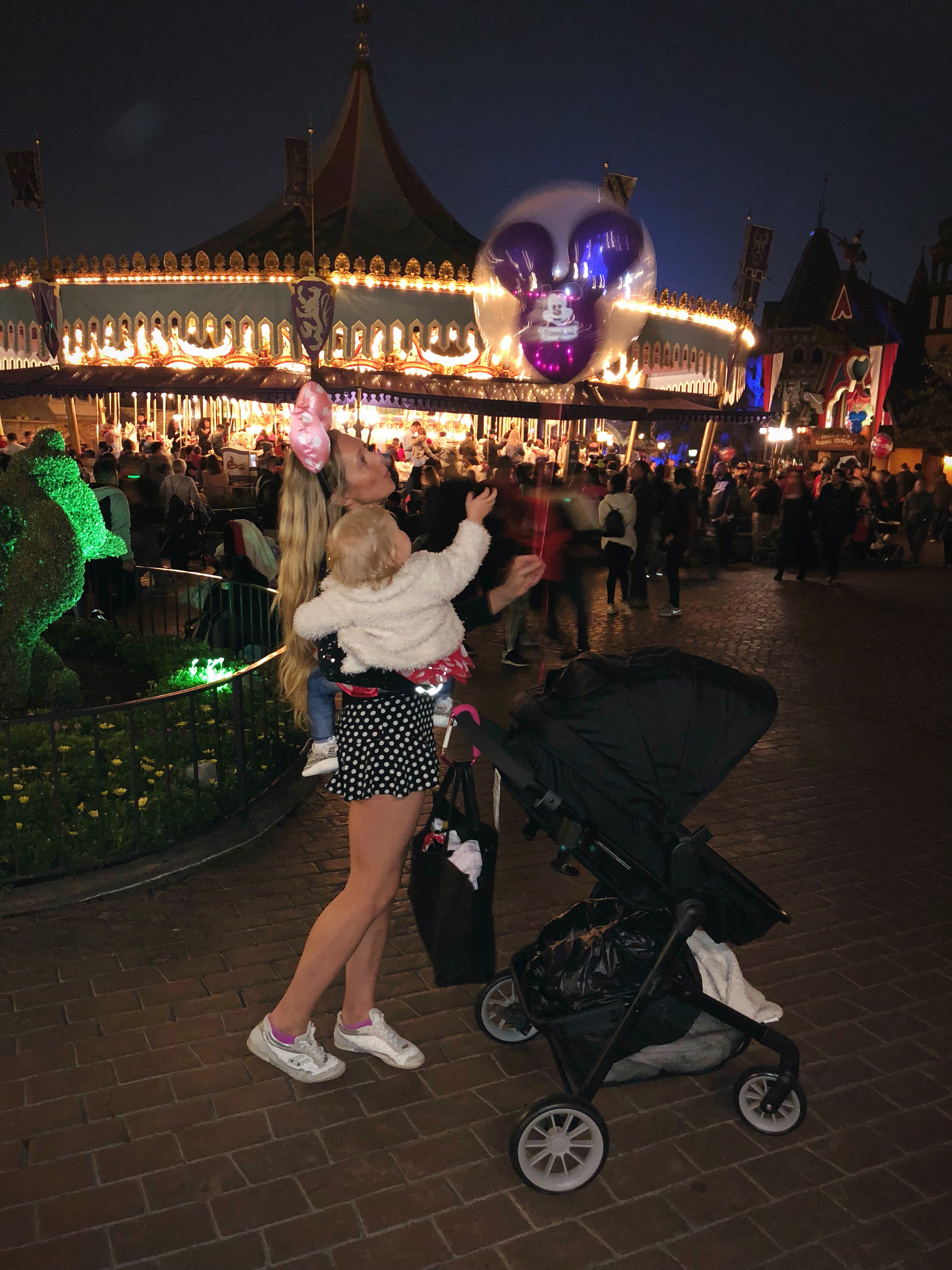 4. Comfortable seat (even for napping)
Arabella was so comfortable that I was able to put her to sleep when we were out all day. The first 2-hour nap was at Disneyland. She slept through the noise of a parade, rides, people everywhere, and full light.
The second 2-hour nap was at the mall when I was shopping all day.
Want to know how I put an 18-month old to sleep in a stroller? I just put the nursing blanket over the canopy and reclined the chair slightly. When she was fully sleeping minutes later I reclined the seat so she was in full lying down mode. Amazing!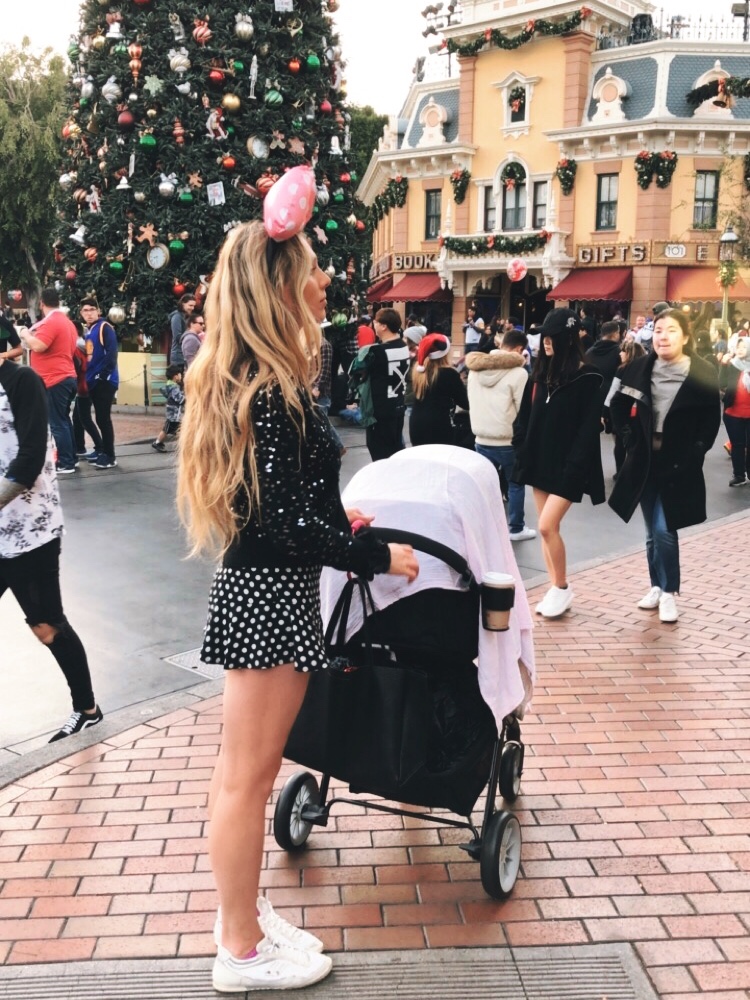 5. Easy to transport
So you have two options with the Evenflo Pivot stroller. You can collapse the stroller with seat attached and throw directly into your trunk. OR, you can take the seat off the base and collapse the base separately. Both work well and both are easy.
6. Large 3-Panel Canopy
This is a big deal. I've used strollers in the past that don't have big canopies and thus doesn't protect the child from the sun. It's terrible!
You want a large 3-panel canopy for sure. To fully block out light for naps, just put a nursing blanket over top and the baby goes right to sleep. I have a wild child full of energy and it works like a charm every time!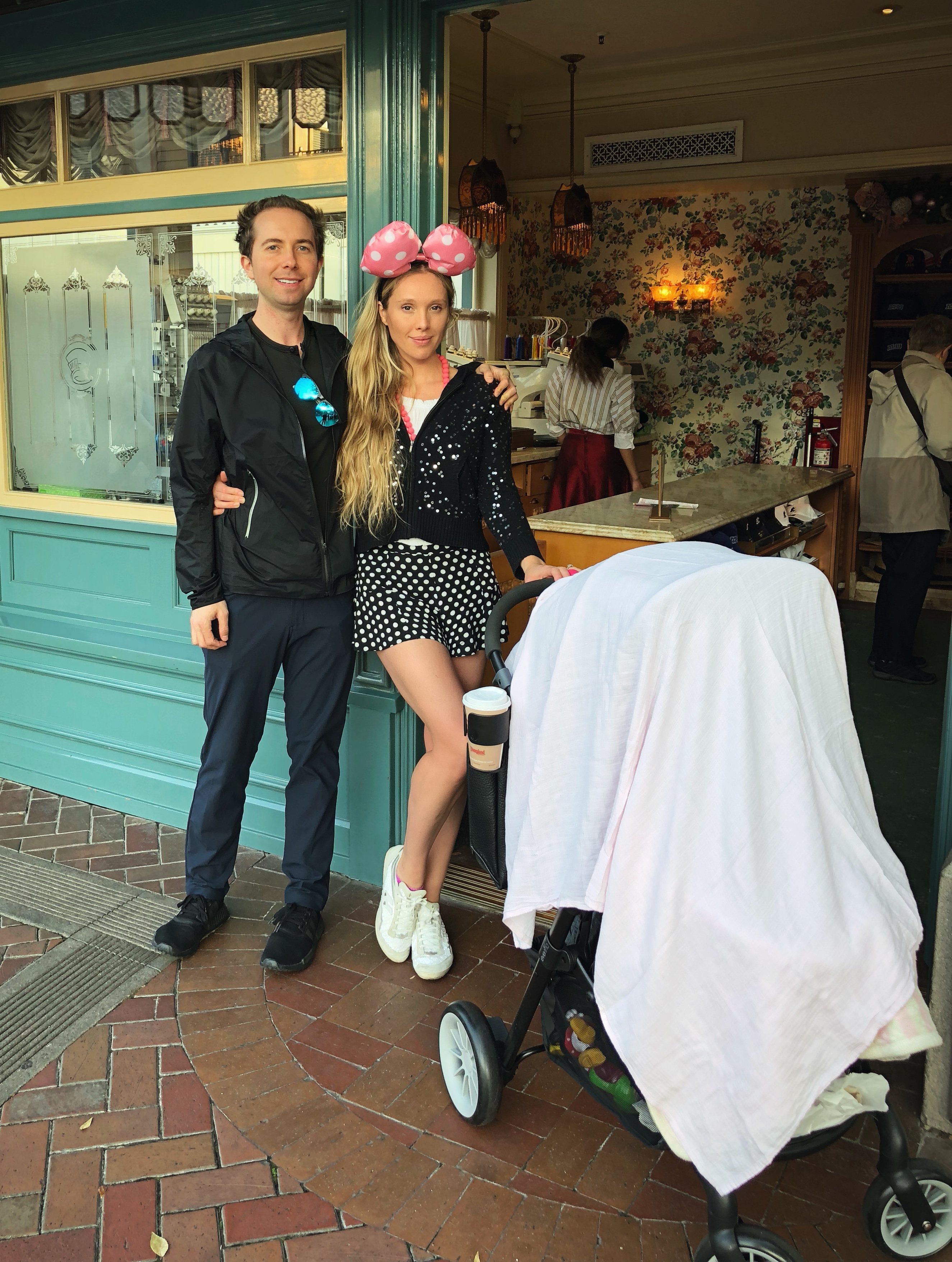 7. Cup holder included
This. Is. So. Key.
In fact, I like to have 2 cup holders. One for my phone and one for my coffee. No, I don't let my husband use my cup holders. They're mine!
8. Easily holds all your bags
Okay, so all you have to do is buy the Mommy Hook. Don't know what it is? Girl, you NEED this! It's my life saver! I have one in hot pink.
Just attach the Mommy Hook to the handle bar and you can easily transport your tote, diaper bag, and shopping bags all at the same time. You'll wonder why you never had a stroller for shopping your whole life 🙂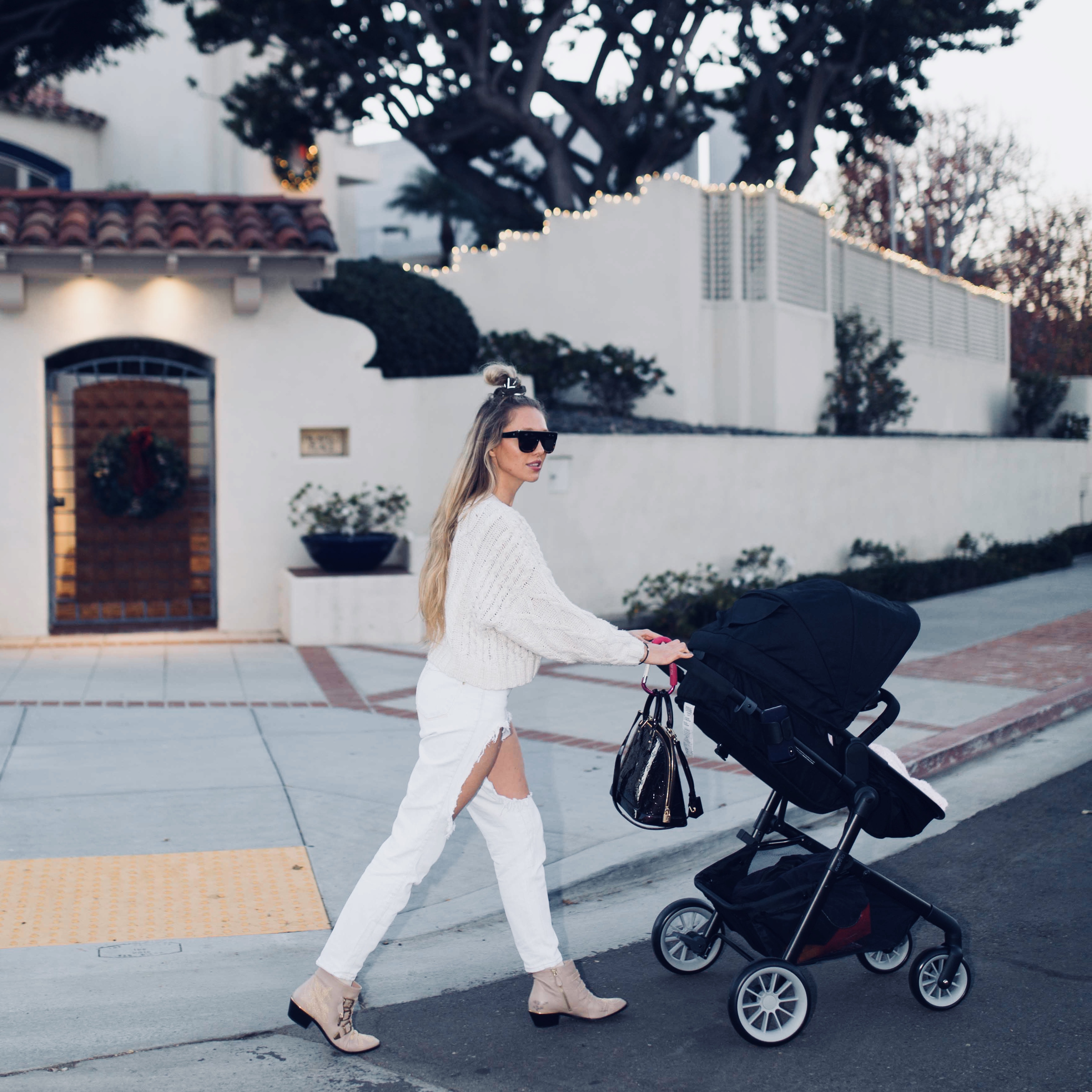 9. Car seat included
The Evenflo Pivot stroller comes with a car seat that fits a newborn all the way up to a 50 pound child. Additionally, the car seat attaches to the stroller. This is ESSENTIAL if you have a newborn or small baby.
You will need a car seat that can attach to the stroller because many times the baby will be sleeping and you won't want to wake them.
Car seats alone are $200 plus plus plus. The Pivot comes with a really nice car seat! Amaze balls.
10. Quickest assembly ever
This may not seem like a big deal and I know I already mentioned it above, but it's HUGE. Especially if you're not the manual reading type. My husband isn't. So, when I was 8 months pregnant I had to assemble my designer stroller MYSELF.
It wasn't fun. it was ANNOYING.
When I took my Pivot out of the box, it brought back memories of assembling my other stroller and I almost freaked out. I wish I had known that it would only take me 2 minutes because I feel like I started getting major anxiety and my heart started beating rapidly upon pulling the stroller out of the box.
I opened the manual to see what to do and started with the wheels. Before I knew it I was done! Remember, it took me 2 minutes.
So, now you know. All you have to do is clip the wheels on and the stroller is ready to go on a walk.
If you're looking for a new stroller that's high quality, durable and easy to travel with, I highly recommend the Evenflo Pivot Stroller. You can get it on sale right now here.
Thank you to Evenflo for kindly sponsoring this post. All opinions are 100% honest & completely my own.