You know how we're all about taking things to the next level, while keeping it simple. With the holidays just around the corner, we want to make sure you always look your best in front of your guests. Up your entertaining game this fall/winter season by doing simple things like chilling wine in a flash, having cheese plates on hand during the holidays, and making simple things like quinoa taste like souffle.
17 Ways To Up Your Entertaining Game
Don't be that person who has nothing to offer unexpected guests during the holidays! Wondering what to have in your fridge and what to serve company who stop in for a quick, surprise visit?We'll tell you how to plan ahead and make sure you're always on your Martha Stewart A-game. Below, we have 17 tips that will help you up your entertaining game this fall/winter, from serving up quick appetizers to having chilled wine on hand.
Read on to find out how to improve your entertaining game and take things to the next level. Plus, touch up on your culinary and wine knowledge or simply enjoy yourself at The San Diego Bay Wine + Food Festival, November 14 to November 20.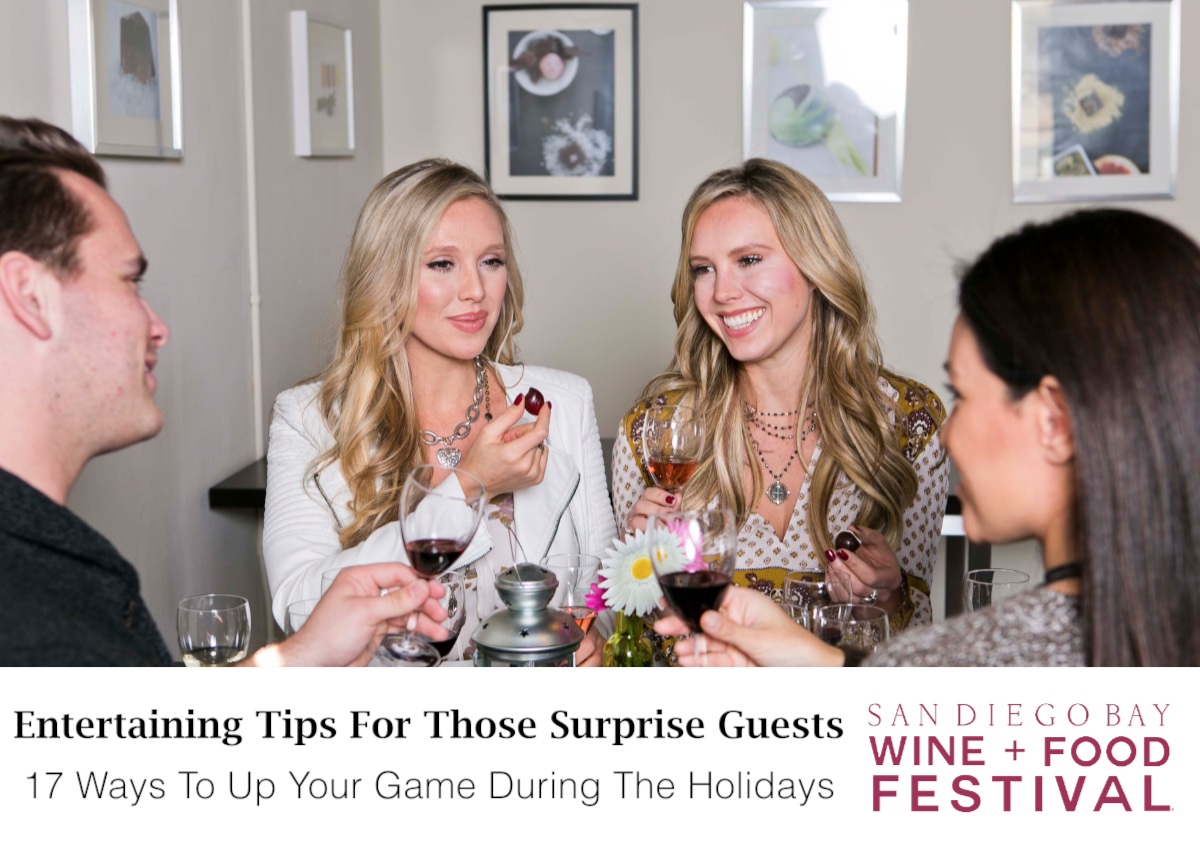 1. Chill An Entire Bottle Of White Wine In JUST 10 Minutes
Add cold water, and salt to an ice bucket. Place the room temperature bottle of wine in the ice bucket and then add ice to the top so that the bottle is in a full ice bath. The bottle will be cold in 10 minutes.  The salt allows the water to get colder from the ice cubes, helping the temperature of the wine bottle to drop faster. Do not freeze your wine for an extended period of time because it will damage the quality of the wine and definitely alter the taste.
2. OR Chill A Bottle Of Wine In Just 7 Minutes
You could also wrap a wet dish towel around your bottle of wine and put in the freezer for 7 minutes.
3. Cool A Glass Of Wine INSTANTLY
Avoid having to ever put ice cubes in your wine again by adding frozen wine pearls to your glass of room temperature wine. Ice will water down the flavor of your wine, but not handy frozen wine pearls! Wine pearls offer chilled temperatures and a touch of class to every glass.
4. Ordering Good Wine On A Budget
Never order the the second least expensive bottle of wine on the menu because this is normally the bottle with the highest markup. This is the bottle where you get ripped off. Opt for the least expensive bottle if anything, as it's typically better! Weird, right? Insider secrets 😉
5. Reinvent Your Taco Game
Discover many different ways to create delicious tacos by tasting from San Diego's best taco restaurants at San Diego Bay Wine and Food Festival. These restaurants will be competing for the best taco on Tuesday, November 15th at Taco TKO at Quartyard.
6. Women Should Always Do The Wine Tasting
Women 21-40 have the most acute sense of smell, so they should always be in charge of doing the wine tasting at a restaurant. Learn more about wine at the Lexus Grand Tasting as part of the San Diego Bay Wine and Food Festival on Saturday, November 19th.
7. Don't Save Your Special Bottles Of Wine Forever
Most wine does not get better with age once it has been bottled. So, don't put a nice bottle into storage and wait for that special occasion  A bottle of wine should be drunken within a year of its production!
8. Choose Wines From The USA For Thanksgiving
Thanksgiving celebrates the American harvest and your wine should too! There are vineyards all over the U.S. Attend the San Diego Bay Wine and Food Festival and you may find a vineyard that you love!
9. Up Your Entertaining Game By Serving Next Level Pizza
Neapolitan, Sicilian, Chicago, New York, and San Diego pizza chefs will compete for the best pizza at Pizzapalooza on Sunday, November 20th. This is the newest event in the San Diego Bay Wine and Food Festival. Learn some pizza tips from the best! Oh, and if you're serving guests pizza, make sure to make your own dough! It's all about the homemade dough, says a pizza chef we know 🙂
10. Have The Basic Spices On Hand
There is nothing worse than running out of a spice when you least expect it. Check that you always have in stock: Basil, Oregano, Rosemary, Thyme, Salt, Pepper, Paprika, Cinnamon, Nutmeg, Cumin, Pumpkin Pie Spice, Coriander.
11. Stock Your Fridge With Essentials For The Unexpected Guest
Have hard and soft cheeses in your fridge for unexpected guests during the holidays. People always drop in when you least expect it, so be prepared this season. Dates and a nut mix are the perfect complement for cheese and wine.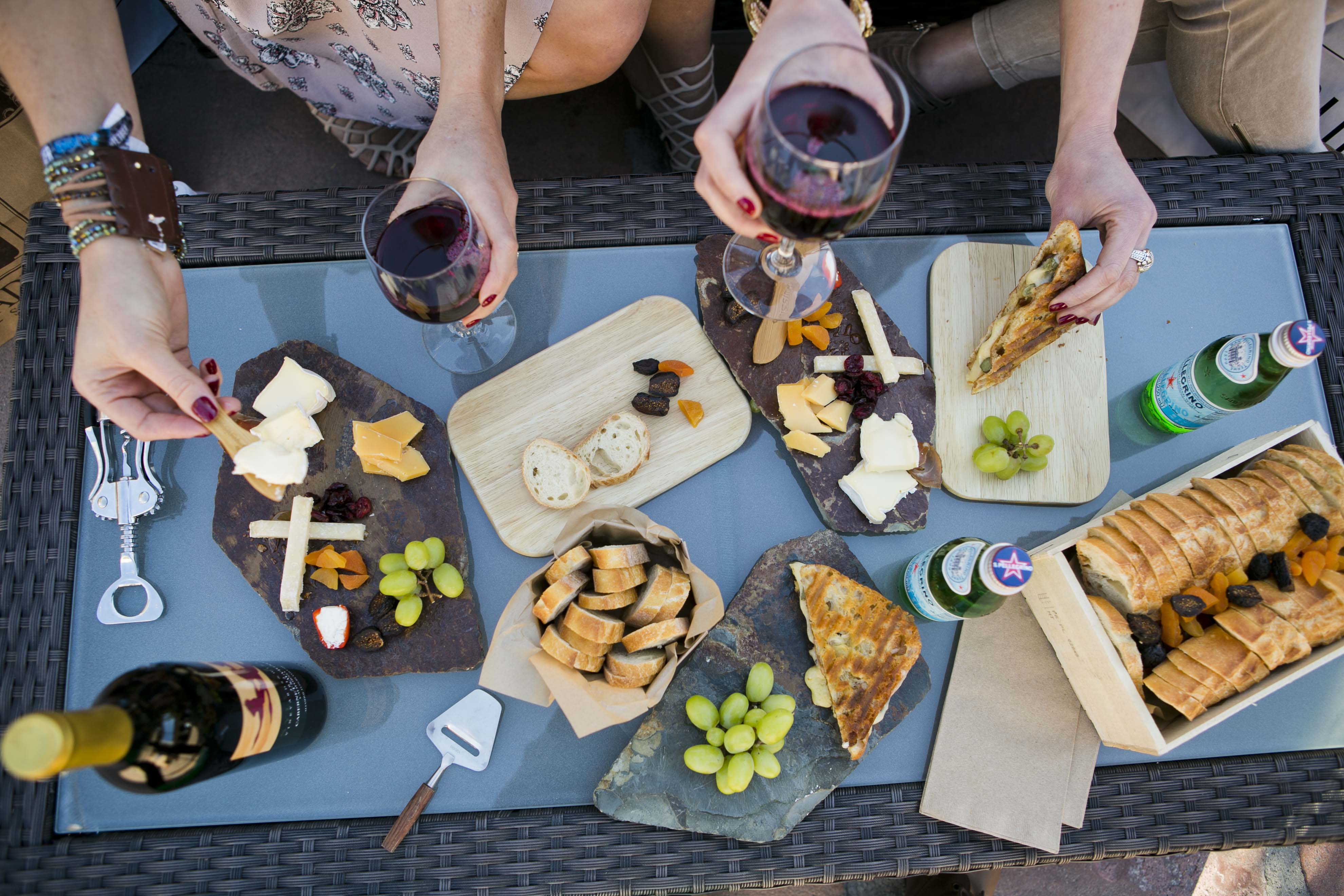 12. How To Stock Your Fridge If You And Your Friends Are Vegan…
If you read the last one and said, "I am a vegan…and my friends are nut-free…and dates are too high in sugar…", I hear you! Instead, replace cheese and nuts with Castelvetrano and kalamata olives and a gluten-free cracker or crisp of your liking. Serve in small bowls with grapes on a cheese board.
13. Make Guacamole In Advance
Guacamole turns brown within 30 minutes of making it. Prevent the oxidation by spraying the top of the guac with non-stick olive oil spray or non-stick coconut oil spray. Cool, right?! Then, cover the guacamole and keep it in the fridge until ready to serve.
14. Make Quinoa Taste Like Souffle
Quinoa does not need to be plain, it can be gourmet and fancy like a souffle! Cook Quinoa in vegetable broth, chicken broth or even pineapple juice instead of water. The flavor will be amazing, like you cooked it in butter! Then, Add veggies or protein.
15. Remove Sulfites From Wine To Prevent A Hangover
The Ullo filter removes the sulfites (preservatives) from wine, which are the cause of a hangover or headache. Sulfites are essential for transporting wine over long distances, but give us a headache when we ingest it. Who knew you could get rid of them?!
16. Save Time On Grocery And Wine Shopping
If you do not have time to run out and buy wine and drinks, just request Postmates, a courier for anything from food and drinks to errands!
17. Warm Up Leftover Pizza in 5 Minutes
The microwave makes pizza too hot and rubbery. But, the oven takes too long to heat up pizza. So, what do you do? Put the slice of pizza in a skillet on medium to high heat for 3 minutes, then cover for another 2-3 minutes until the pizza is sizzling and ready to be eaten. Tastes great!
For more ways to up your entertaining game, be sure to subscribe to our newsletter and follow along on Instagram and Snapchat. Username: Nubry.
Save
Save