Next Saturday, November 15th, The Cystic Fibrosis 'Breath Of Life' Gala will be held at Rancho Valencia Resort & Spa. The Cystic Fibrosis Foundation is an incredible non-profit organization that was started by families who had children with Cystic Fibrosis.  The foundation has funded the research and successful medications that are helping people with CF live longer … and they have almost found a cure! The advancements made in life-saving gene therapies just this year mean that treatments for more than half of patients could be available next spring.
Annie Finch, Founder of Katherine Cosmetics, is committed to helping Cystic Fibrosis find a cure which make its so fitting that she is the 2014 Breath of Life Gala Chair.  Katherine Cosmetics even has a lipstick – Susie's 65 Roses – a bright pink shade, with proceeds going to the CF Foundation.  Read on for the meaning behind 65 roses as well as details pertaining to this fabulous charity gala.
"65 Roses" is what some children with cystic fibrosis call their disease because the words are much easier for them to pronounce. The phrase was coined in 1965 when Mary G. Weiss, a CFF volunteer made it her mission to help her three young sons who had been diagnosed with the disease. After countless telephone calls, her 4-year-old son, who did not know he had cystic fibrosis said, "I know what you are working for… you are working for 65 Roses." Since then, "65 Roses" has been used by kids of all ages and has become a registered trademark for the Cystic Fibrosis Foundation.
_________________
Cystic Fibrosis Breath Of Life Gala
When: Saturday, November 15th, 2014
Reception/Cocktail Hour: 5pm
VIP Reception: 5:30pm
Program/Dinner: 6:30pm
Where: Rancho Valencia Resort and Spa on the Croquet Field, 5921 Valencia Circle, Rancho Santa Fe, CA 92067
Attire: Evening Chic, Black Tie Optional
Tickets: $500/person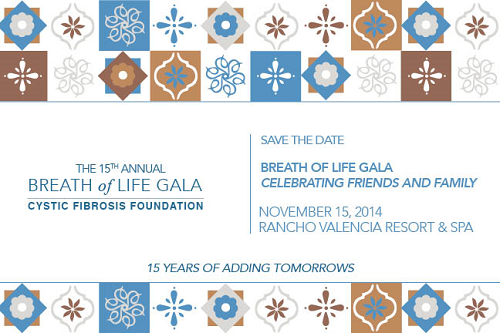 About Cystic fibrosis (CF): CF is a life-threatening genetic disease that primarily affects the lungs and digestive system. An estimated 30,000 children and adults in the United States (70,000 worldwide) have CF. A nonprofit, donor-supported organization, the Cystic Fibrosis Foundation is the world's leader in the search for a cure for CF. The Foundation funds lifesaving research and works to provide access to quality, specialized care and effective treatments for people with CF.  Nearly every CF drug available today was made possible because of Foundation support. Through its efforts, the life expectancy of a child with CF has doubled in the last 30 years, and research to find a cure is more promising than ever before.
For more information or to learn more about sponsoring the event, please contact:
Leigh Innocenti
[email protected]
(858) 452-2873
Sam Swanson
[email protected]
(858) 452-2873