Tonight, Thursday, November 6th, San Diego's newest luxury lifestyle center, Duty Free City, hosts its highly anticipated grand opening party! San Diego shopping just got a whole lot more amazing! Duty Free City offers a unique experience to shop high end beauty, fragrances, handbags, but also to enjoy wine and champagne in the wine bar, shop for unique candy in the candy shop, and even indulge in spa and hair services! Don't leave the men at home as they will have their own fun in the cigar lounge and men's barber shop with The Art of Shaving trimming.  For details on where Duty Free City is located, see below.
Duty Free City isn't your typical liquor, chocolate and perfume stand at the airport…oh no!  It can be compared to a high end department store with designer handbags, wine bar, cigar lounge, luxury cosmetics from brands like Clinique and Natura Bissé, as well as designer fragrances including Bond No. 9 and Marc Jacobs. Get this, at Duty Free City, you can receive a complimentary skin consultation using sophisticated technology that analyzes your skin and then lets you know what skin products are ideal for your skin type!
San Diego shopping now includes more than your mall experience! Spend the day at Duty Free City shopping and relaxing at the cafe, get a blowout or have your hair styled at the salon, have your nails done or receive a massage, enjoy a glass of wine in the wine bar, and have your man sit back at the cigar lounge. The wine bar features American wines with an interactive educational station and tastings. Additionally, San Diego microbreweries will be represented with craft beer. Service is top notch at Duty Free City with valet parking and personal shoppers.
The Duty Free shopping experience is unique and will be a fun time for you and your friends and/or family! There's even a family center called "Kids Town" with educational and entertaining activities for the little ones while you enjoy yourself.  We hope to see you at The Grand Opening Party on Thursday, November 6th.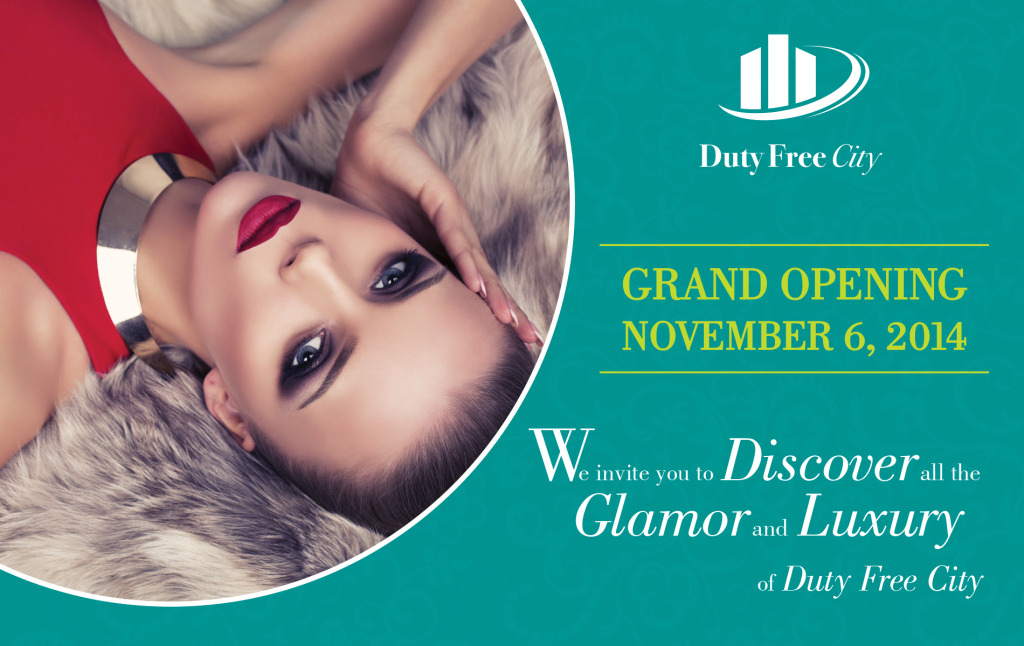 _____________________
San Diego Shopping At Duty Free City — Grand Opening Party

When: Thursday November 6th, 2014 | 6-8:30 pm
Where: 601 East San Ysidro Blvd, San Diego, CA 92173
RSVP: email [email protected]