The Miss California USA pageant show starts tomorrow, but the pageant starts today! Have you wondered what goes on when the girls are not on stage? What happens in the interview? Are the girls really starving?  I, Miss Nubry will be liveblogging starting right now as I continue my journey to the crown.  I will not be able to give updates while I am strutting my stuff in bikini, so luckily, the shows will be streamed live as well.  To watch the pageant LIVE, register here.  The live showing is $16 per day.
Miss California USA Pageant Preliminaries: Saturday, January 12th, 7pm PST
Miss California USA Pageant Finals: Sunday, January 13th, 4pm PST
Until then, I will be Instagraming, tweeting, facebooking all day and all weekend. All of the juiciest updates including beauty blunders, wardrobe malfunctions, the food backstage, the drama, the smiles, the tears, and the fun will be right here on this liveblog.
Twitter: @nubry & @GretchHackmann
Twitter Hashtag: #MissCAUSA
Liveblog from Miss Nubry – Gretchen Hackmann at Miss California USA 2013 Pageant
5am: Iphone alarm rings -Snooze
5:03 am: Okay! I am awake.
5:10am: Shower
5:30am: My Starbucks arrives! Thanks sis!
5:45am: I am in Hair and Makeup.. haha aka I am doing my own hair and makeup. No salon appointments allowed at Miss California.
6:45am: Trying on my interview dress just for good luck. Its purple lace.  I posted a picture on Instagram to show you!
6:50am: Continuing to get ready and put big curls in my hair!
9:10am: Driving over to the Pasadena Civic center to check in for the weekend! Thank goodness  I am in Group 4-7! Group 1-3 checked in much earlier! We are grouped alphabetically based on our titles! Tip: You don't want to be Miss Alpharetta lol!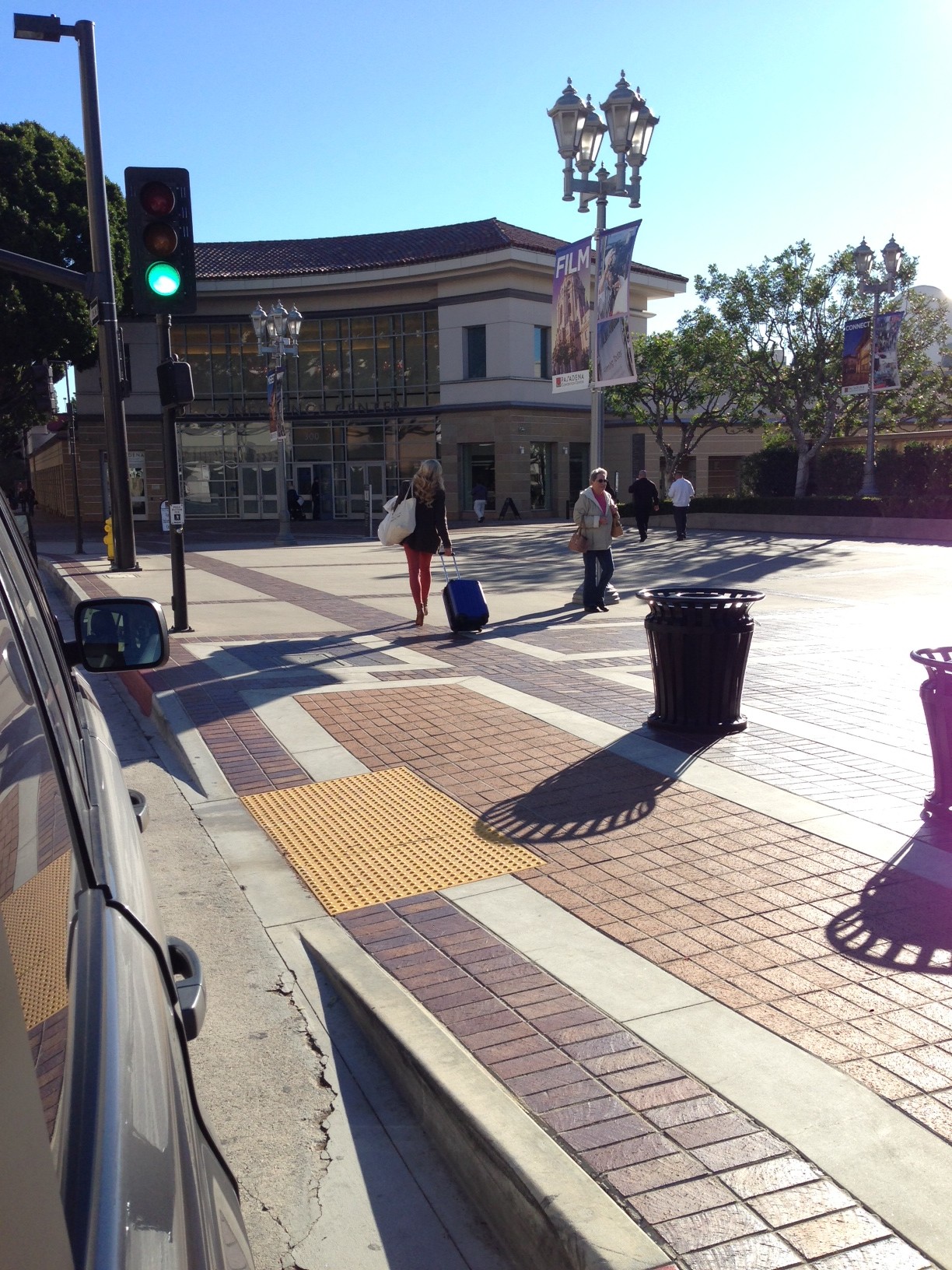 9:15am: I am wisked away to the large training room where we put down all of our stuff and start "school".
9:27am We are in full speed training – where we will walk.. how to walk.. this is what will happen. The organizer calls us by our title to practice.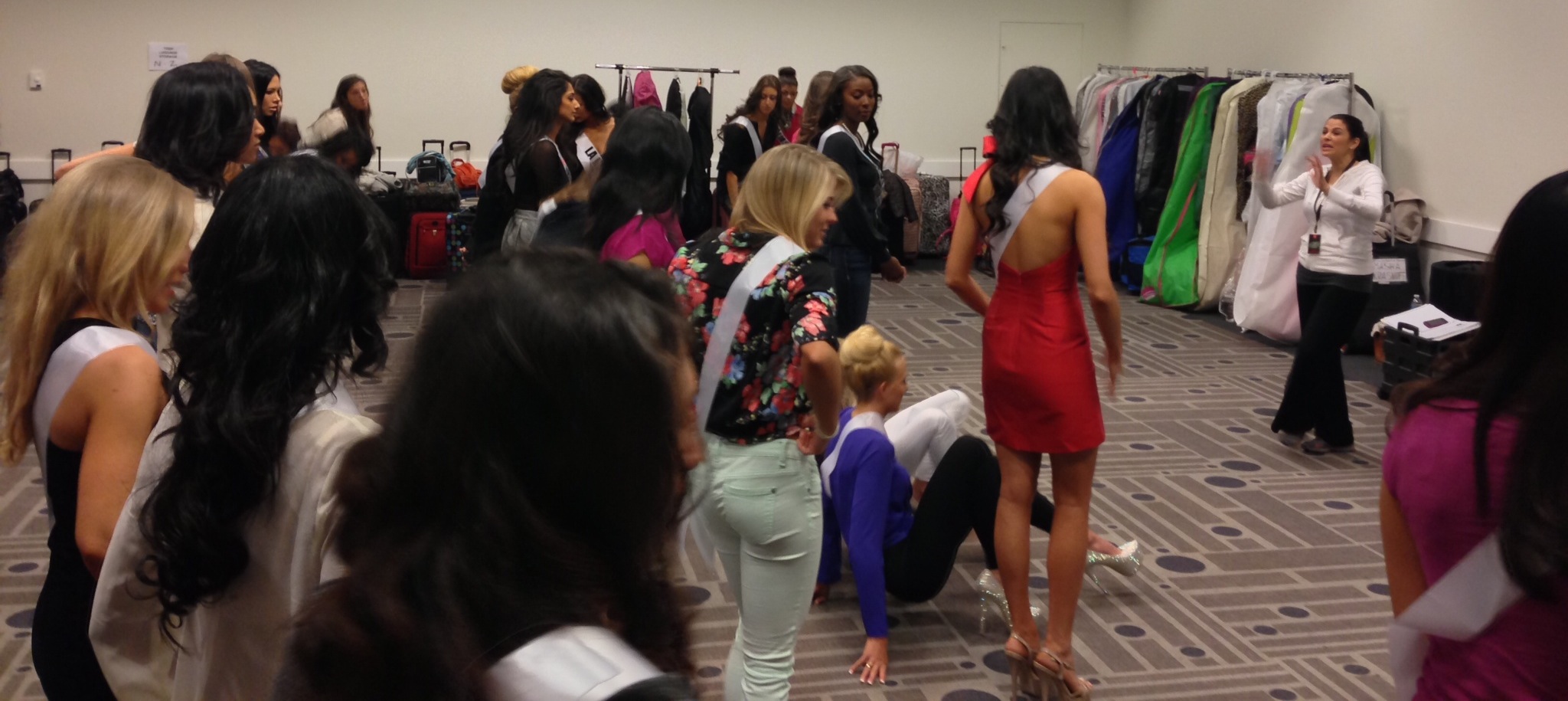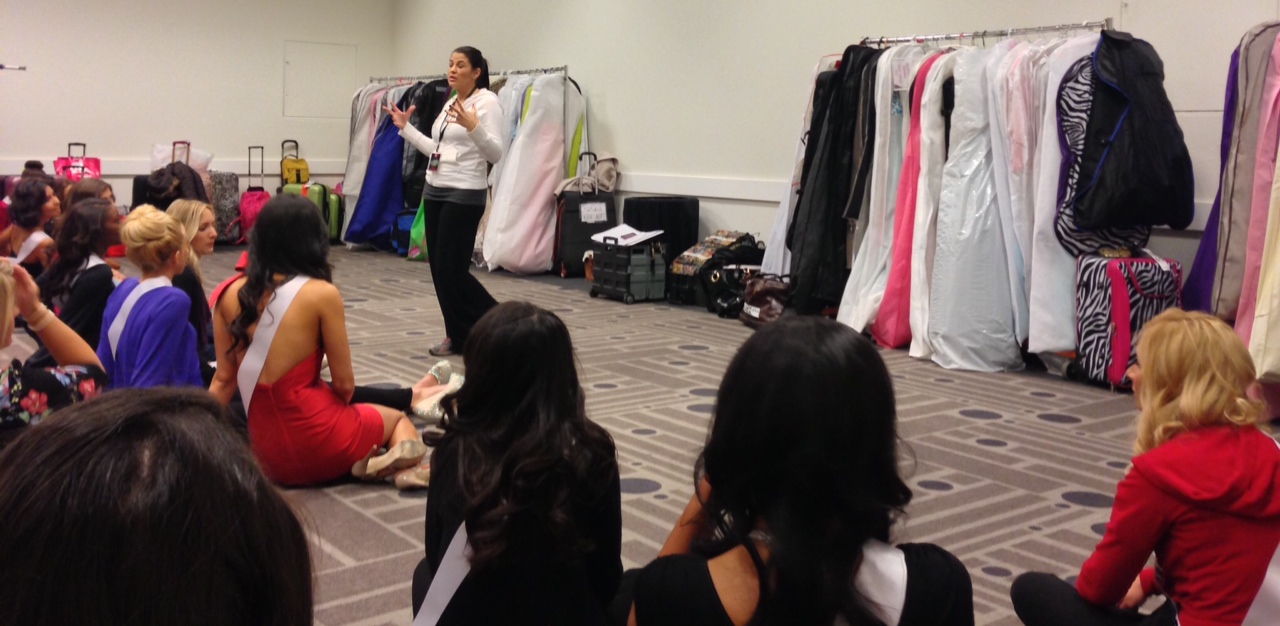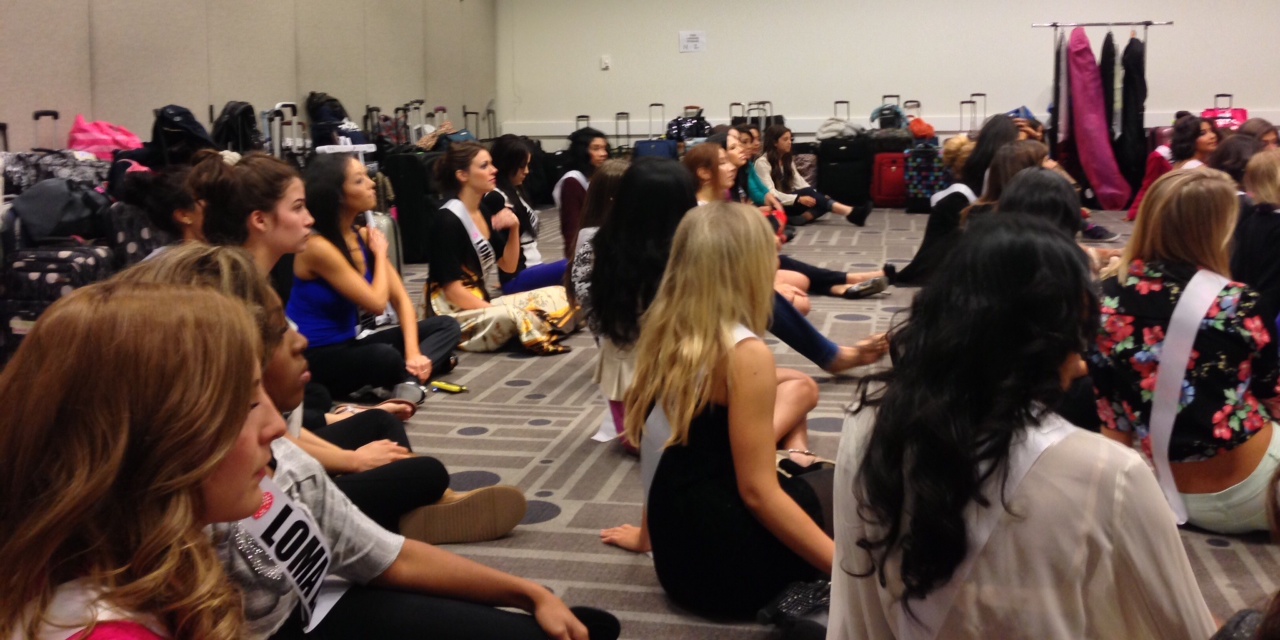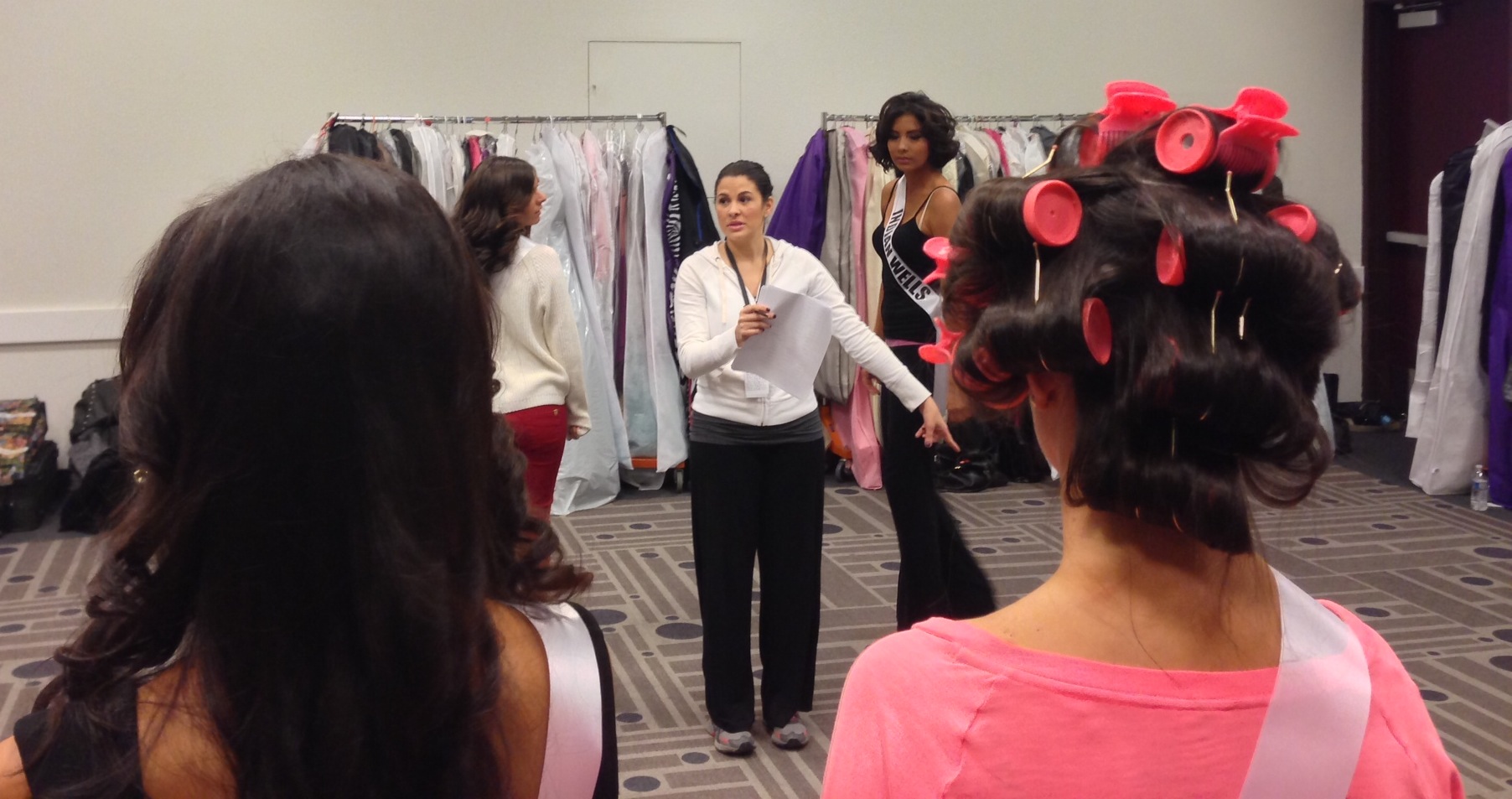 10:17am Quick break
SHOP MY SWEATER (exact) KAIN Label Nerin Sweater – $83.40
SHOP MY JEANS (similar): True Religion Shannon Tomato Jeans – $108
Unfortunately the exact ones are sold out, but the Halle style is incredible!
10:30am We are learning the dance moves ~ ahhh! I haven't done this in years!
12:00pm We break for lunch.  Lunch is something I have been thinking about.  I have heard that pizza is served for all meals…Not True! I was pleasantly surprised by the lunch that was catered by Whole Foods.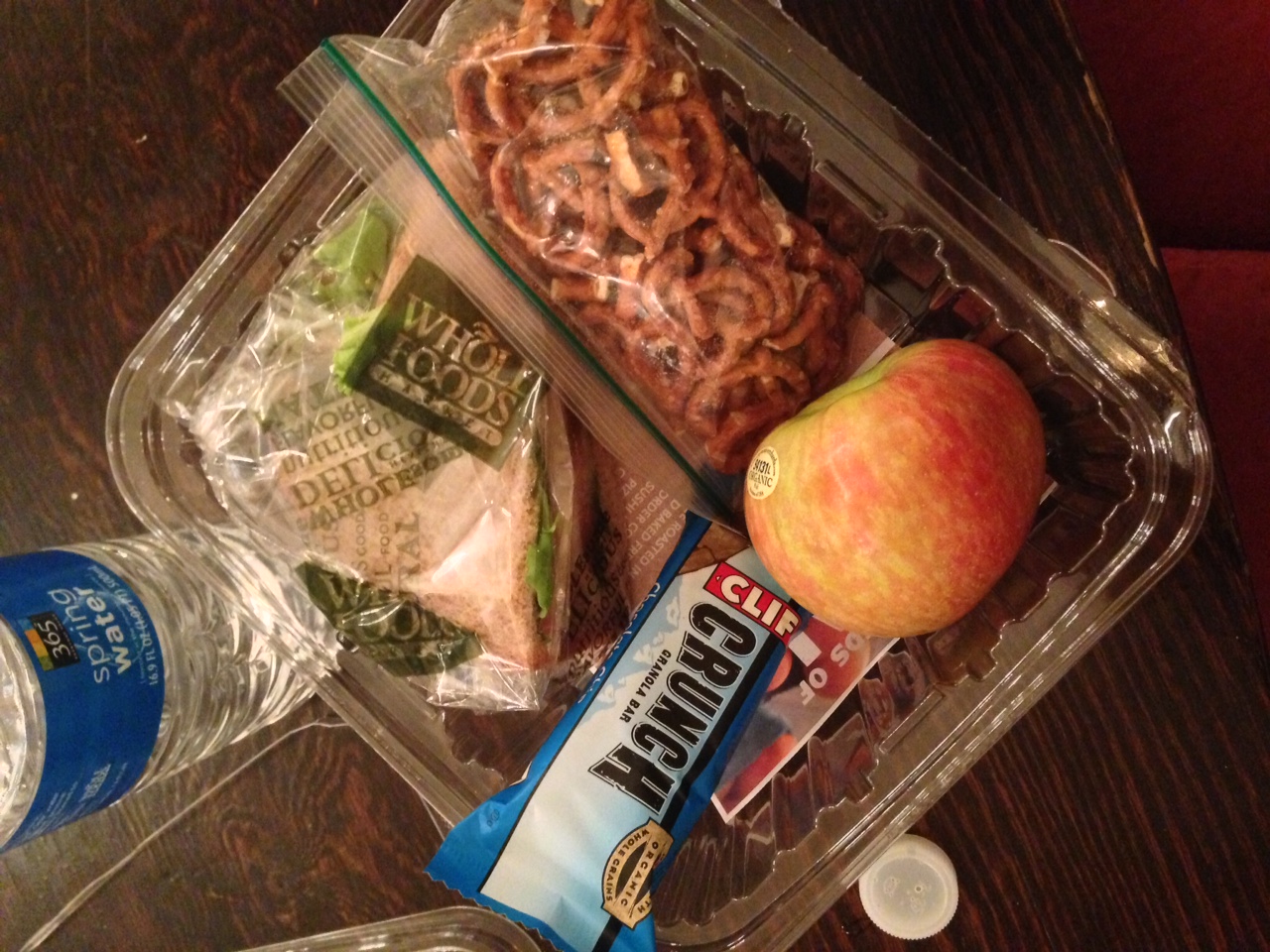 12:30pm I am getting ready for the interview. I sneaked into the Men's restroom to touch up my makeup and change 🙂
2:00pm Girls are hanging out waiting for interviews!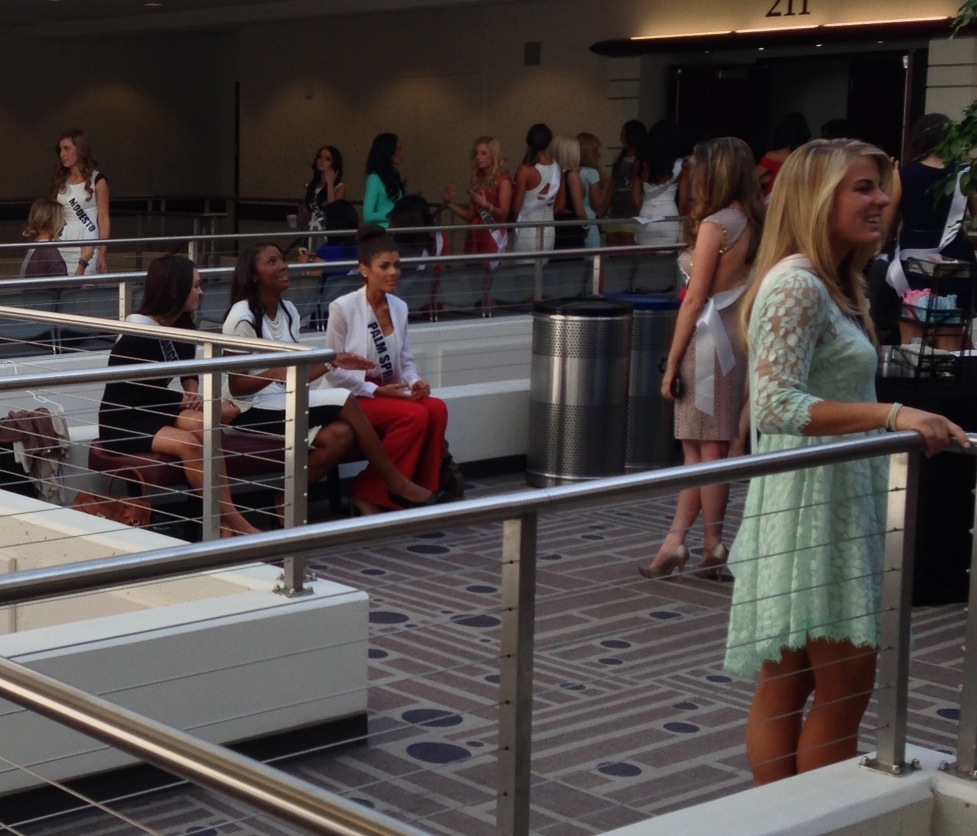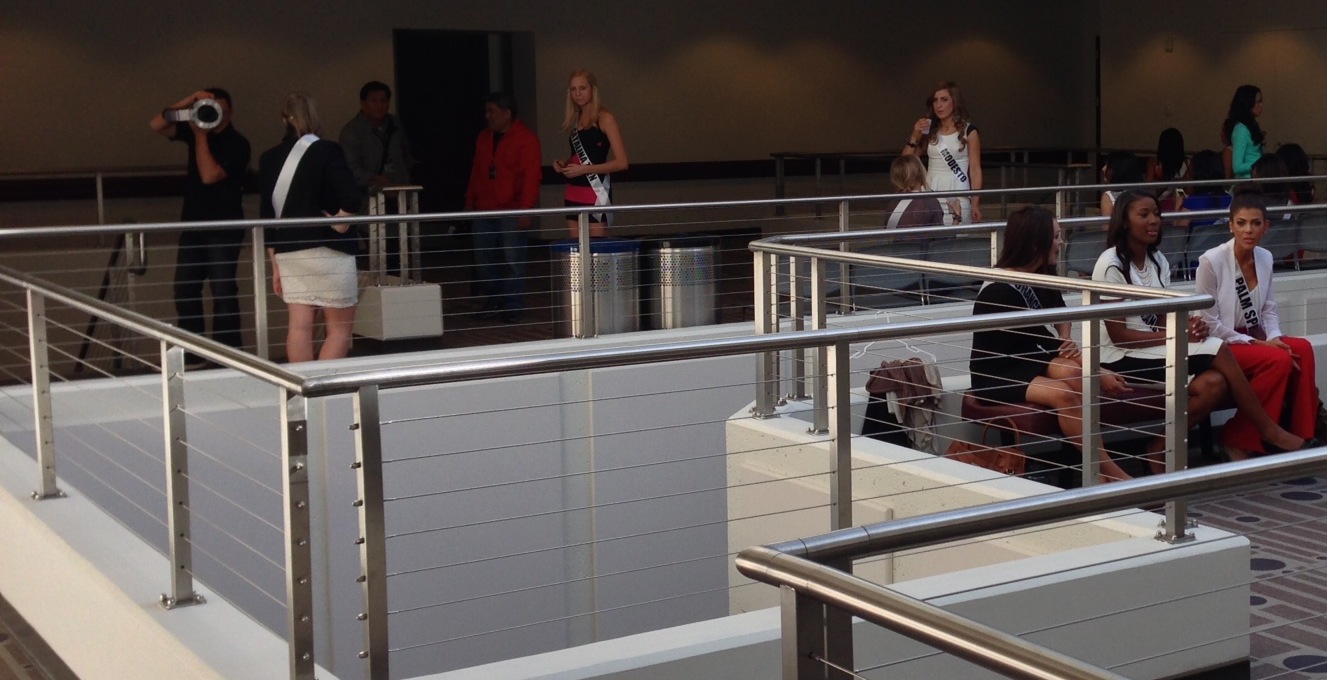 Peyton Nealis (Miss Pacific Palisades) and Alexandria Bridgett (Miss Oakland) wait for their interviews.  Did you see Peyton's style and beauty advice?
Trea Erdman (Miss Mountain View) and Marissa Perplies (Miss Mulholland Drive)
Marissa Perplies (Miss Mulholland Drive) and I waiting for our interviews!
Alessandra Marandola (Miss Orange County) gets photographed in a navy shift dress. The sticker on the sash means that the official photographer will take photos of you.
Almost interview time! I am admiring my rosegold pumps.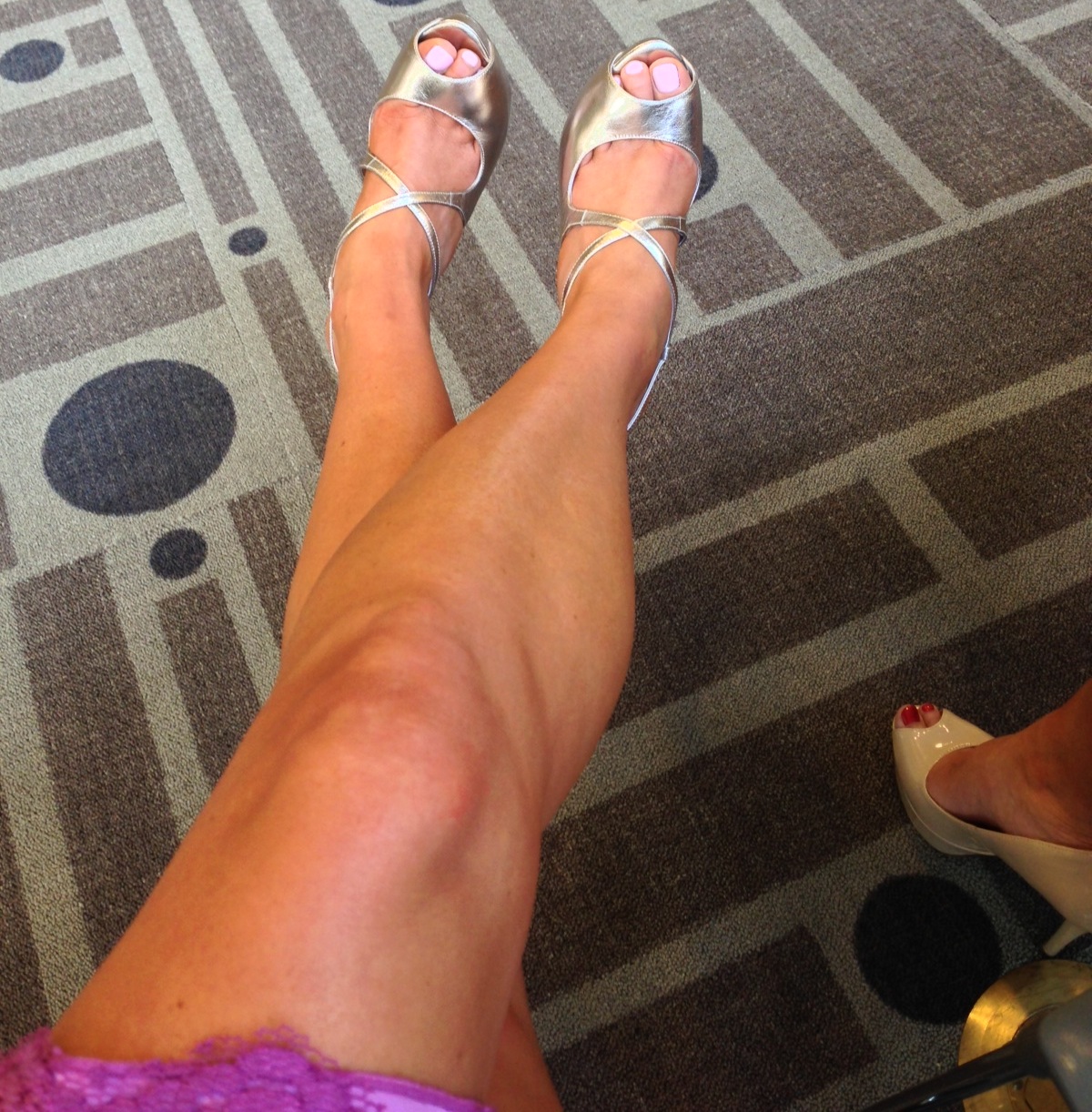 Since I am waiting for my interview, I'll show you some of my snacks for the weekend that I posted on Instagram. These protein bars will give me sustained energy, while the juice and sugar will give me an instant boost.  I am really excited about the Dig N Dips! I dont think I have had dipping sugar with a stick since swim team in 4th grade! Also, I looked for pixie sticks at Ralphs and couldn't find any! Are pixie sticks no longer?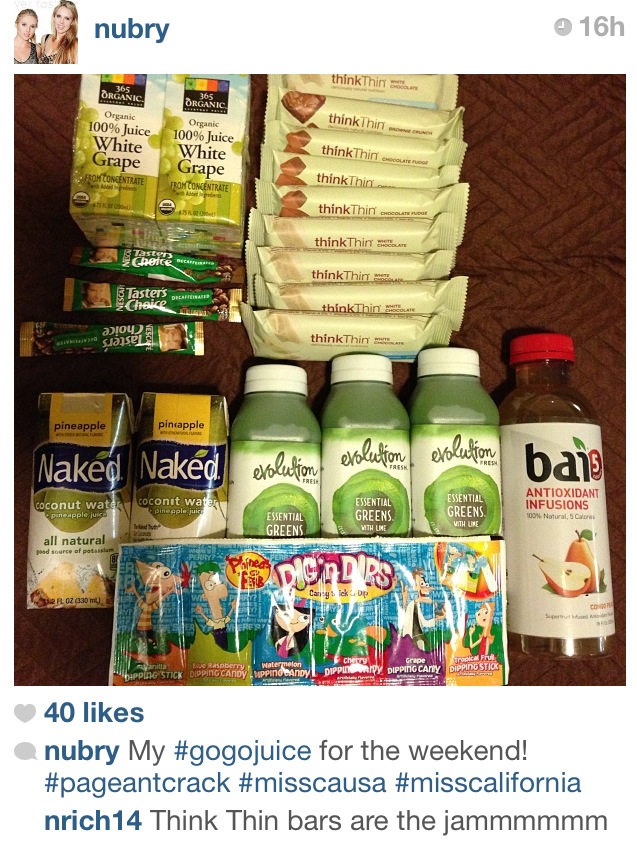 Miss Nubry was called (for the interview)…
I walked in the room with another girl and I walked to the left to face a panel of 4 judges and stood on the X. The other girl went to the right to stand on another X to face a panel of 3 judges. The questions came 100 miles per hour for all of 2 minutes and then I switched to the right side of the room for another 2 minutes of questions.
3:20pm: Phew! Just left my interview! They asked me what my pet peeve was? … Having to glam up in the men's restroom is not fun!

3:40pm I have to quickly change back into a casual outfit for more rehearsing for tomorrow. I am wearing red snake print skinny jeans and a KAIN sweater top. (see details above)  I am loving booties especially peep toe booties.  They are great cause you feel like you are wearing a boot, but you arent dressed for the cold winter! ~ Perfect California style!
4:06pm: We all are practicing the opening act for Sunday. This is when we will all be wearing black.
5:00pm What's for dinner? Grilled chicken, mesclun green salad, steamed vegetables.  I was so surprised at how healthy the food was!
8:10pm We get a goodie bag
Lets see what's inside… Nair Spa Clay, Skinny Pop popcorn, Justin's peanut butter cup, Hairfree brushes, Lady Groomer, Udderly Smooth cream, Malibu miracle repair sample, and an issue of New Beauty.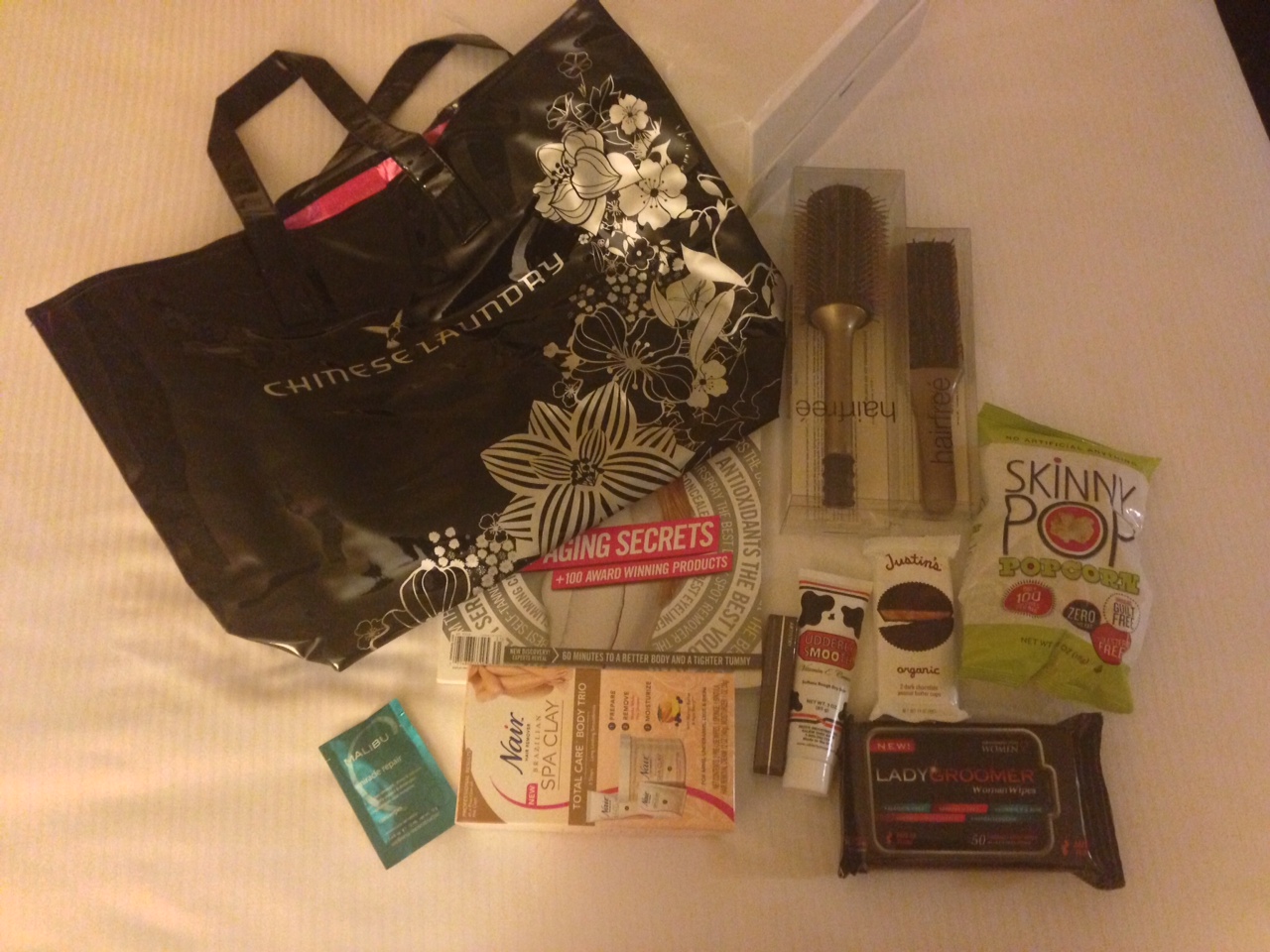 8:10pm I have a package waiting at the Hilton's front desk…my sister dropped off some much needed Jergen's cream to freshen up my tan:)
8:45pm I finally get into my room!
10:00pm Sweet Dreams 🙂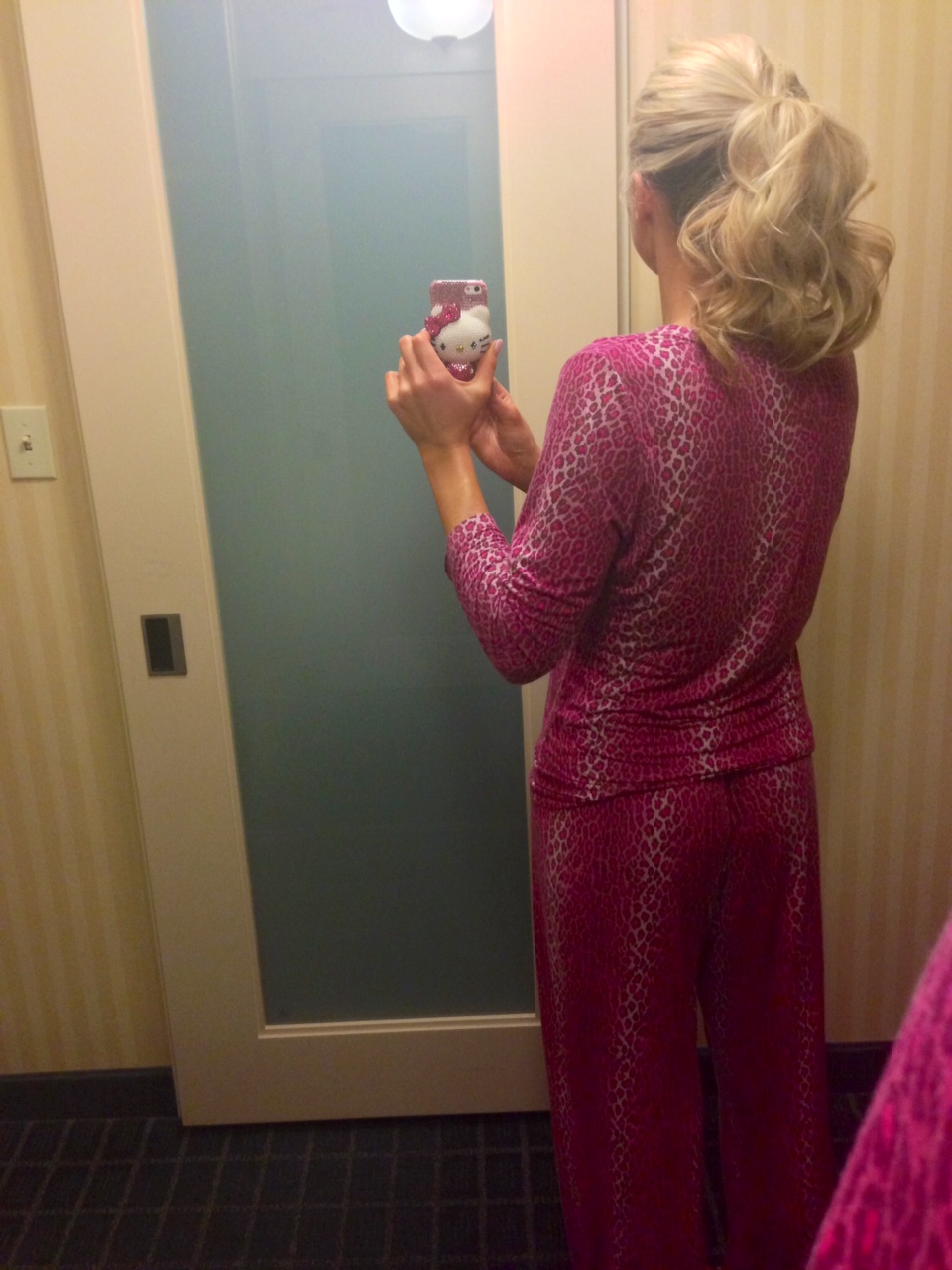 ______________________________________________
Day 2 – Liveblog from Miss Nubry – Gretchen Hackmann at Miss California USA 2013 Pageant
4am wake up call
4:02am Making some in-room coffee. Starbucks in the hotel only opens at 6am!
The getting ready routine is similar to yesterday.
5:00am Start curling my hair in a curl and pin fashion to make sure the curls hold.  See more details on stage hair here.
7:00 am breakfast buffet at the Masonic Lodge where we have all of our meals.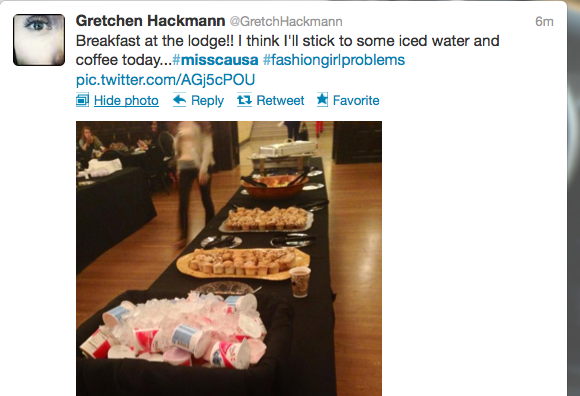 I am lucky that my interview was yesterday, because some girls had to wait until this morning.  Rachel tweeted that she was ready for her interview at 7am!
Everyone is waiting after breakfast to go back to the hotel and get completely ready. We don't have to go on show until 7pm, but we are not sure how much time we will have to get ready later on.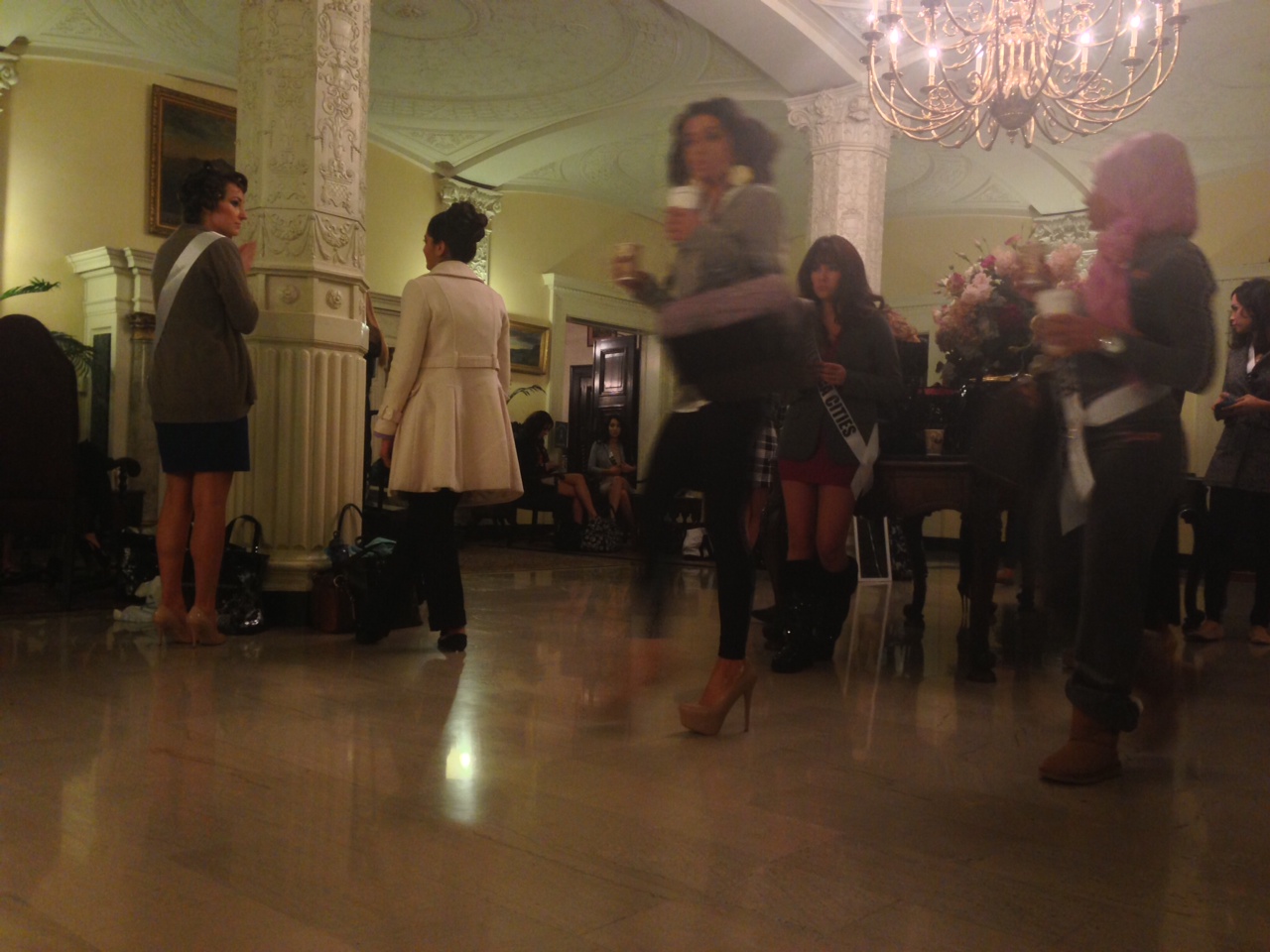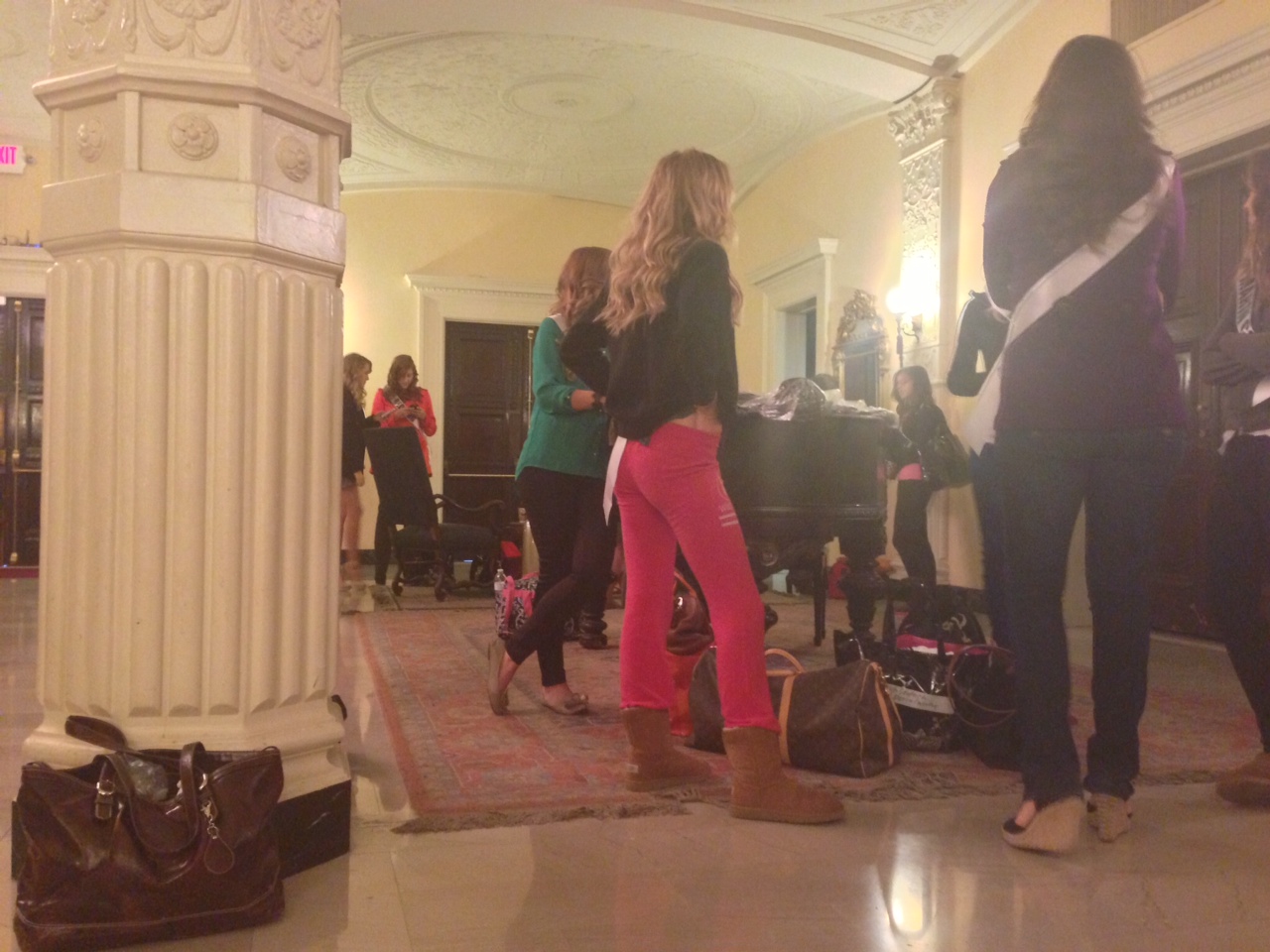 8:20pm Sylvia (Miss Sun Valley) is doing her makeup on her lap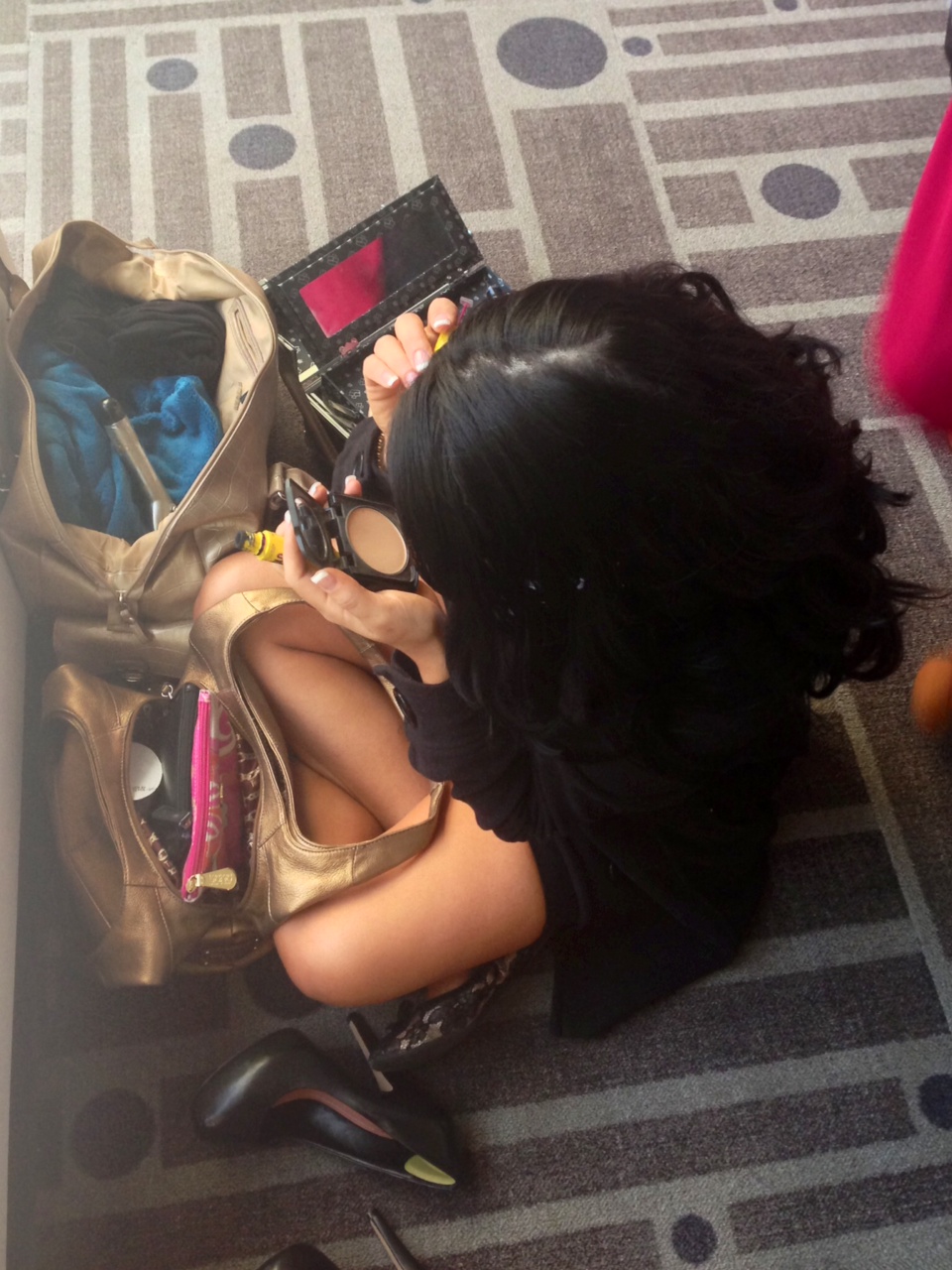 This is the room where all of our garments are held that we will need for stage.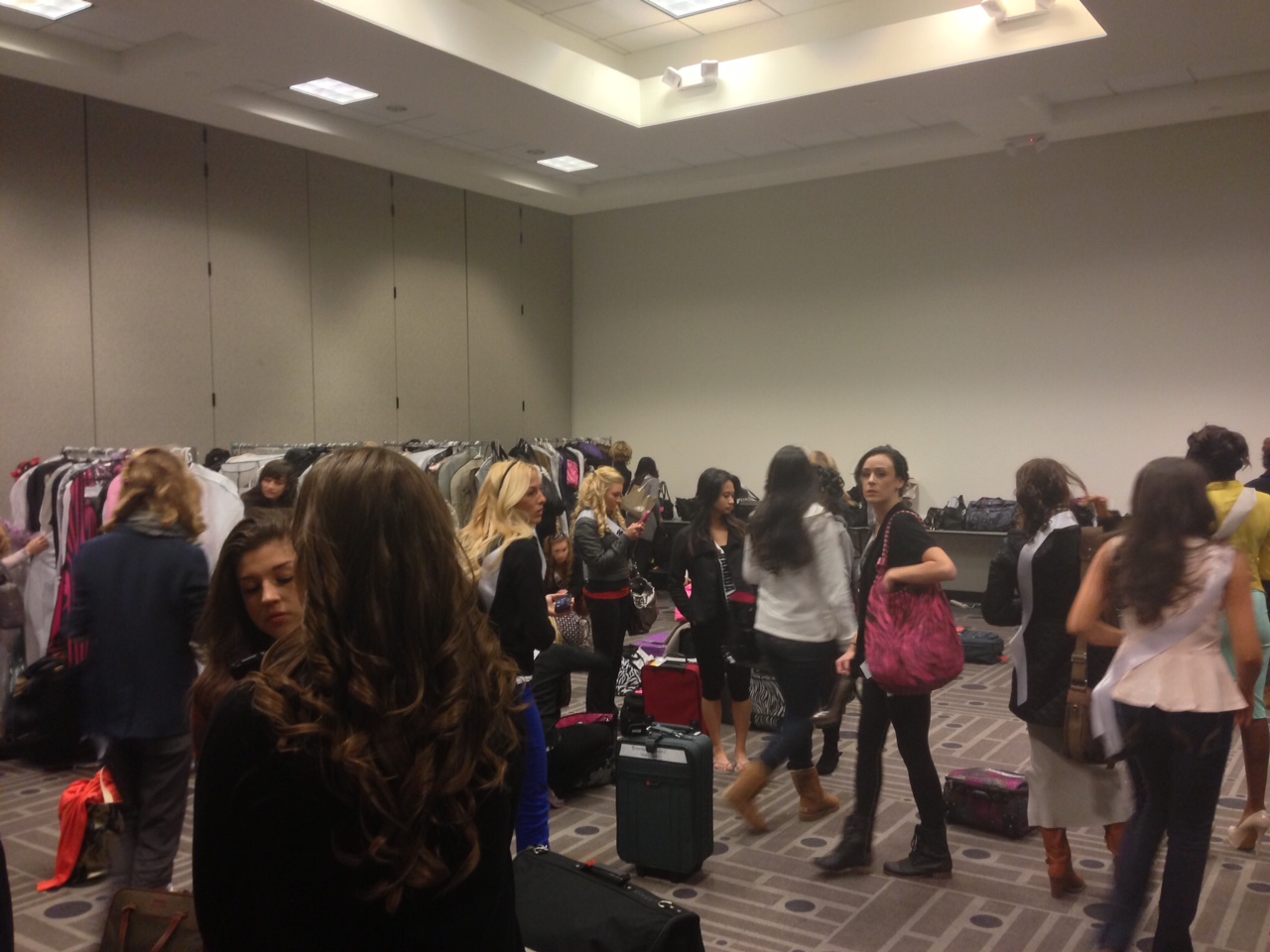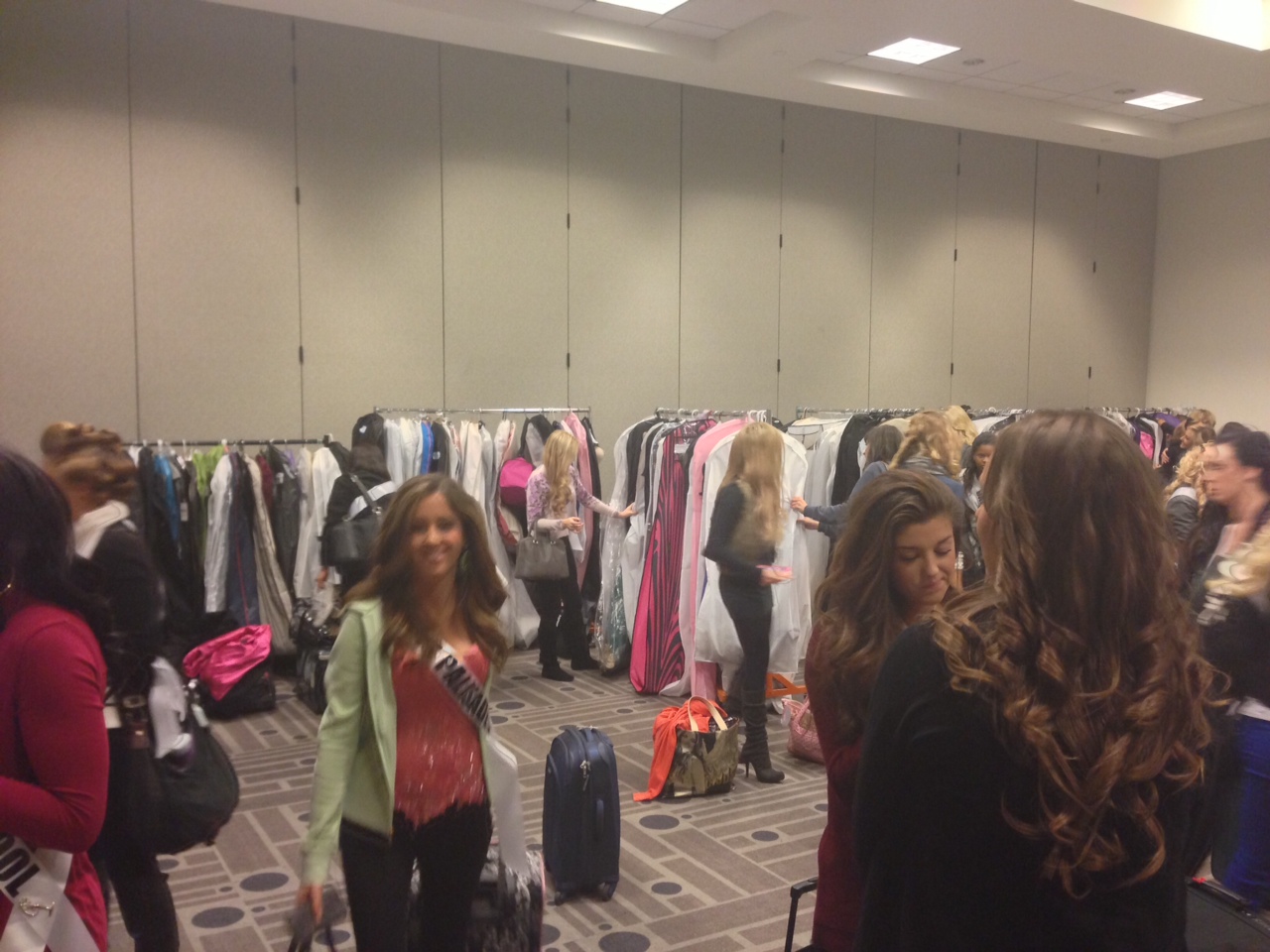 Practicing for the opening act.
Im getting ready now…
12:00pm Watching the Miss Teen California girls practice in the auditorium.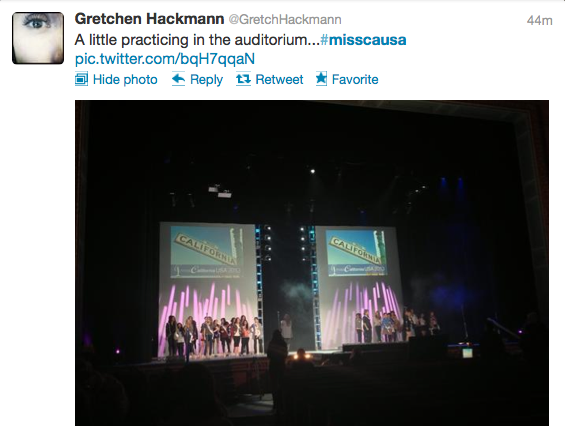 12:30pm Dequina Nicholas (Miss Loma Linda) gets her hair ready.
Thanks Corner Bakery for the sweets!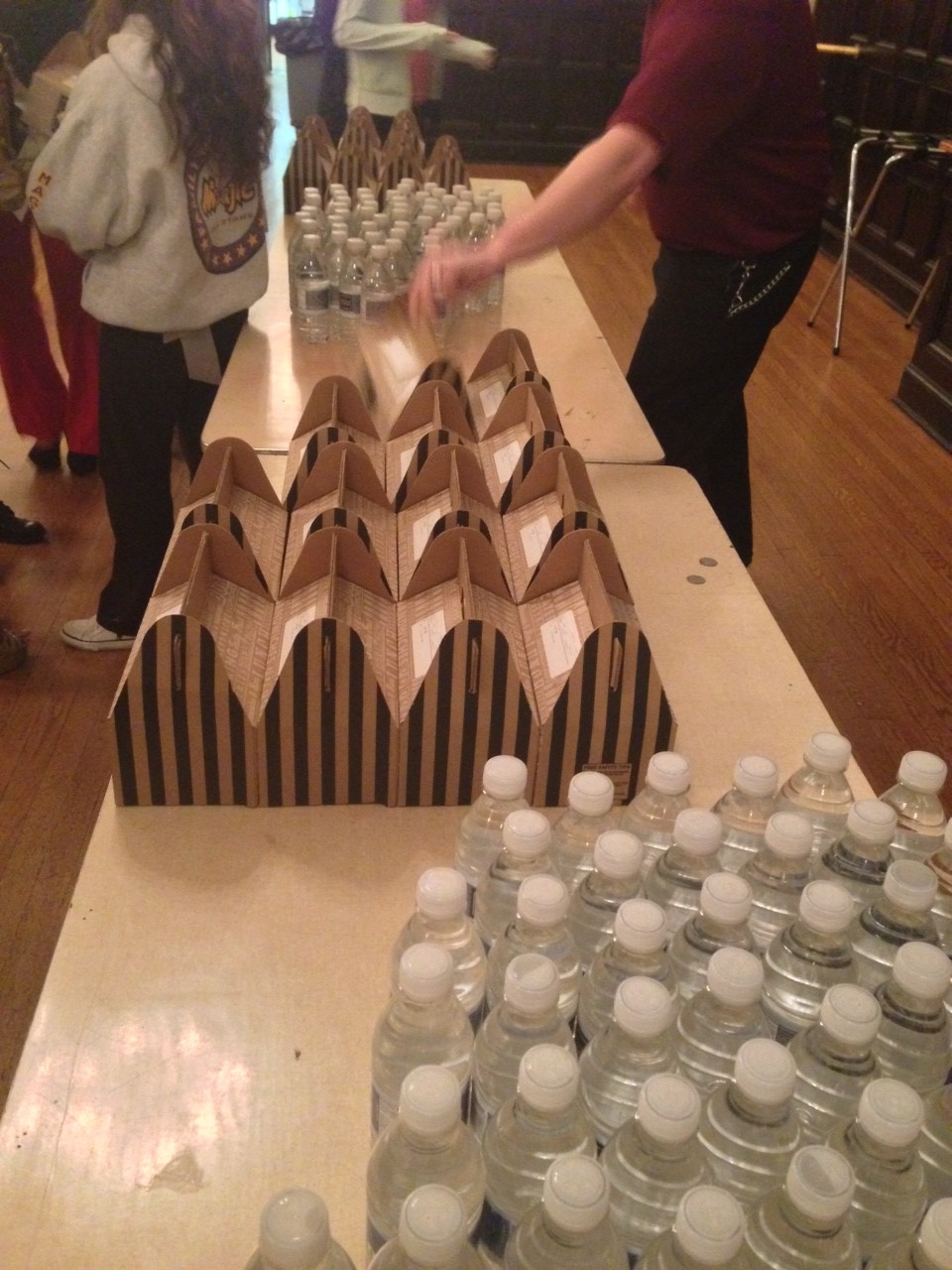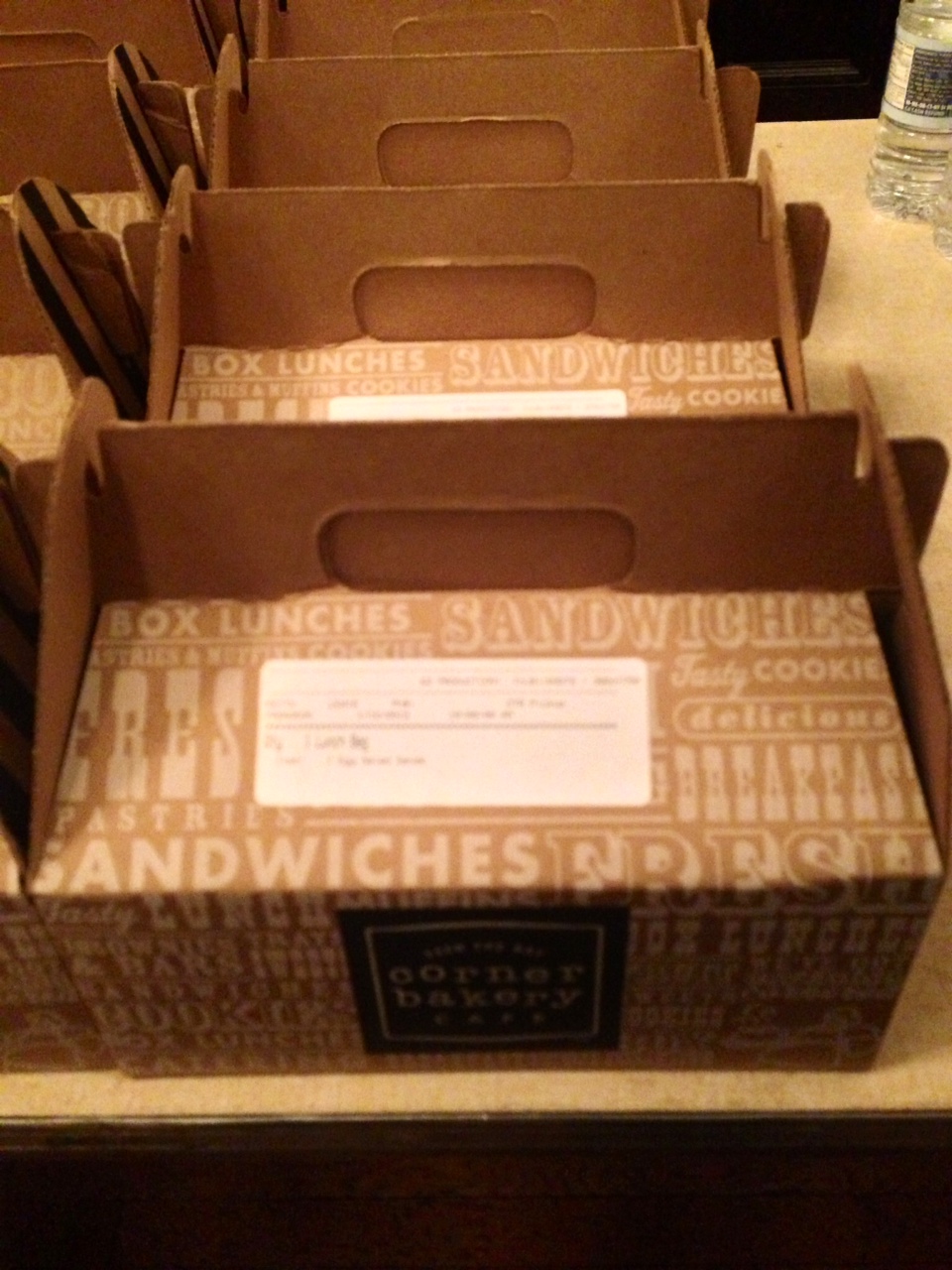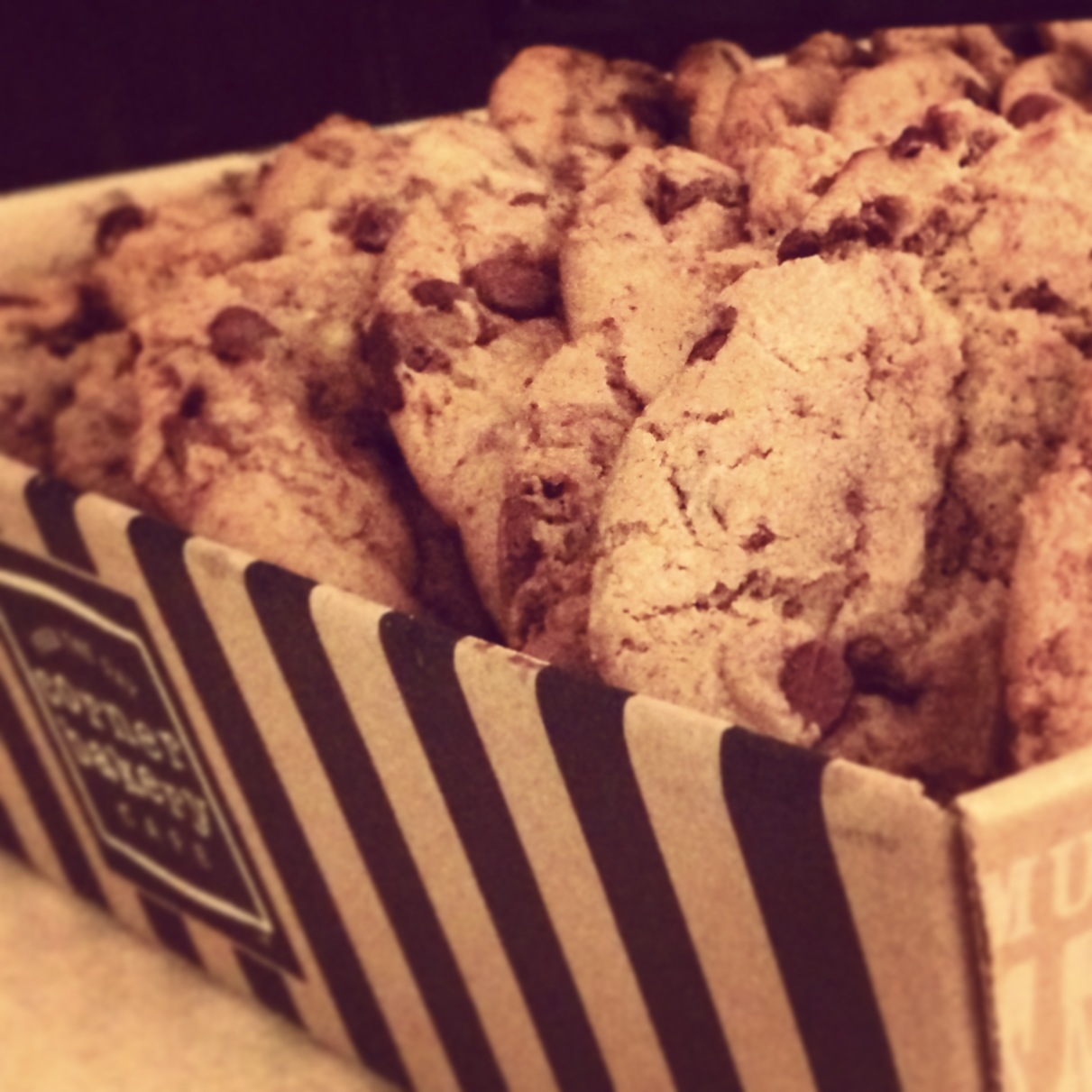 2:00 pm There are assistant in the dressing area to help girls with touchups! However, we are all supposed to do our own hair and makeup.
This is the room with each of our stations to do hair and makeup! This is like a girl warehouse!
This was my workstation….
It almost showtime!
My fans are going to be wearing Nubry shirts! They have a QR code on them too! I am so touched!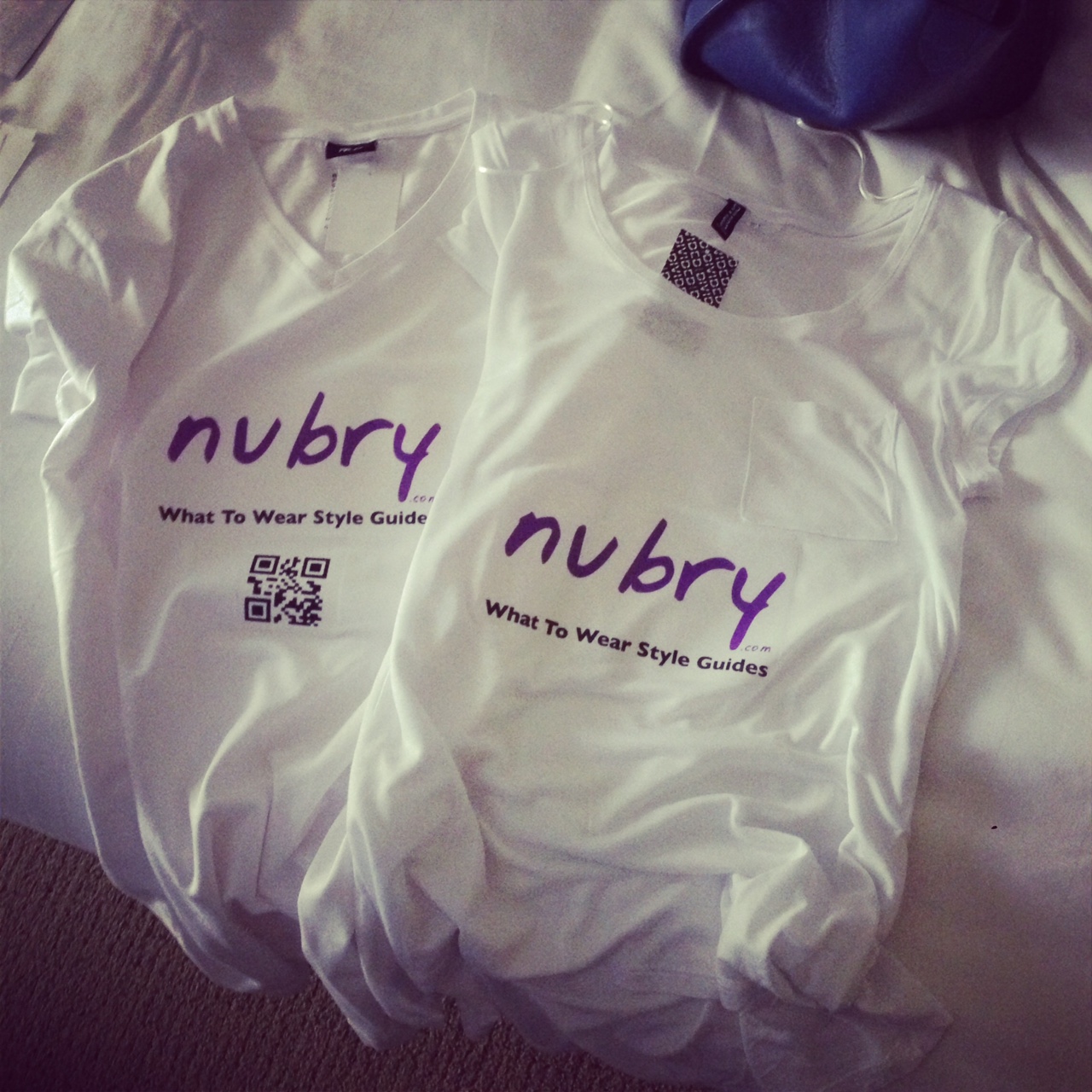 7:00pm the show begins with the bikini section. Everyone looks so sexy in their bikinis. I definitely feel like I am backstage at the Victoria's Secret fashion show!
Here are some photos from last night on stage.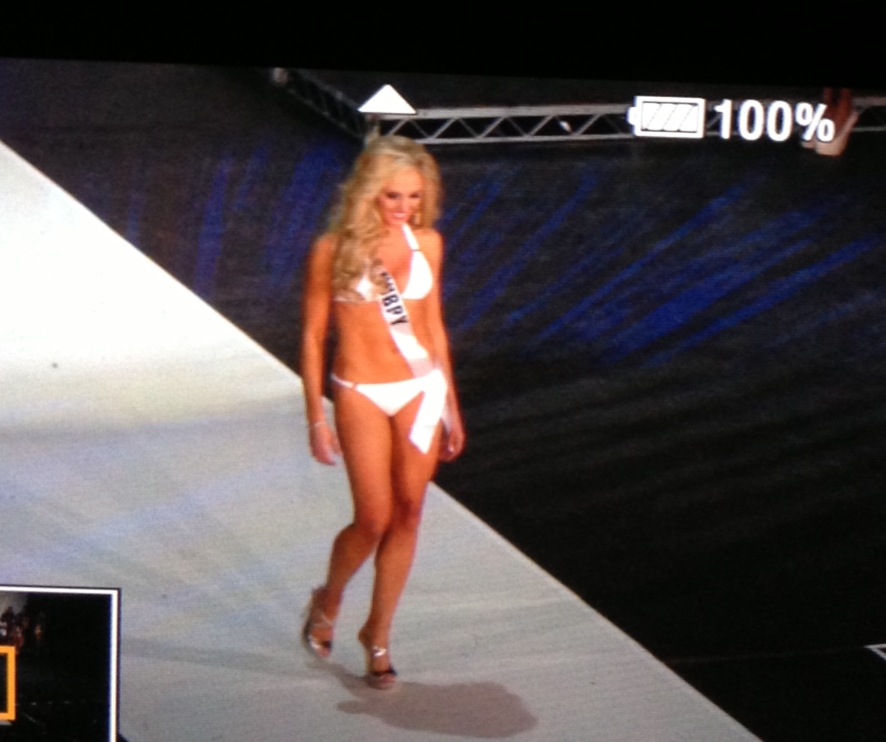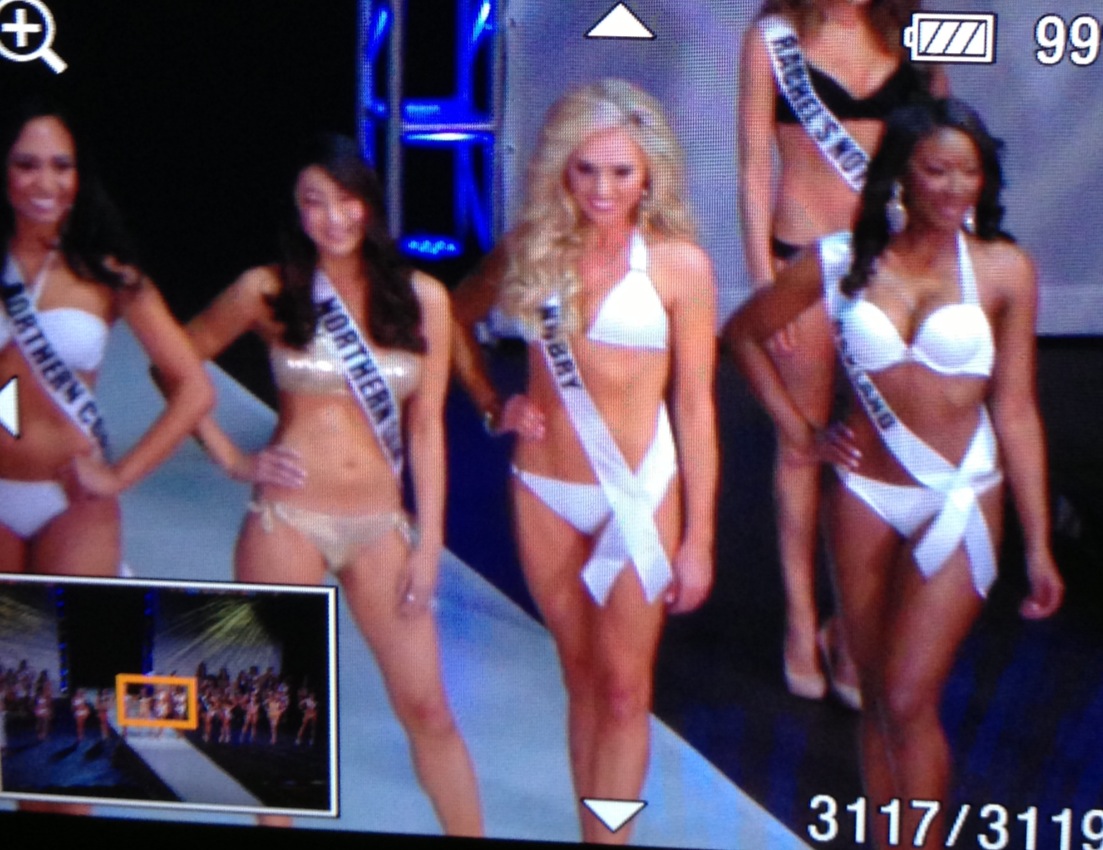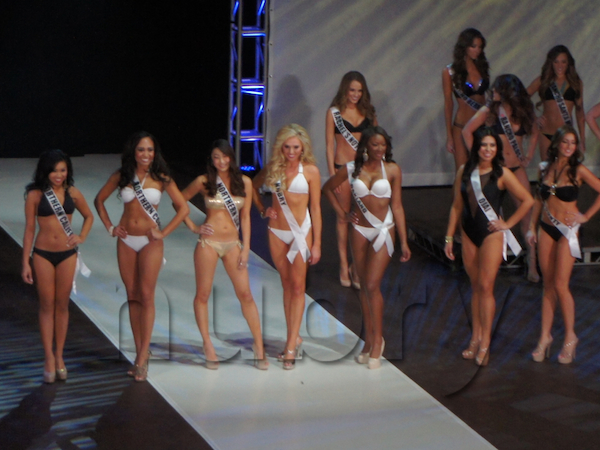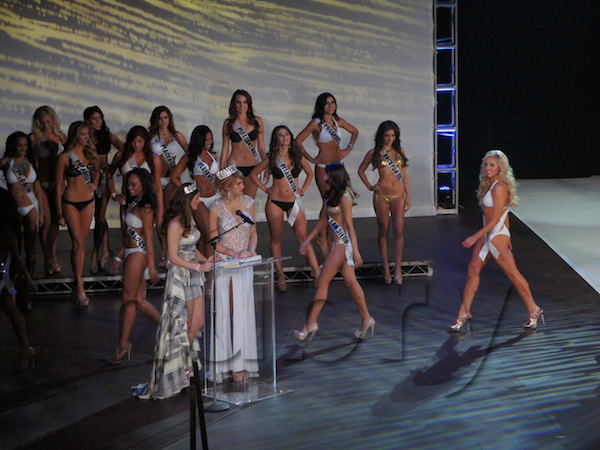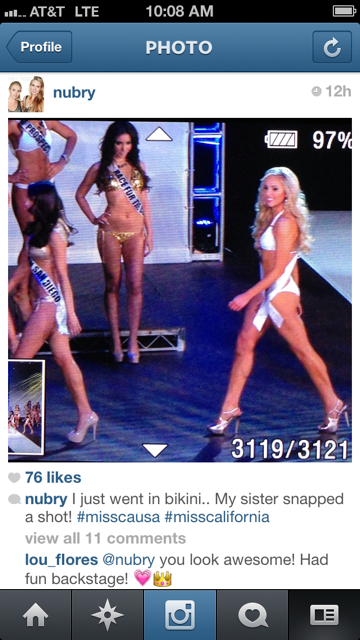 I am running to the gown part of the event!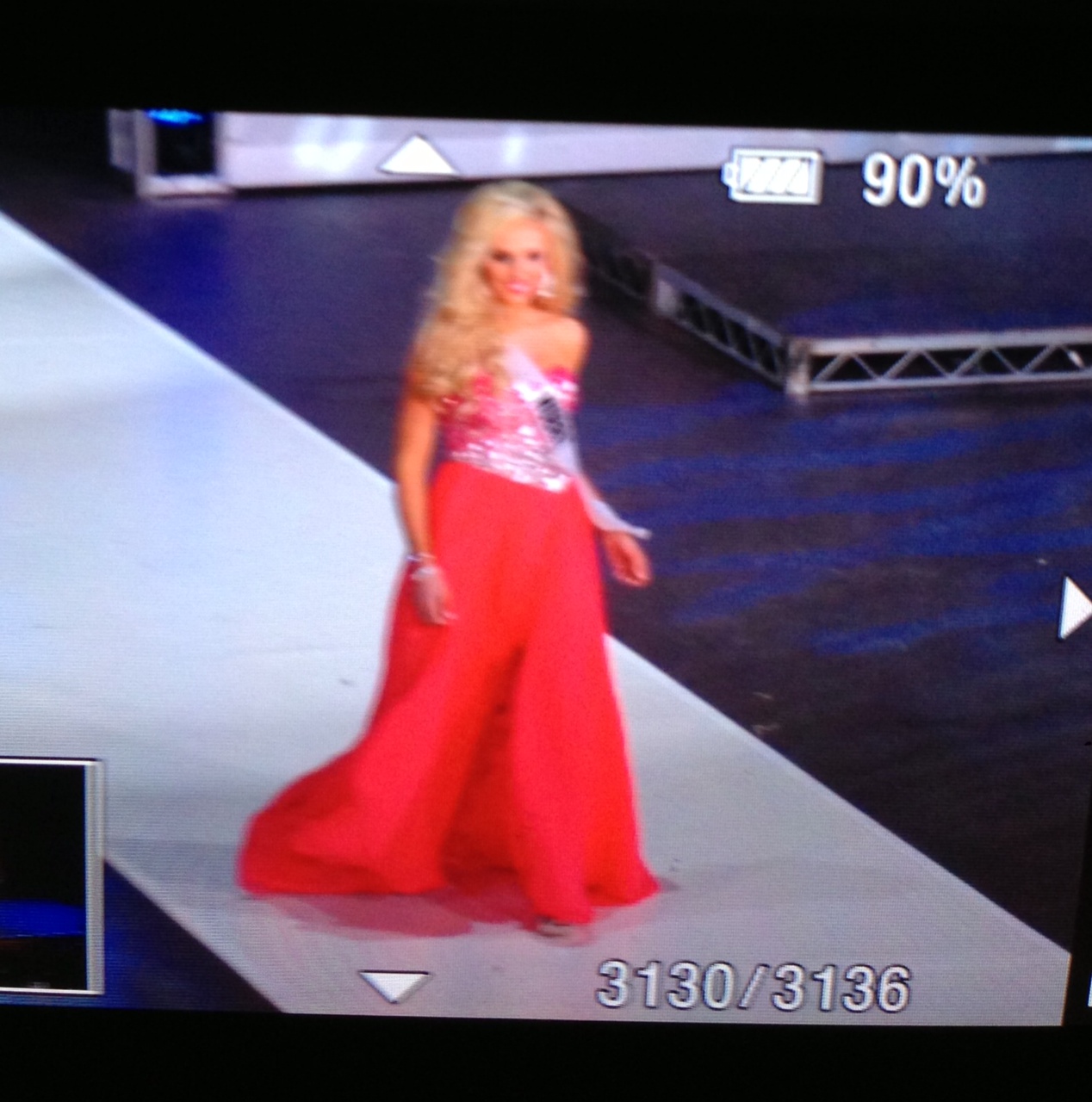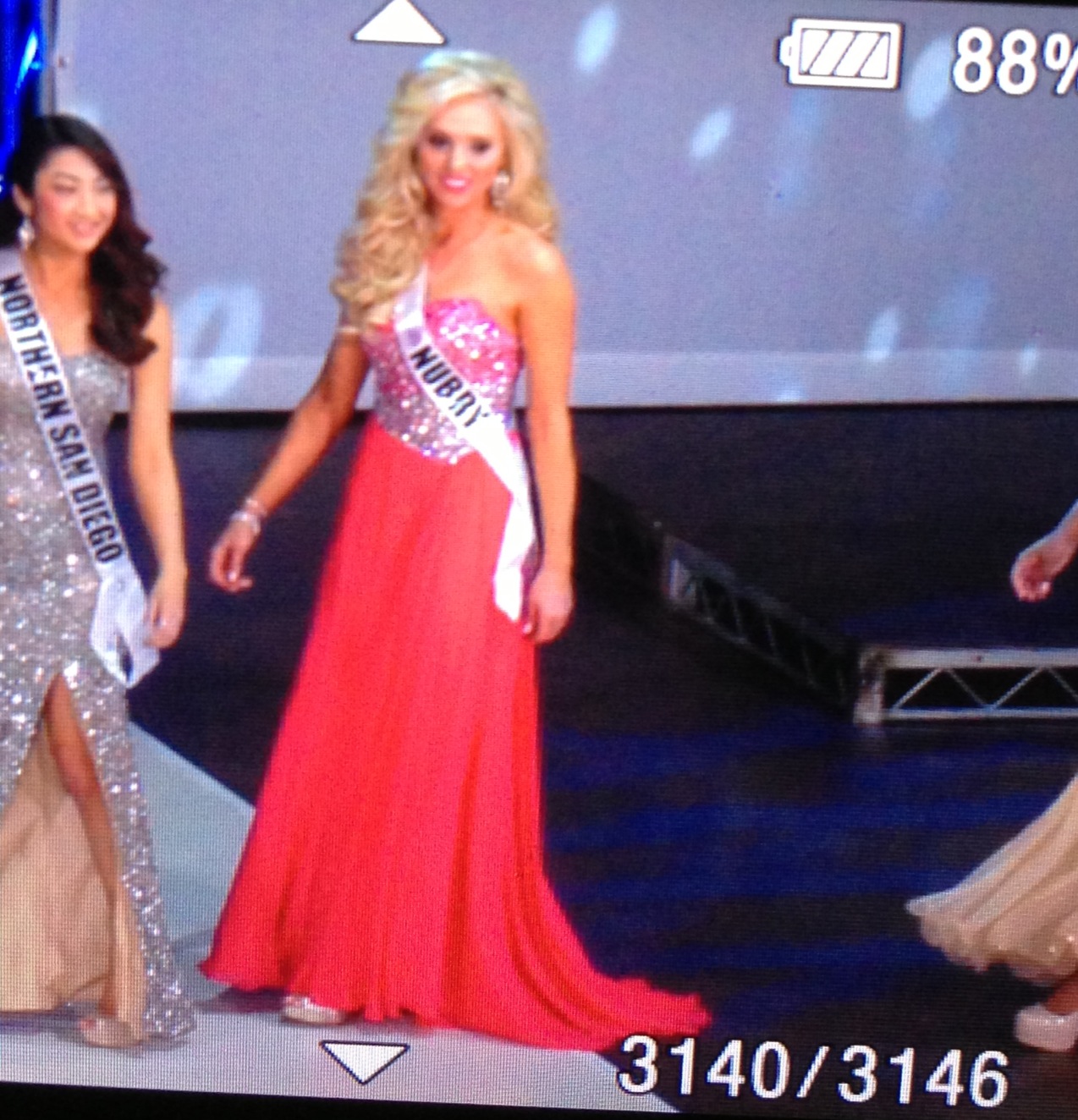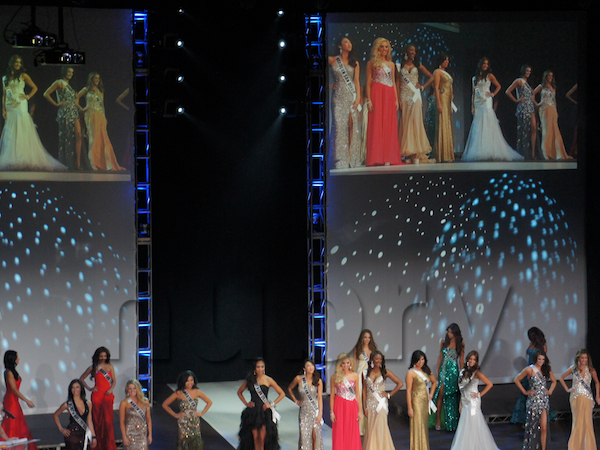 Cheering on the winner of the Photogenic award! – Lauren Barber (Miss Rancho Santa Margarita)
and that concludes the preliminary competition! Finally getting to sleep…but only for a few hours!
____________________________________________
Day 2 – Liveblog from Miss Nubry – Gretchen Hackmann at Miss California USA 2013 Pageant
4:30am wakeup call! I am never going to get used to waking up this early.  I am so excited for the final day of the competition and the Miss California Finals!
7:30am Ready and breakfast
More practice sessions and training for tonight.
I feel awesome and am so lucky to be here at Miss California! Thank you for all of the love and support that you have all had for me on Facebook, Instagram, Twitter and here on Nubry.com. It is an honor to be representing Nubry! Keep following! The best is yet to come.