Isabel Marant did something really remarkable and made the "not cool" sneaker a "hotter than hot" item that's actually now a coveted street style must-have, thanks to her wedge sneakers.  After releasing the "Bekket" sneaker a year ago, celebrities and models went wild and bought every pair off of store shelves despite a price tag of $640+ (price varies depending on color/material)!  Why would such a pricey sneaker be so popular to women?  Simply because of the hidden platform within the shoe that gives ladies the lift that they crave on a daily basis.  Not only are Isabel Marant wedge sneakers comfortable, versatile, leather and suede, they also slim out the legs and make a female feel sexy.  This action for a sneaker…unheard of to date!
Wondering how to wear Isabel Marant wedge sneakers for everyday life?  Whether you have the Bekket, Bayley, or Bobby styles, you'll find that it's super easy to wear these high-heeled sneakers with many types of pants, especially when they are tight and fitted.  Below, I've styled my favorite "Bekket" platform kicks in pale taupe with several different casual pants including True Religion "Halle" rust printed skinny jeans, Seven For All Mankind x Zac Posen studded boyfriend jeans, and a pair of black stretch leggings.
How To Wear Isabel Marant Wedge/Platform Sneakers
1. Pair with printed skinny jeans and chunky knit sweater for a casual day of running around town.
2. Pair with boyfriend jeans and a tee for a day at class or running around town.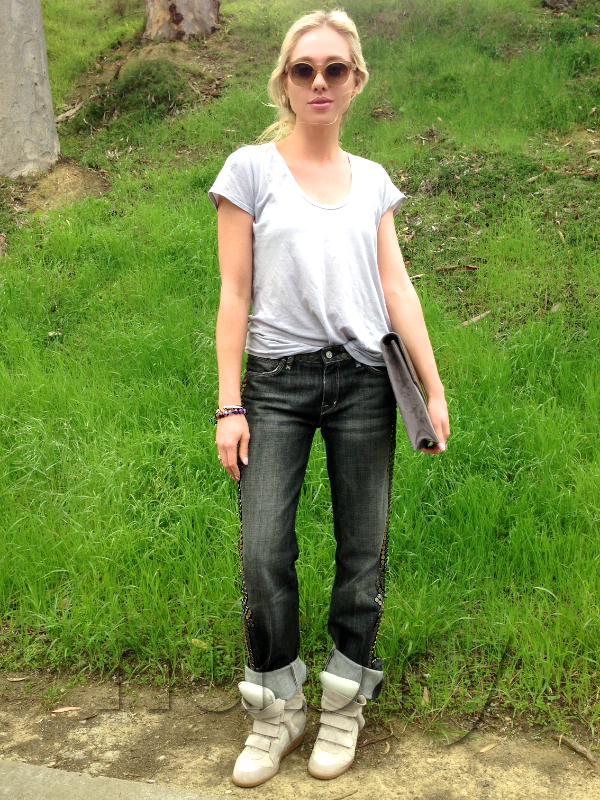 3.  Pair with black stretch leggings, oversized tee, and cashmere cable-knit sweater for a day-to-night look.  For day, carry a large tote and for evening, switch it out for a smaller purse that's fancier.