For many, the thought of working out makes us cringe. Why do we hate to work out so much? We know the results awaiting on the other side are so good, so why do we shake it off and always postpone that next gym sesh?  Wondering how to motivate yourself to work out? First, ask yourself some questions. "Why wake up 2 hours earlier to workout in the gym?" or "Why waste the gas to drive 25 minutes to a spin class?" and "What could possibly be so important to me that I would ruin my hair at Bikram yoga?" If you are having trouble finding the answer to questions like these, you need to find your motivation for working out.
For some, getting to the gym everyday is easy and comes naturally. For most everyone else, me included (yep!), we need a reason to exercise. We need someone to tell us how to motivate ourselves to workout. So, what's your reason to burn the extra calories? Maybe you want your muffin top to disappear when you flaunt those high-waisted skinny jeans. Perhaps your bra fat is driving you crazy and prevents you from wearing tank tops. Or, your overall mood is low and you simply want to feel happier. All great reasons! Keep reading to see how to motivate yourself to work out…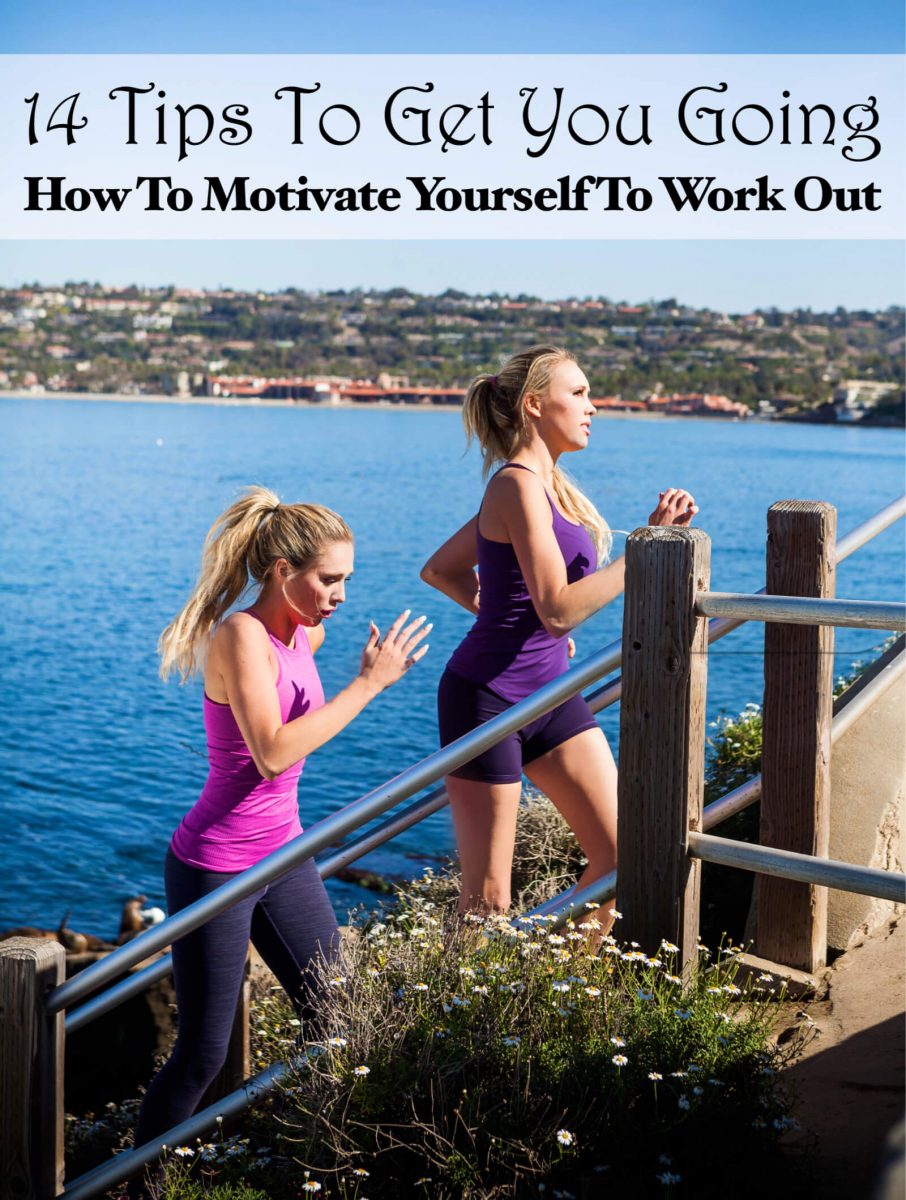 How To Motivate Yourself To Work Out
Now, let me show you 14 tips to motivate yourself to work out. Read on for my workout thoughts and ideas and see which one resonates with you. Then, embrace that reason to get to the gym or Pilates studio. Don't just find the motivation to workout, use it and do it too!
1. Think about how good you feel when your clothes fit well.
Have you ever put your skinny jeans on and were out of breath after finally getting them up the leg and fastened around the waist? Me like everyday (I wish I had the girl emoticon where she's raising her hand to insert here). Or, do you have to sit on the floor and do stretches to loosen them up? This isn't how it has to be! Your motivation is to slip into those skinny jeans in 3 seconds, as opposed to 60.
2. You feel so much better afterwards – the "runner's high" feeling.
I feel so amazing when I walk out of the gym or leaving spinning class. Heading in? Not so much. But after finishing a sweat sesh, my positive feeling towards the world is out of control! Additionally, my brain is going a hundred miles an hour as I think about what I want to accomplish that day. It's at that moment that I feel so happy to have actually woke up to work out. I always remember this "runner's high" or "after workout" feeling to motivate me for my next work out.
3. Burn a few hundred calories everyday for weight loss.
In order to lose weight your calories consumed must be less than your calories burned, scientifically speaking. So, if this is the case, you'll want to get your a** into the gym. You'll also want to take a look at your kitchen and weight loss diet.
If you're naturally burning 1,600 calories a day and eating 1,600 calories, you are maintaining your weight. Eating more than 1,600 calories a day? Probably gaining weight. You'll need to increase your daily calorie burn and potentially decrease the calories you're consuming to see any sort of weight loss on the scale.
4. You'll naturally want to eat healthier.
Your eating habits will improve dramatically if you're motivated enough to work out. You'll think twice about saying "yes" to dessert, french fries, or bread when eating out. At home, you'll be prompted to make healthier, clean options like a detox salad or a detox vegetable soup. Why? Because you know how tough it is to burn off every calorie. Why would you go and ruin your weight loss efforts with a cookie binge? You wouldn't! Plus, healthy food tastes so much better when you're living a detox lifestyle.
5. Don't want to gain too much during pregnancy.
During pregnancy you will undoubtedly gain weight. This is a good thing! But, you don't want to gain too much weight because the weight will be very difficult to lose after you have your baby if you go overboard. A well-balanced, healthy pregnancy diet should be established as well as an exercise routine – even if it's light.
During my pregnancy my exercise routine changed each trimester based on what I felt I could handle. During the first trimester I enjoyed running, which turned to walking in the second trimester, which turned to squats in the third trimester. The important thing is to listen to your body, but also set some goals.
6. Need to lose weight postpartum.
Everyone will gain a few too many pounds during pregnancy. With the right diet and by breastfeeding the pounds will quickly fall off. Working out can be all you really need to get rid of those last few pounds that don't want to easily budge. Don't wait too long to get into a regular workout routine though, because it will become harder to lose the weight. Especially if you become pregnant again!
7. A better night's sleep awaits you.
Working out is tough work on your body. It fatigues you! If you're working out first thing in the morning on a regular basis, I can promise you that by night fall you'll be ready to hit the sack. Insomniacs take note. Plus, your quality of sleep will be better as well. So, if you want to get better sleep at night, add regular exercise into your daily routine.
8. Don't you want to turn heads at an upcoming event?
This is the best motivation, hands down. Have a wedding coming up? A charity gala? Or it could even just be a friend's birthday bash. Set some goals for yourself and make it happen. You don't have any other choice but to look your very best on the day of this big event, so start working out! If this doesn't motivate you…well, I'm dumbfounded. Move on to #9.
9. Kick start the holiday burn before the New Year.
It's no secret that the holiday season – starting with Halloween on October 30th – packs on the pounds. Followed by Thanksgiving, Christmas, Hanukkah and then New Year's Eve, it's no wonder we start googling like crazy on January 1st (okay maybe January 2nd) "how to lose 10 pounds".
New Year's weight loss resolutions are stressful and rarely work, so how about you give yourself a reason not to make a weight loss resolution? Kick start the holiday burn now so that by the time the holidays arrive, you're well on your way to meeting your weight loss goals. Here's healthy eating tips during the holidays. Thus, you will have no desire to destroy these goals with Dracula's Dentures, stuffing and pumpkin pie, or fruit cake and pumpkin spice latte martinis.
10. Sign up for group classes where you have to book in advance.
No one likes to throw money away, so signing up for a group class in advance is a great way to hold yourself accountable. I love spinning, Bikram, and Pilates, but if I don't book (sometimes days) in advance I won't get a spot in the class. Booking workout classes in advance helps me plan my calendar and prepare for the upcoming week. So, when I book in advance I always make it to my workout!
11. Plan workout meetups with a friend.
Another way of holding yourself accountable is to make a workout schedule with your friend.  When you tell someone that you're going to meet them at 6am for a run, you're going to meet them at 6am. Because if you do a no show, they'll hate you and never count on you again. If you can't get yourself to a run at 6am alone, then a friend may be the answer.
12. Hire a personal trainer to kick start your gym efforts.
You may not think that you have the luxury of a private trainer, but you do. Think of other areas you can save in your life so that you can give yourself this amazing gift.  Because you deserve it. A trainer will show you new moves in the gym that you can carry on yourself when working out alone. Additionally, a trainer will push you to work harder than you would by yourself. Lastly, a personal trainer motivates you to be your best and to meet your weight loss goals. It's like having your own pep squad. Your trainer wants to see you succeed!
13. Reduce stress.
Regular exercise, even if it's just brisk walking (which I love), is a great way to manage stress. When you exercise your brain releases endorphins which are powerful neurotransmitters that make you feel amazing. Additionally, working out gets rid of tensions. After a sweat session, you'll feel more relaxed, happier, less moody, and ready to take on the day. This feeling will contribute to an overall less stressful day and the more you do it, the less stress you'll feel.  So, don't let the stress build up by exercising often.
14. Look good for the guys!
Women always want to look good for their men. A no brainer here. Men are either butt guys, boob guys, ab guys, or feet guys (not sure if I can help you here). A regular fitness program will contribute to leaner abs and certain exercises can actually increase the size of your booty. Think squats and wide stance barbell squats. Is he interested in your feet? Actually, weight loss will contribute to smaller feet too. I swear! My feet get slimmer when I'm in better shape and eating a healthy plant-based diet. Just sayin'.
Conclusion
Working out offers many mental benefits. Not only will regular, dedicated exercise improve the tone and shape of your body, it will also do wonders for your mood. Additionally, your stress will decrease, you'll get better sleep, and you'll eat healthier – among many other things. See what resonates with you and choose how to motivate yourself to work out. Most of all, take action! Don't just find the motivation, get yourself going and start working out on a regular basis.
Save
Save
Save
Save
Save
Save
Save
Save
Save
Save
Save
Save