When time is tight, getting in a good workout gets harder and harder.  As part of our promise to show you how to lose fat, we've put together a short and very efficient workout that involves only 2 exercises: the medicine ball slam and the thruster.  Below, see how to do these full body exercises that not only target the whole body, but also provide a great cardio burn!
Once you have mastered how to do medicine ball slams and the thruster (using dumbells or bar), combine both exercises for a total-body, heart pumping, lung busting workout — your legs, arms, back, butt and abs will thank you later.
___________________
How To Lose Fat and Shape Your Body
Sample Workout — the number of repetitions pyramids while the rest period gets shorter and shorter. Get past that 3rd round and your home free! 5 rounds total.
10 Ball Slams -> 10 Thrusters -> 60 second rest
15 Ball Slams -> 15 Thrusters ->50 second rest
20 Ball Slams -> 20 Thrusters -> 40 second rest
15 Ball Slams -> 15 Thrusters ->30 second rest
10 Ball Slams -> 10 Thrusters -> DONE!
1.  The Medicine Ball Slam
What It Is:
The Medicine Ball Slam is a great full body, compound/multi joint exercise that focuses on generating explosive power from your core in a downward direction (where as most other movements focus on the upward drive) and strength and endurance in your legs as you drive the ball back up overhead.  Additionally, linking 10, 15, 20+ slams together really works your cardiovascular system when you are able to link them all together non-stop.  Besides building muscular endurance, it's a GREAT stress reliever when you really get aggressive with it.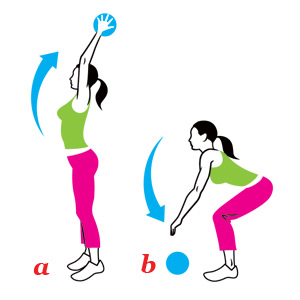 How To Do it:
Hold a medicine ball (ideally one that WON'T bounce) at your chest, and stand with your feet slightly wider than shoulder-width apart.
Explosively, press the ball up over head and immediately slam it to the floor in front of you by driving the ball downward and following the ball all the way to the ground so your body ends up in a low squat position (head up, chest up, butt low – almost like Frogs Pose in yoga).
Scoop the ball up on its first bounce and explode upwards driving the ball back overhead.
Repeat!
TIP: If you're interested in how to lose fat, which we know you are, be sure to keep the momentum going by settling into a rhythm.  The harder you slam the ball, the easier it will be to scoop it back up. Most importantly, make sure you are not bending at the waist to throw the ball down.   Extend your body and arms straight over your head on the way up.  Depending on your ability, sets of 12-15 are a great base to work off of.  As your strength and cardio improves, you can always substitute a heavier ball (still maintaining proper form) or increase the repetitions.  Medicine Ball Slams are perfect for HIIT training or to just cap off any workout with a great cardio burst.
2. The Thruster
~ a.k.a. Front Squat to Overhead Press ~
What It Is:
The Thruster is another great full body, compound/multi-joint exercise (see a trend here?) that focuses on generating power from your core (glutes, quads, hamstrings, hips, abs/torso).  You will build a strong base, explosive strength, and it's a great cardio burn if you link them together continuously. It's very similar to the ball slams described above but the "work" is done when pressing the weight overhead whereas the ball slam really focuses more on the downward movement.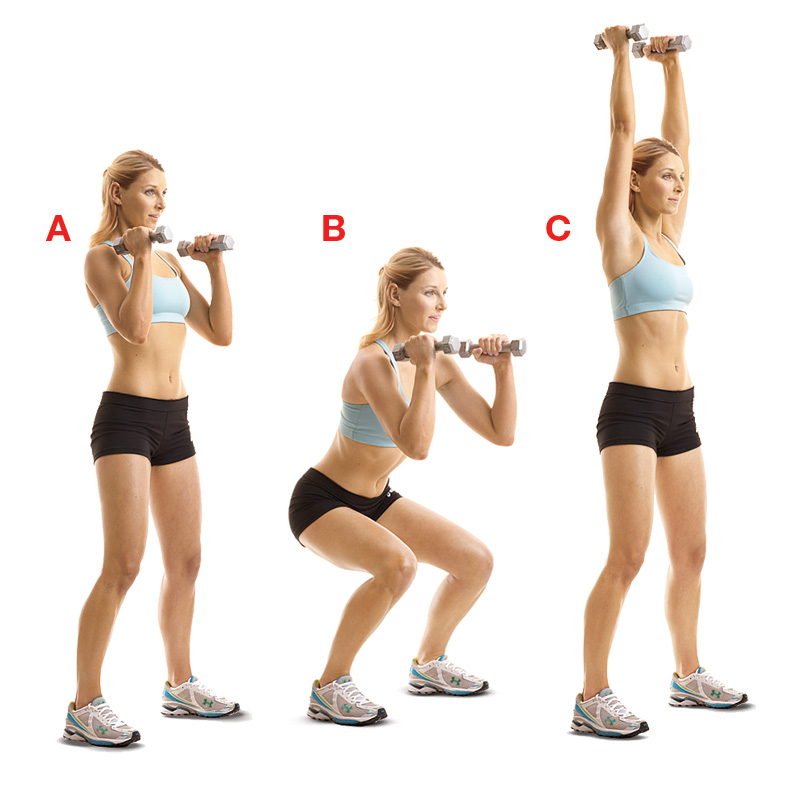 How To Do It:
Stand with your feet shoulder-width apart with a barbell or dumbbells in the front rack position (hands shoulder width apart, elbows up, and bar resting across your front shoulders).
Perform a front squat by pushing your hips back, weight in your heels, lowering towards a below-parallel squat (or as low as flexibility allows).  Make sure as you lower your torso stays upright and head in a neutral position.  Keeping your elbows up will help promote this posture.
From the bottom of the squat, explode back to the start position and use the momentum generated from your legs to simultaneously press the weights overhead.  Really drive up through your heels and pop your hips through as you rise to generate the most power.
Finish in a standing position, with the barbell overhead and looking forward.  Once at the top, begin to bring the weight back down to the start position and in one continuous motion, immediately descend into another low squat and repeat!
TIP: Do not pause at the top with the bar overhead.  Instead, as soon as the bar reaches its highest position, immediately let gravity begin to start bringing it back down to your chest while still controlling the fall.  Imagine there is a bell at the top and you are just ringing it with the bar.  Keep the bar up for too long and you'll only damped the bell.  This will allow you to generate a good flow (up, down, up, down, up, down) whilst neither pausing at the top, bottom, or starting position.  Try to link as many together as possible and only rest in the STARTING position (not in the low squat or with the bar overhead).  You can perform the movement with heavier weights and lower reps for total body strength and power (6-10 reps) or, alternatively, lighten the weight up a bit for higher repetitions (12-15+ reps); perfect for toning and incorporating into any HIIT (High Intensity Interval Training) workout.
For more about how to lose fat and really awesome exercises for weight loss and body shaping, be sure to subscribe to our newsletter in the right hand sidebar above.