It's bikini season, so we want to help you choose a bikini for your body type to flatter your figure. We show you how to pick a bikini for these 6 body types: pear shape, apple shape, big butt, small butt, big bust and small bust.
Understand your body type and then shop for styles that are appropriate. Remember, you can buy tops and bottoms that are mismatch to create the perfect body shape and create illusions where necessary.
How To Choose A Swimsuit To Flatter Your Bikini Body
1. Pear Shape bikini body: your body is narrower at top and wider at bottom
An embellished top with fringe, ruffle or embroidered detail balances out a pear shaped proportions. Jennifer Lopez, Shakira, Eva Longoria and Rihanna have a pear shape so you can see what looks good on them.
Top: Embellished, fun prints and trendy details like ruffles, fringe give the illusion of a fuller top.  A bandeau top should have molded cups for a balanced look on the top. Bottom: A bottom with a wide band that lays flat against the hips or a bottom with the option to tie at different spots is flattering.  A bottom with a sliding embellishment to a narrower to give the illusion of narrower hips.
Mix and Match –  Pair a solid bikini bottom with an embellished top. Visually, the eyes will be drawn towards the upper half of your body and away from your hips and rear.
Sofia by Vix Bikini Recommendation: Southwest Ruffle Triangle Top,or Bandeau or Sierra Triangle Fringe top or bandeau, Sonar Rouche bandeau, Marysol Bralette top, Santa Fe Bia Tube Bottom, Sierra Rouche band bottom. Look for these styles from Sofia by ViX here.
Buy J-Lo's yellow bandeau bikini here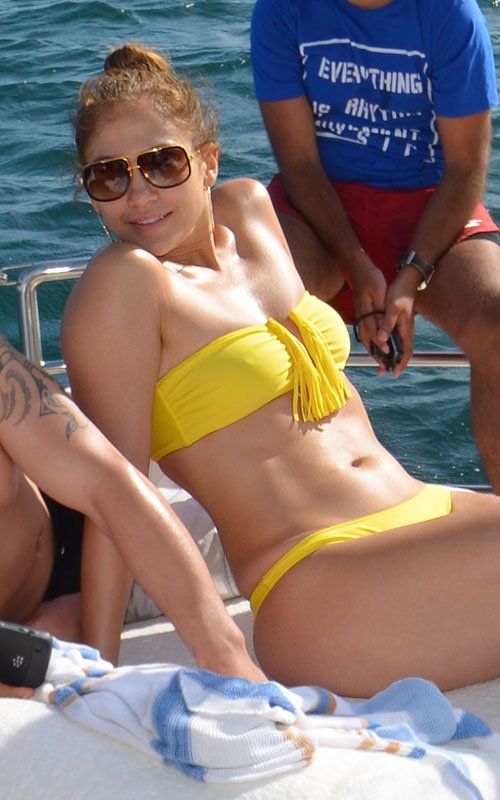 2. Apple shape bikini body: wider at top with minimal waist definition
An apple shaped body needs a bikini tops that will minimize wide shoulders and a bikini bottom that give the illusion of more curves. Elizabeth Hurley, Catherine Zeta-Jones, Kesha, Jennifer Lawrence, and Drew Barrymore also have an Apple shape.
Wider halter straps make your shoulders appear narrower. Embellished side band bottoms or side ties give extra volume just below the waist and embellished tie-sides add drama. These bottoms are great for balancing out an apple shape.
Sofia by Vix Bikini Recommendation: Mix and Match – Pairing a solid halter bikini top with a fun printed bottom is a great way to draw the eye down and away from the wider upper body. Juniper Triangle Top, Native Triangle Top, Marysol Triangle top. Juniper Knot Bottom, or any bottom with side ties. Look for these styles from Sofia by ViX here.

Shop Catherine Zeta Jones'  yellow triangle bikini here
Shop Elizabeth Hurley's triangle top bikini here
3. Large Butt: like Khloé Kardashian, Kelly Brook, Beyoncé Knowles, Kelly Clarkson, Venus and Serena Williams
Bikini Recommendation: Mix and match a solid bottom with a printed top. This will draw the eye upward, away from your tush.  A bottom with an adjustable piece on the side of the bottom can adjust the size of the butt that you want. Look for these styles from Sofia by ViX here.

Buy Kim Kardashian's string bikini here
4. Small Butt: Brazilian bikini bottom (ruched ), side-ties, fringe, and ruching will help to balance out your smaller bottom half
Bikini Recommendation: Bottoms with tie sides dangling at the hips will pull the eyes outward. Bottoms with a side sash, side fringe, a bottom with a detailed or embellished band is good for a small butt. Look for these styles from Sofia by ViX here.

Buy Anne Vyalitsyna's Brazilian bottom bikini here
 Shop Lindsay Lohan's blue bikini here
5. Small Bust: like Cameron Diaz, Keira Knightley, Kate Hudson, Gwyneth Paltrow, and Sienna Miller
Create more fullness up top with details, prints and ruffles on the top. A Bandeau styles with a ring detail or sweetheart neckline are best for giving smaller chests a more flattering silhouette.
Sofia by Vix Bikini Recommendation: Sonar Rouche Bandeau,  Marysol Bralette Top, Southwest Ruffle Triangle, Santa Fe Triangle Top. Look for these styles from Sofia by ViX here.

Shop Cameron Diaz's bandeau bikini here
Shop Beyonce's L*Space fringe triangle bikini top here
6. Large Bust: halter bikini gives extra support
Sofia by Vix Bikini Recommendation: Juniper triangle top or Santa Fe Bia tube top, bluegrass detail triangle top. Look for these styles from Sofia by ViX here.
Shop Holly Madison's triangle pink bikini here
Shop Claudia Romani's black jewel embellished bikini here
SaveSave
SaveSave
SaveSave