I'm really into slide sandals as of late. First, let me say that I'm determined to get myself a pair of Givenchy slides – the ones with the fur – before they sell out everywhere! Women's slides this fall 2016 winter 2017 season look sort of like the original rubber Adidas and Nike sandals, except that now they've got major style. Because they're actually still in fashion and Urban Outfitters has them in several colors, I'm not going to diss the rubber slides.
Designer brands like Givenchy, Miu Miu, Fendi, and Versace are taking slide sandals to the very next level. I'm talking pearl embellishments, mink fur, shearling, velvet, and famous logos like the Versace Medusa. And yes, they're even doing rubber!
Why Should You Wear Slide Sandals This Fall 2016-Winter 2017?
Seems like all the top fashion bloggers have been seen wearing slides on their feet. Think Chiara Ferragni of The Blonde Salad sporting her Puma x Rihanna white fur slides. The Man Repeller plus her team wearing all sorts of slide sandals on Instagram. Or, Danielle Bernstein of We Wore What wearing her go-to Gucci slides. She's clearly obsessed. Best of all, slides come in plenty of different looks and styles.
So, what do you think? Aren't they cool? Some refer to these head-turning, almost weirdish sandals as slippers or mules, but I'm going to go with slides. In my opinion there's a difference. Slides are the type of sandal that show the toes vs. mules which are closed toe. By the way, Rihanna's Fenty Puma white fur sandals, as seen on Chiara, have sold out almost entirely on every major site – Nordstrom, Neiman Marcus, Zappos – but you can still snag a pair here. And finally, those coveted Givenchy slides can be purchased here. But hurry! Keep reading to see our favorite slide styles and to find out all about these quirky shoes.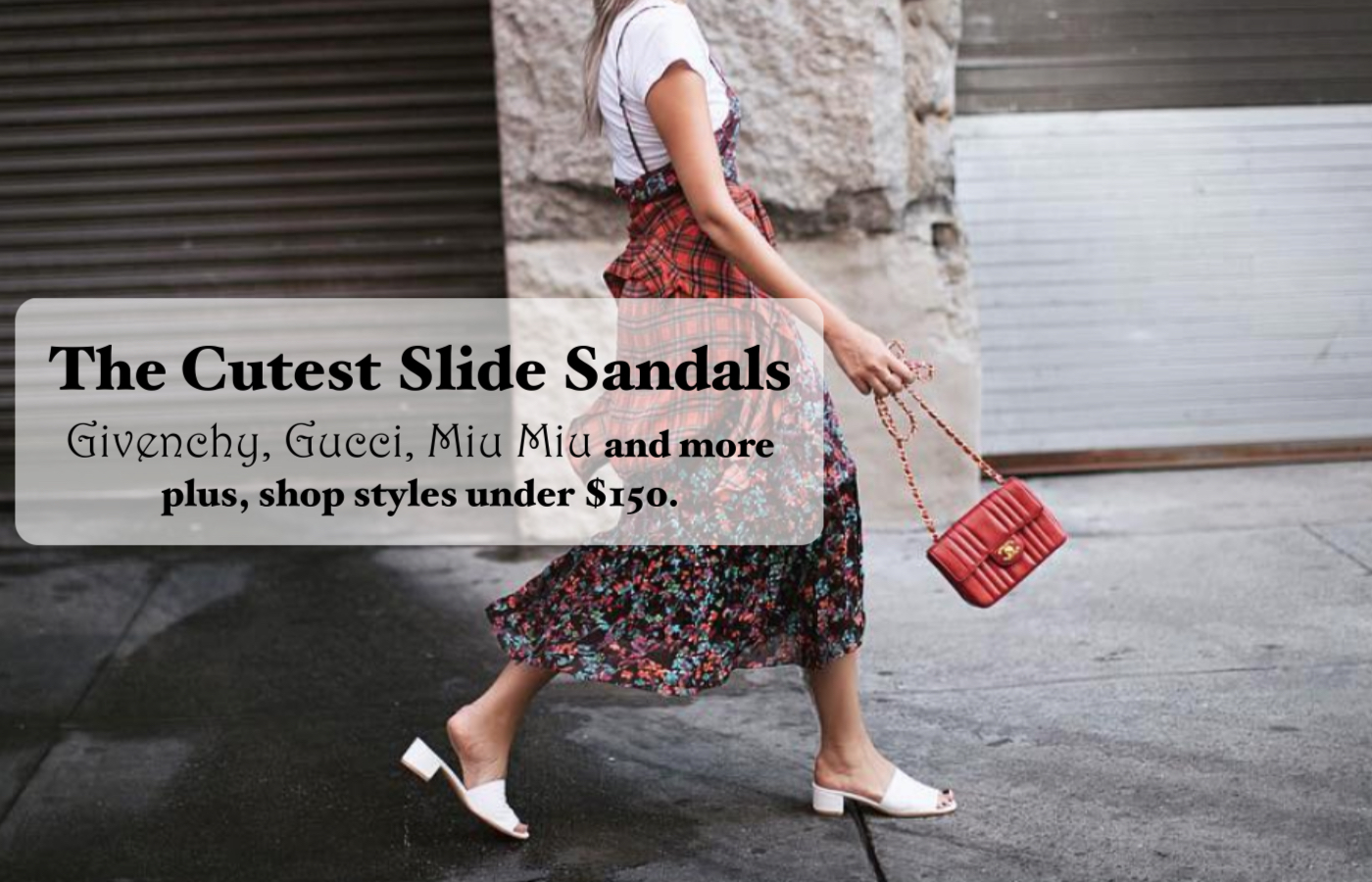 All About Women's Slides
The ever so cool women's slide sandals can range anywhere in price from $25 to over $1,000. Hence, you'll need to start saving up if you've got your heart set on Brunello Cucinelli or Dolce & Gabbana. Slides this fall/winter 2016-2017 season can be classy and minimalistic or wild and super statement.
I love all the options and will be filling my closet this season with these comfortable, stylish new shoes. Forget about heels! Furthermore, I have no issues wearing socks with my slides either. Leandra will be happy! I am after all a Mom now and comfort is at the top of my list.
You can shop the coolest slide sandals below including the uber popular Givenchy slides. Our favorite picks for the fall 2016-winter 2017 season include women's slides with fur, embellishments, satin, rubber, big brands and leather. On a budget? No worries, we all are! Shop cheap(er) slide sandals under $150 too at the bottom of page.
Shop Designer Slide Sandals + Givenchy Slides
[show_lookbook_widget id="309703″]
Slide Sandals Under $150
[show_lookbook_widget id="309700″]
Save
Save
Save
Save
Save
Save