I am thinking of getting a new "It" bag for 2013 and thought of turning to style icon, Olivia Palermo, for some advice. Palermo loves to carry her timeless totes around New York City, but there are 5 bags she has been seen with a lot lately! Below are Olivia's fashionable outfits and the coolest bags to tote this season including Givenchy, Chloe, Valentino, Hermes, and Melo Meli.
RELATED POST: Get The Gossip Girl Look With These 11 It Handbags For Fall
Olivia Palermo most recently has been loving her Givenchy Antigona croc embossed bag, which she carries like her Hermes bag. The croc-embossed Antigona bag was only $2,405 compared to thousands more for the Hermes croc bag. The croc embossed Givenchy bag is now sold out, but the same style i s available in leather and multiple other colors. Olivia wears Paige Edgemont ultra skinny black zipper jeans with French Sole leopard flats, a blazer and a black faux fur vest with her Givenchy Antigona. She was also recently seen wearing a red mod style Tibi novelty caban jacket with Zara skinny ankle zip jeans and Reiss Belle Multi strap court pointy heels with the same Antigona croc embossed bag. She wears it again visiting the new Caudalie spa boutique with her blue skinny jeans cobalt suede pointy pumps, a boucle jacket, and zebra trimmed cat eye sunglasses. Lastly, she wore her Givenchy croc bag with leather leggings, and her favorite metallic silver Sergio Rossi oxfords she has been wearing all summer.

Olivia wears her
Chloe Alice tote
in black and white colorblock. This bag is really large so its great for a carryon or small luggage purpose. Palermo wears this bag with a Diane Von Furstenberg Ahiga poncho, Westward Leaning sunglasses, black leggings and Stuart Weitzman 5050 over the knee flat boots. She also sports this bag with her Report Jude ankle boots, leather leggings, and a Vince poncho. Palermo was also seen with her Chloe Alice tote in Madrid at the airport in a Carolina Herrera infinity scarf with Westward Leaning sunglasses, skinny jeans, Report Jude bootie, and a plaid blazer. Good news! This tote is available for sale.
Olivia wears a ruffled Valentino Primavera water-resistant tote with a yellow Old Navy double breasted pea coat and Stubbs and Wooten HYC smoking slippers. She also is seen with this tote in Stuart Weitzman 5050 Over the Knee Flat Boots, Tom Ford Anouk Sunglasses, and a fur vest. Unfortunately, the Valentino Primavera bag is now sold out.
Olivia still sports her black Hermes Birkin bag in a country style with a Zadig & Voltaire fur gilet vest, black polo, Report Jude booties and a black Ralph Lauren sweater.
The last bag that Olivia Palermo has been wearing recently is the Melo Meli Thela bag. During the summer, she sported the taupe version, and in the colder months, she has been seen carrying the brown version. This bag is similar to the Zara bag she toted in 2011. Palermo even wore the Melo Meli Thela bag in September to NY Fashion Week's Noon by Noor Spring 2013 runway show.
RELATED POST: 4 Ways Olivia Palermo Wears Peplum On A Daily Basis
______________________
5 Handbags Olivia Palermo Is Obsessed With For 2013 – Plus What She Wears!

______________________
SHOP THIS BAG (similar): Givenchy Antigona Duffle Satchel Bag in Red – $2405
SHOP THIS BAG (similar): Givenchy Antigona Duffle Satchel Colorblock in Brown – $2760
SHOP THIS BAG (similar): Givenchy Medium Antigona 3D Geometric Figures Bag (avail in Black, Blue, Red, Orange) – $2810
SHOP THIS DENIM (same): Paige Edgemont Ulta Skinny Black Jeans – $235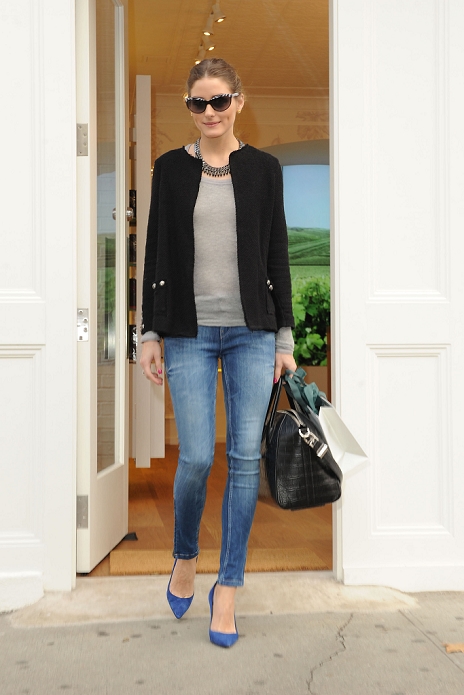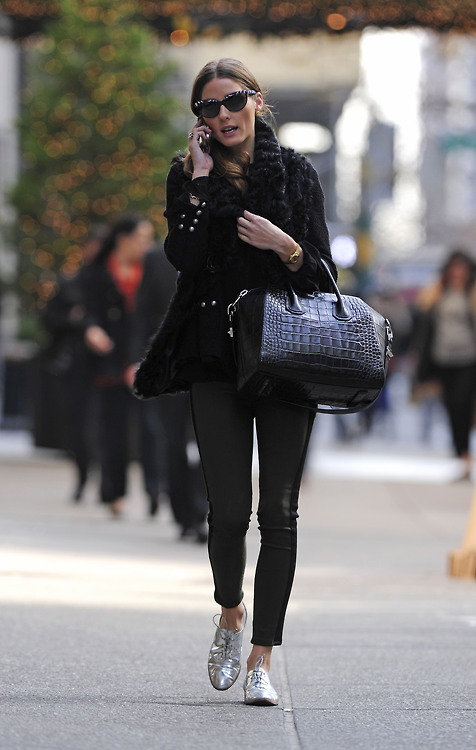 SHOP THE BOOTS (same): Stuart Weitzman Over the Knee Nappa 5050 Boots – $595
SHOP THIS BAG (same): Chloe Alice Large Black and White Leather Tote – $1995
SHOP THE BOOT (same): Stuart Weitzman Over the Knee Nappa 5050 Boots – $595
SHOP THE SWEATER (similar): Eskandar Cowl-Neck Poncho Cape – $1150
SHOP THIS BOOTIE (similar): Report Juliee Bootie – $54.99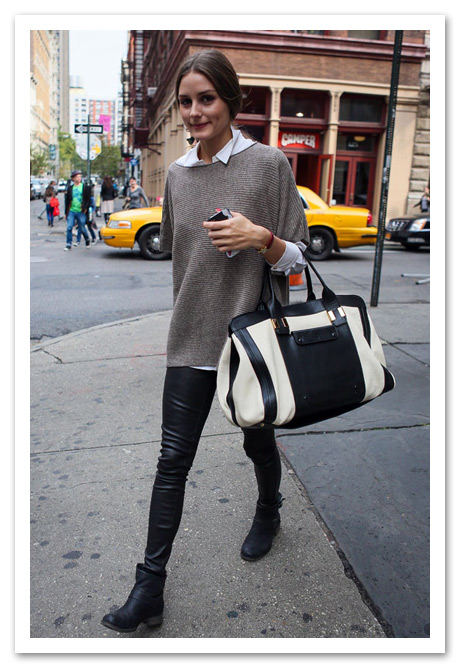 SHOP THIS BOOTIE (same): Report Juliee Bootie – $54.99
SHOP THIS SHOE (similar): Tory Burch Charlee Suede Smoking Slipper: $275
SHOP THE BOOT (same): Stuart Weitzman Over the Knee Nappa 5050 Boots – $595
SHOP THIS BOOTIE (similar): Report Juliee Bootie – $54.99
SHOP THIS BAG (same): Meli Melo Thela bag in Tan – $760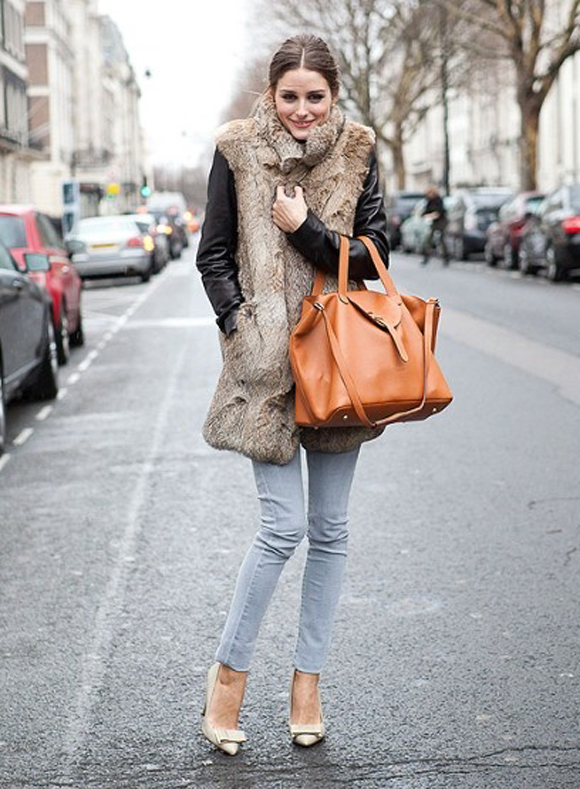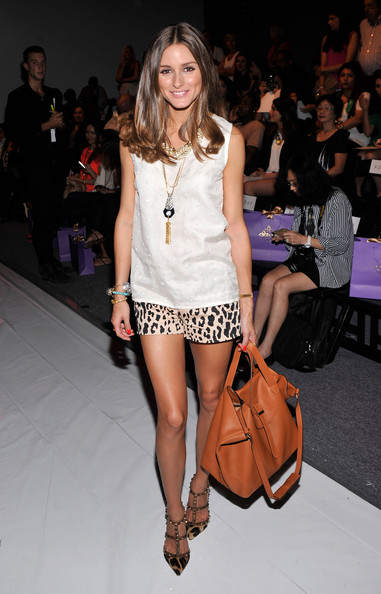 SHOP THIS BAG (same): Meli Melo Thela Bag in Taupe – $760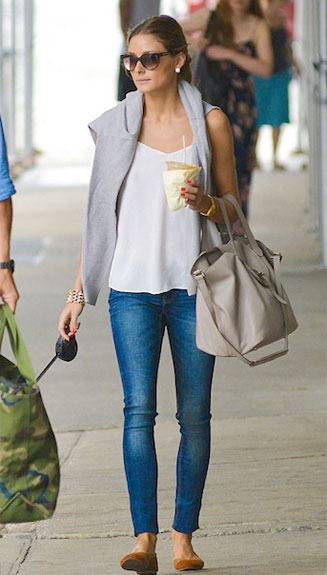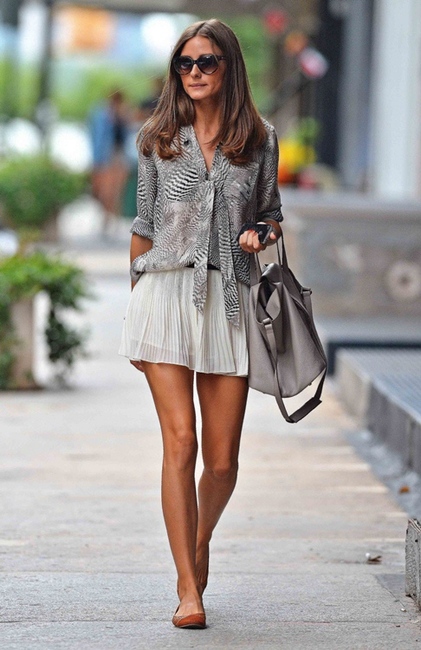 SHOP OLIVIA PALERMO'S HANDBAGS, BOOTS AND DENIM FOR 2013