When gyms are packed it can be hard to get in a quality workout. Not to mention, trying to dodge the gym chatting everyday. How annoying! Even driving back and forth to the gym everyday and looking for parking is such a waste time.
Are you a gym hater? No problem! To help you bypass these gym annoyances, read these NO gym workout ideas.
Our NO gym workout ideas include 5-minute morning circuits that boost the metabolism, 10 minute workout sessions throughout the day, and workout moves ideal for your home.
Yes, we even have some tips to turn your home into a "home gym". Let's go!
Checkout 3 of our best NO gym workout ideas that will help you to get in shape. Yep, no gym required for these moves. Put your very own home to work for you. Good luck!
Go here if you're trying to get a bikini body overnight…
Editor's Note: This article was updated on October 17, 2017.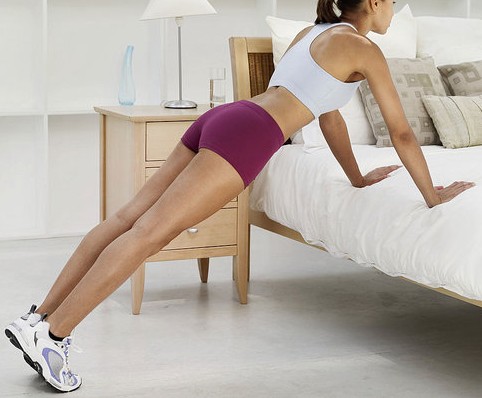 3 NO Gym Workout Ideas for Gym Haters
1. Turn Your Home into a Gym
Shape your legs by running your stairs or performing single leg squats onto a chair
Define and strengthen your upper body by doing pushups with your hands on a table
Elevate your heart rate with burpees and high knees in place (find an open space for this exercise)
Note: If your goal is weight loss, then limit your rest time and move quickly from exercise to exercise
2. Boost Metabolism In The Morning with a 5 Minute Circuit
Make it a habit of waking up to a glass of water
Follow with a 5 minute circuit
Start the clock and perform 15 jumping jacks, 10 bodyweight squats, 5 pushups and 5 supermans
Repeat the circuit as many times as possible until the 5 minutes has expired
3. Exercise Adds Up All Day
Don't have time to complete a workout? Combining your exercise throughout the day is just as effective as one continuous workout (intensities being the same).
A couple times a day, take a 10 minute break from work and walk around the building.
Add in healthy habits to your daily life. Take the stairs, walk to the coffee shop instead of driving, park further away from a store…you get it! Add up this calorie burn throughout the day and you can get a 30 minute workout.
Get even more no gym workout ideas on Pinterest. Follow us over on Instagram @nubry for amazing more fitness, beauty and health tips.
SaveSave
SaveSave