Do you have old jeans in your closet that you are so SICK of? Jeans that are just too short, have an ugly color, or are just downright over-worn and boring? We show you how you can remake your old jeans and turn them from lame to fab in 1 afternoon.  Turn your old jeans into Cool, Colorful, Sexy Jean Short Cutoffs!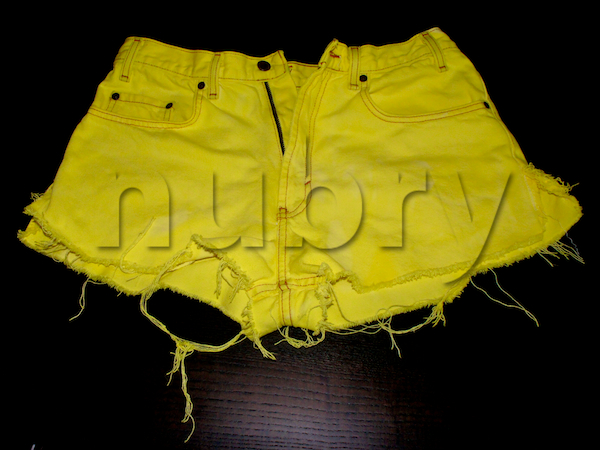 While at PROJECT in Las Vegas last month, someone handed me a free copy of NYLON Magazine and I was totally impressed by the jean projects they had filling their pages. Colored jeans, printed jeans, ripped jeans, decorated jeans, beaded jeans, etc.  This got me thinking: why can't I do the same? Instead of curling my hair, going to another movie, or chilling in front of the TV – why not do something productive like revamping my already existing wardrobe?
So, that's exactly what I did – and now I'm obsessed…I can't wait to do another DIY (do it yourself) project with my wardrobe staples!
Talking about DIY projects, there's an AMAZING website/community called BurdaStyle and their entire site is dedicated to helping ladies like us make their own things…NO SKILL REQUIRED. That's what I'm talking about!! Check out my DIY project that I created so easily on BurdaStyle and let me know what you think.
Okay, back to making those sexy little jean short cutoffs.  I really recommend getting a friend involved and doing this fun project together – makes for an interesting change of pace for a Saturday or Sunday afternoon.  Isn't it obvious that I'm a complete DIY addict? Spread the word! Oh, did I mention, it's like FREE to make your own things?
In making my own yellow jean shorts, I did make one mistake and I hope you can learn from my sad example. Do not use bare hands – you will dye your hands and they will peel for days…make sure to use plastic gloves!
Materials: Blue Jeans, Scissors, Pen, Bleach, Plastic Gloves, Stir Stick, Bucket, Water, Soda Ash Dye Fixer, Garment Dye, Salt
Step 1: Collect Technique Materials

Go around your house and collect all of your materials.  Materials you will most likely have to go buy in advance at the craft store are: Garment Dye and Soda Ash Dye Fixer.
Step 2. Bleach Your Jeans

A. Place a big bucket in a working sink or on the driveway where spillage doesn't matter.  Fill bucket with 1 part warm water to 1 part bleach – enough to cover the jeans.
B. Place jeans in bucket and let saturate completely. You need only bleach the upper half of the jeans if you are making jean short cutoffs.
D. Let jeans soak in the bleach until they have turned white completely. 10-20 minutes. Do not leave the jeans for longer, they will become destroyed by the bleach.
F. Take jeans out of bucket and rinse with cold water. Then, dump the bucket and allow jeans to dry completely.
Step 3. Cut Your Jeans

A. .Try jeans on and look in the mirror so that you know what length you want to cut them. Next, take jeans off and lie them flat on the floor.
B. Use a pen to draw line on one jean leg so that you know where to cut and rip your jeans. Fold jean in half so that both legs are on top of one another. Draw equal line on other leg using first leg as an equal guide.
C. Cut alongst the line and carefully rip alongst the line, using scissor to keep the correct cut line. Once jean legs are cut off, rip the side of each jean alongst the seam to create an even more ragged/hot look. This will give you side slits – cute!
Step 4. Dye Your Jean Cutoffs

A. Fill bucket with warm water – approximately 2 or 3 gallons. Place jean short cutoffs in the water so that they are completely saturated
B. Pour 1/4 cup salt into water and Pour 3 tsp garment dye – color is your choice – into the bucket of water. Stir the jean shorts and water so that color is well dispersed. Now, allow the jean shorts to soak in the dye water for 20 minutes.
C. After 20 minutes, add 1/3 cup of dye activator (soda ash dye fixer) to the dye water. Stir the dye water and let the jean shorts process in the solution for approximately 1 hour.
D. After 1 hour, dump the bucket and thoroughly rinse the jean shorts – being careful not to splash other surfaces. Move dyed jean shorts promptly to the washing machine and let them run through 1 cycle so that all excess dye is removed. Once you remove the dyed jean short cutoffs from the washing machine, allow them to dry.
Now you can flaunt your cool new colorful jean short cutoffs!!!
Please let me know if you decide to use my technique and makeover your jeans! I want to see pics and hear about everything. Tweet me @GretchHackmann or tell @nubry about your DIY project. What project shall I do for you next?