From runway to street style star, as always, hats are making a strong statement on our winter 2014/2015 radar.  Earlier this year, Elle Magazine forecast several different hat styles for women that should be on our must-have accessory list including styles the fedora. So, what are the trendiest it hats of the season that all of the style icons are sporting?
This season's most sought after hats are the wide brimmed hat as seen on Beyonce, the glam or embellished baseball hat as seen on Giuliana Rancic, and the fedora as seen on Peace Love Shea. See below for inspiration!  These stars show that functional and black hats are the ways to go and they can be paired with everyday garb quite nicely.  Choosing to wear one of these styles will not only complement your outfit, but it will also help you exude a look that is unique to you. Because, who says hats only have to be for bad hair days?
Below, shop our favorite hats of the season and get inspired by 3 style icons wearing the "it" hats of the season.
___________________________
The Fedora And More Trendy Women's Hats
1.  Wide Brim Hat
This laid-back style has been popular for quite some time now, but it is far from being categorized as "out of style". Even Queen Bey can agree to loving her wide brim hats season after season! Wear it with a denim jumpsuit like Beyonce or layered up with your favorite turtle neck.  This boho-inspired hat molds to many styles and is best winterized in a felt or wool material.
Get Beyonce's Look
[show_shopthepost_widget id="412219″]
[show_lookbook_widget id="175551″]
2. Embellished Baseball Hat
Surprisingly glam, the baseball hat or sport cap is back in and with a whole lot of texture, sparkle, and personality. This is one of our favorite looks because it is so pretty and preppy, yet also sporty and chic. Perfect for a pair of tattered boyfriend jeans, relaxed fit tee, and strappy stilettos. To be honest though, the outfit options with the glam baseball hat are limitless and create a truly unique look for every personality.
Get Giuliana's Look
[show_shopthepost_widget id="412331″]
[show_lookbook_widget id="175555″]
3. Fedora
Pharell William made the oversized fedora super famous, remember his Vivienne Westhood Mountaint hat?  But, you don't have to wear your fedora super oversized if you don't want to…look to fashion blogger Peace Love Shea for style inspiration and take notes — match your boots with your hat and bag for a cool, put together fall/winter ensemble.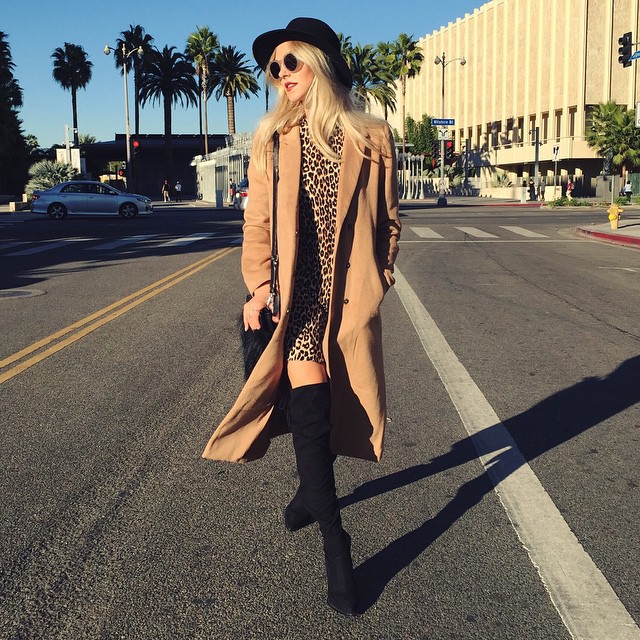 Get Peace Love Shea's Look
[show_shopthepost_widget id="428780″]