One-piece bathing suits aren't what they used to be. Formerly thought of as frumpy and grandma-licious, the one-piece – also known as "maillot" – is making a comeback and today is considered chic, sophisticated and even, dare we say, sexy. The extra coverage helps to add a little more comfort to one's beach or pool day. You can easily swim, tan or throw on a sarong and head to a poolside lunch – all while looking perfectly put together.  The one piece suit is a great item for summer 2012 and has been consistently showing up at Swim Fashion Week 2012 in Miami this week!
Below, we've listed our top one-piece style picks for summer: the animal face, strapless, classic prints, and retro.  Diane Kruger sports a We Are Handsome animal face with beau Joshua Jackson while in Mexico, Lauren Conrad wears Rochas while modeling in Punta Cana for Glamour Magazine, Kirsten Dunst sunbathes in Punta Mita wearing a classic printed cutout one-piece by Eres Gingham, and Blake Lively has fun in the New York sun over the July 4th holiday weekend wearing a retro polka dot bathing suit.
Leave a comment below and let us know what you think about the one-piece bathing suit.  Will  you sport your own one-piece while poolside this summer? Post your favorite styles or pics on Facebook!
RELATED POST: 7 Smoking Hot Bathing Suit Trends You Need This Summer
1. Animal Face One-Piece
Diane Kruger is perfectly styled, adding a fedora and scarf to her panther print We Are Handsome bathing suit.
SHOP DIANE'S LOOK: We Are Handsome Scoop Back One Piece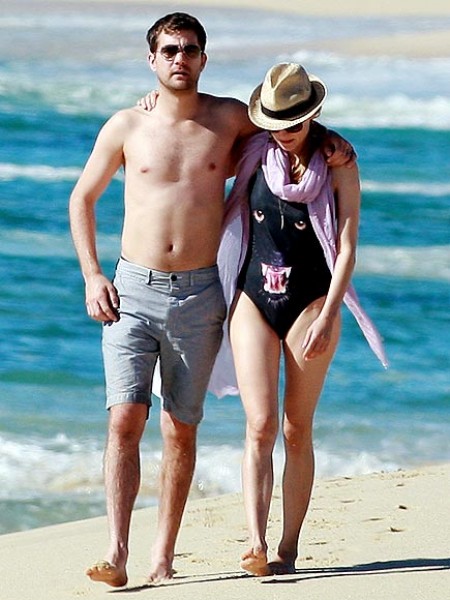 2. Strapless One-Piece
Lauren Conrad sports fashion bloggers' favorite color of the season – mint – in a retro, floral printed one-piece.  A strapless style is always nice to avoid those unwanted tan lines.
SHOP LAUREN'S LOOK: Zimmermann Charming Bar One Piece Suit
3. Classic Printed One-Piece

This gingham print on Kirsten Dunst is nostalgic, but the cutouts on the sides and back make it super fun and sexy.
SHOP KIRSTEN'S LOOK: Splendid Striped Marcel One Piece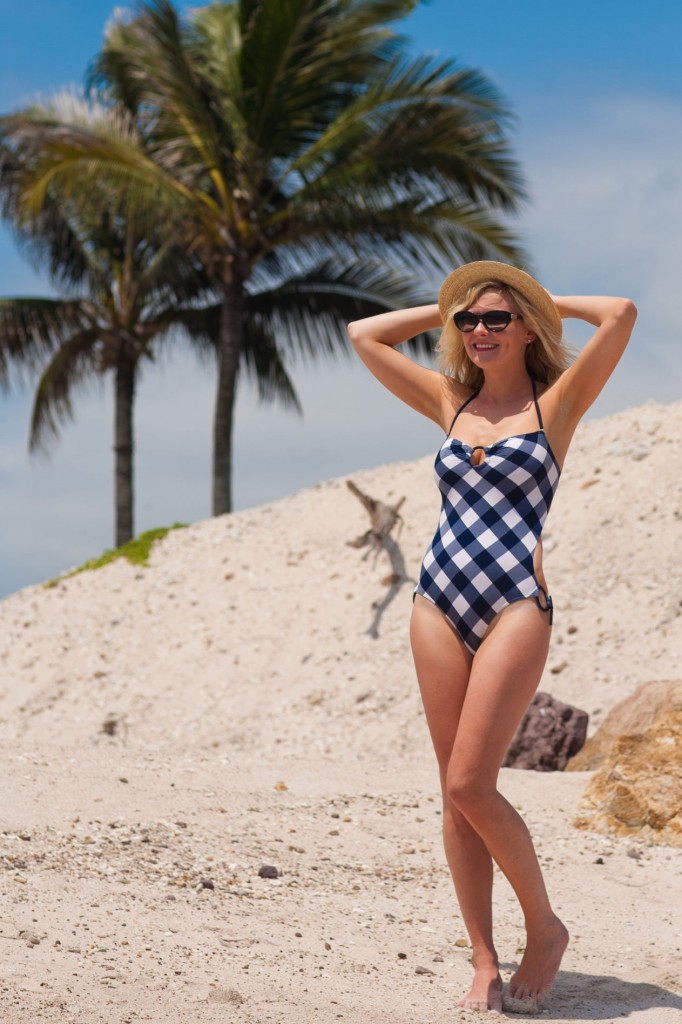 4. Retro One-Piece

Blake Lively plays with boyfriend Ryan Reynolds over the July 4th holiday weekend in New York in a comfortable retro polka dot one-piece suit.
SHOP BLAKE'S LOOK: Seafolly Polka Dot Boy Leg Swim Suit