Fashion Week San Diego (FWSD) kicks off this week and we have some tips on what to bring, where to go, and what to wear.  While this week consists of the major events of FWSD, this is the culmination of a year's worth of work and development from 27 designers and support from the sponsors and organizers including Allison Andrews, Amie Wilde, and Rhiannon Marquis.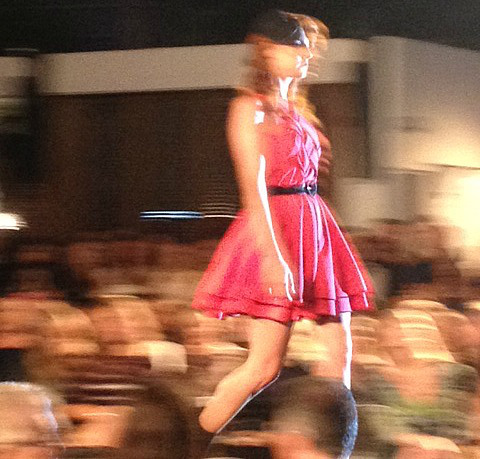 9 Things To Know Before Attending Fashion Week San Diego
1. All of the events take place at the same place! –  1000 N. Harbor Drive, San Diego, CA 92101 | Port Pavilion on the Broadway Pier. It is right next to the USS Midway. The Broadway Pier (intersection of Broadway and North Harbor Drive).
2. Download the FWSD app! After every show, spectators vote for their favorite designer on the app. Winning Designer of Fashion Week San Diego® voted by the audience during the Runway Shows later in the week.
3. Bring an ID and alot of cash! You will need cash for drinks, raffle tickets and for shopping.
4. Doors will open at 6 PM Wednesday through Saturday and 11AM on Sunday. The shows start promptly at 6:30pm. The evening concludes around 10pm each night.
5. Traveling to Fashion Week San Diego should be done in style.  Taking an Uber is recommended to avoid walking a distance in heels.  If you do decide to drive, you can reserve a parking spot in advance using Parking Panda here for $25 per day.
6. What to wear to FWSD! Spectators will be dressed in everything from casual/hipster style to cocktail dresses.  You should be comfortable, but stylish for the evening's events.
7. Tweet and Instagram with #FWSD
8. Traveling to San Diego for Fashion Week San Diego? The W Hotel San Diego is the Official hotel of Fashion Week San Diego | 421 W B St
The W Hotel is also offering an exclusive package for Fashion Week which includes:
Wonderful Room (single or double occupancy)
One bottle of Veuve Clicquot Yellow Label upon check-in
In-room hair and makeup by Bellus Academy
2 tickets to a FWSD event
2 complimentary entry into our FWSD VIP Lounge
9. Know the schedule
Day 1 | Wednesday October 2nd | 6:00pm | The Art & Beauty behind Fashion
Local & global beauty industry experts talk about their experience in the beauty industry
Panelists include: Jan Nordstrom Arnold of CND Nails, Claudio Lazo of Wella, Kevin James Bennett of MUD and Marylle Koken of Sebastian International.
Local artists part of RAW: natural born artists and a not to be missed live art demonstration and interaction with Launch Live Art.
Day 2 | Thursday October 3rd | 6:00pm | Runway Show with "Styled to Rock" Designers
Designers showing include: C Venti, CG by Cynthia, Collections of Kathryn Elizabeth, Isabel Vianey, Laced with B, Mahogany Blues and Second Star Designs.
Andre Soriano, Cecilia Aragon, and Dexter Simmons from a new fashion competition series "Styled to Rock."
Day 3 | Friday October 4th | 6:00 | Runway Show & RCHS Dog Fashion Show
Designers showing include: Diestra, Dos Caras Swimwear, Greenpacha, Keisha Audrey, 'Love, Charles', Maegan Stracy, Makeshift and RHCREATION.
Dog Fashion Show featuring highly adoptable dogs from Rancho Coastal Humane Society (RCHS).
Day 4 | Saturday October 5th | 6:00pm | Runway Show and After Party
Designers showing include: A'doreus, Ashley Raymond, Danh Ta, Maralonzo, NOIA, SYC Collection, VICTROLA, Wishnow, WM Couture and Yuwei Designs.
Performance from DJ Who and Paulo da Rosa of Sleeping Giant Music, After Party
Day 5 | Sunday October 6th | 6:00pm | Trunk Show
Shop the designs you just saw the previous days on the runway.