For those of you fabulous ladies looking to stay on track with your healthy new years resolutions for 2014, we have provided the recipe for a delicious, filling, raw and nutrient-rich vegan salad with vegan salad dressing that will rejuvenate your body!  Click here for our dinner detox salad recipe. Included in our raw vegan salad recipe are sprouts, which contain a ton of nutrients for fueling your body, as well as sauerkraut, which contains healthy and naturally occurring probiotics from the fermentation process.  This nutrient-rich salad with pink sauerkraut and sprouts is 100% plant-based, vegetarian, and vegan, and can be packaged-to-go for lunch at work. Click here for diet tips to succeed at your weight loss goals this year.
Sprouts are a superfood because they have high enzyme counts and are easier to digest than the beans and legumes that they grew from.  For such a small plant, they contain equal amounts of nutrients to their larger counterparts, so a hand full of broccoli sprouts has the same nutrient value as a head of broccoli.  Packed with vitamins and minerals, sprouts should definitely be a key component in your diet if you're interested in staying strong and healthy this year, which I'm sure you are!
Probiotics are absolutely necessary to your health and well-being because they help promote the growth of healthy gut flora in your intestines.  Without enough probiotics, toxins can escape from your intestines and make you very sick.  Yucky!  Sauerkraut is an amazing food choice that is packed with probiotics to keep you healthy!
Below, we've created a simple vegan salad that is quick and easy to prepare (about 15 minutes) and refreshing for lunch. Packed with lots of flavor and nutrients, with each bite taken, you'll be on the path to a healthier and better life.  Enjoy!
_______________________
Vegan Salad And Vegan Dressing Recipe w/ Pink Sauerkraut
Makes 2 servings
Salad Dressing Ingredients:
1 tablespoon Fresh Lemon Juice
2 teaspoons Ume Plum Vinegar
1/2 teaspoon Red Wine Vinegar
2 teaspoons Coconut Aminos
1 teaspoon Miso
1 teaspoon Sesame Oil
Salad Ingredients:
1 1/2 cups Sprouts
1 cup Pink Sauerkraut (pick a brand that is stored in refrigerater, as it will contain healthy live probiotics, and also make sure that the sauerkraut has no added sugar)
2 cups Romaine, chopped
1 cup Mixed Baby Greens
1/4 Cilantro, chopped
1/2 cup Cucumber, peeled and diced
1 avocado, cubed
1 teaspoon black sesame seeds
Instructions:
Dressing: Combine lemon juice, ume plum vinegar, red wine vinegar, coconut aminos, chickpea miso, and sesame oil. Whisk until smooth.
Salad: Toss sprouts with 1-2 tablespoons of dressing and set aside. In a large bowl, toss romaine, baby greens, and cucumber with remaining dressing. Divide salad mixture between 2 plates, then top with sprouts, avocado, cilantro, and sesame seeds. Top each salad with 1/2 cup of pink sauerkraut.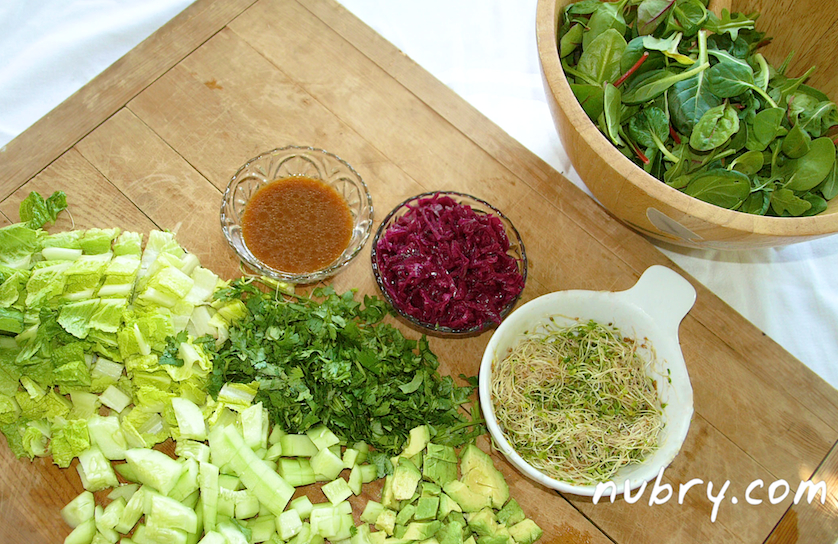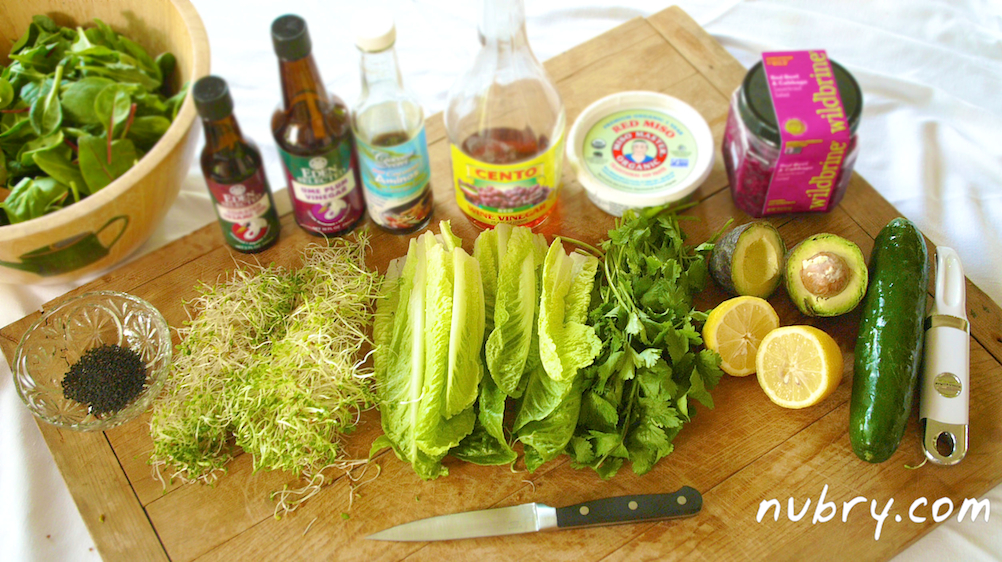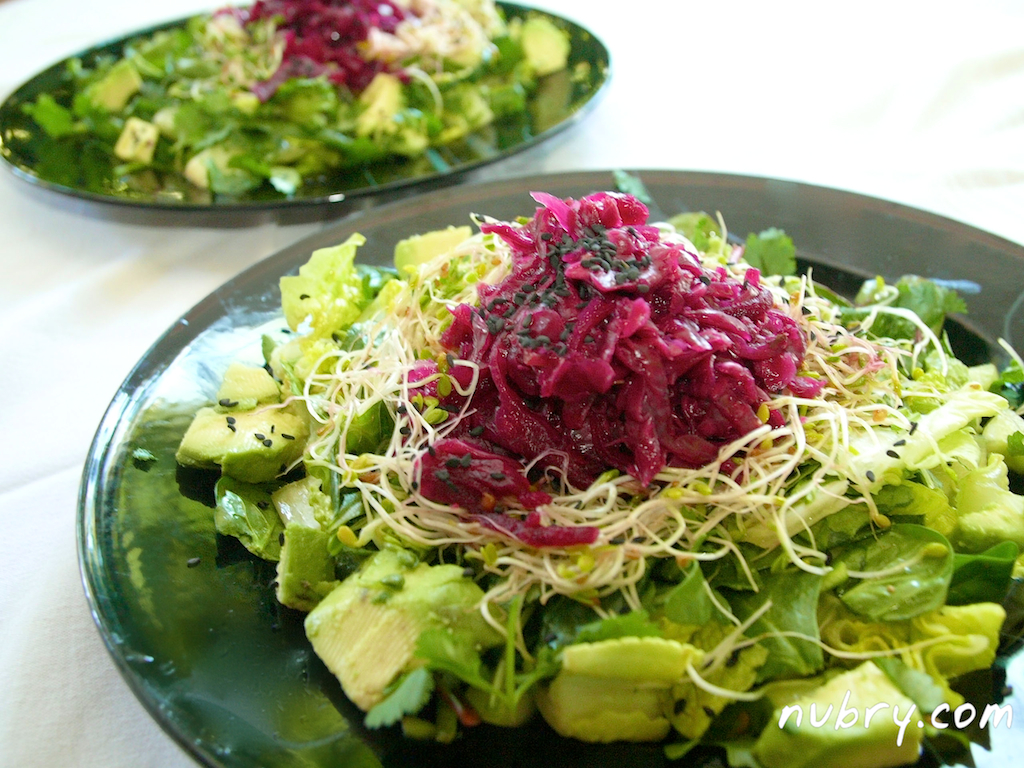 [amd-zlrecipe-recipe:1]