This past weekend, I picked up 2 bowls of kumquats, one of my favorite little snacks, now in season! Kumquat health benefits are unbelievably amazing, they have a unique and satisfying taste, plus they're inexpensive at your local farmer's market (2 bowls for $5), especially when compared to the farmer's market blueberries and dried cherries.  Living in California, we're fortunate to have farmer's markets as part of our weekly routines, if desired.  With the biggest farmer's market in San Diego taking place only a short walk from my place in Little Italy, my Saturday mornings have purpose.  Wake up, throw on something comfy and head over to the market for some cool new, nourishing foods.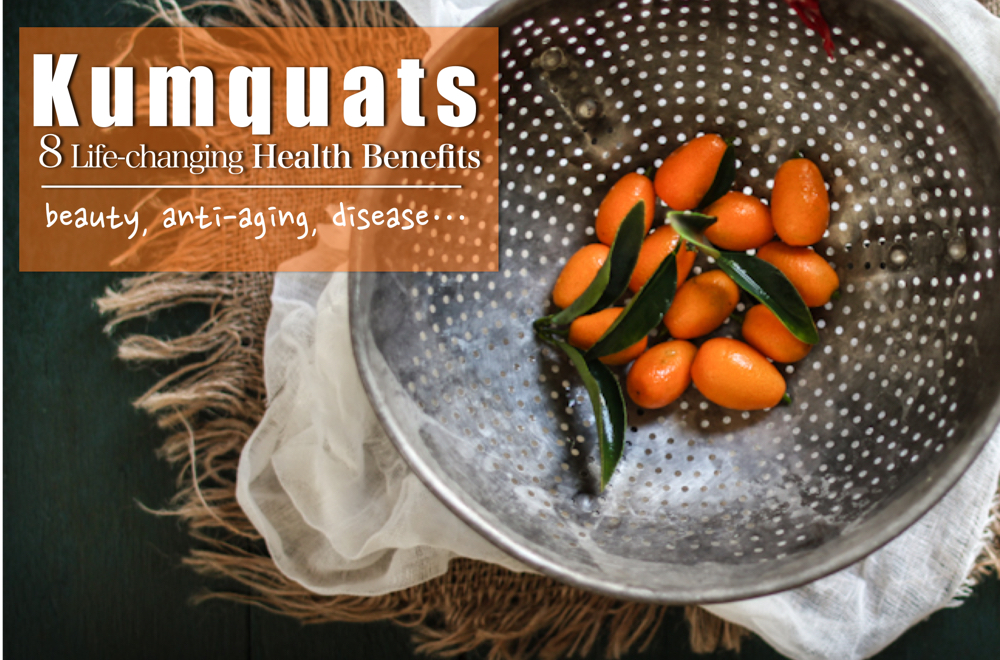 If you're not familiar with kumquats, or even if you are, you may not realize how healthy and beautifying they really are for you and your overall wellness! Below are 8 shocking kumquat health benefits and reasons you need to include this little fruit in your daily (yes daily) diet.
1. Encourages Weight Loss

Kumquats are eaten whole, peel and all, so be sure to choose organic, non-sprayed kumquats.  Your best bet is to buy them at a farmer's market! Because kumquats have a high water content, they hydrate the body and fill you up. Additionally, they are low in calories — only 100 calories for 8 kumquats or 13 calories per kumquat.
2. Suppresses Appetite & Cravings
Although kumquats look like a mini orange, their flavor is very distinct, and the sweet peel combined with the sour juice and pulp make for a desirable snack when you have a sweet tooth.  Additionally, kumquats are high in dietary fiber, which creates a satisfied feeling after eating.  Got a craving for something sweet and guilty? Grab for a handful of kumquats and your cravings will dissipate.
3. Regulates Digestive System
A handful of kumquats provides 10 grams of dietary fiber or 30% of your daily value and they have a high water content, helping to flush toxins out.
4. Kumquat Health Benefits Include Age Prevention
One of my favorite kumquat health benefits is that they protect from free radicals which cause age spots, wrinkles, unhealthy skin, and facial appearance. High in antioxidants, this little fruit does wonders for your beauty naturally!  The vitamin C content in kumquats boosts collagen which protects against premature aging and creates a more youthful face.
5. Fights Sickness & Disease
Rich in vitamin C, about 70% daily value, kumquats stimulate new cell growth, have antibacterial properties, and are anti-inflammatory. The high vitamin C content helps the immune system to fight disease and reduces inflammation in the body which is known to be a starting point for chronic disease.
6. Strengthens Teeth & Bones
Nutrient rich and filled with calcium, kumquats can assist with bone and teeth formation.
7. Boosts Skin Health
Eating a daily does of kumquats, about 8, will give you glowing skin.  A serving size of kumquats provides 70% of your daily Vitamin-C value, which is one of the most powerful, natural antioxidants that aid in collagen synthesis and wound healing.
8. Eliminates Constipation & Bloating
With 10 grams of dietary fiber per 8 kumquats, they serve as a natural laxative and assist in reducing bloating and cramping.
For more health, beauty, and diet tips be sure to subscribe to our newsletter in the right hand sidebar above.