Planning a trip to San Diego and wondering to yourself what to wear in San Diego? While the weather here is absolutely amazing year round, you'll definitely want to pack accordingly as temperatures often change quite noticeably from day to night and from neighborhood to neighborhood.  Mornings can be crisp, afternoons sunny and comfortable, and evenings generally a little chillier with winds. And, this all depends on whether you're by the harbor, inland, or near La Jolla cove.
There's so many things to do in San Diego for tourists, convention-goers, and families. Based on your vacation itinerary, we'll give you the inside scoop on what to wear in San Diego for that specific activity.
Having a picnic by the harbor, strolling through Seaport Village and The Headquarters at Seaport, or hiking at Torrey Pines? Each activity requires a very different outfit, so be prepared! Read on for outfit ideas and our San Diego packing list for your upcoming San Diego, CA trip.
Visiting The Headquarters at Seaport, just behind the famous Seaport Village? We've got lots of fabulous deals listed below for you diners and shoppers.  Plus, be sure to enter our $5,000 Dine & Shop Sweepstakes at The Headquarters here. Note: Sweepstakes has ended.
Photos are taken by Valerie Kon
What To Wear In San Diego
1. Water View Picnic By The Harbor
There's nothing like having a picnic lunch with water view.  Stop by Venissimo Cheese at The Headquarters, directly behind Seaport Village, for all of your picnic needs: paninis, cheese boards consisting of the best artisanal cheese from around the world, meats, olives, and more! Then head over to Tuna Harbor, just North of Seaport Village, to enjoy your lunch under a shaded tree.
What To Wear: Dress comfortably in a dress or shorts and bring a windbreaker or jean jacket just in case.
Deal at Venissimo Cheese: Free Dutch mini cheese planer with any $50 purchase. Show this post to redeem.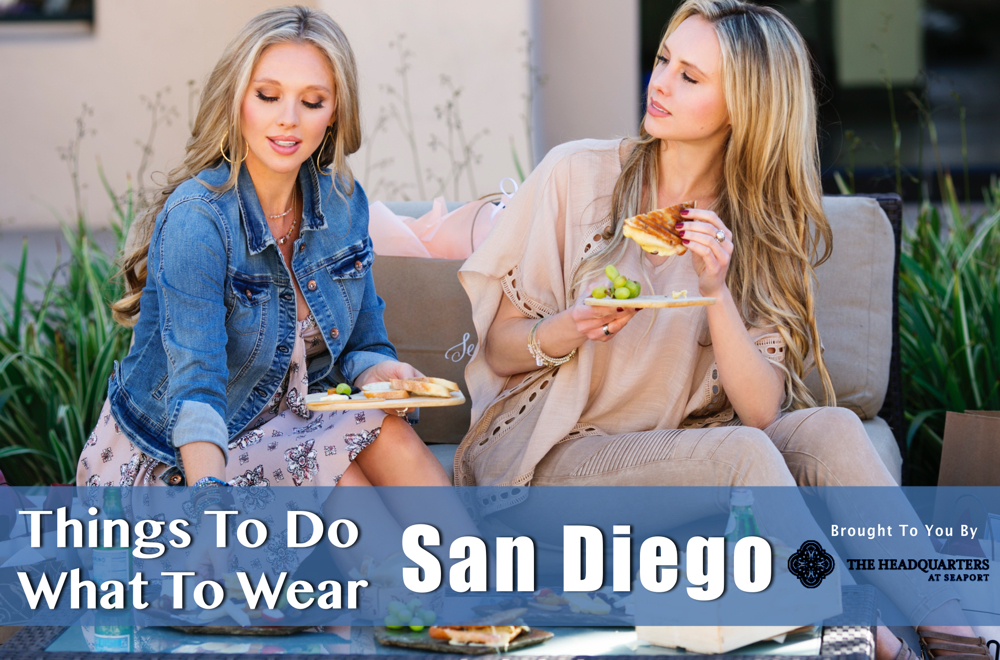 2. In Town For A Convention With Nothing To Wear But Suits
A day at the convention hall downtown can take a toll on your feet and if you didn't think about packing other shoes for non-convention related activities, you're in trouble.  Plus, you might want to think twice about staying in that stuffy suit all day.
What To Wear: Head over to Urban Beach House at The Headquarters for flip flops galore. Then, stroll over to LOLO Boutique for very affordable, trendy clothing and accessories that will have you fitting into the San Diego scene instantly.
Deal at LOLO: 20% off one item, one per customer. Show this post to redeem.

Deal at Urban Beach House: Free Multi Strand Bracelet with a purchase of $40 or more. Show this post to redeem.
3. Enjoy The Best Mexican In San Diego At Puesto
Don't miss out on the best Mexican while in town!  Authentic Mexican cuisine and unadulterated, house-made margaritas pull Puesto out of the pack. A destination inside The Headquarters at Seaport not to miss!
What To Wear: For tacos on the patio, be sure to bring a sweatshirt or light jacket as it may get chilly in the evening.  Dress is casual, skinny jeans and sweater, and there's a lively bar crowd from happy hour to 9pm.
Deal at Puesto: Get a FREE horchata at Puesto at The Headquarters when you show this deal or mention Nubry.
4. Staying With A Friend
Visiting a friend in San Diego is a fabulous way to see the city because you have a personal tour guide, plus the comfort of staying with someone you know.  Be prepared for anything your friend has up her sleeve. When it comes time to thanking your host, you'll find the cutest, most thoughtful little gifts at Seaside Papery inside The Headquarters at Seaport.
What To Pack: Sporty outfit, sundress, cocktail dress, lightweight jacket, cute loungewear for around the house, and bikini.
Deal at Seaside Papery: $10 off a $50 in-store purchase OR  buy 4 greeting cards, (card of least value is free)
5. Go Surfing or Paddle Boarding
You'll definitely want to spend an afternoon paddleboarding at La Jolla Shores or surfing at Blacks Beach.  Take back a piece of San Diego's surf world or a beautiful ocean scene by visiting Aaron Chang's Ocean Art Gallery at The Headquarters at Seaport. Aaron is an internationally acclaimed artist and is especially recognized for his surfing photographs.
What To Wear: Be prepared for chilly water temperatures and wear a wet suit!  If you don't have room in your suitcase, you can easily rent all your equipment at Everyday California at La Jolla Shores.
Deal at Aaron Chang: Free book with purchase. Show this post to redeem.

6. Day To Night Dresses For San Diego
If you're not sure what to wear in San Diego, dresses are really easy to pack. Plus, they always look pretty.  San Diego is an overall casual, laidback town, so a dress that can go day to night will be ideal  Just switch out of your sandals or walking shoes for a pair of strappy heels in the evening.
No need to wear a super fancy, glam dress for dinner! You'll stick out as being a tourist! San Diego is a very casual town. Shop our favorite day to night dresses below.
[show_shopthepost_widget id="1507643″]
7. Meeting A Sexy Single For A Date
Visiting an unknown city doesn't have to be lonely.  Meet up with a potential heartthrob via dating app, Doppler — set to launch in May (fingers crossed) — and have a fabulous evening (hopefully!). May we recommend drinks at Eddie V's "V Lounge" at Seaport?  The bar here is chic and sophisticated with live jazz, cocktails, and appetizers.  Don't feel pressured to wear a cocktail dress.
What To Wear: Skinny jeans, heals, and a tight top or cocktail dress if you're feeling up to it.
Deal at Eddie V's: Get a free dessert 🙂 Show this post to redeem.

8. A Visit To The USS Midway Museum
Don't miss a chance to see this historic museum, set inside a Navy aircraft carrier that served from 1945 to 1992, the longest of any naval warship. A tour of the museum gives one a look at what life would have been like on the ship. Before heading to an outdoor lunch of fabulous flatbread assortments and fresh salads on the Seasons 52 patio, be sure to take a picture at the "Unconditional Surrender" on the boardwalk, better known perhaps as the "kissing statue" – a larger than life bronze statue of a sailor kissing a nurse.
What To Wear: For a day at the museum, wear comfortable, casual clothing as you'll be doing several hours worth of walking. Shorts, tee, and sneakers or a maxi dress with a lightweight jean jacket and fedora will take you from museum to lunch.
Deal at Seasons52 : Free Flatbread when you show this deal or mention Nubry.
9. Lightweight Jackets For San Diego
You never know with the finicky weather in San Diego. Yes, we're blessed with comfortable year-round temperatures, but while the day can be very warm, the evening may require a jacket and shawl to shield you from the wind and drop in temperature.  Be prepared for all temperatures by being sure to pack a cute, versatile jacket that goes with everything. Shop our favorite lightweight jackets below.
[show_shopthepost_widget id="1507571″]
10. Burn Calories With A Harbor Run
San Diego is one of the healthiest cities in the world, so jump on the calorie burning wagon while your here!  Start at Embarcadero Marina Park just south of Seaport village. Run along the water past the USS Midway Museum all the way to Harbor Island. Make a loop at the end of the pat and head back to the Embarcadero.  That's 7.5 miles!  Reward yourself afterwards to an amazing gelato or sorbet made with Italian-imported ingredients from Gelato Paradiso. Or perhaps you're more of a gelappe or affogato lover? They have those too 🙂
What To Wear: Runners should be equipped with comfortable sneakers and athletic gear, a baseball cap, and sunblock.  Hydrate yourself often by carrying a bottle of water with you.
Deal at Gelato Paradiso:  'Free Upgrade'. Buy a small and get a medium, or buy a medium and get a large, or buy any sized cup and get a cone as an upgrade.

11. From The Convention To Dinner
All you really want after a day at the convention is a tasty meal, great atmosphere, and hopefully good company.  Head to Flour & Barley, the newest addition to The Headquarters at Seaport for brick oven pizzas, big fresh salads, and over 150 beers with a focus on San Diego's breweries.
What To Wear: Turn your blah convention attire into an approachable look. If you're wearing a black shift dress and blazer, switch the blazer for a neutral shawl and slip into a pair of strappy heels.  If you're in a pantsuit, switch the trousers for skinny jeans.
12. Spending A Day In La Jolla Village
A visit to La Jolla is a must do for San Diego travelers as it offers one of the most popular beach destinations in California as well as a quaint village that's ideal for strolling through for lunch and shopping.  Make time to see the seals basking in the sun at La Jolla cove, then head up the hill to the Cave Store, home of the world famous Sunny Jim Sea Cave. This man made tunnel starts inside the store and goes 147 steps down to the water which allows visitors to enter the Sunny Jim Cave by land.  A great photo op!  Known as the jewel of San Diego, La Jolla is very casual, but equally stylish.
What To Wear: A flowy sundress, fedora, sunnies, oversized tote, and sandals will take you from day to evening.  Evening calls for a shawl and jean jacket.
13. Versatile Totes For San Diego
A lightweight tote goes everywhere and will really come in handy for those visiting San Diego.  Your tote should have room for a pair of heels, shawl, jacket, and sunglasses.  The Meli Melo Thela bag and the Givenchy Nightingale handbag is always a classic and will go everywhere.  If you are looking for a more casual tote, try the ban.do bags which have fun quotes on them. San Diego is a laid back town, so leave the Givenchy Antigona at the convention or at home, and explore the town like a local. Shop our favorite tote for San Diego below.
[show_shopthepost_widget id="1507603″]
14. Italian Night In Little Italy
This adorable street is home to many Italian restaurants from mom and pop pizza shop, Filippi's, to trendy Italian spots like Bencotto and Monello, next to each other on Fir Street.  Additionally, swanky restaurants like Ironside, Davanti Enoteca, and Bracero are in the area and make fabulous dinner spots before heading over to Kettner Exchange for late night drinks on the rooftop.
What To Wear: Dinner at Ironside to drinks at Kettner Exchange calls for chich and cool, be it skinny jeans and super cute pumps or a cocktail dress.  The mom and pop Italian restaurants are more laid back and casual, heels not necessary.
15. Beach Day With The Kids
If you're staying in downtown but still want a beach day with beautiful white sands, Coronado Beach is a quick drive over the Coronado Bridge.  We recommend bringing a picnic basket of made to order sandwiches, available at Venissimo Cheese, as well as beach games and toys for the kids. Don't worry about packing shovels, rakes, and sand castle molds!  Before heading to Coronado, visit Geppettos Toys, located almost next to Venissimo Cheese in The Headquarters at Seaport, for their beach bucket set, goggles for swimming, and frisbee.
What To Wear: Bathing Suit, cover-up, sunblock, wide brimmed hat, sunglasses, sandals, and large beach tote.
16. Hike Torrey Pines State Natural Reserve
Torrey Pines State Natural Reserve consists of a network of trails that swerve through rugged cliffs overlooking the ocean at times.  Beach access is possible from the cliff at the end of the Beach Trail by heading down a set of steep stairs to the ground.  If you head South, you'll run into Black's  Beach, the country's first nude beach.  This hike is a favorite and you'll want to go early, as the sun will burn you in the afternoon, plus crowds increase ten fold the later you go.
What To Wear: Athletic wear, baseball cap, sunglasses, sneakers that can get dirty, Health App to track calorie burn, and sunblock!
17. Pretty Colored Shawls For San Diego
A shawl takes up no room in your suitcase and adds sophistication to any outfit.  Additionally, a shawl keeps you warm and is a perfect accessory for San Diego weather.  From covering your sunbathed body at the beach to wrapping your shoulders in the evening, a shawl is a must-pack item for your San Diego trip. Shop our favorite shawls below.
[show_shopthepost_widget id="1507556″]
18. When It's Time To Pack Up Your Bags
After an unforgettable trip to San Diego, you'll want to make sure that your memories last a lifetime and that your friends and family back home can take part in a piece of your trip too. Before zipping up your suitcase, be sure to peruse the delectable chocolates at Dallmann Fine Chocolates.  Originally from Austria, Dallmann uses only the finest ingredients alive and you can taste the difference with each bite in these exquisite artisan chocolates.
Deal at Dallmann Chocolates: Spend $35 and get a free 5pc Sea Salt Sleeve. Show this post to redeem.


Save
Save
SaveSave