You may have heard the trendy buzz word "glamping" as of recent, without knowing what it really meant. Well, what is glamping and why go glamping? In short, glamping is the new camping and yes I'll choose to glamp over camp any day. For those seeking a camping experience that doesn't involve roughing it (Hi, me, right here!!), you've found your beloved answer!
I recently chose to go glamping in Lake Of The Woods, Ontario Canada – north of Minnesota – because I'm just not the type of gal who rolls up and pitches a tent in the middle of the woods. Surrounded by bears, loons, bats, muskie and other unknown wildlife, are you kidding me!?
To Go Glamping Or Camping?
Such a silly question. If you're thinking about planning a glamping trip this fall or next summer in Canada, Kenya, or Oregon but not sure if you should spend the extra moolah for the "luxury" experience, keep on reading. Whenever faced with the option of glamping or camping again and if someone asks you your opinion on glamping vs. camping in the future, you'll know what to say. The latter is simply unacceptable!
Below, I have 9 majorly important reasons I chose glamping over camping this summer and why I'll never even contemplate the decision again!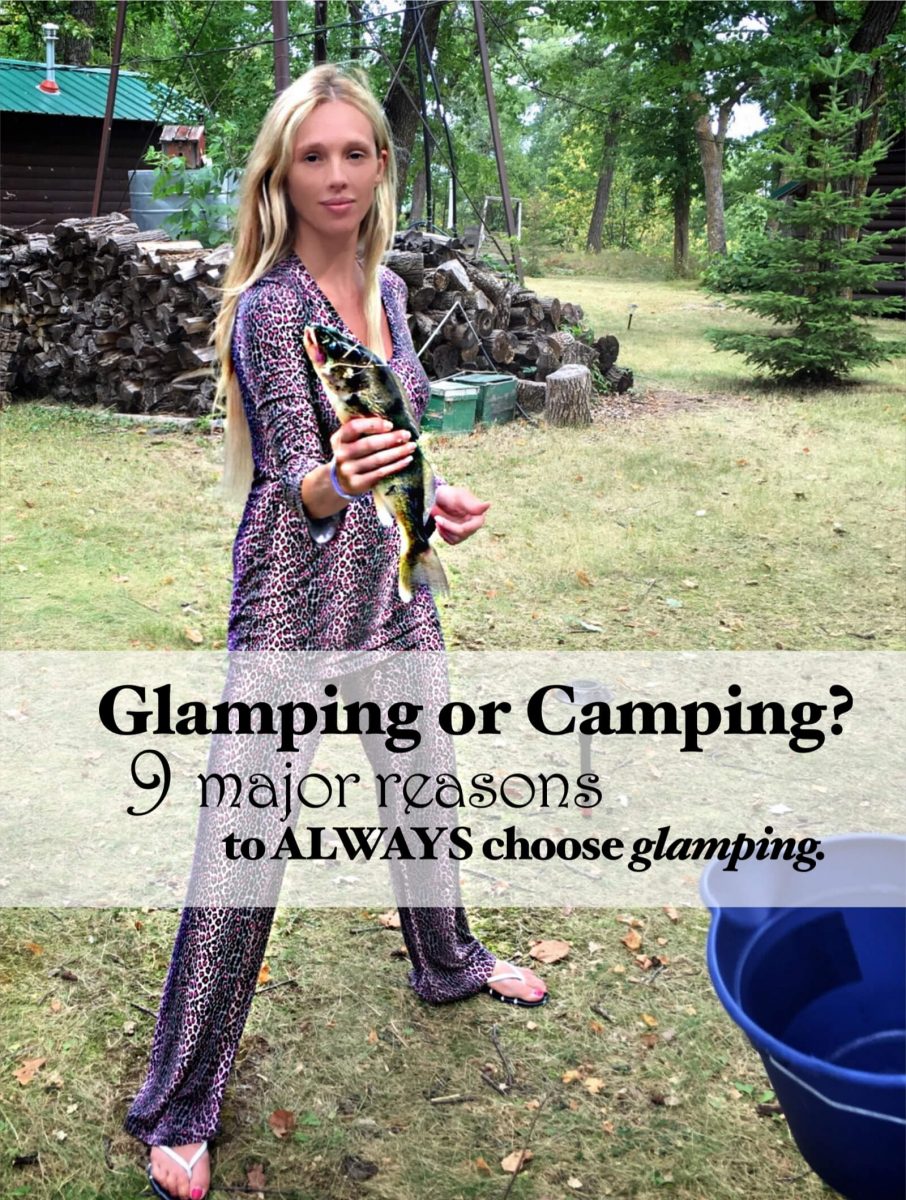 9 Reasons To Go Glamping Not Camping
1. You Get To Sleep In A Bed. A Real Bed!
No sleeping bag, no cot, just bed. A bed with a bed spring, mattress, sheets, and duvet perhaps. Waking up in the woods never felt so good, thanks to glamping!
2. You'll Have Running Water
This means that you get to shower, wash your face, brush your teeth, and flush your toilet. No running into the woods with poison ivy and wiping behind a tree (yikes!). Sweat in my pores, grease in my hair, and dirt under my finger nails? These are not the sorts of beauty issues I like to think of myself having. Thank the lord for glamping!
3. Enjoy Chef Prepared Meals
Upon waking up, you make your way to the lodge where you have a seat at a table and enjoy a freshly brewed cup of coffee from the French press or Nespresso machine, followed by whatever you have requested from Chef for breakfast. I prefer drinking black coffee, but of course you have the option to choose frothed dairy milk, coconut, or almond milk too.
Organic blueberries and raspberries with coconut yogurt are on my menu, although I see the men eating eggs, sausage, and loaded buckwheat pancakes and my sister enjoying homemade muesli with chocolate chunks. For dinner, we've requested walleye ceviche and our favorite Cabernet Sauvignon. Camping and chef are not found in the same sentence, but glamping and chef? Now that's a whole 'nother story.
4. Eat A Clean, Whole Foods Diet
When I think about camping, the first thing that comes to mind is baked beans, you know, the kind that comes in a can and you find at some barbecues (no offense to the host). Sorry, not a baked beans gal and no, I wont be warming my sweet beans in a pan over the fire that I didn't make! Additionally, I wont be sacrificing my whole foods, organic diet for freeze dried meat, pre-made sub sandwiches in plastic wrap, or anything that comes out of a ready-to-eat bag. Reminds me something of Hamburger Helper or Spam. Again, no offense…
Thanks to glamping, I'm able to tell Chef what local greens I want in my salad and what vegetables I want juiced — and yes, I want a beautifying carrot juice with ginger, turmeric, and lemon midday with a tiger nut flour cookie.  Additionally, Chef will know how I prefer my grass-fed filet mignon cooked — which, by the way, is medium…not rare — and that I'm gluten free, dairy-free.
5. Protection From The Wildlife
All I know is that there are black bears in Lake of the Woods.  I've seen their gargantuan piles of s***. When walking to my cabin at night — keyword, cabin and not tent — my lantern helps me to see the frogs all over the grass and the dark fishing spider (dolomedes tenebrosus) on my cabin door. Now imagine if I was sleeping in a tent and the spider crawled inside or the frog jumped in.
And let's not even stop to think about what would happen if the bear was interested in the tent's interior contents. Just like our homes have alarm systems and locks to keep us safe from burglars, glamping gives us solid doors and cabins to keep us safe from the wild things that come out to play during the night. Hoot hoooooot!
6. WiFi Is Not A Foreign Word When Glamping
Wake up, drink coffee, have a fresh-out-of-the-oven, gluten-free muffin, check my emails. Nuff said. Thanks glamping!
7. Snapchat, Instagram, and Facebook Are Part Of The Daily
You shouldn't have to turn off your phone for 2 weeks. Seriously though, do campers really do this? Yes. As a camper, you'll have no service, no WiFi, and no access to social media. You can kiss wishing your BFF a happy birthday on Facebook goodbye, you'll miss Kylie's new lipkit release, and you won't be able to post a photo of the muskie you just caught.
Oh, and because there's no electricity, you won't be able to charge anything, so you won't even have a photo of the muskie that you catch! Camping, you suck!
8. You Won't Have To Look Like A Cave Woman
Living in a tent for more than a day isn't pretty. As a glamper, you'll have a vanity in your cabin with a mirror so you can apply mascara each morning, some powder, and a spritz of your Chanel Chance. These are just basic necessities in the life of a glamper, but a camper? You can kiss that MAC lip liner goodbye! Ciao bella!!
9. Your Feline Can Have A Vacation Too
The most exciting part is you can bring your cat pal with you. Mister Montecore went glamping with me this summer and it was the best few weeks away he ever had. Breakfasts served with water view, late night mouse attacks, lazy days lounging surrounded by forestry and chirping birds. He's already cat napping and dreaming about next year's summer glamping trip.
In all seriousness, what camping excursion can offer your feline any sort of treatment? None. That's why I chose glamping over camping.
Save
Save
Save
Save
Save
Save
Save
Save
Save
Save
Save