Paris Hilton took her annual Aspen ski trip in a not-so snow bunny way…based on the Instagram photos she posted.
Previously, Paris Hilton's Aspen style has been impeccable! It included all white ski suits with luxe fur, Jet Set star pants and a lot of Bogner!
This year, not so much.
Is Paris Hilton losing her snow bunny status? We hope not, but there is a lot of evidence from her Instagram selfies that she needs a snow bunny stylist for Aspen. If Paris loses her snow bunny status, what hope is there for the rest of us?
Reason why Paris may have lost her snow bunny status are all listed below…plus photos to prove it!
Paris Hilton's Aspen Style
1. She doesn't ski with gloves. Thank goodness she brought her fingerless Chanel 1/2 gloves, because ski gloves did not make it to the mountain much.
Even a snow bunny wears gloves to protect her hands.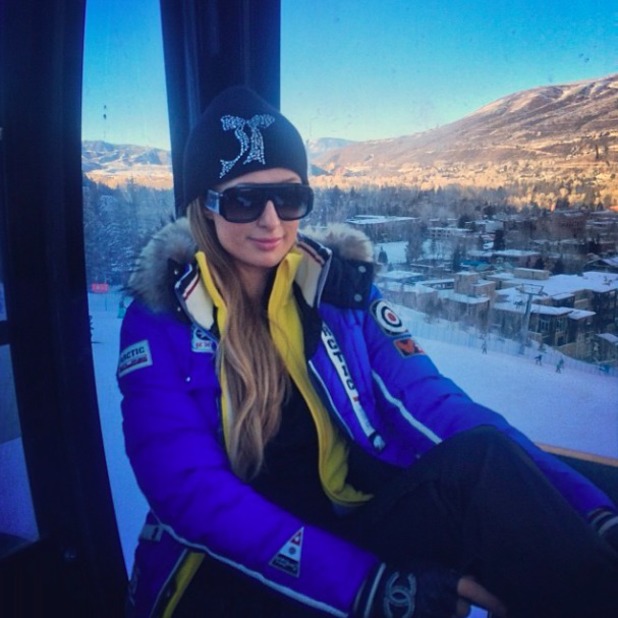 2. Paris didn't have the coolest Jet Set ski pants this year. Jet Set ski pants are the hottest and coolest pants on the ski slopes across the world.
They are also available at our favorite ski shop – Gorsuch. This past Aspen vacation Paris skiied in black pants. See the Jet Set star pants she wore last year below..
3. Paris wore the Bogner Arctic ski jacket in blue and in red. Did she buy them last year because they're from last season?
4. Paris only skiied 2 days during her vacation. The first day, she may have only done one run. The lifts were nearly closed by the time she went up Ajax mountain. She did have time to get in some selfies though.
5. Paris wore the same black ski pants on both of the two days she skiied! Did she not bring two pairs of pants? These are the same pair of black pants she wore last year.
See more on what Paris Hilton and other celebrities wore in Aspen.
6. Paris brought out her favorite hat from last year – The diamante bow hat. See photos of Paris in this hat here.
7. She selectively wears a helmet. Paris actually skiied down with her helmet in her hand! Doesn't a snow bunny protect her head?
8. She selectively wears goggles. Paris prefers the look of her sunglasses than goggles, but still brings them along just in case her sunglasses fog out.
9. Paris tweeted that she got a spray tan before heading to Aspen….But did she?  She doesn't appear tan.
10. Paris partied at Aspen's Bootsy Bellows. She didn't spend as much time at the Little Nell…a true snow bunny hangout!
11. Paris got a facial at Beauty by Tiffany in Beverly Hills just 3 days before heading to Aspen to make sure she had the snow bunny glow! But with no goggles or helmet to protect her face, her snow bunny glow will fade pretty quick.
12. Lastly, Paris took 9 Instagram photos in Aspen. NINE!
SaveSaveSaveSave