The holiday season can be such a magical time of year with cinnamon spiced lattes and glimmering light displays on every corner. No matter where you are in the world, it's hard not to fall under the festive influence. We've put together a list of cute holiday gift ideas that will help you shop for Christmas presents.These holiday gifts under $50 are super cute and your friends will actually love receiving them from you!
What truly makes the winter season so merry is showing thanks to your loved ones. The gift of giving does not necessarily have to be a grand gesture, rather it can be something small and personal. Often times, we can get carried away during holiday shopping, but with the following  holiday gifts under $50, this wont need to happen!
Cute Holiday Gifts Under $50
So where to begin if you're on a budget and are shopping for someone picky? Or, someone who already has so much of everything? Or, even more stressful, if you have a large amount of people to shop for! A good rule of thumb to go by is to pick something for someone they wouldn't necessarily purchase on their own.
To help you break through all that sale clutter and get your gift inspiration flowing, we have put together a list of affordable holiday gift under $50!  From tech accessories and jewelry baubles to a set of moscow mule mugs (on everyone's list!) and a must-have pair of glitter booties, our list of 25 holiday gift ideas will help you with gift giving that won't break the bank.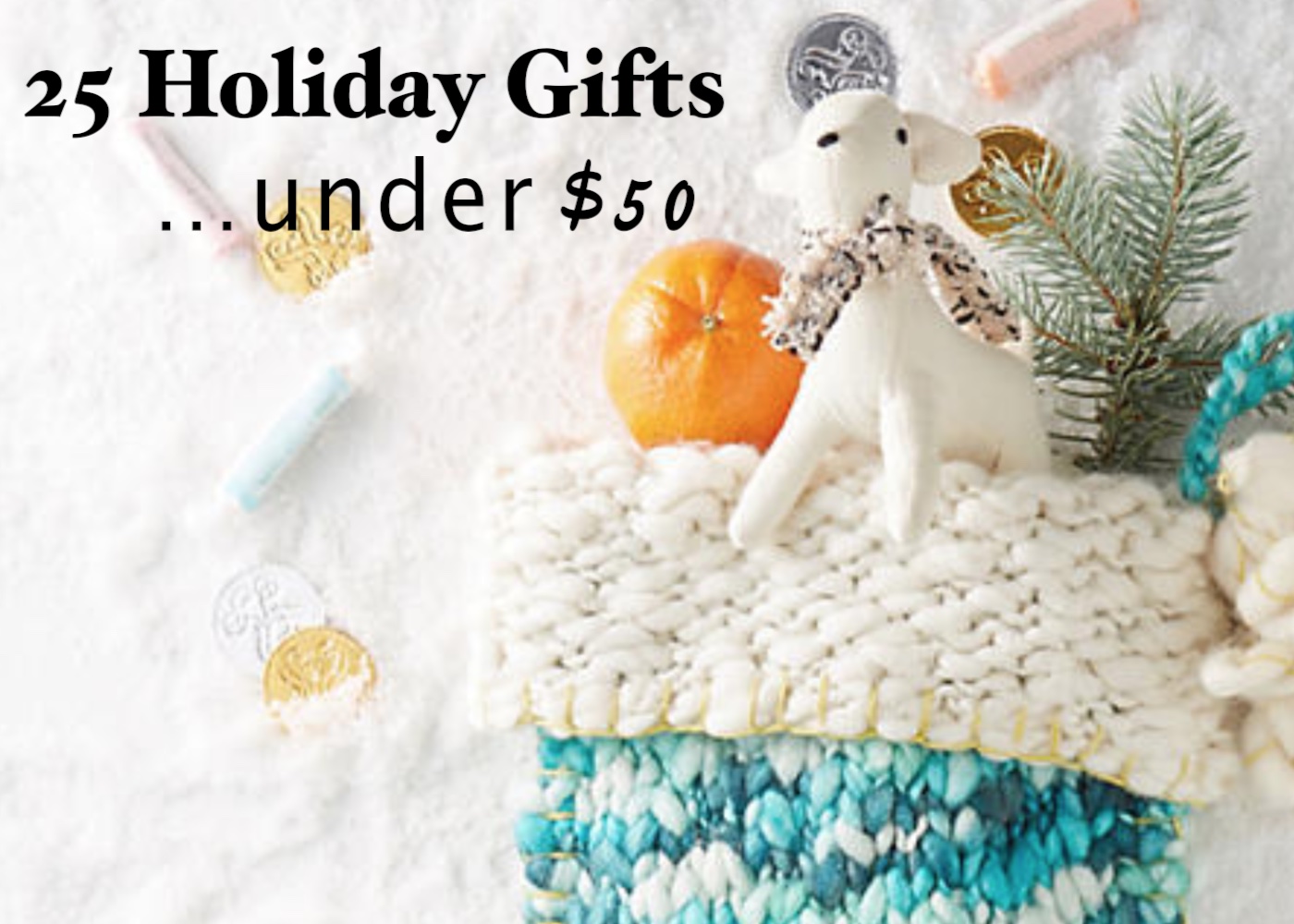 1. Headphones 
Metallic, patterned, colorful or all of the above, fashion headphones serve as a great gift for all of the fashionistas out there. They're perfect for adding some pizazz to the morning jog or for binging on Netflix in style.
2. Booties
Shoes can be a bit tricky, but it's hard to go wrong when gifting an ankle boot as stylish as the Krazy Chelsea boot from Topshop! Available in multiple colors and in velvet, faux snakeskin or glitter, these fashionable boots are a must-have! Just know their shoe size.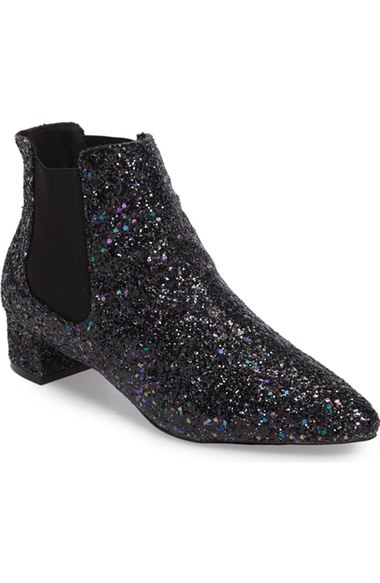 3. Anti-Aging Facial

A woman loves nothing more than access to the fountain of youth. This holiday season, give your gal pal a Cryofacial — 10 minutes of -240 degrees Fahrenheit of liquid vapor Nitrogen — which will stimulate collagen production for a more youthful glow.  Check your local area to see which spas offer this service.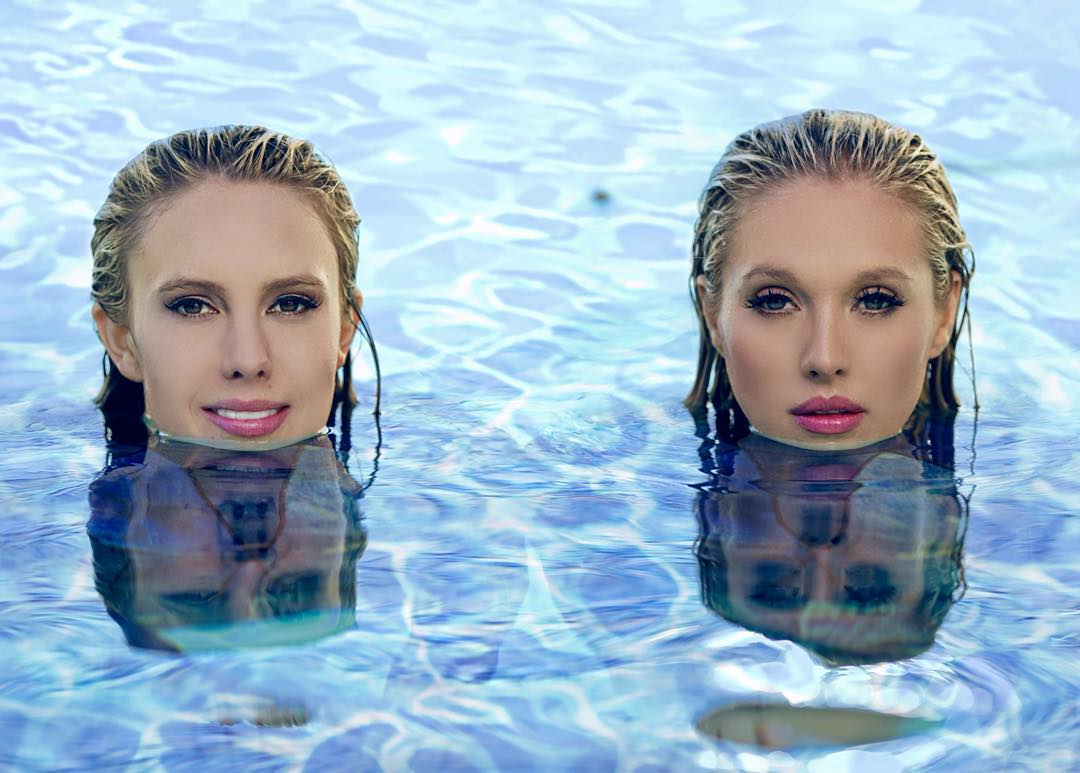 4. iPhone 6 and 7 Cases
Just like the wristlet, a stylish phone case is always a fabulous gift to give. Not only does the case protect one's phone, but it allows for personal expression. Many fashion designers and well-established brands, such as Kate Spade, Stella McCartney, Louis Vuitton and Moschino make cute options for casing the smartphone. Make sure you know if your friend carries an iPhone 6 or iPhone 7 and if it's a plus before purchasing this cute little gift!
5. Bralette
The wireless and often times, lace, bralette has been all the rage amongst women this year. Perhaps it is the comfortable nature of the lingerie piece or the delicate appeal it has when worn underneath a racerback tank, that makes this form of bra of such high demand. Regardless, the boho brand, Free People, has several different styles of this undergarment for many differentiating bust types.
SHOP THIS PRODUCT: Free People 'Flocked Galloon Racerback'
SHOP MORE FREE PEOPLE STYLES:
[show_shopthepost_widget id="442171″]
6. Go-Everywhere Crossbody Purse
This style of purse is great for your trendiest gal! A crossbody purse often times is understated due to its smaller size, however what makes this piece so fun is its ability to spice up an outfit with elegance and sass. Plus, it goes everywhere!
7. Luxury Candle
If the one you are shopping for one enjoys frequent spa time as well as a fragrant ambiance, going with a luxury candle is a fantastic gift option for them. Keeping holiday gift ideas in mind, brands such as Voluspa have made it simple to give the gift of more at a reduced price, see below.
8. Slippers
Comfy, comfy and comfy! A girl can never have too many pairs of slippers, as they are great for just about anywhere around the house or apartment and serve to keep your feet nice and warm. Whether it's a homebody receiving these or a workaholic, slippers are a must have for all.
9. Pull-Over Sweater
This winter staple is always in season, as the pull-over sweater is effortless and chic. A great piece for layering or dressing up with a fabulous pair of slide sandals (if you're in SoCal), every gal should have one of these as a go-to during the cooler months.
10. Active Wear Sweater
Similar to the pull-over, active wear sweaters from brands such as Nike, Adidas and Lululemon all provide fashionable clothing options for the exercise enthusiast.
11. Winter Scarf
The great thing about scarves is that they are one size fits all. Scarves are one of those holiday gift ideas that can be given to just about any fashionista and will easily spruce up a winter coat or jacket. Many online sites have an abundant amount of options for scarf styles, patterns and colors.
12. Bauble Necklace
The bauble necklace, also known as the "statement necklace", is a style savvy gift for your fashionista friend who loves the bling and the glam!
13. Stackable Charm Bracelet
A stackable charm bracelet is perfect for your minimalistic friend. She can wear just one or stack several at a time. These bracelets are fun and creative! Alex & Ani charm bracelet has many types of charms and comes in different metals.
14. Cozy Throw Blanket
What better way to snuggle up watching your favorite Netflix than with a faux fur fashionable throw? Classy and comforting, giving the gift of a blanket has never been so stylish. (And, affordable).
15. Bar & Glassware
Moscow mules, Bailey's Irish Cream and cranberry sangria are all great holiday cocktails to enjoy with company. When attending your next holiday party, instead of bringing a bottle of wine, why not give your host some savvy copper mugs to serve these festive beverages out of.
16. Travel Tags
Got a friend that travels often? Perhaps, getting them simple yet personalized baggage tags or a passport case might just be their best gift yet. Amidst traveling, being able to identify one's luggage quickly is such a time-saver and relief.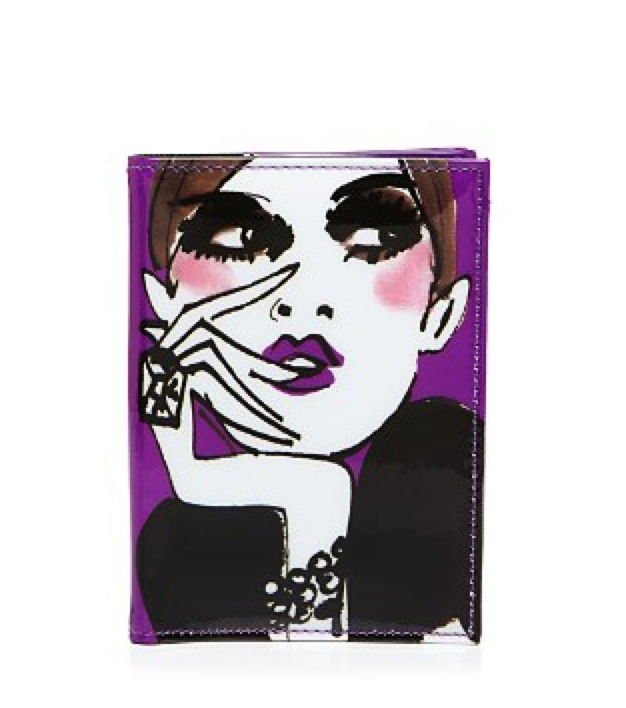 17. Floppy Felt Hat

The floppy felt hat is super chic and always makes an outfit pop! If you have a fashionista friend that looks great in hats, make sure she has this style in her wardrobe this season.
18. Nail Polish Gift Set
More is more when it comes to nail beauty! There are so many funky trends and colors happening in the nail art world, it's hard to keep up with all of it. Make sure your beauty product loving friend has some of this season's hottest colors with this BUTTER nail beauty gift set, available at Nordstrom.
19. Festive Throw Pillow
A not often thought-of gift, the decorative throw pillow can spruce up a bed set or conservative living room! Give the gift of interior luxe with a metallic or glittery throw pillow this holiday season.
20. Chunky Poncho 
The poncho is laid-back and always in style. Available in solid colors, tribal, plaid, or geometric prints, the poncho makes a great gift for a fashionable friend.
21. Coffee Table Book
Coffee table books are one of the holiday gift ideas that are always on our hot list. They're fun, conversational and easy to browse through. Plus they're really pretty!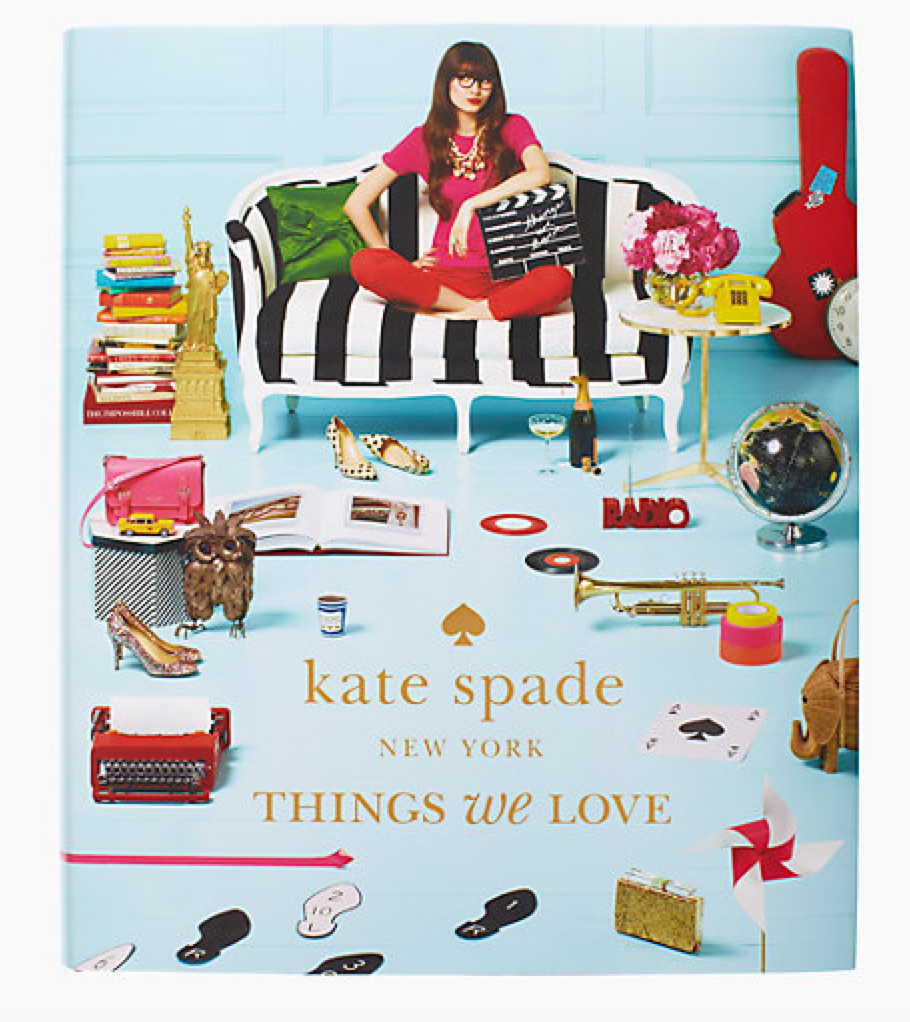 22. Nourishing Hand Cream
Therapeutic and physically healing, hand cream is always an enriching gift to receive. We love the Whipped Body Butter by Kiehl's made with soy milk and honey. This lovely scented cream is rich in hydration and absorbed quickly.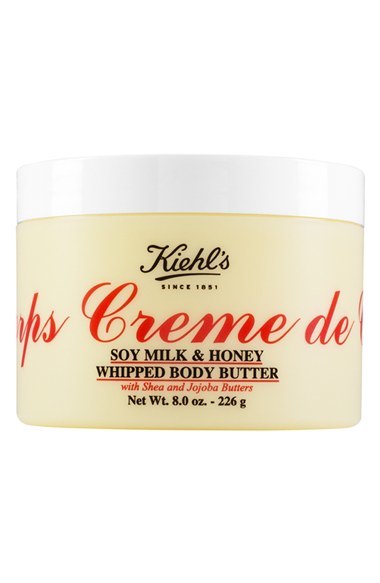 23. Carry-All Classic Tote
If you're thinking of a gift idea for a student or young professional, giving the gift of a simple shoulder-tote is not only a wonderful idea but it is an efficient idea as well. There is much room to carry folders and small accessories inside bags of this style.
24. Portable Bluetooth Speaker
Trips to the beach, picnics, bbqs and other outdoor activities are so much more fun with a portable speaker! Give the gift of portable music with a bluetooth speaker.
25. Stockings & Stocking Holders

Christmas decor is easily forgotten as a viable holiday gift idea but it is actually quite cute — and chic! Take a look at these adorable stockings and stockings holders from Anthropologie.
Save
Save
SaveSave