In collaboration with lululemon athletica La Jolla, we want to know what "wellness" means to you.  It is essential that health and wellness are of optimal levels, as this in turn makes us well-balanced people.  There are many activities that we do to maintain wellness, from exercise, eating right, and having fun with friends to spending time with family and creating a positive environment for ourselves to live.  See below for tips on how to improve your overall health and wellness.  Read these tips, then tell us on Instagram what wellness means to you and inspire us all by posting a photo on Instagram that embodies wellness at its best.
Enter contest officially here and post your photo on Instagram using #NubryWellness.  Follow @nubry on IG for more fabulous health and wellness tips!  lululemon athletica La Jolla will choose their favorite photo on instagram and the winner will receive an outfit of their choosing! Good luck 🙂
Note: Contest ends Monday, March 23rd and winner will be announced on Tuesday, March 24th.
6 Ways To Improve Your Wellness + lululemon Instagram Contest
Enter contest on Instagram using #NubryWellness and follow @nubry on IG for more wellness tips
1. Shop For Healthy Food: Try to make your own food so you know what ingredients you are nourishing your body with. Get more tips on health food and detoxing your life.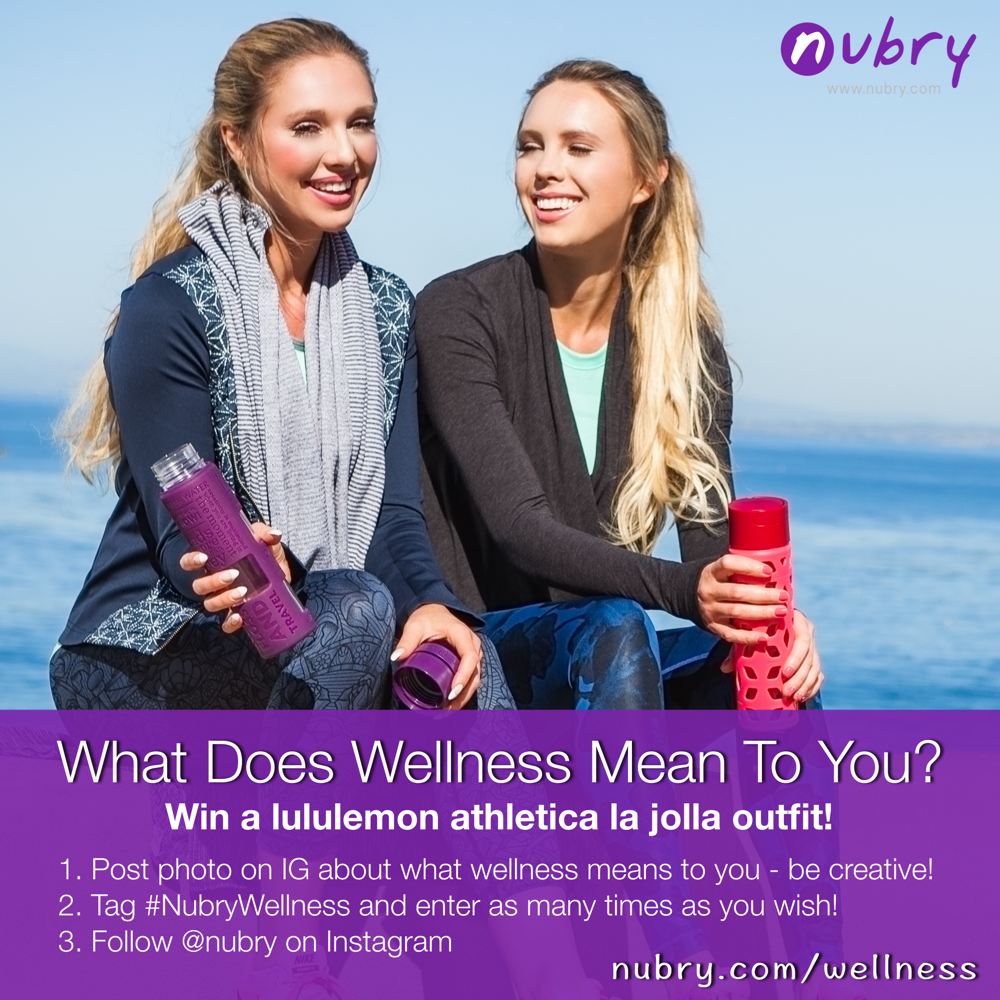 2. Exercise: Exercise should be part of your wellness efforts. Don't exercise too much, but continuing to move and sweat prevents sickness, improves immune system, increase metabolism, increases weight loss and metabolism, and decreases stress.
3. Sleep Enough: Sleep 8 hours per night. Your body restores itself at night, so don't prevent natural restoration.
4. Laughing: Having fun and laughing is great for your emotional health and makes you and others around you happy.
5. Allow Alone Time: Spend time reading a book or magazine that you are interested in. Spending time alone helps to improve your emotional state and increase your creative juices for work and your personal life.
6. Listen To Music: Listening to music is a great mood shifter, helping you to relax or get pumped up.  Relaxing is great for your wellness.  Getting energetic and excited with endorphins will improve your wellness.