With Thanksgiving behind us, we now have Christmas and Hannukah to get excited for. The tasks involved in preparing for the holidays are fun, but can be overwhelming if you don't plan ahead.  Gift giving, holiday decorating, party hosting, what to wear to the holiday events, etc. etc. should be fun and not stressful.
RELATED POST: Decor For A Festive Tabletop – Classy Sunbursts With Gold Sparkle
If you are anything like us, there is a laundry list of things to do, so let's keep it under control!  Here are a few things you can do this week to prepare for the holidays to get you in the holiday spirit with cheer!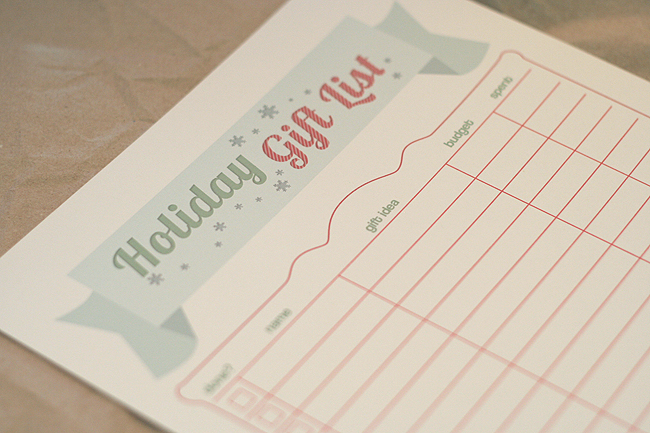 1. Gift Giving List: Make a list of the people you want to get gifts for. You can print the Holiday Gift List pictured below here.  Also, create a list of gifts that you think you will like to give. From chocolates and edibles to things your friends really need, like a suitcase, or you know, that they would want, like unique oven mitts. Or, you may even have come across a great gift that you're not sure who you would give it to yet, write that down too – you can jot this product down or save the link!
2. Holiday Card List: Make a list of people you want to send a holiday card to.  Sending a holiday card can help you check a friend off of your gift giving list and it still shows you made an effort. Snail Mail is always appreciated, especially in this email slash online day and age.
3. Holiday Decor: Simple decorations in your home or apartment can be festive for you and your guests. For example, these chairs, pictured below, are so easy to do with ribbon and pine cones. Another idea is to make gold sunbursts which are pretty on cocktail trays.  Here's an easy DIY by Karina Lopez of KC You There with how to make them. Click here for DIY.
4. Shop Online for Gifts: Finding gifts online can be easier because the e-retailer can ship the gift directly to your friend without you having to worry about gift wrap and delivering it yourself.  Many times the shipping will be free with holiday promos. Gift wrap is normally available for a small charge. Everyone loves getting gifts in the mail!
5. Standard Gifts: Find a standard gift that you can give to everyone and then personalize the card. An example is a potted plant or a bulb that will grow into a beautiful indoor red floral plant.
6. DIY Holiday Projects: Will you be doing any DIY holiday cards or decor?  If so, look for ideas in department stores, home decor blogs and Pinterest. These DIY projects can even be fun to do with a friend or your Mom.
7. Holiday Party Clothes: What holiday parties are you attending?  Do you have your work's holiday party, your significant other's holiday party, black tie gala, charity event, house party or night out with friends? All of these parties require different outfits.  Decide what you want to wear early rather than a day before or even hours before so that you have ample time to plan your special outfits.  You probably have some festive dresses from last year that you can only wear around the holidays.  Pull those to the forefront of your closet.  Your black dresses are always well received, especially for those events you are not sure what exactly is "safe" (i.e. your boyfriend's office holiday party).  Pair your black dress with statement jewelry, a faux fur stole, glitzy heels, and a red lip.
8. Update Your Holiday Makeup:  Get a holiday makeup makeover at the department store and have them show you the colors for the season.  A new blush or a new lipstick will help you look fresh for the holidays and it's inexpensive. Click here for how to apply red lips perfectly.
9. Festive Food: Whether you are attending a holiday party and need to bring a gift or hosting your own holiday party, festive looking food can be really fun for the guests.  Pinterest has a lot of great ideas for red and green or Christmas tree shaped desserts, finger foods and appetizers that are easy to make. To Follow "Nubry Holiday 2012 Ideas" on Pinterest click here.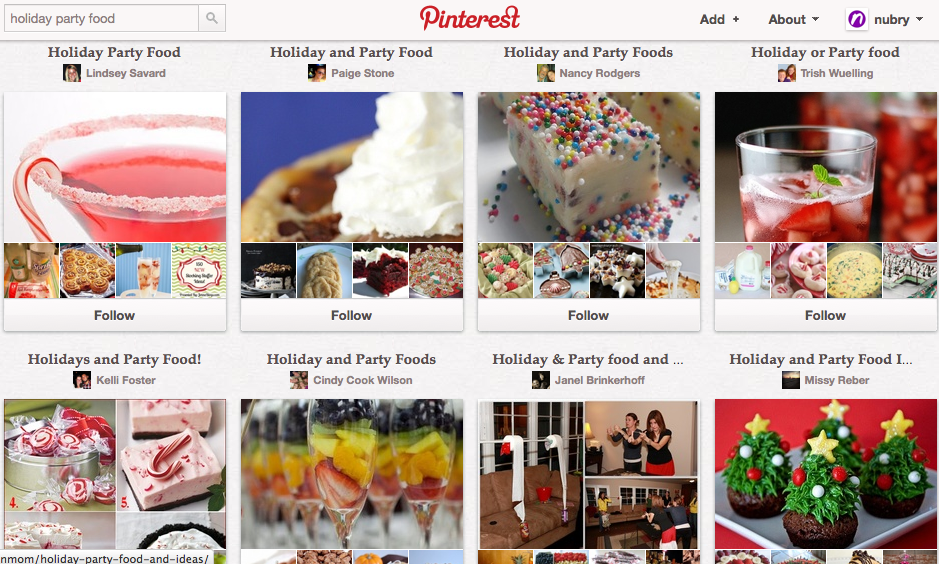 10. Holiday Manicure: Get a holiday manicure often throughout the month.  Try the German OPI collection for jewel tone colors with sparkle. Here are a few tips on this metallic nail trend. You can also try a fun design like candy cane or wreaths!