Don't let your front yard take a back seat during the holidays. With our fabulous outdoor Christmas decoration ideas and a little thought, your home will have the ultimate curb appeal and cheerful welcome for guests.  From outdoor Christmas lanterns to the classic wreath and garland display, these simple and effective holiday elements can bring warmth and cheer to your yard. For the ultimate display, you can combine these outdoor Christmas decoration ideas to create a look that will best suit your personal style!  Below is a list of outdoor Christmas decoration ideas for creating a beautiful and chic holiday display!
Editor's Note: Jennifer Lutz writes about home décor at blog.christmastreemarket.com. A mother of four lively children, she has quickly become a shortcut guru, making each holiday a memory-filled event. For more holiday decorating ideas, take a gander at Jennifer's ideas on alternative tree toppers for Christmas.

Outdoor Christmas Decoration Ideas For Your Home
1. Combine a garland and wreath for your doorway
A garland and wreath set may be traditional Christmas decor, but the way you display them can make all the difference. Add berries and bright ornaments to your wreath and garland to lend a cheerful touch to your doorway. For an even better display, use multiple garlands to frame your doorway on all sides. As a final touch, add twinkle lights to give evenings a warm glow.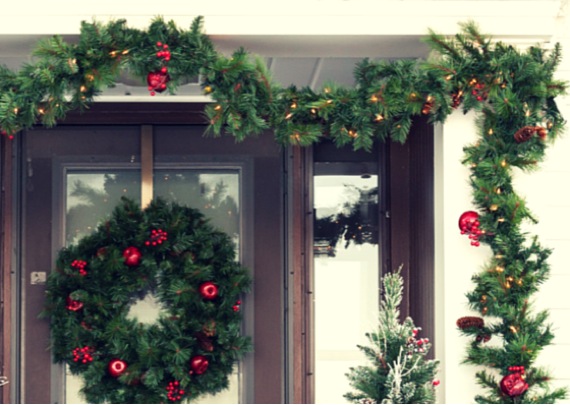 2. Frame the door with decorated potted trees
Who says Christmas trees belong indoors? Potted trees make perfect welcoming decorations for your guests, even before they step foot on your porch. Decorate them with pine cones and red berries to bring color to the display. You can also cover the bottom with burlap and a ribbon to match your color theme.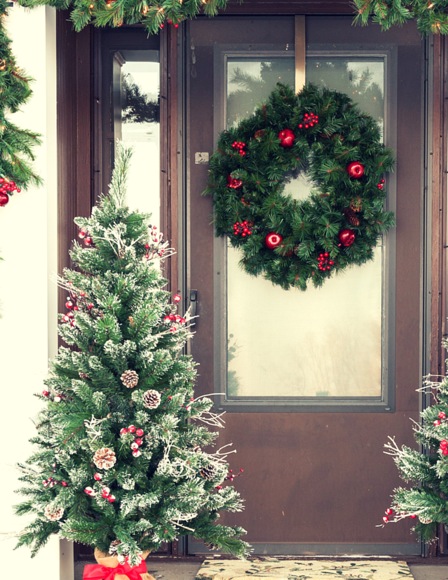 3. Display an oversized wreath
If you want a simple display that has a huge impact, use an oversized wreath. It draws attention to your home right from the street, and even if the wreath itself is simple, your display will still look chic and festive. If you want to add a pop of color to the display, a huge red bow will do so nicely. You can also use your garlands along with your supersized wreath to give your display a lovely focal point.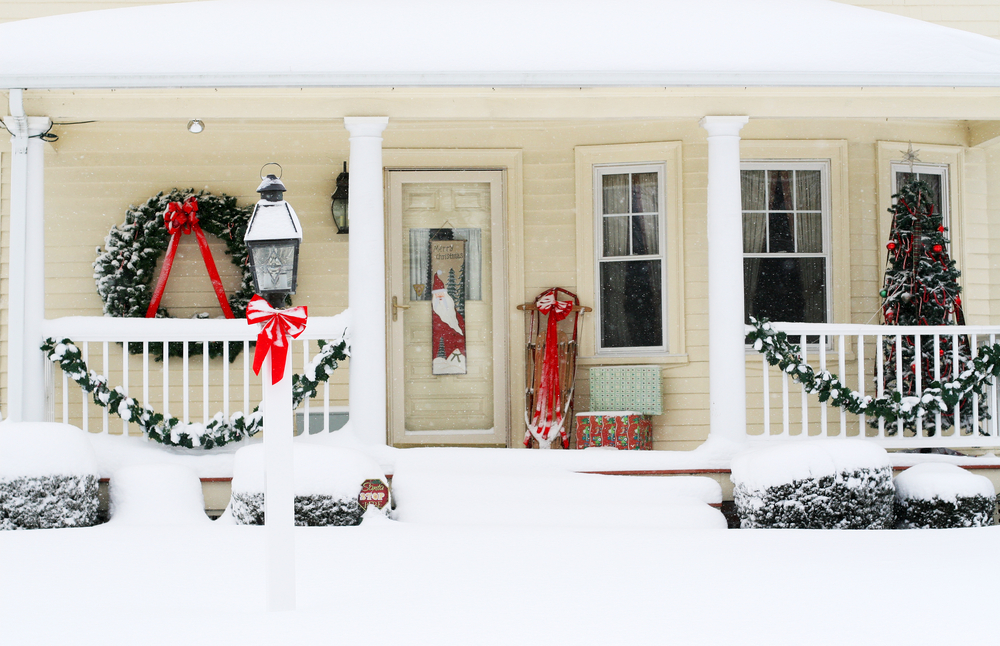 4. Create a holiday display using barrels
Wooden barrels make perfect tables for a rustic holiday display. Collect them in varying sizes and use them to display your wreaths, berries, and poinsettias. When using a wreath, lay it down on the lid and then decorate it with pine cones or acorns. Red winter berries give a splash of color when placed inside a barrel and placed on your porch or yard. You can also fill a small barrel with poinsettias for a more Christmas-y touch!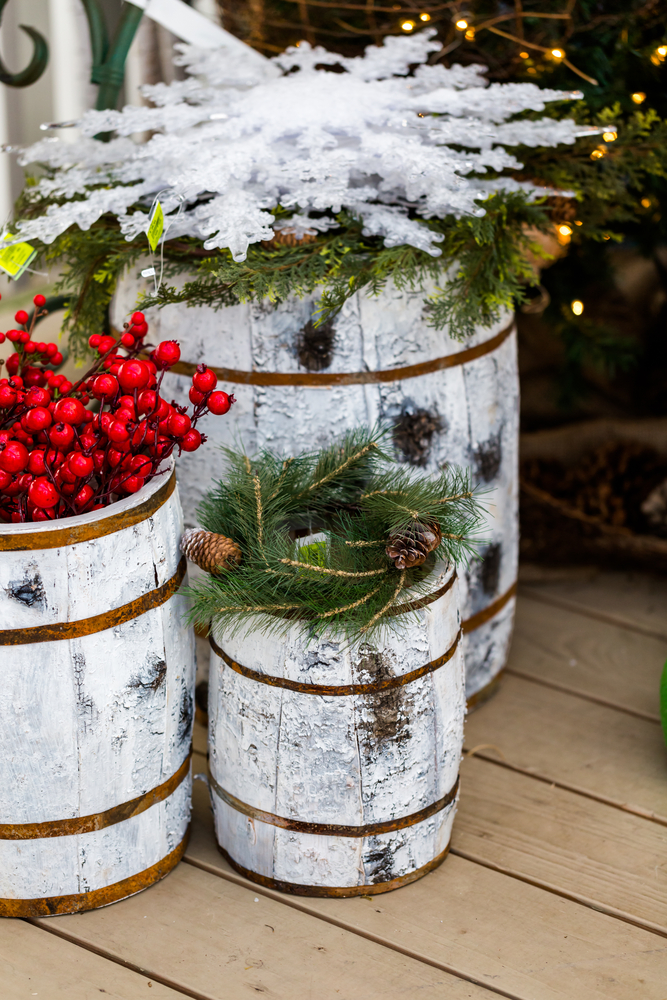 5. Line your walkway with Christmas candles and luminaries
Lanterns and luminaries can turn your walkway from flat to festive in an instant. They create a warm glow to welcome guests, especially at night. If using Christmas candles is too much work for you, replace them with battery-operated luminaries that will have the same effect. You can also display your Christmas lanterns along your porch or underneath your outdoor Christmas tree.