During the summer, it's extra important to hydrate skin due to increased sun exposure, outdoor exercise, swimming, and drying pool chlorine.  Not only for beautification reasons, it's also uber important to hydrate your skin for anti-aging benefits. One way to surely stay hydrated is to apply rich creams all day, but when wearing makeup this really isn't recommended.  Plus, you wouldn't want to lug your $100+ jar of hydration cream around with you all day, now would you?
Enter hydration water.  With hydration water, you can easily spritz the skin at any point for a refreshed feeling. You may have heard rumors that celebrities use Evian water for various beauty services.  Well, it's true! Kim Bassinger washes her hair with Evian water, Gwyneth Paltrow washes her face with Evian water, and Beyonce bathes in Evian at approx $5,000 per 1,000 Liters of Evian bath water at Miami's Hotel Victor!  Hands down one of the most expensive spa treatments in the world!  That lucky Bey.
While we don't necessarily recommend spending the G's on this bath spa service, nor the penthouse suite that is required to receive this service, we do recommend the $12 bottle of Evian Spray.  That's really all you need for daily hydration!
[show_shopthepost_widget id="839498″]
The luxury water now comes in a small spray bottle for the perfect amount of daily, on-the-go hydration. Evian Spray can be used before makeup, on top of makeup to fix it in place all day, or even after a workout.  After a sauna, steam room appointment, Bikram yoga class, and/or spin class, Evian spray is the best remedy for maintaining great skin that's hydrated.
Shop Britt's Sports Bra: Lorna Jane Petra Sports Bra – $65.99
P.S. Britt is wearing size Medium.  Go up a size if you want extra length to wear it as a crop top.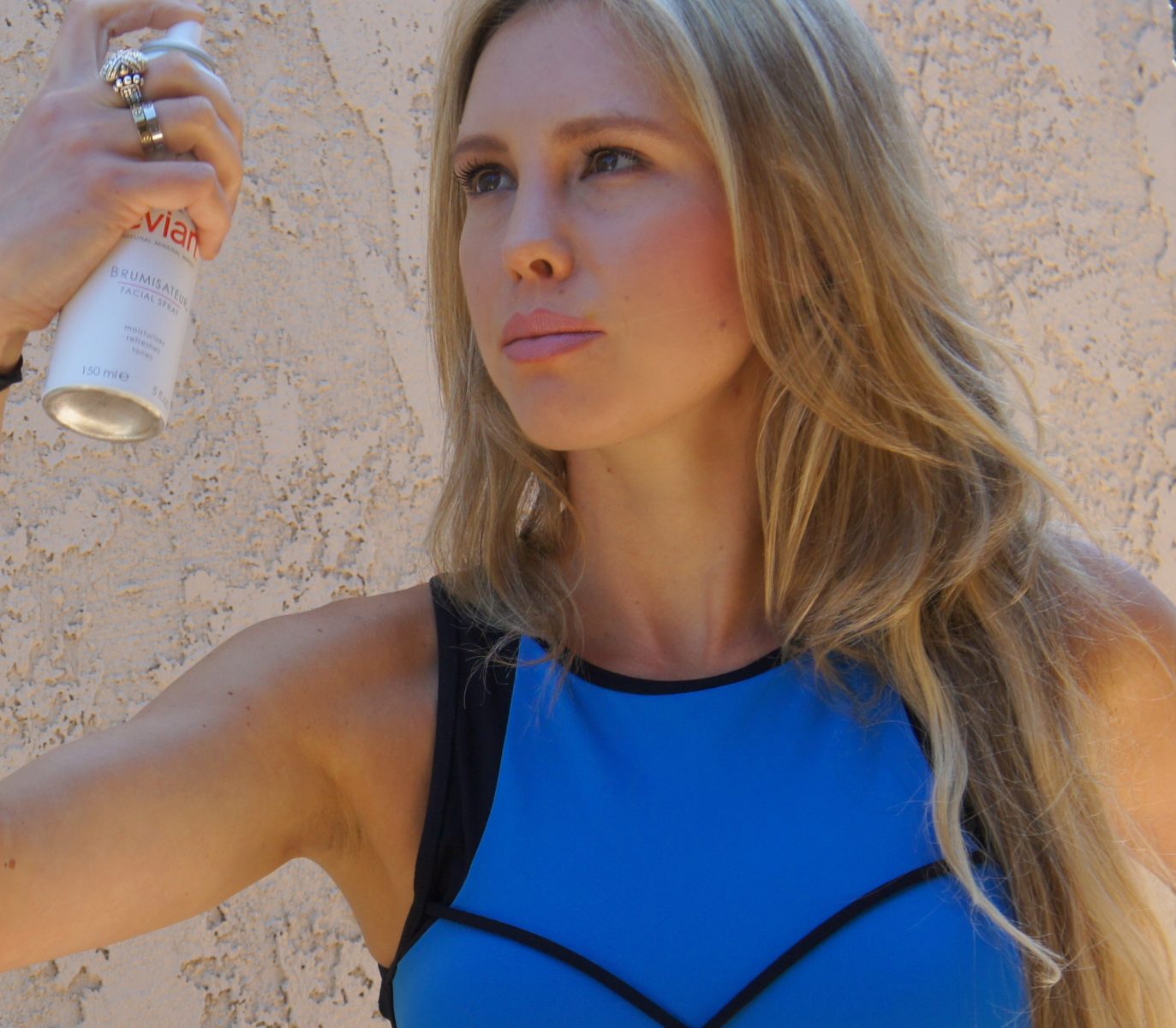 For more tips about how to hydrate skin, be sure to subscribe to our newsletter in the sidebar above and we'll send you weekly ideas via email.
[show_shopthepost_widget id="839498″]