Sometimes ice cream is just something you need!  We hear ya.  And in terms of healthy ice cream, there are now lactose-free, coconut, almond, low cal, sugar-free, and fat free ice creams available in grocery freezers. Some, however, are still very high calorie and many of the healthy versions simply taste awful.  But not to worry!  We've found a healthy ice cream that tastes great and is 60 to 70 calories per serving or 240 to 280 calories per pint, if you have a problem keeping to just one serving. Hey, we're not judging.  This ice cream has protein, little sugar, and some fat to balance your insulin levels, unlike frozen yogurt which is high sugar and fat free.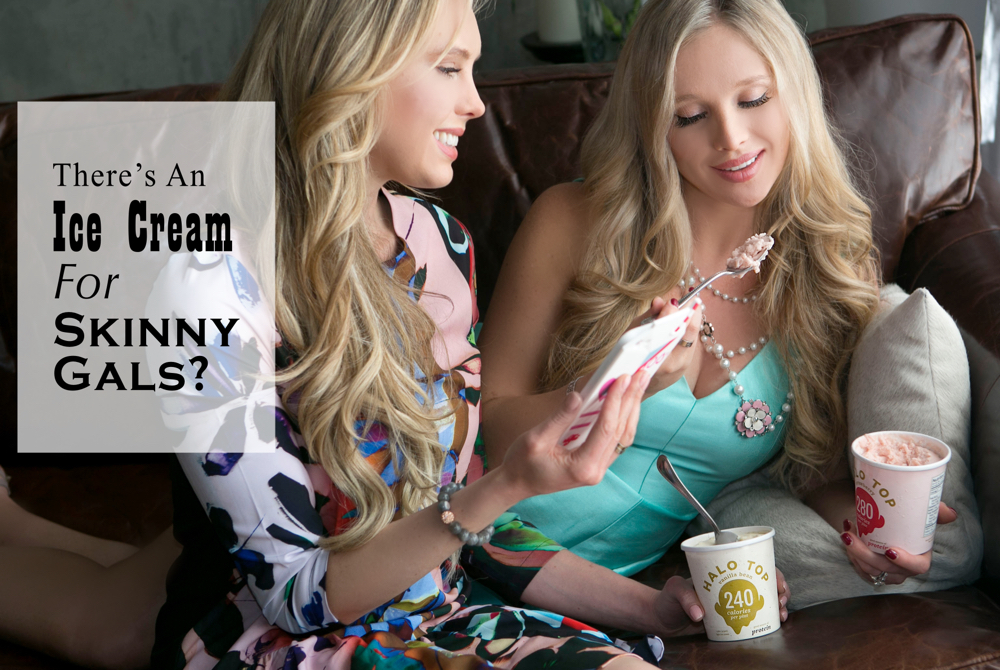 Remember when you used to go to frozen yogurt shops and fill your bowl to the hilt and then weigh it at the end thinking that all of it was guilt free?  Sorry ladies, but those days are over.  That oversized bowl of frozen yogurt was actually a sugar injection with a lot of terrible artificial ingredients. A horrible beauty choice!
Halo Top ice cream is made with high quality dairy and does not contain carrageenan, a stabilizer and thickener (common ingredient in most coconut and almond milks as well as ice creams, known to cause cancer).  It does not contain corn syrup, artificial sweeteners, nor synthetic growth hormones. Gluten sensitive people can also scoop Halo Top — even the birthday cake flavor is gluten free!!  How do they get the sweet amazing taste, with the sugar? Halo Top is sweetened with organic stevia and erythritol, but all-natural sweeteners th at have no affect on blood glucose and wont cause bloating. For a sweet or ice cream fix, a few bites of Halo Top will do just the trick. Lean and skinny gals don't just eat clean…they sometimes have healthy ice cream too 🙂
So, What's In This Healthy Ice Cream?
Halo Top ingredients for the Chocolate Mocha Chip: milk and cream, eggs, erythritol, prebiotic fiber, milk protein concentrate, white chocolate chips (sugar, cocoa butter, whole milk powder, milk proteins, lactose, soy lecithin), organic cane sugar, vegetable glycerin, sea salt, natural flavors, organic carob gum, organic guar gum, organic stevia.
How Many Calories In Halo Top?
At only 60 calories per serving, Halo top wins when compared to all other brands.  Additionally, there are 6 grams of protein per serving (or 24 grams of protein in the pint!).  Halo Top is low carb too, which is almost unheard of with healthy ice creams.
And, Where Can You Buy Halo Top?

Halo Top Ice Cream can be found in most grocery store freezers and of course the all natural sections at Jimbo's and Whole Foods. See where to buy Halo Top in your area here.
Current Halo Top Flavors
There's mint chip, chocolate mocha chip, birthday cake, vanilla bean, chocolate, lemon cake, and strawberry. See below for specific ingredients and nutrition facts.