People ask us all the time about our hair-care, hair styles, and how to get healthy hair, which is why we've dedicated a large portion of Nubry.com to hair tips this year!  In order to have beautiful, long hair, you need to first and foremost take care of your beloved mane through the use of high-quality products and a healthy diet that is nutrient-rich.
Once you have strong, shiny, and healthy hair, you will be able to style it in fabulous ways, as long as you abide by our styling tips and tricks which we'll get to in another post soon.
So, let's get started!  Our hair-care routine starts with shampoo and conditioner.  We use the Christine by Van Thomas Concepts product line, which is unlike any shampoo/conditioner product on the market because of its exclusive "Life Complex™" formulation. The Life Complex™ formula combines Keratin and Silk protein with Jojoba oil to replenish nutrients and restore hair to its best possible health.  Christine is made for all hair types and you'll see results after just 1 shampoo and conditioner – it's cray cray!
Along with fabulous, nourishing products, we live a healthy and balanced diet that includes nutrient-rich, plant-based foods that are high in protein, antioxidants, and omega 3 fatty acids. Think spinach, kale, walnuts, hemp seed, sweet potato, quinoa, berries, etc.  In the following hair-care tips video, produced exclusively by Balestra Entertainment, we explain how to get healthy hair with 6 of our best kept hair secrets.  This is the first video in our Best Kept Hair Secrets series, so be sure to click here and subscribe to our new NubryTV YouTube channel so that you can get all of our great beauty tips!
_______________________
Best Kept Hair Secrets
Video #1: How To Get Healthy Hair – 6 Haircare Tips For Long Hair
NubryTV's exclusive video content is produced by Balestra Entertainment.
How To Get Healthy Hair Video Script: 6 Tips

People ask us all the time how to get healthy hair and the truth of the matter is, we pay very careful attention to not only the care and health of our hair, but also the products that we use on our hair. We're going to share with you some of our very best tips to getting beautiful, strong, shiny, and healthy hair!
Tip #1: Shampoo with a sulfate-free product that contains jojoba oil
A sulfate-free shampoo will protect colored hair—which we have—while sulfates will actually strip colored hair and are harsh, even to hair that has not been colored. Jojoba oil helps to regulate the amount of oiliness in ones scalp.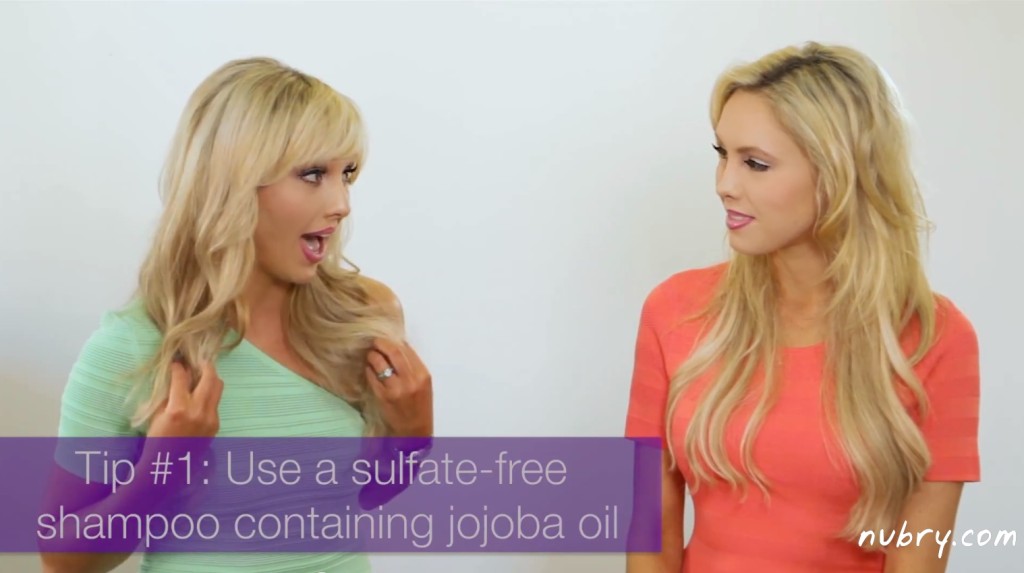 Tip #2: Shampoo your scalp, not just your hair, and leave on for 3-5 minutes to regulate oiliness
So, no one actually has oily hair; they have an oily scalp.  The oil from your scalp gets into your strands, causing oily hair, so it is most important to focus on cleansing your scalp.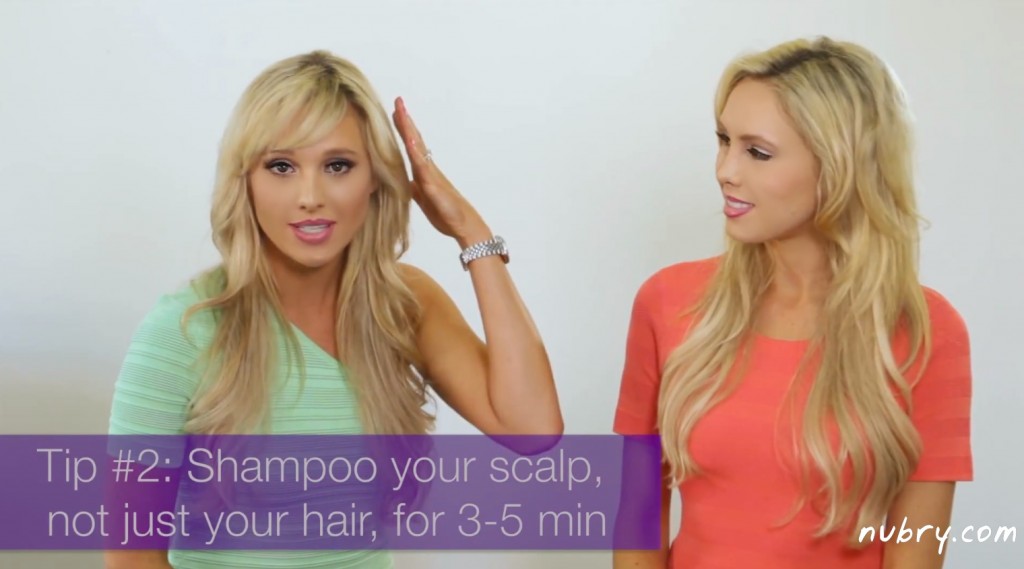 Tip #3: Use a reconstructive conditioner to help restore the structural integrity of your hair
The proteins found in a reconstructive conditioner penetrate your strands and improve hair quality, leading to shiny, tangle-free, healthy locks—which is what we want!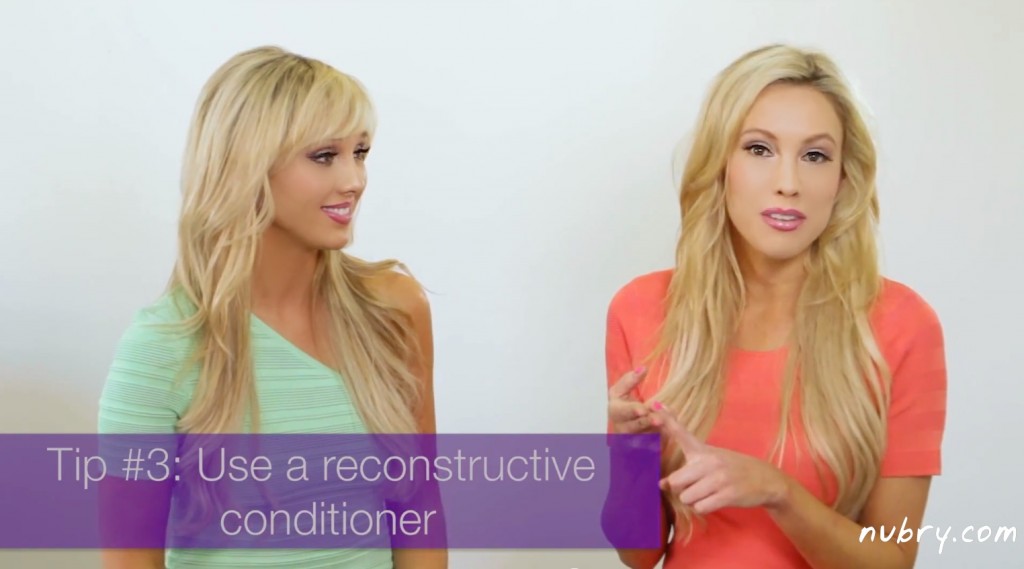 Tip #4: Use a wide tooth comb to distribute conditioner throughout
Conditioner will be able to penetrate 90% of your hair if it is evenly distributed using a wide tooth comb. Using only your fingers will cover about half of your actual mane
Tip #5: Blot wet hair dry with a towel—never rub
Rule of thumb, never use a towel to rub your wet hair dry, as this really damages the cuticle and creates hair frizz—which is a no no!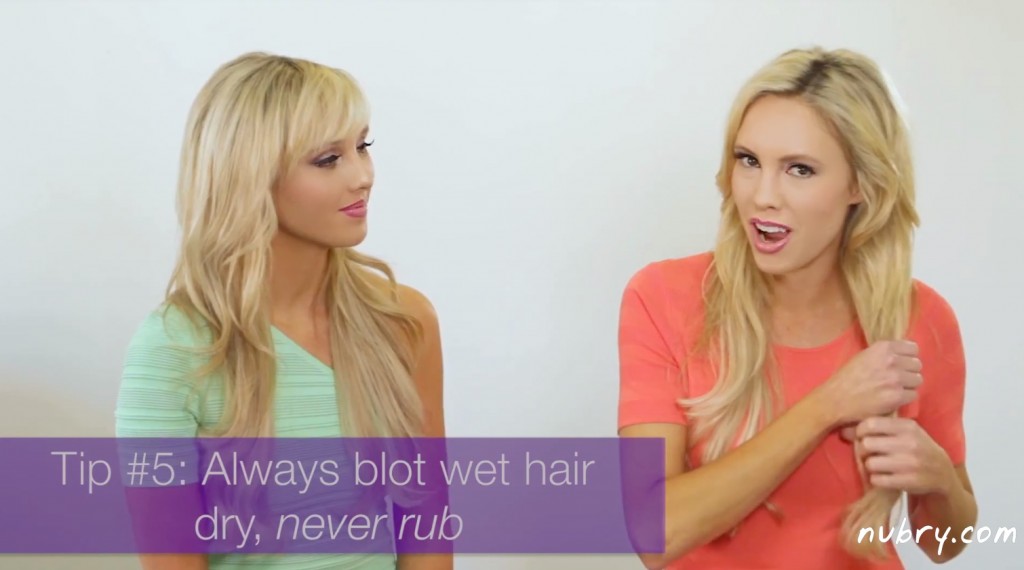 Tip #6: Eat a well-balanced fruit & veggie diet that's also protein-rich
Eating a healthy diet with lots of fruits of vegetables, especially those that are antioxidant or iron-rich (like spinach), helps provide your body with the vitamins and minerals necessary if you need to know how to get healthy hair
Make sure to eat protein-rich foods (like spinach) to make sure that your hair continues to grow.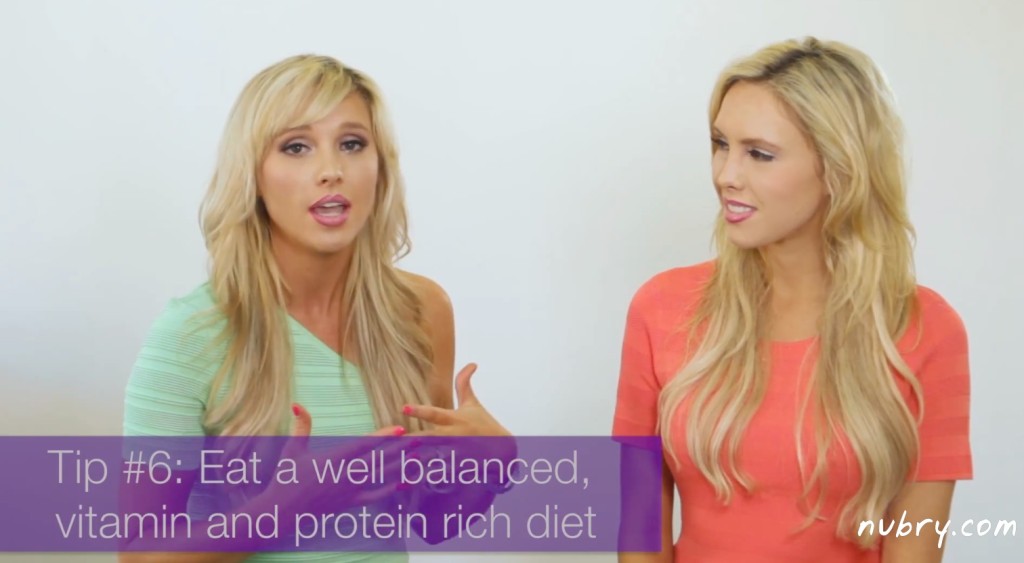 Looking for amazing beauty tips? Then subscribe to our YouTube channel – we're brand new!