Most women think that all they need to do in order to get blemish-free, glowing skin is purchase the right products and then use them regularly. You may not be seeing the results the bottle promises because the truth is that many store bought products are loaded with chemicals, even the ones that appear to be natural! This robs your skin of its natural oils and moisture, leaving it dry, wrinkled, and in many cases with blemishes. Oh, what to do?!
If you're wondering how to get glowing skin that's healthy and blemish free you should try a DIY face mask that you can make in your home. Below we share with you four homemade DIY face masks for glowing skin that will help you get the soft blemish free skin you crave.
DIY Face Masks For Glowing Skin
One mask does not fit all though. If you want to decrease the oiliness in your skin, you'll want to use a face mask with lime juice as lime acids are very beneficial for the skin, especially when applied externally. Have acne scars and dark spots that wont go away? Try a Chamomile mask as it will noticeably lighten skin over a period of time and give you younger, healthy skin.
Instant glow in your skin can be achieved by using a papaya face mask as papaya acts as a natural exfoliating agent that removes dirt and dead skin from deep within the layers of skin. Who knew a papaya could be so helpful?! Our papaya face mask below gives an instant glow, but one will benefit greatly by using it consistently for a period of time.
Below, we have four DIY face masks that you can make yourself at home! Choose which mask works best for your skin type and then get started mixing it up. Let us know which face mask for naturally glowing skin you choose and how it works for you. G'luck!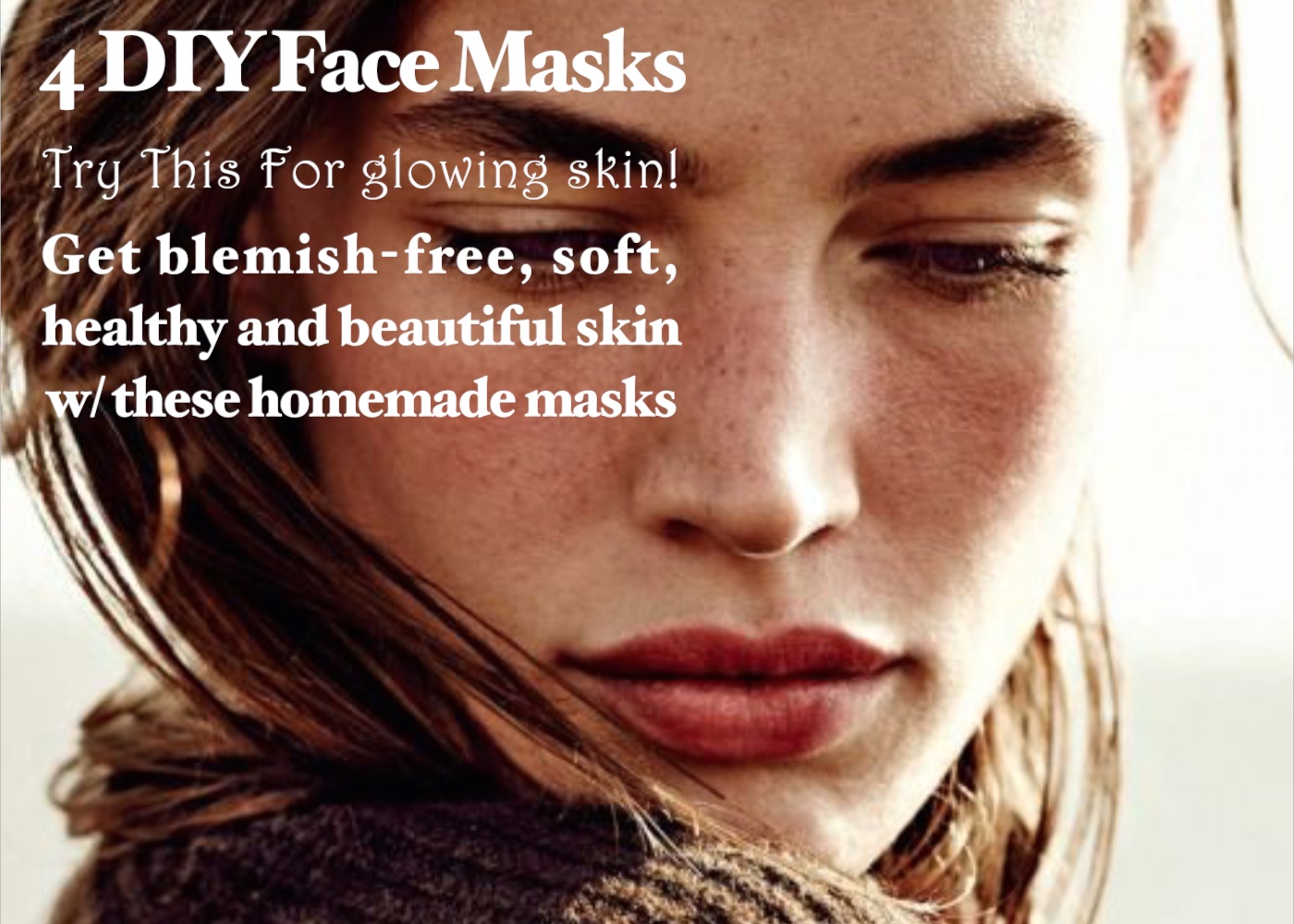 1.    Honey & Rice Flour Mask – To Get Moisturized, Soft Skin
The rice flour acts as the basic exfoliating ingredient while the honey moisturizes the skin. The result is even-toned, fresh, soft, moisturized skin.
DIY HONEY & RICE FACE MASK:
In a cup of warm water, mix one teaspoon of honey and two heaping tablespoons of rice flour. Thoroughly mix all the ingredients and apply the resultant mixture evenly on your face. Once it dries slightly, about 15 to 20 minutes, scrub your face using circular motions. The scrubbing helps to exfoliate and thus remove dead skin.
2.    Lime & Cucumber Mask – To Decrease Oiliness

Apply this face mask on your face for a week and see how the oiliness decreases and the skin starts looking lighter and fresh. Lime juice applied to skin is especially helpful for people with oily skin while cucumber is one of the best ingredients for skin lightening. Additionally, this face mask is very good if you get sunburn. 

DIY LIME & CUCUMBER FACE MASK:
To prepare this face mask, mix a tablespoon of cucumber juice (available at stores or make it at home by running cucumbers through the juicer), a teaspoon of lime juice, a teaspoon of Vaseline, and one teaspoon of turmeric powder. Apply the mask on your face using cotton balls and then leave it for a minimum of 15 minutes before washing it off with lukewarm water.
3.    Papaya & Sandalwood Mask – To Exfoliate And Get Glowing Skin
This face mask gives an instant glow to the face. The papaya works as an exfoliating agent as it helps in removing dirt and dead skin from deep within the layers of the skin. Over time, papaya also reduces scars, leaving the skin blemish free. The sandalwood powder helps to get glowing skin. For best results, use this face mask daily for at least 2 weeks.
DIY PAPAYA FACE MASK:
Mash a papaya and take half a bowl of the mashed papaya pulp and add a teaspoon full of sandalwood powder to it. Finish up making the mixture by adding at least 5 drops of rose water and half a teaspoon of Aloe Vera gel. Mix thoroughly and apply the face mask evenly on your face and on your neck. Leave the mixture on your face for half an hour and then wash it off with lukewarm tap water.
4.    Chamomile Mask – To Reduce Acne Scars And Dark Spots
Chamomile tea when applied topically is excellent for reducing acne scars and skin lightening.  Additionally, it softens pores and soften skin. When used consistently over a period of time, you will notice faded dark spots and acne scars.
DIY CHAMOMILE FACE MASK:
Take 1/4 cup of chamomile tea and mix it with 1/4 cup oatmeal powder. Add a few drops of almond oil and 2 tsp of honey. Apply the face mask evenly on your face and neck and leave it for 15 minutes. This face mask leaves you with glowing and soft skin. Apply this mask daily for at least two weeks for the results to start becoming obvious. Use continually for amazing results!
Do you want to learn about more DIY  face masks that are good for your skin? Check out do it yourself organic face packs by Oleum Vera.
Save
Save
SaveSave