Do you wear makeup when you workout? Or, perhaps you secretly wear makeup at the gym hoping no one will notice … maybe you don't wear any at all! Well, there are many reasons why its okay to wear makeup for working out at the gym and we're going to share a laundry list with you! As fashion and beauty experts, we still weren't sure if it was okay to come out and say, "it's true, I wear makeup before sweating it all off at Orange Theory and Barry's Bootcamp."
Katherine Cosmetics actually has a line of makeup specifically for working out!  It's called K-Sport beauty.  We recently took Saturday off to attend K-Sport Beauty Bootcamp 2014 with Annie Finch, founder of Katherine Cosmetics and former Estée Lauder executive, at Rancho Valencia for a beauty and wellness experience, whilst also learning how to apply makeup for working out.  We then proceeded to work out with fab personal trainer Adam Schepps — in our makeup — and we're talking spinning, TRX, yoga, nature jogs, and riding horses.  Of course, in between, we took breaks for nourishing green juices, healthy snacks, and cooking lessons with Chef Amy Pamensky of Nourished Balance, as well as inspirational balanced life sessions by Lavinia Erricos, founder of Equinox, and champagne and cocoa healthy truffles to end the day.
Welp, let's get to the 10 reasons why it's okay to wear makeup for working out at the gym. Read on…
Reserve your spot for K-Sport Beauty Bootcamp 2015 here – this Saturday, May 16th, at Rancho Valencia!
_________________________
Why It's OK To Wear Makeup To The Gym
1. Your trainer is hot
2. You pay a lot for your Lululemon and Lorna Jane workout outfits. Actually, they cost as much as cocktail dresses and you wouldn't go to a party without makeup on!
3. You'll spend more time working out if you look good, so put makeup on.
4. How will you achieve your workout results if you don't workout a lot only because you don't look good enough…refer to #3.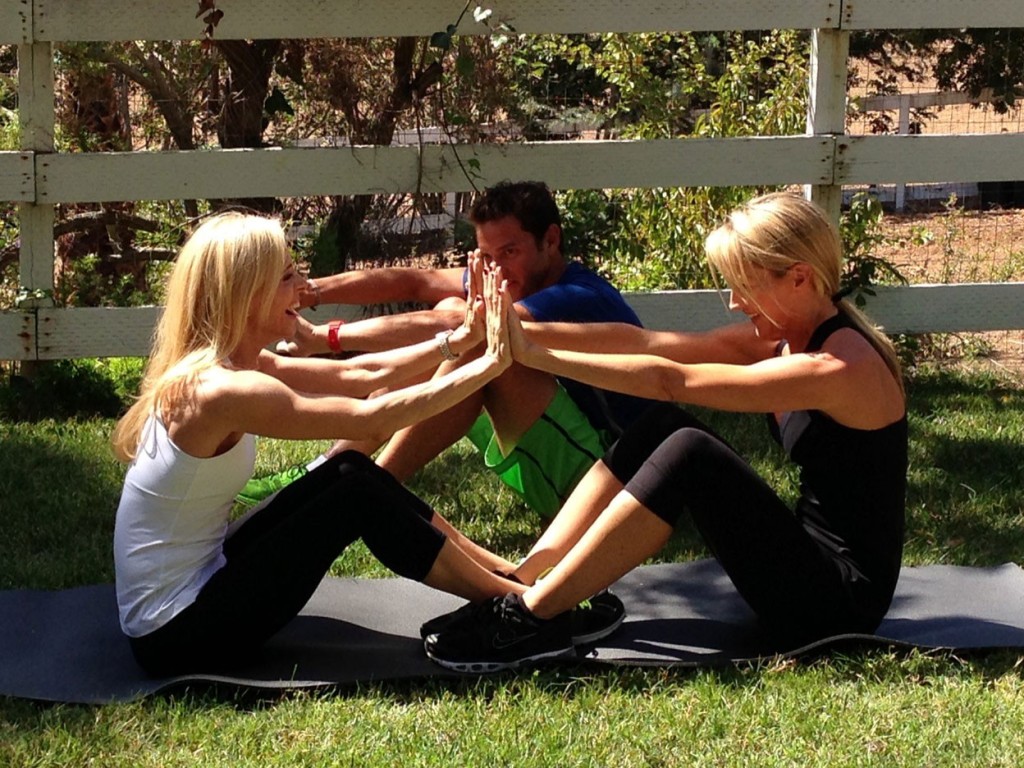 5. Going to the gym, Orange Theory, Fitwall, Yoga, Pilates, Barre, Soul Cycle, and/or Barry's Bootcamp is like going to your local coffee shop, you are bound to run into someone you know!
6. It is NOT okay to reapply makeup while working out…no pocket mirrors on the treadmill
7. Your trainer is hot … refreshing #1.
8. Head to the 6am workouts, with makeup on of course…that's when the hot guys workout who have jobs!  A little eye candy never hurt anyone and you are eye candy too.

9. Make sure your makeup is for working out and not overpowering.  No fake eyelashes or anything woman!  Remember, this is still the gym and not Live TV.
10. If you go to boot camp, it's a long day of working out and you will want some makeup on to motivate you to get through your workouts!