Okay, we get it, you need to have a hot bod by tomorrow. While we recommend keeping up with your healthy diet and workout routine all year long, we understand that things can sometimes slide. Here's some motivation to workout.
You may be interested in how to lose 10 pounds forever, but if you're looking for that quick transformation, like a bikini body overnight, you're at the right place!
We've got 10 tips that will help you look just a bit thinner and achieve that sculpted look you're after. Really fast too! Read on to find out to get a bikini body overnight. These tips may surprise you…good luck!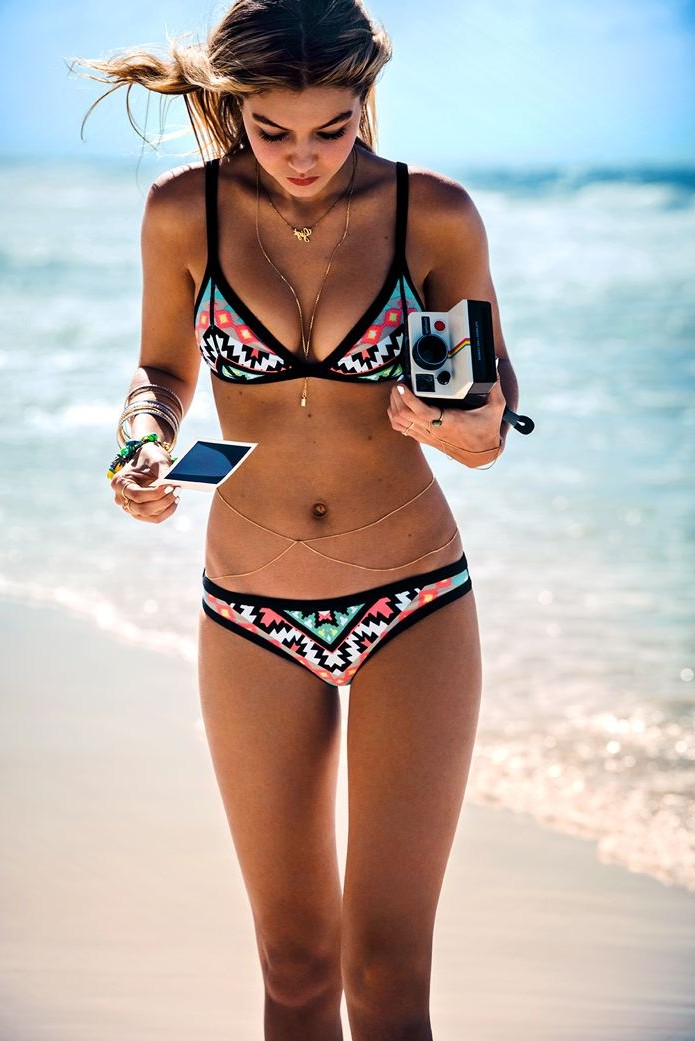 How to To Get A Bikini Body Overnight
1. Cut the Salt
Sodium causes the body to retain water and fluids, which makes you look bloated and larger than you actually are. No sexy lady wants that!  The recommended sodium intake is 1500 to 2000 milligrams, but the average American is consuming 3400 milligrams per day, yuck!  Watching your salt intake is an easy way to avoid bloating and water retention.
2. Drink LOTS of water
Not only does water keep your skin hydrated, it also flushes sodium from your system, reducing that salty food bloat. Water is a surefire way to get a bikini body overnight as it pushes toxins out of your system and fights off nasty cellulite. We knew we loved water!
3. Stay away from carbs
Carb-heavy foods like potatoes, pasta, bread, cereal and white rice cause your body to store three times more water than lean proteins. Cutting these foods out of your diet a week before your big bikini day will help you lose a few extra pounds by reducing water weight.
4. Have A Turmeric Shot
Turmeric is anti-inflammatory and helps remove swelling. If you have a juicer, juice fresh turmeric, ginger, and lemon and take it as a shot. You will almost instantly see your fingers are skinnier, your ring fits better and your pants are looser. Find out more about how to get rid inflammation.
5. Find the right suit for your body – Cheat Sheet!
Wearing a flattering bathing suit for your body type will really help you get a bikini body overnight. So easy! Wearing a black bikini or one-piece can also make an instant difference. Check out a few of our favorite high waisted black bikinis below.
See below – our quick cheat sheet for choosing the best bikini for your body type. When in doubt, choose black!
Athletic Build/Boy Shape – look for bust enhancing detail such as ruffles or bows
Bigger Bottom – a high cut leg or style with side ties is super flattering
Short Torso – a bold top detail will draw the eye up
Lanky – ruffles on the top or bottom (or both) will add curves
Apple – look for ruching at the tummy
Tummy Pooch – high waisted retro style bottoms will hide that
Long Torso – bold prints = sexy curves. Or try a one piece!
[show_shopthepost_widget id="2858343″]
6. Eat meals the size of your fist
When the stomach is empty it is roughly the size of your fist.  What does that mean for you? Any meal larger than your fist will cause your stomach to expand and cause added bloating. Not ideal for getting a bikini body overnight!
7. Do yoga or pilates
Try to get a quick session in the morning before wearing your swimsuit. Both yoga and pilates offer an emphasis on lengthening your muscles, without adding bulk. By getting a class in the same day your muscles will appear more defined and you'll be able to relax in that itsy bitsy bikini. Added bonus: these workouts encourage great posture which make you look longer and leaner!
If you can't get to a class, try these 3 NO gym workout ideas.
8. Get a spray tan
It is a fact that a tan makes you look slimmer and hides imperfections, like cellulite.  A quick spray tan the day before can make you look sooooo much thinner and model-esque in your bikini! If you really want that "I've been working out" look, consider a custom spray tan where you will be contoured to perfection!
Or, you can also use a self tanner, but it will take a little longer to build a deep tan. Try this at home spray tan kit. Or, take it to the next level with this at home spray tan machine.
Getting a spray tan is honestly the best way to get a bikini body overnight! See some of our favorites self tanners below.
[show_shopthepost_widget id="2858737″]
9. Stand up straight
Watching your posture can make you look up to 5 pounds slimmer! To stand (or sit) up straight causes the core to be engaged, thus forcing you to suck your stomach in and drop your shoulders. This ultimately lengthens the body line. It's all about the illusion!
10. Wear your hair up
Throwing your hair into a loose bun or high pony tail elongates the neck and gives the illusion of weight loss. Be sure to put a UV protector and leave in conditioner in first to keep hair from drying out in the sun and wind.  If you are going for a ponytail, look for the no-break hair ties to protect that gorgeous head of hair!
For more bikini body tips and insider diet advice, be sure to follow us on Instagram @nubry here.
SaveSave
SaveSave
SaveSave
SaveSave
SaveSave
SaveSave
SaveSave
SaveSave
SaveSave
SaveSave
SaveSave
SaveSave
SaveSave